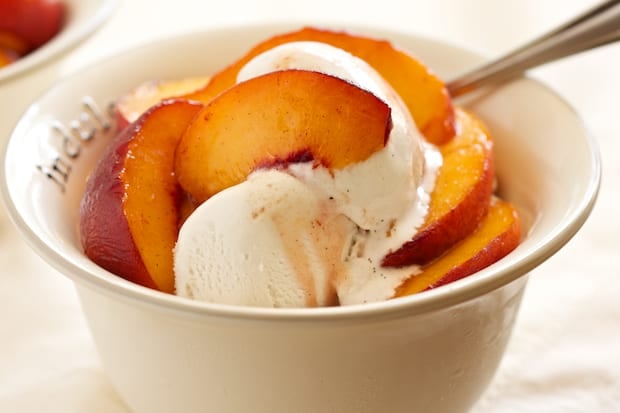 When you can smell the peaches before you see them, you know they're going to be good! Whenever I have truly ripe peaches, I like to prepare them simply, without too much fuss. This peach topping is perfect for breakfast pancakes or yogurt, and way… too good over ice cream as a dessert. My husband's direct quote was, "yummm…. peaches and cream, can I have some more?"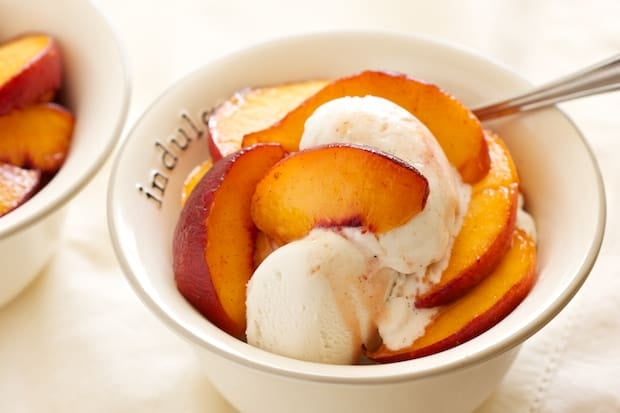 This peach topping is really simple. Just peachy goodness with hints of cinnamon and vanilla.
Cut the peaches into slices (about 12 slices per peach). Place them in a serving bowl and toss them together with the vanilla, cinnamon, and maple syrup. These are definitely best served immediately, but they will keep for a couple of hours.
The flavor is predominantly peach, with hints of cinnamon and vanilla. The sweet juices run down into the ice cream, making this an irresistible combination! I could go on and on about the combination of peaches and cream, but be sure to try this topping for breakfast as well, it's absolutely delicious!
I love the fresh peach flavor of this topping with ice cream, as a change from a cooked fruit sauce. It's quick and easy to make, and doesn't require the stove, (which is almost mandatory, it's so hot right now)! We had our Peach Topping over Homemade Coconut Ice Cream, and we both loved the creamy coconut flavor pairing.
Print
Fresh Peach Topping
---
---
Instructions
Slice the peaches and place them in a serving bowl.
Scrape the seeds from the vanilla bean pod over the peaches or add the vanilla extract. Add the syrup and cinnamon and toss to combine.
Serve immediately for best flavor, but they will keep for a couple of hours.