Do you ever feel like your life is way out of balance? Hello… my name is Kari and I'm a workaholic, and you know what… life has a way of egging me on. I'm working on some balance in life but it sure doesn't come naturally at all, I've always tended towards the extremes even when I'm not working.
Case in point: I was talking to my mom about her upcoming trip to Zion National Park and the Grand Canyon, and she was saying she wanted a good solid day after she came back from vacation to get life in order before going back to work. And I said, 'well in that case I wouldn't take my previous advice about last minute hikes to do because I always come back from a vacation mere hours before I have to be to work', (usually around 2 am with a wake up time of 5:30 am… like I said always living in the extremes)!
The last 2 months have been particularly bad though with so much going on, I'm struggling to remember my own name some days, (slight exaggeration but still). As you may have noticed we've sort of changed names recently. For the last 3 years we've been GI 365 which is a short form of our tagline of Get Inspired Everyday!, but another company felt our name might lead to future confusion… lawyers became involved and we finally have it all resolved. So from here on out, we'll be simply Get Inspired Everyday! leaving the GI 365 behind.
Needless to say, we've only had 2 days off in the last 2 months which is leading towards a serious case of burnout. But it's all for the best anyways, and sometimes life piles on, and you just have to dig in to get through it! We also just moved to a different server which means you should notice much faster loading times, and we're working on a whole new website that will hopefully be easier to navigate, (and if you have any suggestions, I'd love to hear from you!).
Combine all this crazy, over-my-head technical stuff with everyday life, and my brilliant idea to write an ice cream book at the same time, and you've got just another day in the life. Please… please tell me I'm not the only one who overcommits? Although I'm not backing down on the ice cream project, I seriously think it's helped me keep my sanity. After long days of technical mumbo jumbo, it's always nice to retire to the kitchen to work on Homemade Peanut Butter Cups for Moose Tracks Ice Cream.
Jam may well be another example of my general loss of balance in life. I had a request for a strawberry jam recipe without the usual large amounts of sugar, and my first thought was 'yes! I should make jam… how long has it been anyways… hmmm.. let's see… yep it's been about a decade'. It's true the last time I made jam was over a decade ago, and I used to love canning a few jars every summer.
Don't freak out though… we're not canning today, this is a fresh jam meant to be eaten within 7-10 days. It only takes a few minutes to make, and there's no refined sugar in it at all. I sweetened mine with a little bit of Grade A amber maple syrup, (the light maple flavor is nicer in desserts than the Grade B which is perfect for pancakes and waffles). You could also use honey, or if your berries are local and super sweet, you may not need sweetener at all.
For this jam, I just blended up a few fresh strawberries and brought them to a boil with a couple tablespoons of maple syrup. Then you just stir in some lemon juice and chia seeds and place it in a mason jar and refrigerate until cooled and thickened – that's it… not water bath and canning time to worry about. This recipe also works well with frozen berries, so you can easily make quick batches all year long!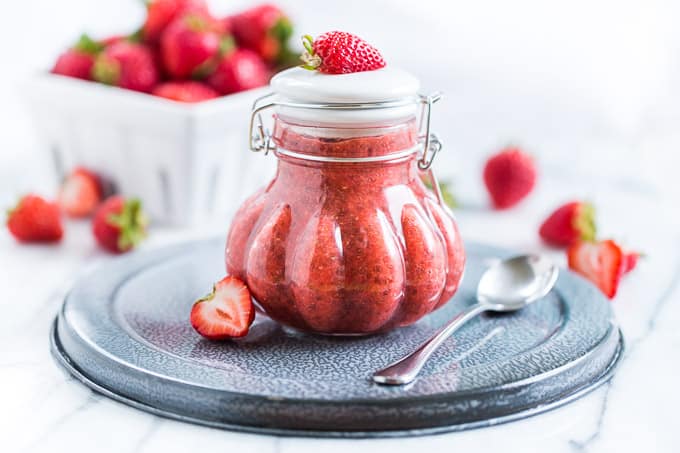 And lastly… here are some things to do with jam besides toast, (not that you can beat that combo, but anyways).
This jam is great over any breakfast cereal, think Paleo Granola Dust or Maple Cinnamon Granola along with some sliced bananas.
It's also great as an ice cream topping on Homemade Coconut Ice Cream or over the top of some 'nice cream' which is the popular trend of making ice cream out of frozen bananas in a food processor or blender.
You can also use it as a filling for all sorts of things like layer cakes, cupcakes, and homemade crepes.
I always love getting recipe requests from you, so if there's anything you'd like to see, please let me know. And I'm also compiling a list of things which bug me when I'm trying to find recipes on the site for dinner, (and yes I refer back to my own recipes a lot) so that we can try and fix some of these issues for the new site. So if there's anything you'd like to see change, let me know so I can start working on it.
Hope your Monday is going great, and here's to some work/life balance this week!
Print
Fresh Strawberry Chia Jam
---
14

hulled fresh or frozen and thawed strawberries, 12 ounces

2

–

3

Tablespoons maple syrup or raw honey, to taste according to your berries

1 Teaspoon

vanilla extract
pinch of sea salt

1 Tablespoon

fresh lemon juice

2 Tablespoons

chia seeds
---
Instructions
Place the berries into a blender, and blend into a chunky purée, you should have 1 1/2 cups.
Combine the blended berries with your choice of sweetener to taste, and bring the mixture to a boil.
Once the mixture boils, remove it from the heat and stir in the rest of the ingredients.
Transfer the jam to a covered container, and refrigerate until cooled and thickened, about 3-4 hours. Berries really vary on their level of juiciness, so if your jam still isn't thick enough, stir in more chia seeds and wait 1-2 hours for them to absorb the extra liquid.
This jam keeps well for 7-10 days refrigerated. You can also make this without cooking the berries at all, simply combine all the ingredients and chill until thickened, however the raw version only lasts at most 4 days.
Notes
If 2 cups is way too much jam for you, you can easily cut this recipe in half or even in thirds, since there's 1 1/2 cups of strawberry purée, 1/3 the recipe would be 1/2 cup purée. There's 3 teaspoons in a Tablespoon, so for instance 1/3 of 2 Tablespoons of chia seeds would be 2 Teaspoons of chia for 1/3 the recipe.
Prep Time:

10 mins

Cook Time:

5 mins