Easy to make and a total showstopper, this Garlic Butter Shrimp Pasta is perfect for entertaining and at home date nights. It's also great for weeknight family dinners because it's so quick to make! Perfectly cooked al dente pasta tossed together with a flavorful garlic butter, and a hint of lemon are a great compliment to the shrimp. I added some chopped spinach for extra veggies, and a bit of parsley for fresh flavor. This dish is made with gluten free pasta, but you can use your favorite kind of pasta here, and there's 2 dairy free options as well.
Please pass me a large bowl! This pasta is so easy and elegant, I love making it for company, and everyone loves it. It's both comfort food and light at the same time, with the fresh flavors and savory garlic butter.
This pasta also makes the ultimate at home date night recipe because you can make it so quickly. Seafood tends to make a good impression on any number of occasions. However for us, I love seafood but Tyler doesn't.
So when I make this, I don't add the shrimp to the pasta. I cook the shrimp with a little extra butter on the side and chicken in another pan. Then I serve the garlic butter pasta with the different proteins for each of us.
Watch how to make Garlic Butter Shrimp Pasta
Ingredients & Substitutions
Pasta – use the noodle shapes like tagliatelle, fettuccini, linguine, spaghetti, or pappardelle. Those shapes work best in this recipe, but you can also use bowties, fusilli, or penne as well. I like to use Jovial tagliatelle in this recipe.
Shrimp – frozen, thawed & drained, or fresh and peeled both work here. Just go for whatever is the best quality and the best buy, frozen is often the best option!
Butter – olive oil, dairy free/vegan butter all work here. For garlic butter, I like butter the best of course, but olive oil is very good as well.
Garlic – just 2 cloves gives you a nice garlic flavor without overwhelming the shrimp, but feel free to customize the amount to your taste.
Italian Seasoning – adds a lot of flavor here in a subtle way that works well with the shrimp, again without being overwhelming and a good amount of shrimp flavor coming through.
Red Pepper Flakes – add a bit of warmth, but if you like heat, feel free to add more.
Lemon – both the zest and freshly squeezed juice add a lot of fresh flavor and pairs well with the seafood.
Spinach – add both color and and extra veggie to the mix, all the while keeping this a comfort food kind of meal, without being too heavy.
Parsley – adds fresh flavor along with the lemon, but basil works really well here too.
How to make this recipe step by step
Step 2: While the pasta is cooking, melt the butter over low heat, and briefly cook the garlic. You want the garlic to be fragrant, but don't let it brown. When the pasta is almost done, add the shrimp, spinach, and lemon zest along with the red pepper flakes and Italian seasoning.
Step 3: When the pasta is al dente, reserve the some cooking water and drain the pasta.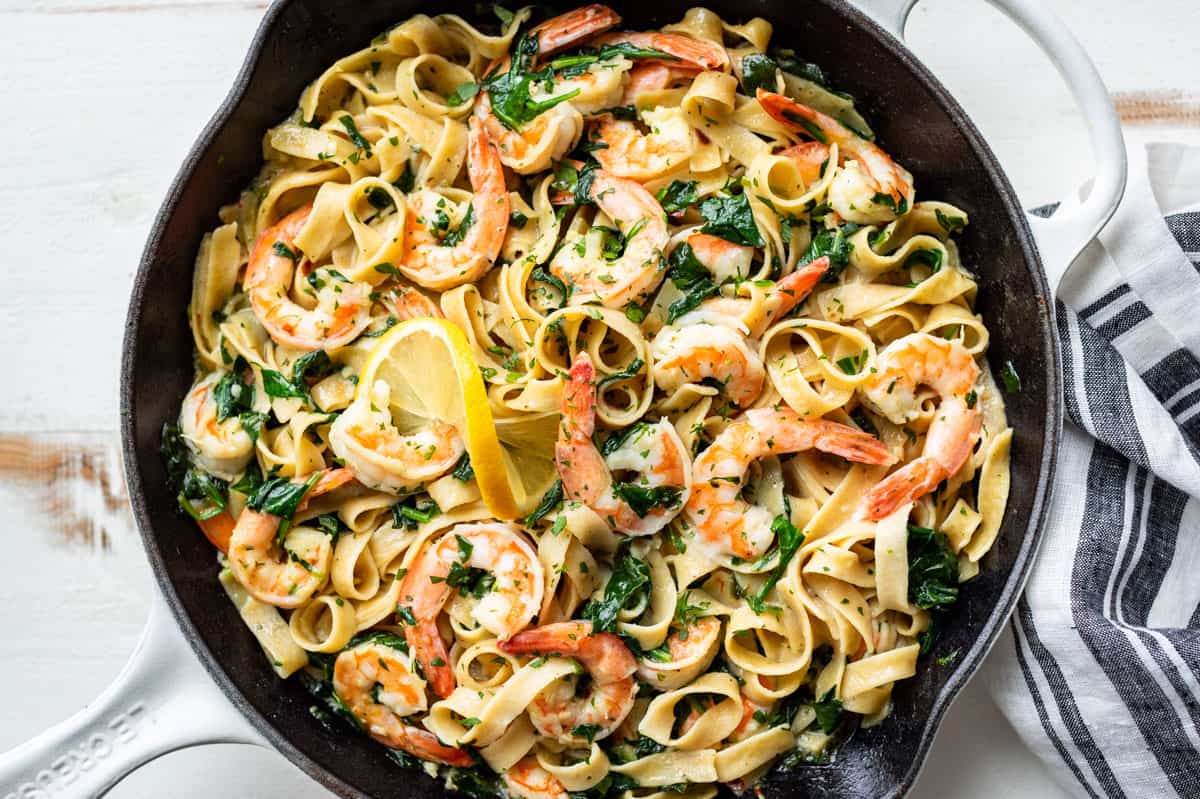 Step 4: Add the cooked pasta to the almost done shrimp. Toss together with the lemon juice, sea salt, and pepper along with enough cooking water to coat the pasta and finish cooking the shrimp. Serve immediately!
FAQ's
Can I use cooked shrimp in pasta?
Yes but be careful not to overcook it. HoweverI would steer clear of using pre-cooked shrimp altogether if at all possible though because I find it's too rubbery even before you heat it up.
Can I use different shapes of pasta in this recipe?
Yes! Any noodle shape like spaghetti, linguine, tagliatelle, pappradelle, or fettuccini work great, but the shapes like bowties and penne work as well.
What can I use instead of butter in this recipe?
Olive oil works really well here and brings a nice flavor, or you can use your favorite dairy free/vegan butter in place of regular butter.
Storing leftovers
To store – this pasta is best eaten right away because shrimp doesn't keep well, but you can store leftovers in an airtight container in the fridge for 1-2 days.
Reheat – add the leftovers to a pan and reheat gently with a tablespoon or 2 of water until heated through. The shrimp will get a bit overcooked when you reheat this dish.
To freeze – this dish doesn't freeze well, both the shrimp and pasta will be mushy so I don't recommend it.
Tips & Tricks
Mix it up with different pasta shapes, pretty much anything works here. I prefer the noodle shapes like fettuccini, linguine, and spaghetti, but bowties, penne, and fusilli work too.
For an extra special dish, try using fresh pasta that you buy from the store or homemade.
Try using basil in the summer months when it's abundant, it has the perfect flavor for this dish!
I really hope you enjoy this Garlic Butter Shrimp Pasta! If you do get a chance to make this recipe, please leave a rating below, I'd love to hear from you in the comments.
Garlic Butter Shrimp Pasta
---
INGREDIENTS
9

ounces

pasta

-

see notes, you can also use 1/2 pound or 8 ounces

6

tablespoons

salted butter

-

olive oil, or vegan butter

2

cloves

garlic

-

minced

1/2

teaspoon

red pepper flakes

1/2

teaspoon

Italian seasoning

1

tablespoon

lemon zest

-

from 1 lemon

2

cups

roughly chopped baby spinach

1

tablespoon

chopped fresh parsley

-

or basil

1

pound

peeled shrimp

-

thawed and drained if frozen

2

tablespoons

freshly squeezed lemon juice

1/2

teaspoon

sea salt

-

more or less to taste

2

cups

reserved pasta cooking water

Optional: grated parmesan cheese to sprinkle on top
INSTRUCTIONS
Bring a large pot of water to a boil.

Meanwhile mince the garlic, zest the lemon, chop the spinach and parsley, and juice the lemon.

Salt the pasta water well with 1-2 tablespoons of salt and cook the pasta. It will take 8-10 minutes depending on the shape used.

While the pasta cooks, melt the butter in a large skillet over low heat. Then add the garlic and cook until just fragrant, 30-60 seconds. You want the garlic to be fragrant and not browned.

Turn up the stove to medium high heat and add the red pepper flakes, Italian seasoning, lemon zest, and spinach. Cook just until beginning to wilt, about 1 minute.

Then add then add the shrimp only if the pasta is almost ready. You can take the spinach mixture off the heat to wait for the pasta if necessary.

When the pasta is al dente, reserve 2 cups cooking water, then drain and add it to the pan with the spinach shrimp mixture. 

Add the parsley, lemon juice, sea salt and pepper, and toss together with just enough reserved cooking water to coat the pasta as a light sauce, and finish cooking the shrimp.

Serve immediately.
Bonus Step
If you made this recipe, please leave a rating/comment. Ratings really help us continue to bring you high-quality free recipes. Rate This Recipe!
NOTES
I used the Jovial gluten free tagliatelle that comes in 9 ounce packages, but 8 ounces or 1/2 pound pasta works as well. You can also use fettuccini, linguini, spaghetti, or pappardelle.
For different variations you can use 1 cup dry white wine like pinot grigio or sauvignon blanc in place of the pasta cooking water or 1 cup heavy cream added at the same time as the shrimp as a creamy version.
nutrition facts
Calories:
469
kcal
|
Carbohydrates:
53
g
|
Protein:
21
g
|
Fat:
19
g
|
Saturated Fat:
12
g
|
Polyunsaturated Fat:
1
g
|
Monounsaturated Fat:
5
g
|
Trans Fat:
1
g
|
Cholesterol:
188
mg
|
Sodium:
1096
mg
|
Potassium:
248
mg
|
Fiber:
5
g
|
Sugar:
2
g
|
Vitamin A:
2300
IU
|
Vitamin C:
11
mg
|
Calcium:
93
mg
|
Iron:
1
mg