15 minutes to make this luxurious Garlic Parmesan Sauce with its smooth and creamy texture. Its simple but deep flavor pairs well with meat, veggies, or pasta. Serve it drizzled over steak, roasted asparagus, or toss it together with freshly cooked pasta. The sky is the limit with this versatile sauce you'll find yourself coming back to it over and over again. It's great for any special occasion like holidays and birthdays. But I also love it for entertaining, weekend dinners, and at-home date nights.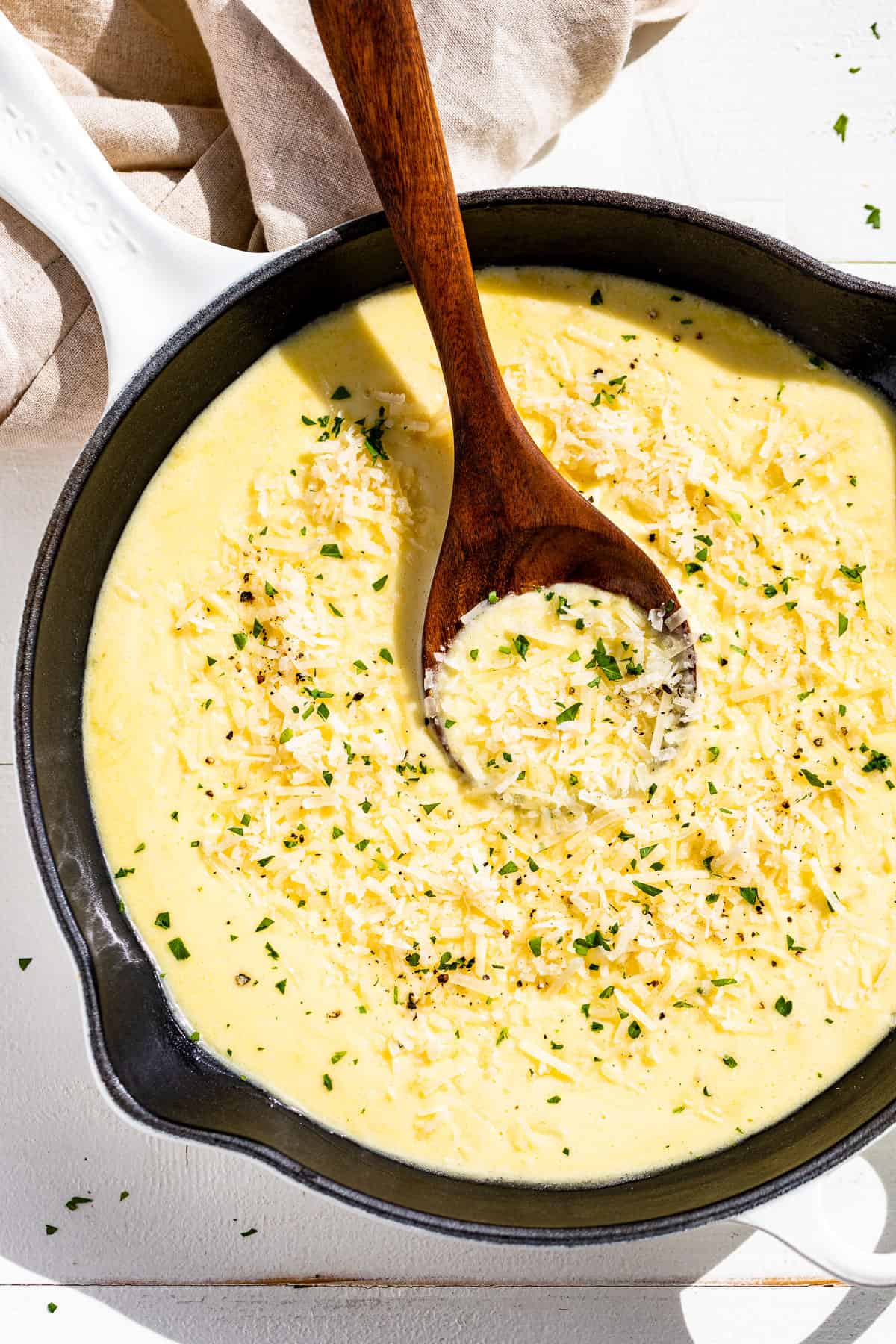 We love a good cream sauce around here, both for weekend dinners and entertaining. This simply flavored garlic parmesan cream sauce is very versatile and pairs with any protein, veggies, or pasta.
And since this sauce is incredibly flavorful, it's best paired with extra simple recipes. One of our favorite ways to serve this is with steak, potatoes, and roasted veggies, (pictured below).
But it's also great tossed together with pasta, sautéed chicken/shrimp, and served with roasted veggies. All in all, this quick and easy sauce is one of my go-to's for entertaining and it's also easy enough for at-home date nights, without spending forever in the kitchen.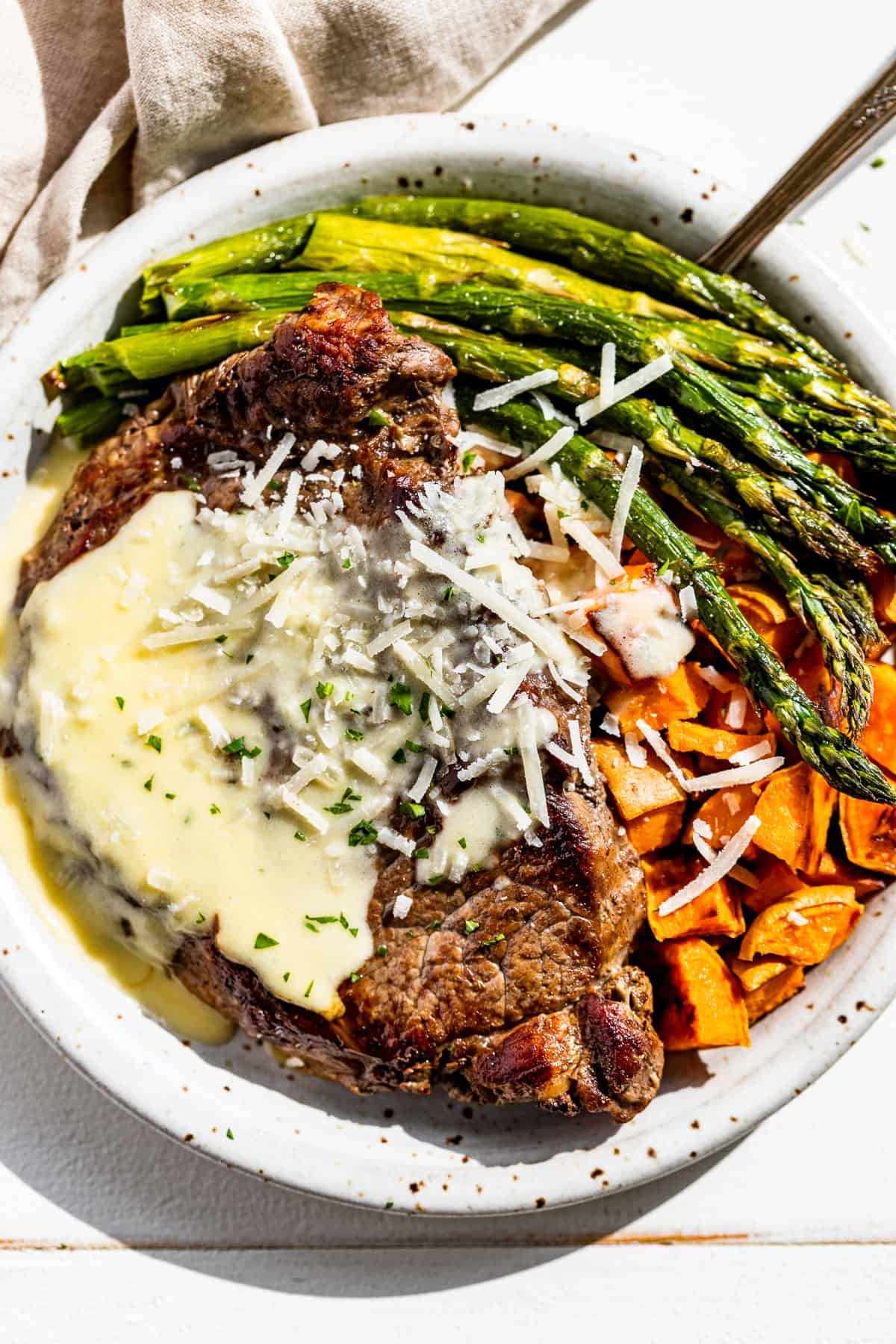 Ingredients & Substitutions
Cream – You want heavy whipping cream with 36%-40% milk fat. I don't recommend half-and-half or milk because they won't thicken up and can curdle when added to the white wine in the pan.
Butter – adds depth of flavor to this sauce, but it's also for sautéing the minced garlic.
Garlic – fresh garlic is worth the extra effort and I don't recommend jarred garlic in this sauce. For easier prep work, try using a garlic press. I don't recommend garlic powder for this recipe, but garlic granules have a nice flavor that you could add to taste, start with 1/2 tsp.
White wine – adds a depth of flavor with a hint of acidity that gives you that restaurant-quality cream sauce. You want a dry white wine here like sauvignon blanc, pinot grigio, pinot gris, etc. Avoid any sweet white wines or full-bodied ones like chardonnay. If you don't want to use white wine, try adding the optional lemon juice listed in the recipe, (I don't recommend using vinegar here).
Parmesan – freshly grated parmesan is essential for the best flavor in this simple sauce.
Sea salt & pepper – to taste brings out all the best flavor in this sauce.
Optional: add 1-2 tsp chopped fresh rosemary or thyme to the sauce when you sauté the garlic for a different flavor. Or add red pepper flakes to taste for a hint of spice if desired.
How to make this recipe step by step
Step 1: Melt the butter in a skillet or saucepan. As the butter melts, add the garlic and cook briefly just until fragrant but not browned, about 30-45 seconds.
Add the white wine to the pan and simmer for 1-2 minutes.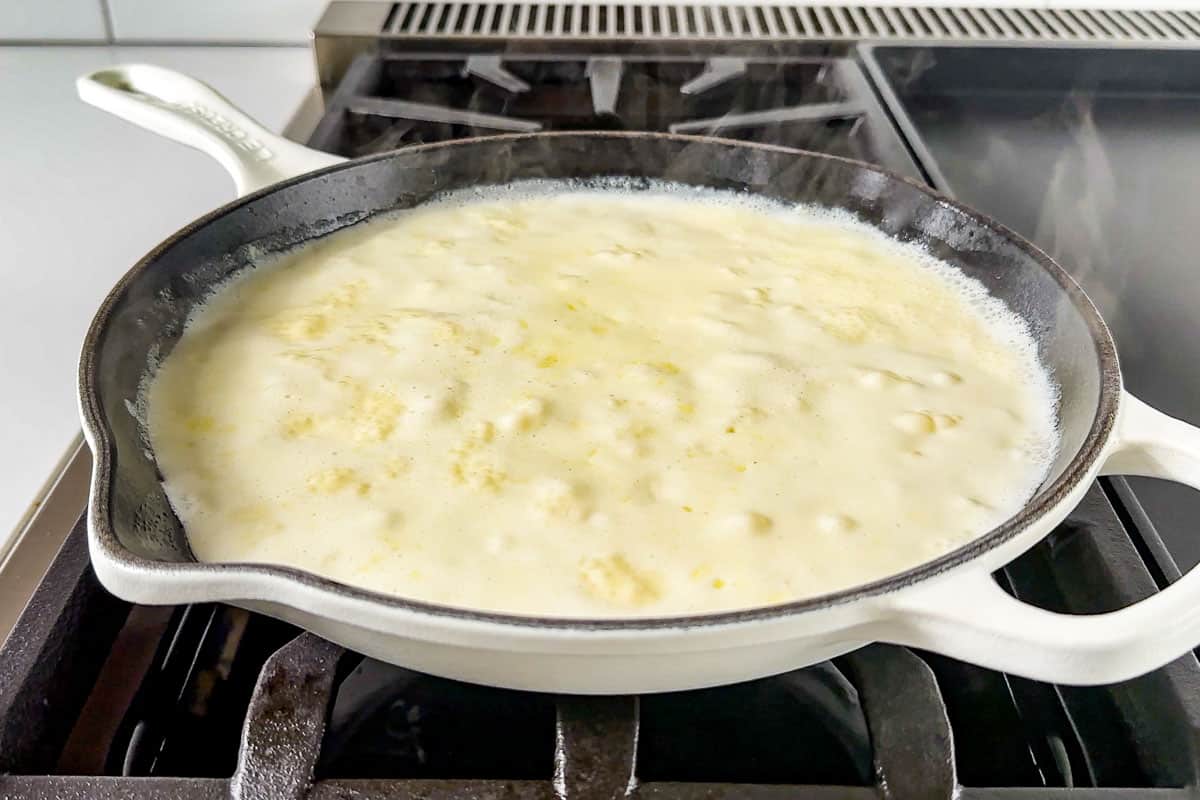 Step 2: Then add the heavy whipping cream and bring the mixture back to a simmer. Be careful not to let the cream boil over, it's never fun to clean up the stove afterward!
Simmer the sauce until just thickened and the sauce coats a spoon.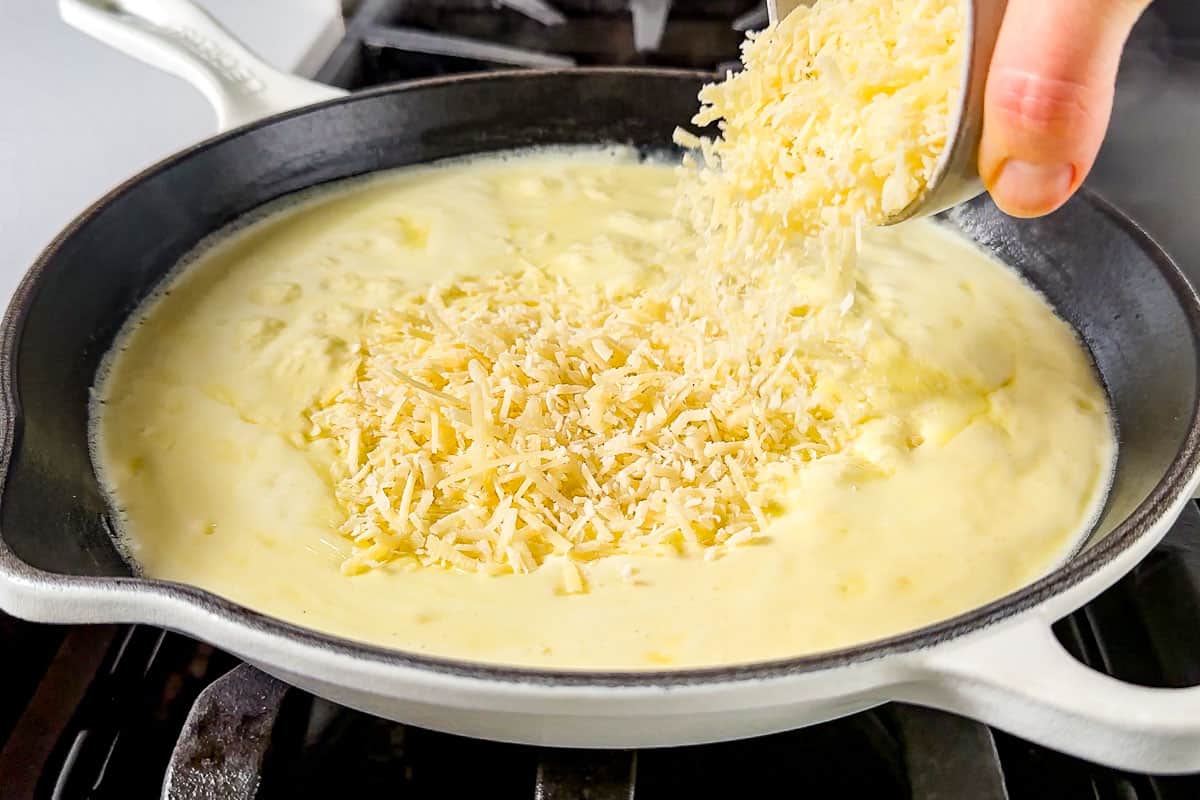 Step 3: Turn off the heat and add the grated parmesan cheese to the thickened sauce. Mix to combine.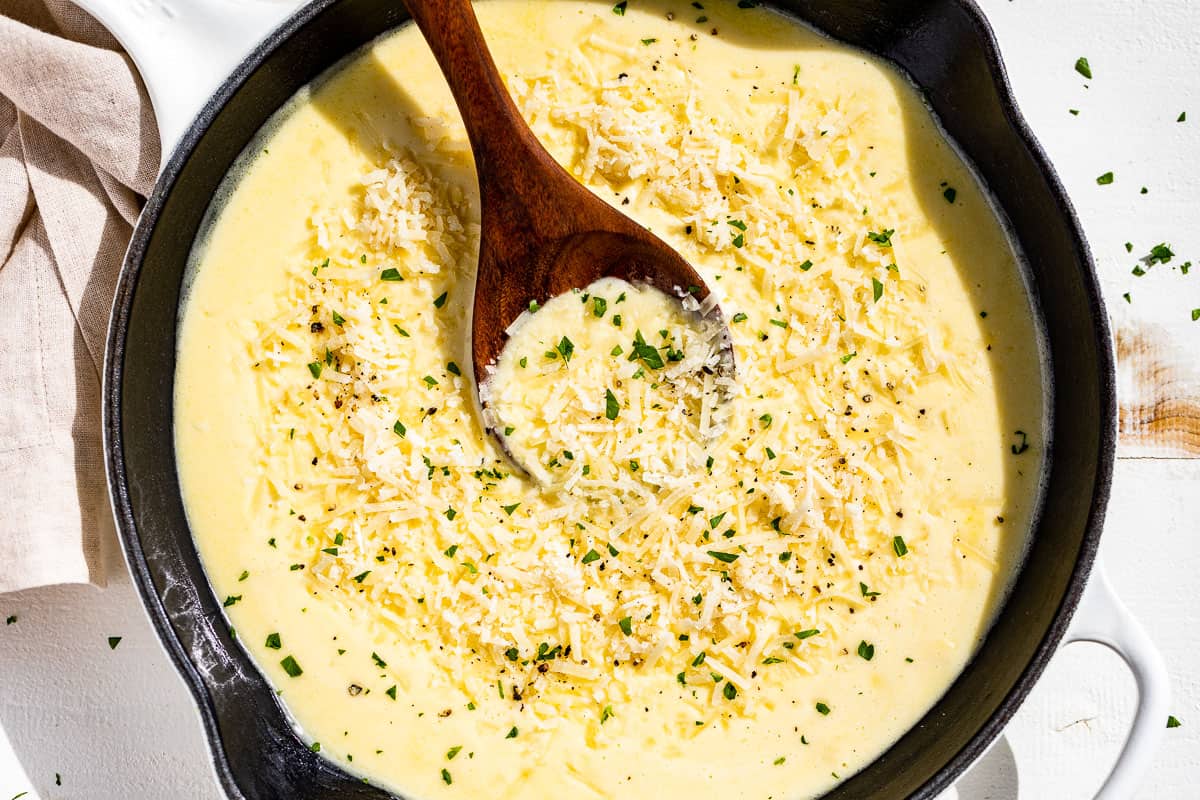 Step 4: Season to taste with sea salt and pepper before serving as desired. Garnish if desired with additional grated parmesan and chopped fresh parsley.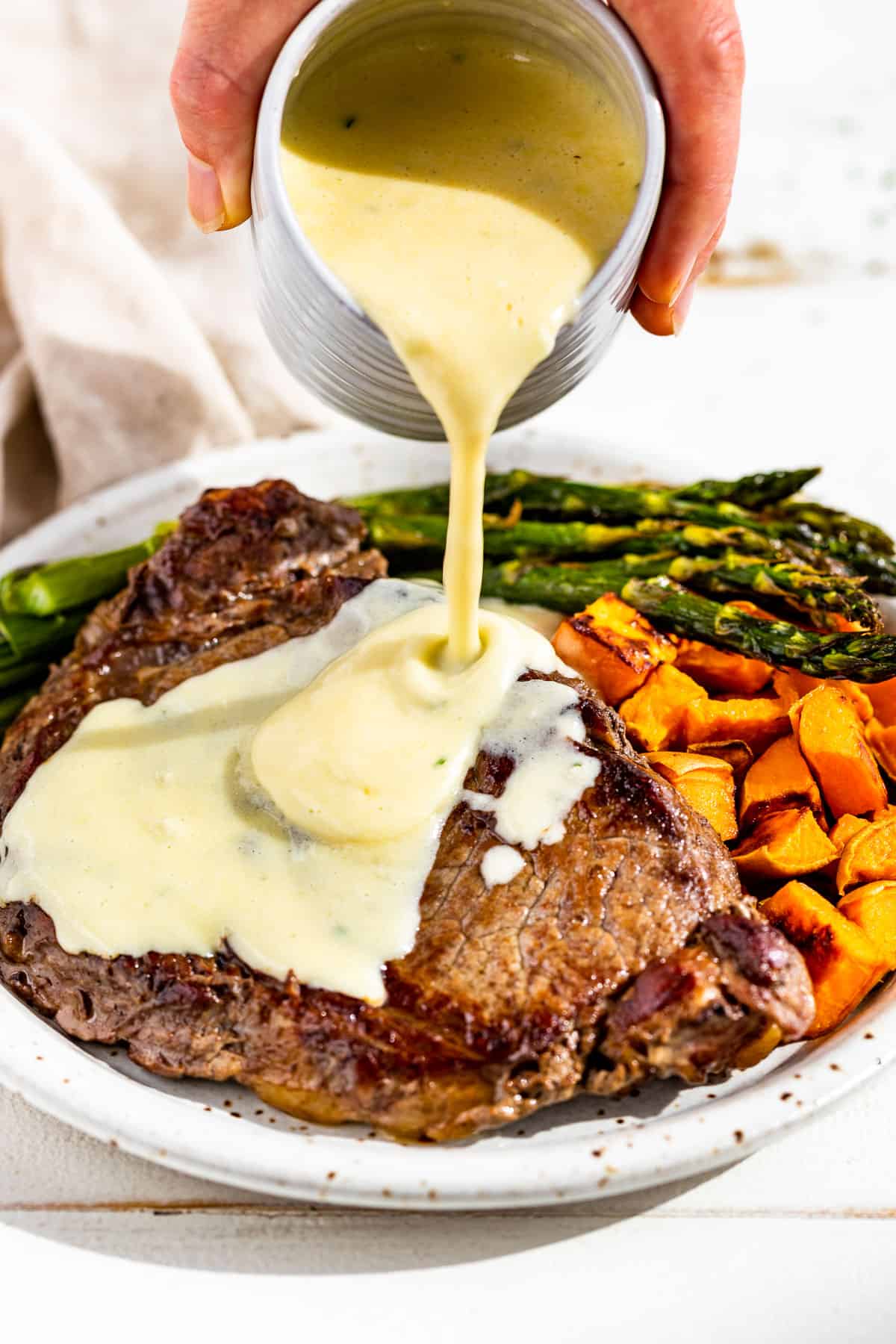 Ways to serve this
Serve this sauce with any meat or seafood you like! It's wonderful over steak as pictured above, or over pork chops. It's great with Roast Chicken or Pork Tenderloin. But it's also very tasty paired with roasted salmon, halibut, or sautéed shrimp.
This recipe makes a great pasta sauce tossed together with a package of freshly cooked pasta. From there you can add your choice of protein and veggie to make a meal. Add sautéed cubed chicken or shrimp to the creamy pasta and serve with any side dishes mentioned below.
My Roasted Carrots, Sautéed Spinach, Garlic Butter Mushrooms, Roasted Broccoli, Roasted Sweet Potatoes, or Perfect Roasted Asparagus are all great side dishes to add to your steak dinner or pasta dinner.
Make a special meal by serving this cream sauce with my Beef Tenderloin, Mashed Potatoes, and Sautéed Green Beans. Follow this meal with my Death by Chocolate or Easy Gluten Free Chocolate Cake to finish the occasion.
Try it as a sauce for any white pizza in place of the usual tomato sauce. Or it's great as a dip for chicken wings too.
FAQ's
Is Creamy Garlic Parmesan Sauce the same as Alfredo sauce?
No, traditional classic Alfredo sauce doesn't have garlic in it. My garlic parmesan cream sauce also has white wine to give it depth, and white wine isn't usually added to Alfredo sauce. However many store-bought brands of white sauces call their 'alfredo sauce' garlic parmesan alfredo sauce. It's really just a matter of technicalities.
What can I use instead of heavy cream?
There is nothing that will sub in well for heavy cream that will give you the same incredibly creamy result. You can add 1 tbsp flour to the garlic butter mixture and add half and half or whole milk to cook until thickened. This will give you a garlic white sauce called bechamel, but it's not a cream sauce. If the sauce isn't thick enough to your liking, add a touch of cornstarch mixed together with water until it's thickened to your liking.
Why is my cream sauce broken, or separated?
A broken cream sauce (or separated) happens when there isn't enough liquid left to keep the fat emulsified. The quickest way to bring the sauce back together is to add a bit more heavy cream. If you don't have cream, try half and half, whole milk, or a touch of white wine or water. Take the sauce off the heat and whisk in just enough liquid to bring the sauce back together.
Storing leftovers
To store – place any leftover sauce into an airtight container and refrigerate for up to 4 days.
Make ahead – this sauce keeps well and can be reheated when you're ready to serve it. I recommend leaving out the parmesan and adding it fresh if you choose to make this ahead.
Reheating – heat over medium heat stirring constantly until heated through. Try not to bring the sauce to a boil because it will cause the parmesan cheese to become slightly grainy.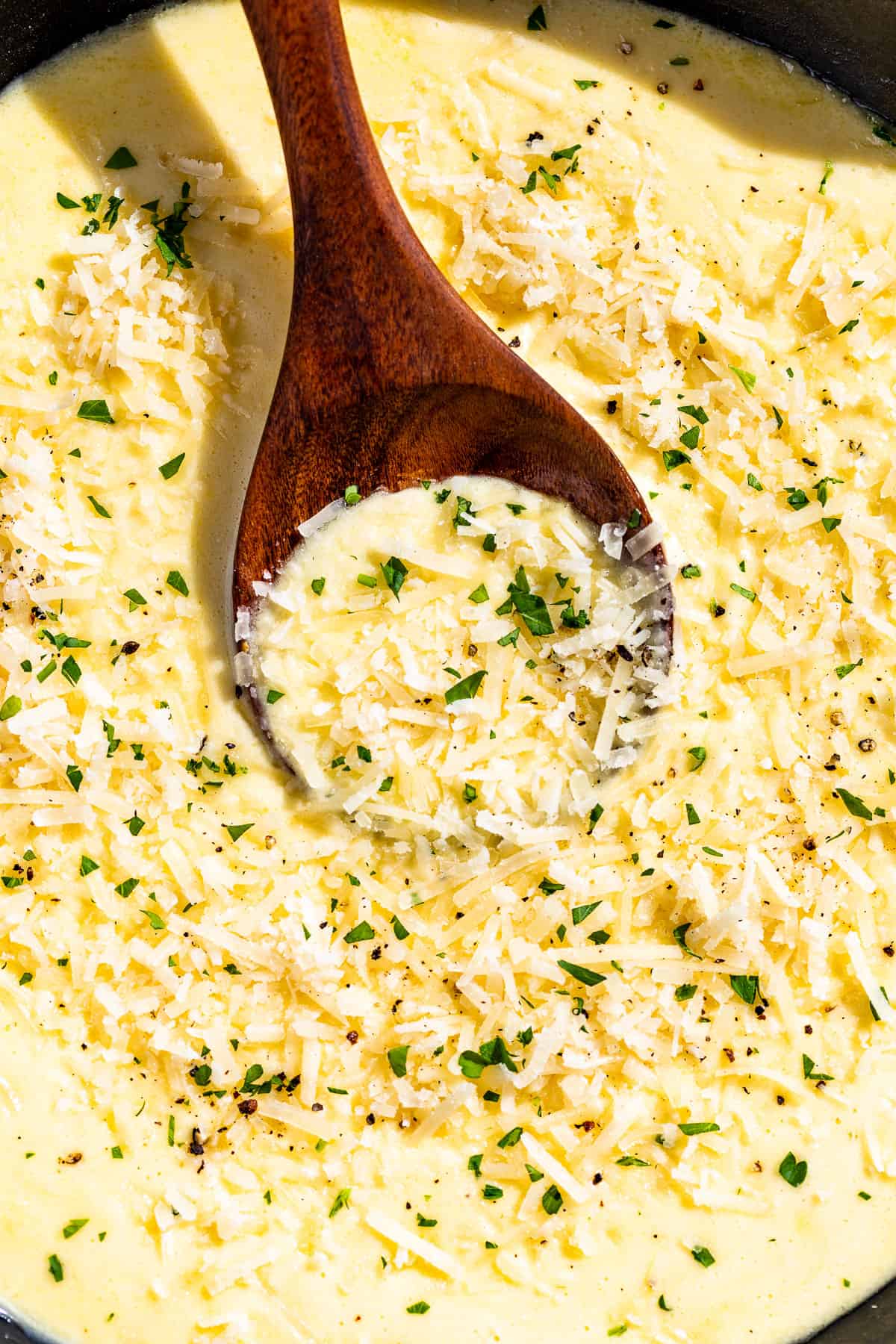 Tips & Tricks
Don't boil the sauce once you add the parmesan cheese, this can cause the cheese to become grainy in the sauce.
Make this sauce ahead right up until the step where you add the parmesan cheese to make entertaining simpler. Then when you're ready to serve this sauce, heat it up over medium heat until it just simmers, then add the parmesan, season to taste, and serve.
Try not to over-simmer this cream sauce so it doesn't break. If this sauce is reduced too much, it won't stay emulsified. If this happens, you can remove it from the heat and whisk in a bit of cream until it emulsifies again. For more options to fix the sauce refer to the FAQ's.
Dietary Options & Substitutions
Dairy-free – Paleo – Vegan or Vegetarian – use my Cashew Cream Sauce instead. Add dairy-free/vegan grated parmesan if desired.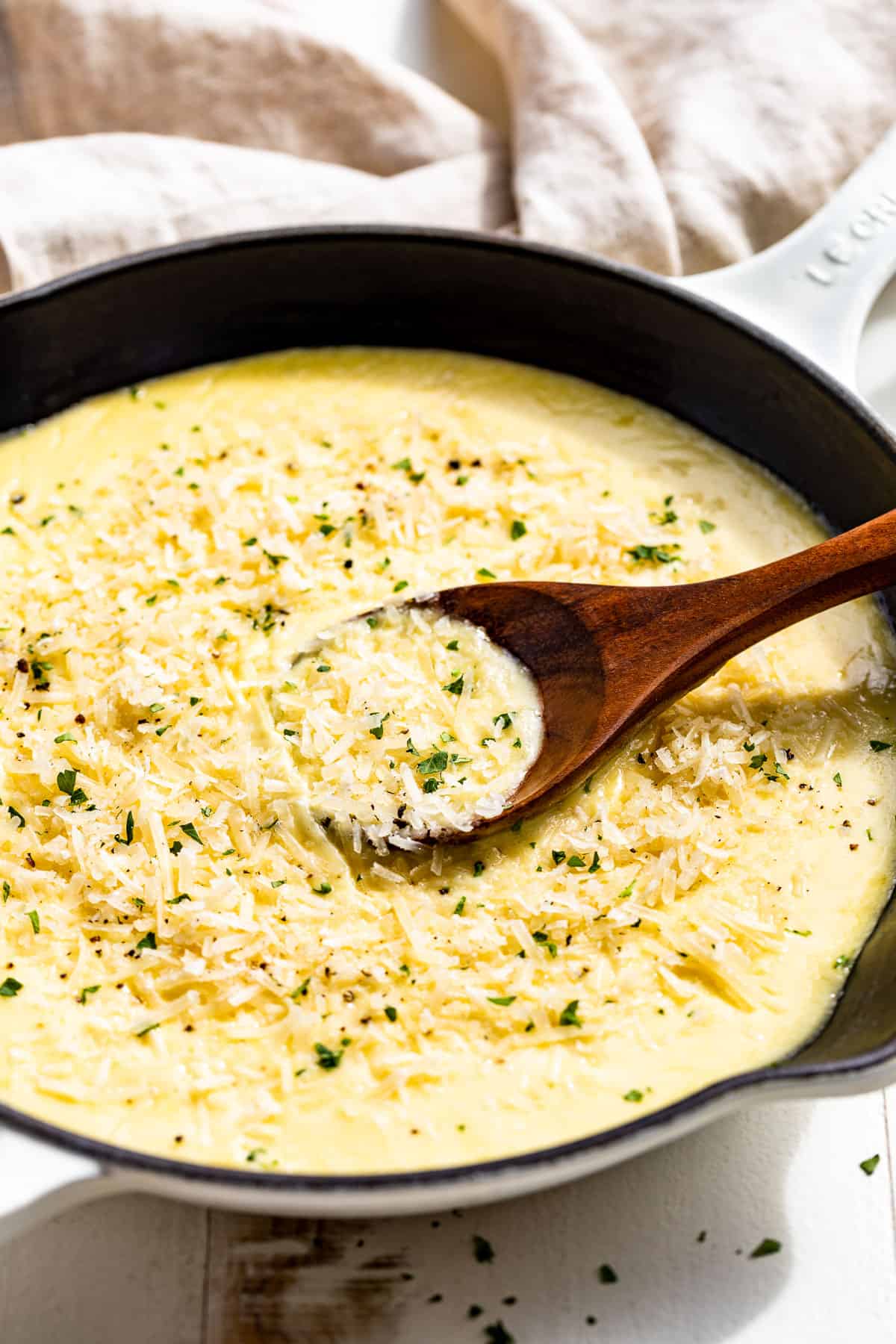 More Inspiration for Delicious Sauce Recipes
I really hope you enjoy this Garlic Parmesan Sauce! If you do get a chance to make this recipe, I'd love to hear from you in the comments.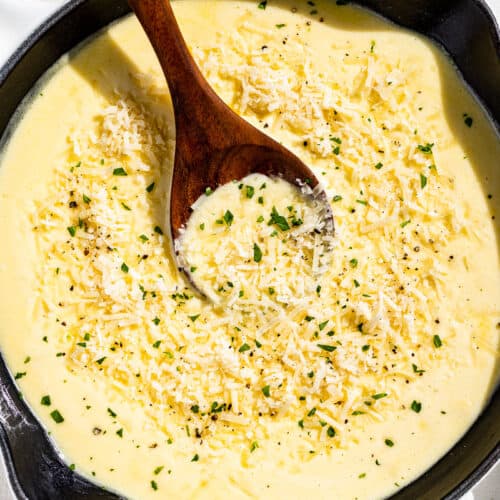 INGREDIENTS
2

tbsp

butter

2

cloves

garlic

-

minced

1/4

cup

dry white wine

-

see notes

1

cup

heavy whipping cream

1/2

cup

grated parmesan cheese

-

plus more for serving if desired

sea salt & black pepper to taste
INSTRUCTIONS
Place a large saucepan over medium heat. When the pan is hot, add the butter and minced garlic.

Sauté just until fragrant, about 30 seconds, then add the white wine to the pan. Bring the mixture to a boil and then simmer until the wine is almost gone.

Next, add the heavy cream and bring the sauce to a boil, be careful you don't let it boil over. Reduce the heat and simmer just until the sauce coats the back of a spoon and is lightly thickened, about 8 minutes.

Remove the pan from the heat and stir in the parmesan cheese. Season to taste with sea salt and black pepper and serve as desired.
Bonus Step
If you made this recipe, please leave a rating/comment. Ratings really help us continue to bring you high-quality free recipes. Rate This Recipe!
NOTES
White wine adds a nice depth of flavor, but if you don't want to use it, try adding freshly squeezed lemon juice to taste after you add the parmesan cheese, about 1-2 tbsp.
This sauce makes enough for 4 servings of meat like steak or chicken. Or you can toss it together with a 12 ounce package of freshly cooked pasta and enough reserved cooking water to perfectly coat the pasta.
nutrition facts
Serving:
0.25
cup
|
Calories:
320
kcal
|
Carbohydrates:
4
g
|
Protein:
6
g
|
Fat:
31
g
|
Saturated Fat:
19
g
|
Polyunsaturated Fat:
1
g
|
Monounsaturated Fat:
8
g
|
Trans Fat:
0.2
g
|
Cholesterol:
93
mg
|
Sodium:
281
mg
|
Potassium:
98
mg
|
Fiber:
0.03
g
|
Sugar:
2
g
|
Vitamin A:
1158
IU
|
Vitamin C:
1
mg
|
Calcium:
156
mg
|
Iron:
0.2
mg