So… a weird fact about me is that when I was a kid, I wouldn't eat the cake at birthday parties if it was chocolate. And the same went for ice cream and frosting, if it was chocolate, I wasn't eating it.
I remember clearly standing my ground on a few occasions and refusing the cake much to the mystification of the adults. I'd happily just eat the veggie tray rather than the chocolate cake – very weird behavior wouldn't you say!?!
It wasn't that I didn't like chocolate, oh no… that wasn't it at all. In fact from and early age I remember my mom teaching me to savor and enjoy dark chocolate. Which I think was the entire problem really. Once I had a taste for straight up chocolate, chocolate cake/frosting/or ice cream just didn't live up to that intense chocolate flavor, and I always found them disappointing.
It wasn't until I was an adult that I really starting liking chocolate cake. After all, we didn't have it much growing up since my mom used to make cookies/puddings/pie instead of cake which isn't really her thing.
And I think what the main problem is with so many birthday cakes is two things really. First up they need to be moist, that is so key in my opinion! And secondly whether it's chocolate, vanilla, or even lemon – it really needs to have a good amount of flavor.
So today's chocolate cake is everything I think a chocolate cake should be, and I really hope you enjoy it's moist crumb and deep dark chocolatey flavor.
This cake is simple to make and all you need is a bowl and spoon. First you mix together the dry ingredients, then add the wet ingredients.
Then spread the cake batter into a lined and oiled baking pan. You don't have to line the pan if you don't want to remove the cake. I baked it straight in the oiled baking pan and that works well too.
And just one more thing that I'm not the crazy about when it comes to cake – the frosting. I know that's everyone's favorite part, so please don't throw things at me! But here's the thing, I always find frosting sickeningly sweet.
So when I make a buttercream, (which this isn't true buttercream if you want to be technical) I always keep the sugar down to really taste the other flavors of the frosting. A true buttercream involves a candy thermometer and some patience , so I almost always make mine this way with powdered sugar, (AKA the easy way!).
Since this frosting is butter based, you want to be sure the cake has completely cooled before you frost it. Otherwise you might find your frosting melting unaplealingly.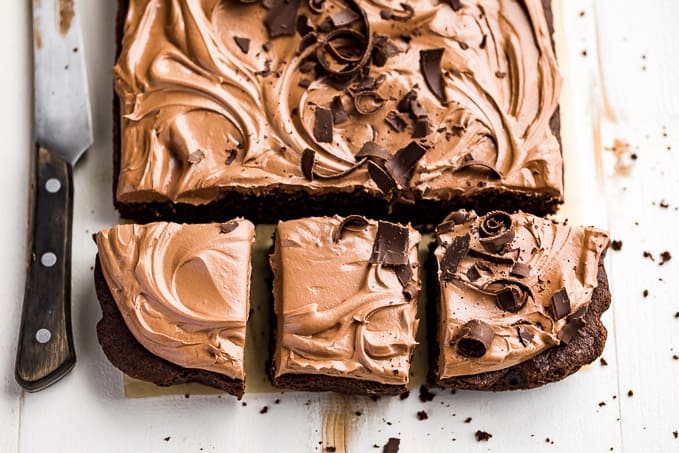 And for the final touch, some chocolate curls really go a long way towards the celebratory look! For the story about how this chocolate cake came to be, head over to Facebook or Instagram to read about it.
Print
Grain Free Chocolate Cake with Buttercream Frosting
---
Author:

Kari

Total Time:

1 hour 10 minutes

Yield:

18

pieces

1

x
Description
Perfectly moist and deeply chocolatey cake for and celebration!
---
Chocolate Cake:
2 cups fine almond flour
3/4 cup cocoa powder, sifted
1/2 cup tapioca starch
1/2 cup coconut sugar
2 Teaspoons baking powder, see notes
1 Teaspoon baking soda
1/2 Teaspoon sea salt
1/2 cup maple syrup
1/2 cup strongly brewed coffee, cooled
3 eggs
2/3 cup avocado oil
1 Tablespoon vanilla extract
Chocolate Buttercream:
2 sticks salted butter, softened, 8 ounces
6 ounces dark chocolate, 70%, melted and cooled
1 1/2 cups powdered sugar, sifted
1 Tablespoon vanilla extract
Optional Chocolate Curls:
1 – 3 ounce bar dark chocolate, 70%
---
Instructions
Preheat the oven to 350ºF. Lightly oil a 9″x13″ glass baking dish, or line it with parchment paper, one piece cut for the width, and another piece cut for the length and placed into the pan crosswise to the other sheet of paper. Lightly oil the parchment paper if you're using it. The only reason to line the pan with parchment paper is if you'd like to lift the cake out of the pan.
In a medium sized mixing bowl, mix together the almond flour, cocoa powder, tapioca starch, coconut sugar, baking powder, baking soda, and sea salt until completely combined and no lumps remain. Add the maple syrup, coffee, eggs, avocado oil, and vanilla extract, Mix just to combine, then pour the batter into the prepared baking pan. 
Bake until the cake if puffed in the middle and a toothpick inserted in the middle comes out with moist crumbs, (no liquid batter) about 25-30 minutes.
Let the cake cool completely before frosting it, about 2 hours. If you frost the cake while it's still warm it will melt the frosting.
Make the frosting by adding the butter into a mixer and beat it with the whip attachment until there's no lumps. Add the melted and cooled chocolate and beat again until it starts to look fluffier. Then add the powdered sugar and vanilla and beat again until fluffy, 1-2 minutes.
Spread the frosting over the cake and decorate with the chocolate curls if desired. 
Serve immediately. Any leftovers can be kept at room temperature for 3 days.
To make the chocolate curls, melt the chocolate in a double boiler. Spread the melted chocolate thinly over a sheet of parchment paper placed on a cookie sheet. Let the chocolate set up at room temperature until solid again, about 2 hours which makes this the perfect thing to do before you even start the cake. Using a metal spatula turned upside down, run it across the pan in small sections allowing the chocolate to curl up as you move across the pan.
Notes
Baking powder can have all sorts of additives, and isn't always gluten free or paleo. To be safe, you can make your own by mixing together 1 part baking soda to 2 parts cream of tartar, and use the mixture right away.
Prep Time:

20

Cook Time:

50
Keywords: Grain Free, Gluten Free, Paleo friendly