Enjoy all the classic flavors of this childhood favorite with these healthy Almond Flour Blueberry Muffins. Made with real food ingredients and no refined sugar, these muffins are the perfect healthy treat. This muffin recipe is made with almond flour and is the perfect combination of moist and fluffy. Serve them straight out of the oven with butter, or cool and glaze for an extra gorgeous look.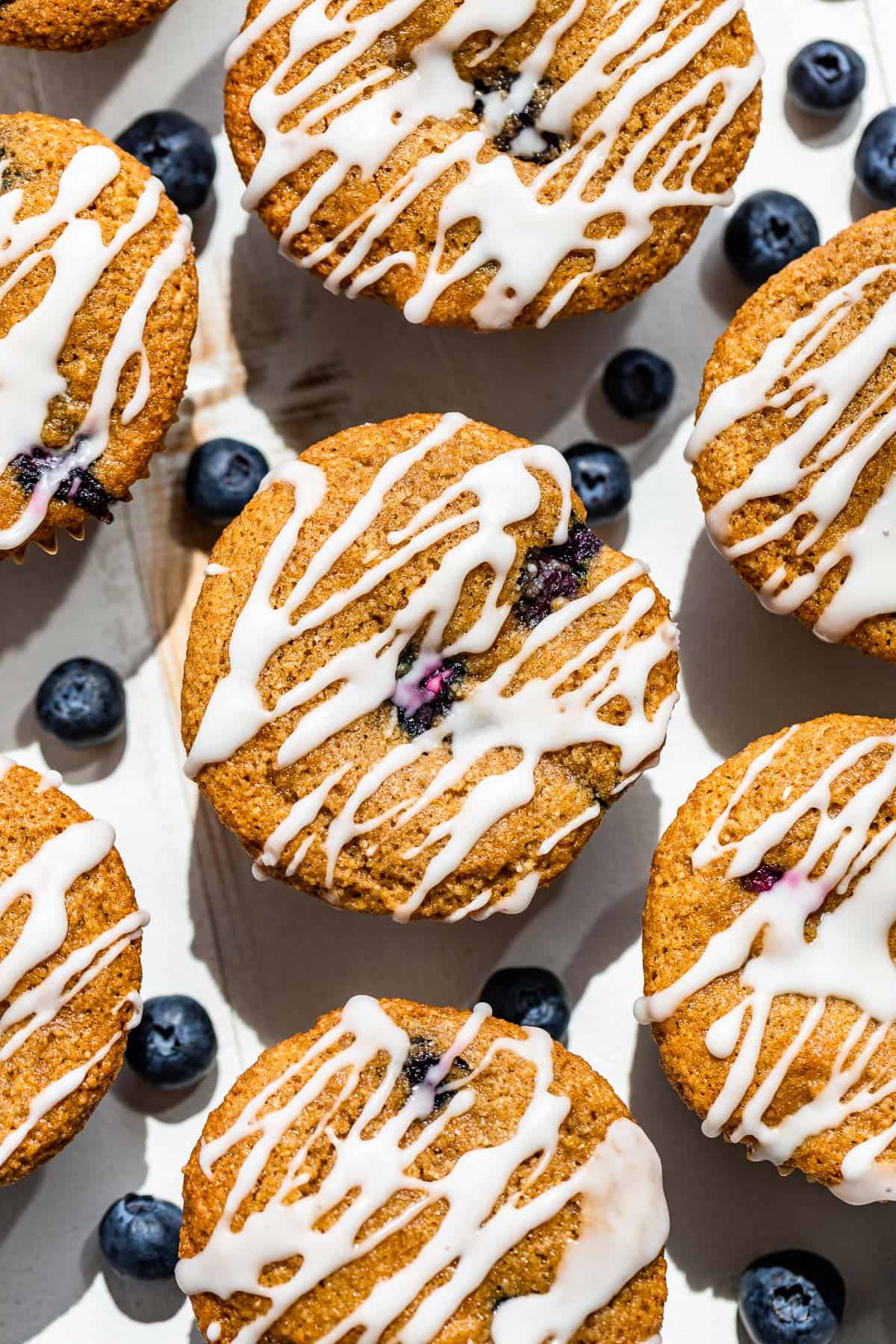 Blueberry has been my favorite muffin flavor since I was little. My mom used to make those boxed muffin mixes sometimes on the weekends.
Normally she made almost everything from scratch. But on the weekends she would often use a boxed mix because we were staying in a camper trailer at my parent's roller rink.
(Yes, you read that right, I grew up in a roller rink! As a funny side note, my parents towed me around on skates before I could even walk!)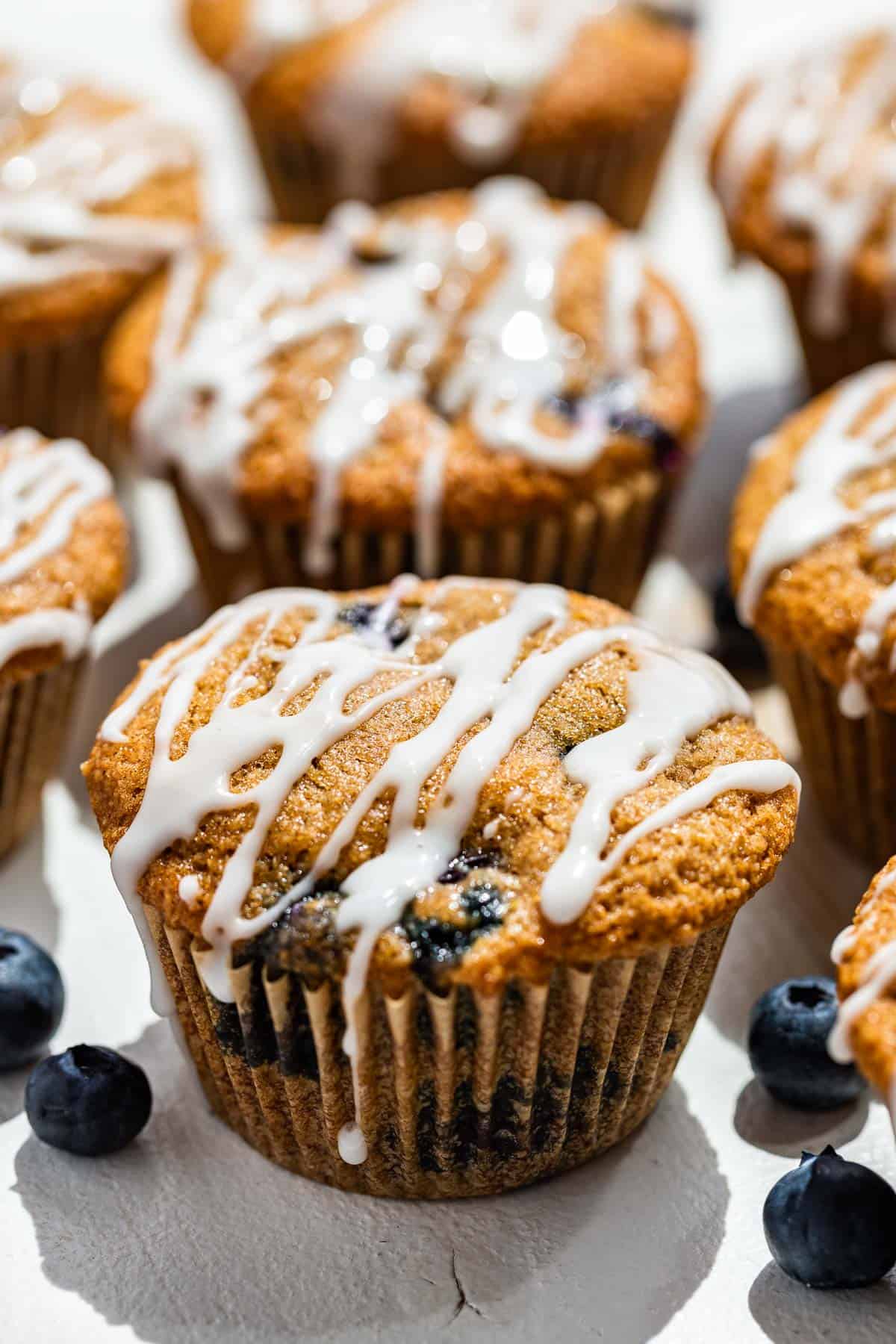 Those boxed Jiffy blueberry muffins were always my favorite on the weekends. Does anyone else remember growing up with those?! And so of course, blueberry muffins taste like childhood to me!
So let's jump in and make some healthier muffins to enjoy with your morning coffee that tastes even better than regular blueberry muffins. And they're made with more nutritious ingredients too.
Ingredients & Substitutions
Almond flour & tapioca starch – almond flour is sometimes called almond meal. Almond meal is technically a rougher texture with more grit. However, they're often labeled as the same thing, so you want to look for a very fine texture like in the above photo. I like to use tapioca starch (tapioca flour) with it to provide structure and give you the right fluffy texture. But you can also use cornstarch or arrowroot. Bob's Red Mill super fine almond flour works well here.
Cinnamon & Lemon zest – combined together make the best flavor with blueberries. Don't skip the lemon zest, it really takes these muffins up a notch.
Blueberries – fresh blueberries work best here. But you can use frozen blueberries as well. You'll find more details in the FAQ's below.
Maple syrup – Grade A amber maple syrup is the perfect sweetener in these muffins without a strong flavor. But honey also works here. Look for a milder honey so you don't notice the honey flavor quite so much.
Eggs – work together with the tapioca starch to bind the almond flour together and produce a fluffy muffin. I haven't personally tried flax eggs as an egg replacer but I do have feedback that it has worked in these muffins.
Ghee or butter – both ghee or melted salted butter both work well here. For dairy free try avocado oil or melted coconut oil and increase the amount of salt to taste.
Vanilla extract & almond extract – vanilla adds a lot of flavor to these healthy blueberry muffins, and don't be afraid of the almond extract. There's just a hint of the almond that really builds flavor rather than being overwhelming.
Optional glaze – is made with coconut butter combined with just enough lemon juice and sweetener to taste. This creates a beautiful white glaze without any powdered sugar. However, you can mix sifted powdered sugar together with fresh lemon juice if you can't find coconut butter.
How to make these Almond Flour Blueberry Muffin recipe step by step
Step 1: Start by preheating the oven, then mix the dry ingredients together in a large bowl until no lumps remain.
Step 2: Next stir in the blueberries until they're evenly distributed in the flour mixture.
This helps to keep the blueberries evenly suspended in the batter when the tapioca starch lightly coats them.
Step 3: Add the wet ingredients to the bowl.
Step 4: Fold the wet ingredients into the dry ingredients.
Mix together gently just until a thick batter forms.
Step 5: Portion out the muffin batter into a muffin pan lined with paper muffin liners. I use 2 soup spoons from my silverware drawer, but a cookie scoop or ice cream scoop works as well.
If you don't want to use the paper liners, grease the pan very well with butter, ghee, coconut oil, or your choice of cooking spray.
Step 6: Bake until the muffins are puffed in the center, golden brown, and a toothpick inserted comes out clean or with moist crumbs, (no batter). Transfer to a wire rack and cool completely to room temperature if you're using the glaze. Otherwise, serve hot or warm with butter.
Ways to serve these Almond Flour Blueberry Muffins
We love to serve these either with the glaze or warm with butter paired with softly scrambled eggs for a simple comforting breakfast.
Try serving these for a larger brunch menu by adding eggs and bacon or sausage. Try my Turkey Breakfast Sausage or these super easy (& no mess) Air Fryer Sausage Links.
Or pair these muffins with my Sausage Hash Brown Breakfast Casserole or Veggie Egg Bake. Add freshly squeezed juice or a simple fruit salad to complete the brunch menu.
These are also really nice to pack along to work for a mid-morning snack.
FAQ's
Can I use gluten-free flour in place of the almond flour?
I would not recommend subbing in gluten-free flour for almond flour because the texture will be off. Almond flour naturally contains healthy fats and protein which adds to the moisture in this recipe so it can't be easily subbed out. If you want to use gluten-free flour I recommend using any blueberry muffin recipe made with all-purpose flour and subbing in your choice of gluten-free flour. Coconut flour also does not work in this recipe.
Can I use frozen blueberries in these blueberry muffins?
Yes, you can use frozen blueberries or even huckleberries in blueberry muffins, but it will affect the color. Frozen blueberries leave grey streaks in the muffin batter and the muffins will bake with grey blue streaks. The flavor is perfectly fine, it's just the color that is affected by frozen blueberries. If you use frozen blueberries, do not thaw them first! They will be a juicy mess when thawed, so you want to add them still frozen.
Does almond flour rise less?
I have found that yes overall almond flour does rise less. It has to do with structure and that it contains no gluten. These blueberry muffins made with almond flour are the perfect amount of fluffy thanks to the right ratio of almond flour to tapioca starch. The tapioca starch provides the much-needed structure to make up for the lack of gluten.
Storing leftovers
To store – place any leftover muffins into an airtight container and store at room temperature for up to 3 days, or 1 week in the refrigerator.
Make ahead – these freeze really well, so they're wonderful made ahead. If you want them to be freshly baked, try mixing the dry ingredients together to speed up the prep time.
Reheating – place room temperature or refrigerated muffins into an oven at 200ºF until heated through, about 10 minutes.
To freeze – place the muffins into an airtight container for storage, and store them in the freezer for up to 6 weeks. Defrost in the fridge overnight or on the counter and reheat if desired.
Tips & Tricks
Swap out the blueberries for fresh raspberries or diced strawberries. Blackberries also work well in this almond flour muffin recipe. Add some mini chocolate chips with the raspberries or strawberries for another fun variation.
Don't worry if the coconut butter glaze clumps at any point! It simply means you need to add a touch more liquid. I have found each jar of coconut butter to be slightly different so the quantities listed in the recipe are a starting point. Sometimes you'll find you need a bit more lemon juice, maple syrup, or even water to make the glaze come together and be smooth.
If you don't want to mess with coconut butter, try mixing together some sifted powdered sugar with freshly squeezed lemon juice until its a drizzle texture. Or serve these muffins plain with butter.
Coconut butter is not the same as coconut oil. Coconut butter is like almond butter but made with coconut. Coconut oil is just straight oil and will not produce a glaze.
Dietary Options & Substitutions
Dairy-free – you can use dairy-free butter, but I recommend using coconut oil or avocado oil for dairy-free.
Paleo – use melted ghee, coconut oil, or avocado oil for paleo blueberry muffins.
Almond Flour Muffin Recipe Inspiration
I really hope you enjoy these Almond Flour Blueberry Muffins! If you do get a chance to make this recipe, I'd love to hear from you in the comments.
Almond Flour Blueberry Muffins
---
INGREDIENTS
2

cups

fine almond flour

1/2

cup

tapioca starch

2

tsp

ground cinnamon

1/2

tsp

sea salt

2

tsp

baking powder

-

see notes

1

tsp

baking soda

1

tbsp

lemon zest

-

see notes

2

cups

fresh or frozen blueberries

1/2

cup

maple syrup

2

eggs

1/4

cup

melted ghee

-

butter, or coconut oil

1/2

tsp

almond extract

2

tsp

vanilla extract
Optional Glaze:
1/4

cup

coconut butter

-

room temperature

2

tbsp

freshly squeezed lemon juice

1-2

tbsp

maple syrup
INSTRUCTIONS
Preheat the oven to 350ºF and line a muffin pan with muffin cup liners.

In a medium sized bowl, mix together the almond flour, tapioca starch, cinnamon, sea salt, baking powder, baking soda, and lemon zest. Stir in the blueberries just until combined.

Add the maple syrup, eggs, ghee, almond extract, and vanilla extract and mix gently until smooth.

Portion the batter out into the 12 muffin cup liners, and bake for 18-20 minutes, or until just puffed in the center, and a toothpick inserted in the middle comes out clean without any batter.

Cool the muffins on a cooling rack in the pan for 5-10 minutes. Then remove the muffins from the pan, and set them on the rack to continue cooling.

Make the glaze by melting the coconut butter in a small saucepan over very low heat. When the coconut butter is just melted, whisk in the lemon juice, and maple syrup to taste.

Drizzle the glaze over the muffins and serve. The glaze never fully sets up like a powdered sugar glaze does.

Freeze any leftover muffins, and reheat in the oven at a low temperature, 200ºF for about 20 minutes to defrost. If the muffins defrost first on the counter, it will only take around 10 minutes to heat them.
Bonus Step
If you made this recipe, please leave a rating/comment. Ratings really help us continue to bring you high-quality free recipes. Rate This Recipe!
NOTES
Baking powder can have all sorts of additives and isn't always gluten-free or paleo. To be safe, you can make your own by mixing together 1 part baking soda to 2 parts cream of tartar, and use the mixture right away.
I recommend using a microplane grater for lemon zest because it creates a nice, fine zest without any big chewy pieces in your muffins.
If the glaze separates in the pan, appears clumpy, or is too thick, simply whisk in a touch more maple syrup. Then whisking constantly add water 1 teaspoon at a time until it comes back together and is the right consistency.
When I bake these muffins with frozen berries, it takes about 24 minutes. This is because frozen berries make the batter cold, and it always will take slightly longer than fresh berries to bake.
nutrition facts
Calories:
245
kcal
|
Carbohydrates:
24
g
|
Protein:
5
g
|
Fat:
16
g
|
Saturated Fat:
4
g
|
Polyunsaturated Fat:
0.3
g
|
Monounsaturated Fat:
1
g
|
Trans Fat:
0.2
g
|
Cholesterol:
37
mg
|
Sodium:
302
mg
|
Potassium:
71
mg
|
Fiber:
3
g
|
Sugar:
13
g
|
Vitamin A:
172
IU
|
Vitamin C:
4
mg
|
Calcium:
107
mg
|
Iron:
1
mg
This recipe was originally published in 2018 and updated in 2023 with new photos, and more tips and information.