I really feel like you can never have too many flavor packed salads in your repertoire! And it's just a bonus if your salad includes healthy ranch dressing. As a kid I was a ranch dressing fanatic, I mean I would eat pretty much anything if it was drowned in ranch.
In fact… my cousin and I were famous in our family, (or infamous) for stealing the the veggie dip trays at birthday parties. We would spirit it away and find a closet to hide in. Then we would proceed to eat all the broccoli off the tray covered in copious amounts of ranch dressing. If time allowed we would move on to the carrots, but most of the time we got caught before we could polish off the veggie tray.
This story is still told over holidays, and it always makes me smile because how often do you get in trouble as a kid for eating broccoli? Of course we weren't actually in trouble for eating broccoli… it's just that it happened to be stolen broccoli, and the fact we didn't want to share that got us into hot water.
Anyways… back to the recipe – this salad is the perfect blend of fresh vs. comfort. There's lots of fresh veggies, but also some grilled chicken for protein, and some bacon bits along with that avocado ranch added in for the comfort factor. It even makes a great mason salad jar to pack along for healthy work lunches, (see the the last picture).
This ranch dressing tastes similar to my childhood memory of the classic dressing. But it's been given a makeover using healthy fats and fresh herbs. It taste both light and creamy at the same time, and it's so good on pretty much everything!
This salad comes together easily with just a few prepped ingredients and the dressing made in the blender.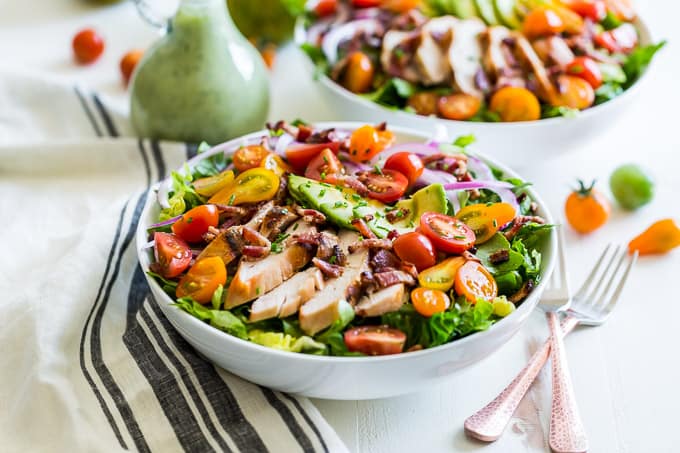 My lunch game has been going strong lately with lots of fresh salad jars. I've especially been loving this particular recipe for salad jars, maybe it's just my ranch fixation, but I never get enough of this salad! You can find lots more tips for making awesome lunches over on my post 5 Ways to Make Simple Healthy Lunches.
Print
Grilled Chicken BLAT Salad with Avocado Ranch Dressing
---
Salad Ingredients:
12 cups

chopped washed romaine lettuce, from 1 large head

1 cup

cooked crumbled bacon, from an 8 ounce package

2 cups

halved cherry tomatoes, 10 ounces

1/4 cup

thinly sliced chives

2

grilled chicken breasts, 1 pound, cubed into bite sized pieces

1 cup

thinly sliced red onion, 1/2 of 1 large onion

1

ripe avocado, thinly sliced
Avocado Ranch Dressing:
1

ripe avocado, peeled and pitted

2 Tablespoons

minced chives

3 Tablespoons

white wine vinegar, or fresh lemon juice

1

clove garlic, minced

1 Teaspoon

sea salt

1/2 Teaspoon

ground black pepper

1 Tablespoon

chopped fresh parsley, see notes

1 Tablespoon

chopped fresh dill

1/4 cup

avocado oil

1 cup

coconut milk, from the can

1/4 cup

water
---
Instructions
Place all the salad ingredients into a large serving bowl.
For the dressing add all the ingredients into a blender, and blend until mostly smooth with small bits of the herbs remaining.
Serve the salad and dressing together.
To make this into salad jars, divide the dressing between 6 – 32ounce mason jars, or as much dressing as desired. Top the dressing with the cherry tomatoes, chives, chicken, bacon bits, red onion, and finally fill each of the jars with the romaine.
Store in the refrigerator for 3-4 days, and add fresh avocado the day you are eating the salad.
Notes
To substitute dried herbs in for fresh the ratio is 1:3. So for the parsley and dill called for you would use 1 Teaspoon dried in place of the 1 Tablespoon of fresh herbs called for.