Does anyone else feel like summer is simply flying by? As in if I'm not careful it'll be fall, and there will still be so many things left on my summer list! Luckily we were able to do all sorts of fantastic summer things during our vacation, and I pretty much crossed off most of my summer bucket list items. (Still haven't had a campfire though.)
Taking a vacation in the summer seems like a no brainer, but for the last several years we've been having trouble getting days off. We'd schedule some vacation time, but when the days would actually arrive, things were always too busy at work, and our vacation would get cancelled.
But this summer we decided things were going to be different. We planned ahead, and booked days off around existing holidays so that we could take 3 trips this year, without even using up all our vacation days. And then we got extra lucky: we had a week booked off for vacation, and a few days after we left we heard that we could take an additional week off, because things were slow at work. (I still can't even believe the luck of getting an extra week off!)
Off course all good things come to an end so to speak, and things have been crazy since we got back with Tyler working weird shifts from day into night and night into day. Neither one of us seems to know the day of the week anymore, because after a certain number of back to back shifts everything starts blurring together.
One good thing about being home again is that I'm in full scale recipe testing mode. Combine that with my garden produce coming in full force, Farmer's Market inspiration, and you've got my favorite time of year!
One of the beauties of summer is the abundance of fresh herbs. So it seems only natural to make chimichurri sauce, (which is basically straight up chopped herbs) as much as possible. I love to do a mix of herbs when making chimichurri, and my new favorite combination is: cilantro + basil + parsley = best chimichurri ever!
The chicken for these grilled skewers gets marinated in some of the chimichurri, and the rest gets served alongside the finished skewers.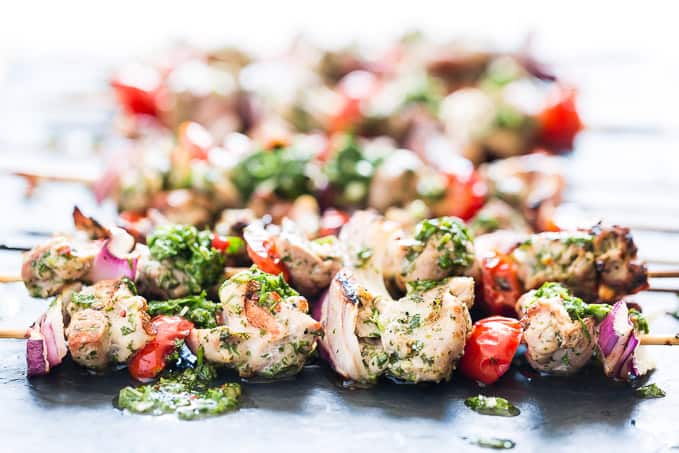 Tips for Leftovers:
If you're lucky enough to have some grilled skewers leftover, pull the chicken and veggies off the skewers and put them on a bed of greens with feta cheese and my 2-Ingredient Balsamic Vinaigrette.
If you have both skewers and chimichurri leftover, use 2-3 skewers and put the chicken and veggies over a bed of greens (2-3 cups), add some sliced strawberries, and mix 2-3 Tablespoons of chimichurri with 1 Tablespoon red wine vinegar or lemon juice for a salad dressing. (Makes 1 big lunch salad.)
And finally… if you have a little chimichurri leftover, mash 2-4 Tablespoons into a couple ripe avocados for a chimichurri guacamole – seriously… so good!
Oh, and I almost forgot – nachos! I made nachos on the grill the other night, (you can follow along on snapchat for daily food inspiration: getinspired365 – I wouldn't want you to miss sizzling nachos videos after all). I layered tortilla chips on a parchment lined baking sheet, scatted some of the chicken and veggies from these skewers over the top. Then I sprinkled them with cheese and grilled until they were sizzling and melted. I served them with a side of the chimichurri guacamole that I mentioned above, and it was beyond delicious.
We often have so many leftovers during the process of recipe testing. There's only 2 of us, and so that's a lot of chicken skewers to eat after testing this recipe twice! I always try and figure out all sorts of ways to morph our leftovers into something fun, so I think you'll definitely enjoy watching our everyday eats over on snapchat!
Print
Grilled Chimichurri Chicken Skewers
---
Mixed Herb Chimichurri:
1/2 cup

loosely packed parsley leaves

1 cup

loosely packed cilantro leaves

1/2 cup

loosely packed basil

6 Tablespoons

avocado oil, or olive oil

1

clove garlic, minced

2 Tablespoons

minced onion

1

small red serrano chile, seeded and minced

1 Tablespoon

red wine vinegar, fresh lime juice, or lemon juice

1/2 Teaspoon

sea salt, or to your taste
Chicken Skewers:
1

pkg boneless skinless chicken thighs, 1 1/2 pounds, 4-5 thighs

1

small red onion

20

cherry tomatoes, 2 cups
---
Instructions
Chop all the herbs together on a cutting board until they're finely chopped with some bigger pieces (about 1/4″). You should have 1/2 cup chopped herbs total. Mix the chopped herbs together with the rest of the chimichurri ingredients, and set the sauce aside.
Cut the chicken thighs into 1″ cubes and place them in a glass or stainless steel container. Pour 1/2 cup of the chimichurri sauce over the chicken cubes, mix to combine and refrigerate for at least 1 hour to marinate. Pour the rest of the chimichurri into an airtight container, refrigerate it only if you're marinating the chicken for more than 1 hour. Chimichurri is best at room temperature, so if it's refrigerated be sure to remove it and let it warm to room temperature before serving.
If you're using wooden skewers, be sure to soak them in warm water for the time you're marinating the chicken. This helps them not to burn to a crisp.
When you're ready to grill the skewers, preheat the grill over high heat.
Cut the ends off the red onion and peel away the tough outer layer. Cut the onion in half and then cut into 1″ cubes. Slice the cherry tomatoes in half, and then thread the pieces of chicken, onion, and tomato onto the skewers alternating as you go. Be sure you don't pack the skewers too tightly or they won't cook evenly. Continue making the skewers until all the chicken and veggies are gone, and discard any marinade leftover from the chicken.
Lower the heat on the grill to medium/ medium-high heat maintaining a temperature of 350º – 400ºF. Place the skewers on the grill and grill for 8-10 minutes, or until the skewers are browned on one side and easy to turn over. Turn the skewers and continue cooking until the chicken is no long pink in the center, about 8 more minutes.
Remove the skewers and serve immediately with the additional reserved chimichurri sauce on the side.
Prep Time:

20 mins

Cook Time:

18 mins