This recipe was inspired by a request for a salad with grilled romaine. I had a salad once in a restaurant that had grilled romaine in it, and it was so awesome! But somehow I've just never translated the concept into my at home cooking.
So I'm so glad I had this request because it's high time to add grilled romaine to the repertoire. Just a few minutes on the grill turns ordinary lettuce into something special. A slightly smoky grill flavor adds a lot to this spring salad, and to play on that a little more, I grilled some of the other ingredients too.
Both asparagus and lemon are fantastic on the grill, so I added them on in as well as some red onion. And pretty soon, I was getting out of control, (as it often happens during recipe development). So I reigned it in and resisted the temptation to add too much to this simple salad.
There's juicy sweet strawberries and creamy avocado in there too to add some freshness.
The dressing has ground up fennel seeds in it which I promise you're going to fall in love with! I used my mortar and pestle which is super handy to make dressing in, but if you don't have one just use ground fennel instead of the whole seeds.
For the romaine, you want it to be halved so you can wash it, and it also needs to be thoroughly dried, or it will steam on the grill instead of lightly char.
Tip: Make dinner time easier by throwing your choice of protein on the grill while you're grilling the salad!
I pile everything on the grill all at once…
… and the lemon and lettuce get done in just a few minutes. So I remove them and let the asparagus and red onion cook for a bit longer.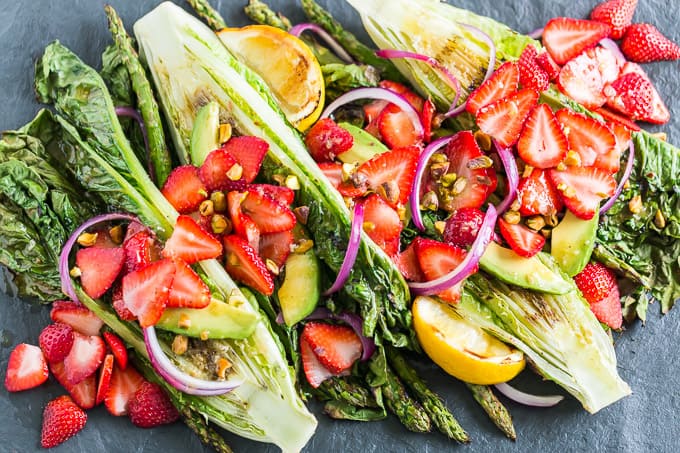 Next up you can cut up the lettuce and asparagus into bite sized pieces for ease of eating. You can also go for the artistic look, and lay it all out on a serving platter, or in this case a piece of slate. Then arrange the extra ingredients over the lettuce and drizzle the dressing over the top.
This salad is easy to pair with a simple grilled chicken/steak or any other protein you'd like. You can also eat it as is for a light refreshing meal, which is a welcome relief when you've been recipe testing Strawberry Cake Doughnuts (recipe coming soon) that day. (And maybe… just maybe I ate too many since they were delicious!)
Print
Grilled Romaine Salad with Strawberries and Fennel Vinaigrette
---
2

romaine hearts, cut in half lengthwise

1

small bunch asparagus, 12 spears, 1 pound

1

lemon, halved

1/2

small red onion, end removed and peeled

1

–

12

ounce carton strawberries, 15-20 berries or so

1/2

ripe avocado, thinly sliced

1/4 cup

chopped pistachios
Fennel Dressing:
1

clove garlic, minced

1 Teaspoon

fennel seeds, or

1/2 Teaspoon

ground fennel

1/4 Teaspoon

black pepper

1/2 Teaspoon

sea salt

2 Tablespoons

olive oil

1/2

of the grilled lemon, juiced

1 Teaspoon

Dijon mustard

1 Tablespoon

maple syrup
---
Instructions
Wash and thoroughly dry the halved romaine hearts. Remove the woody ends of the asparagus, and set them aside.
Wash and dry the strawberries, then hull and thinly slice them.
Preheat a grill over medium-high heat until it reaches a temperature of 400ºF.
While the grill heats, mash/pound the garlic, fennel seeds, pepper, salt, and olive oil together in a mortar and pestle, until the seeds are completely ground up. Or if you're using ground fennel, mix together the garlic, ground fennel, pepper, salt, and olive oil together to combine.
Brush a small amount of the olive oil mixture over the cut side of the romaine hearts. Set the rest of the olive oil mixture aside until the end to make a dressing.
Place the romaine hearts, asparagus spears, lemon halves, and red onion on the grill and immediately turn down the heat to medium, maintaining a temperature of around 350ºF
Grill the romaine for 1-2 minutes, just until some browning begins, then turn it over for another 1-2 minutes. You want the lettuce to be only partially wilted with some browning around the edges. Grill the lemon halves face side down and remove them from the grill when they have grill marks.
Keep turning the asparagus as it browns, and after you've removed the lettuce and lemon halves, turn over the red onion.
Continue to grill until the asparagus is crisp tender, then remove the asparagus and onion, (the onion with still be mostly crisp).
Finish the dressing by juicing 1/2 of the grilled lemon and adding it to the reserved olive oil mixture along with the Dijon mustard, and maple syrup. Whisk together to combine and set the dressing aside.
Thinly slice the grilled onion when it's cool enough to handle. Arrange the grilled lettuce, asparagus, sliced red onion, strawberries, avocado, and pistachios on a serving platter. Drizzle with the dressing or serve it alongside.
You can also thinly slice the lettuce and asparagus to make the salad easier to eat, when you're not in the mood to carve it up on your plate.
Prep Time:

20 mins

Cook Time:

10 mins