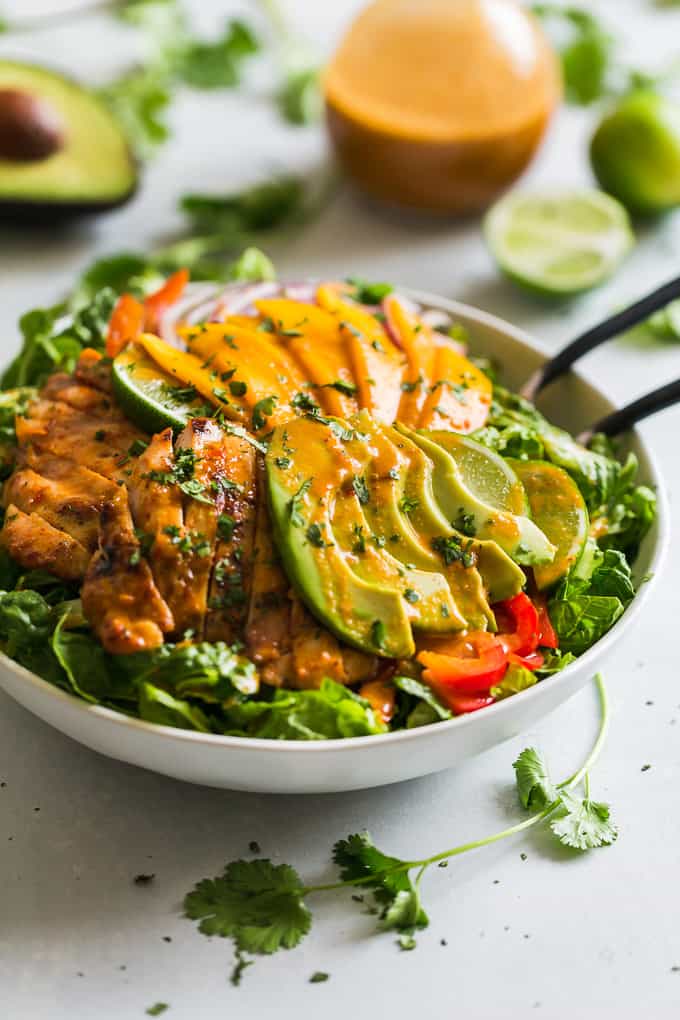 I never get enough of the sweet spicy combo, and it's one of my favorite things about so many Asian inspired meals. Hot, Sour, Salty, and Sweet with Spice added in are flavors that are fun to mix and match. I never really thought too much about it, until I read all about it in a cookbook, (called of course Hot, Sour, Salty, and Sweet). The authors talk all about how different dishes from every Asian country fall into these categories.
And ever since I read about it all precisely laid out like that, it's been something I keep in mind when I'm creating recipes. Different opposing and or complimenting flavors take a dish from 'pretty good' to 'I can't get enough of this'! So of course this salad is about complementing flavors with some opposition in there to mix things up. After all, what good are sweet flavors in your food if there isn't a bit of crisp acidity, (sourness) to balance it out. Opposites are truly wonderful in the world of food.
Today's salad is dressed with a sweet chili dressing that's based off the ever popular sweet chili sauce, but without all the refined sugar. These flavors are mirrored in the grilled chicken and enhanced with juicy slices of mango. But there's just enough tartness added in with the fresh lime juice to make sure nothing is too sweet!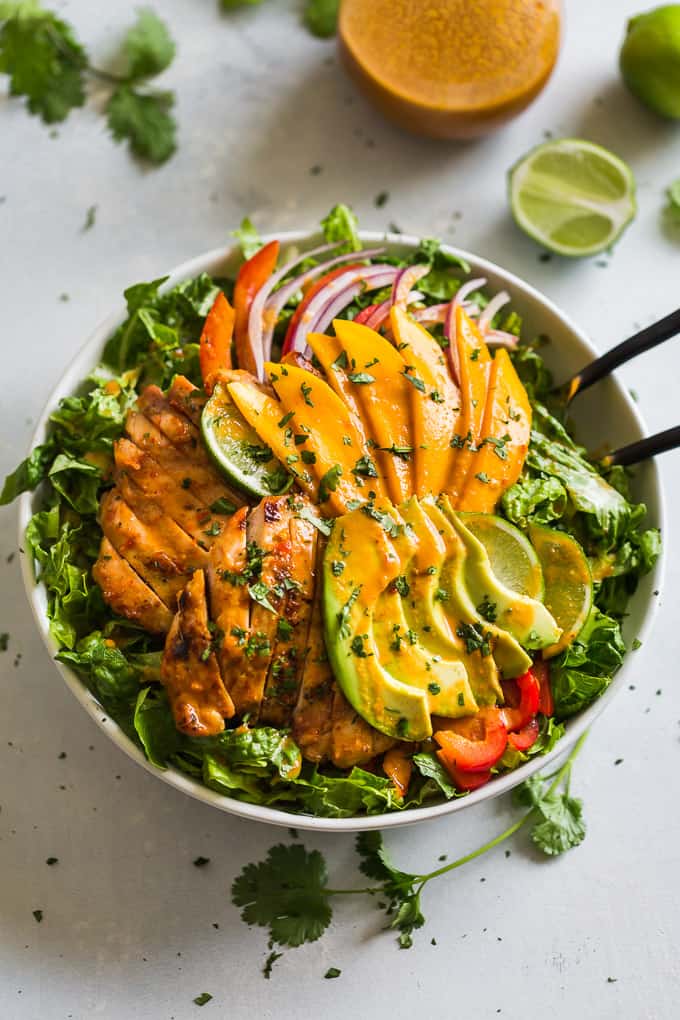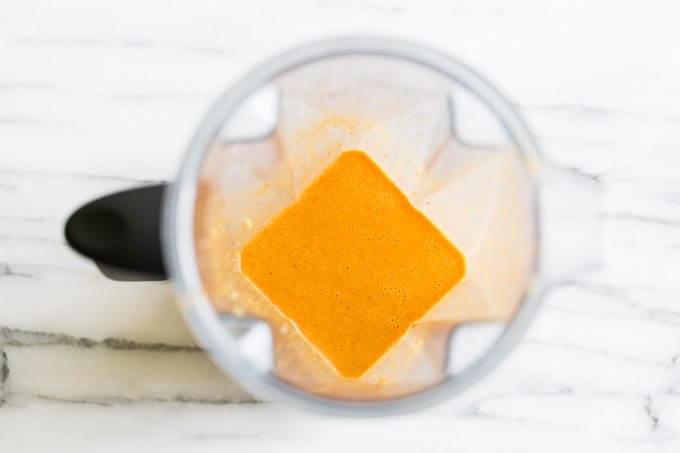 You make the salad dressing first because part of the dressing acts as a marinade for the chicken.
After you've made the dressing add 1/4 cup to the chicken along with the other marinade ingredients. Then refrigerate the remainder of the dressing and the chicken for at least 1 hour, but 8+ is better for flavor.
When the chicken is done marinading, prepare all the veggies, along with the mango. I prefer to use Champagne or Altaulfo mangos when I can because their texture is silky smooth, and they're also incredibly sweet. You'll recognize them in the store by their yellow skin.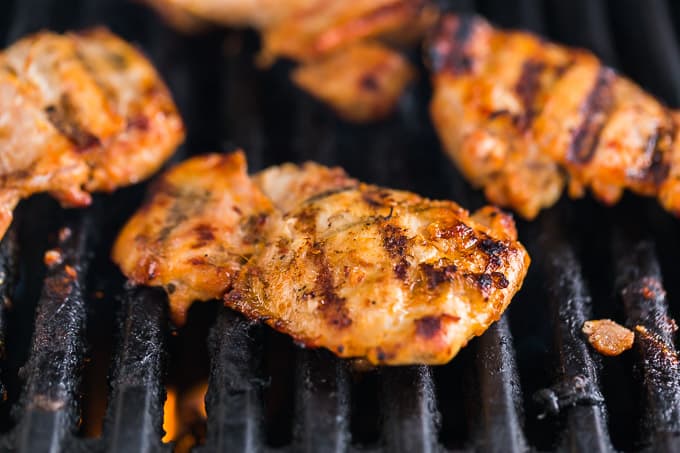 Lastly you grill the chicken, so you can add it to the salad still warm.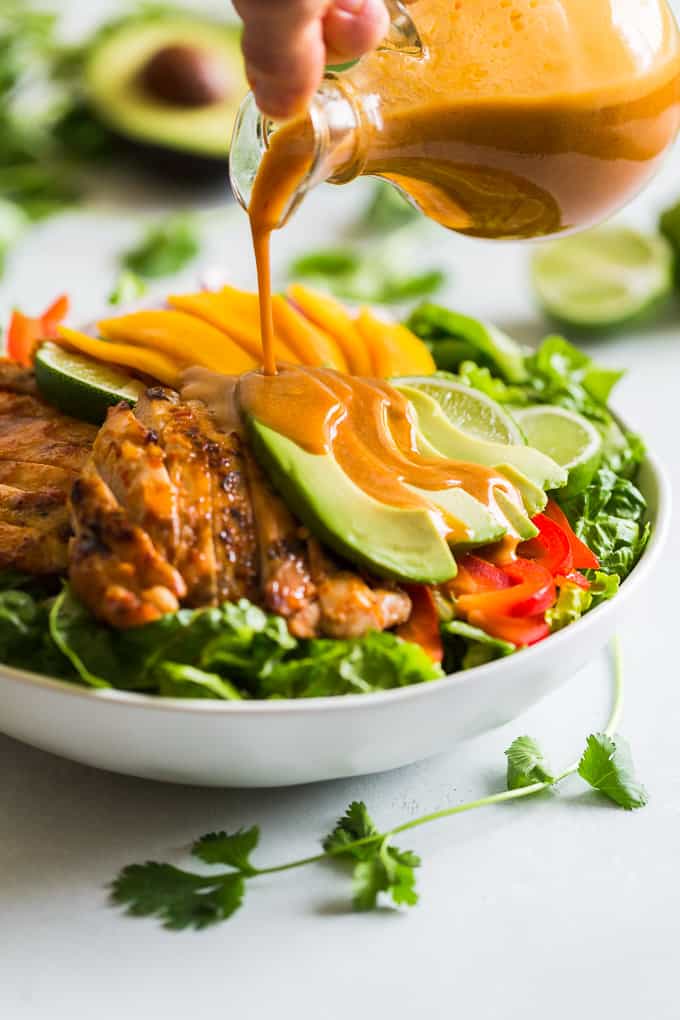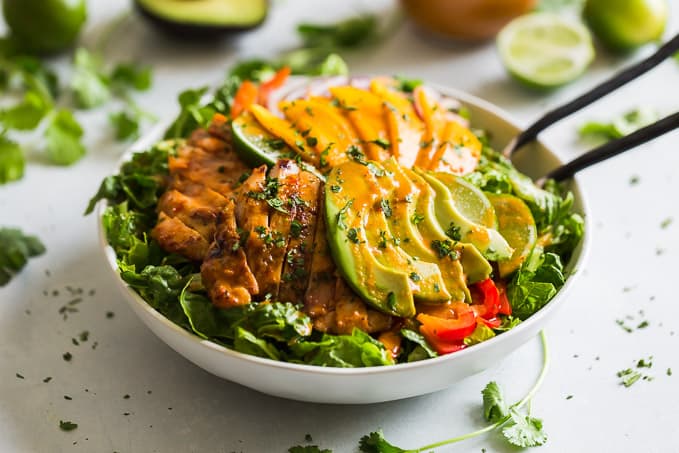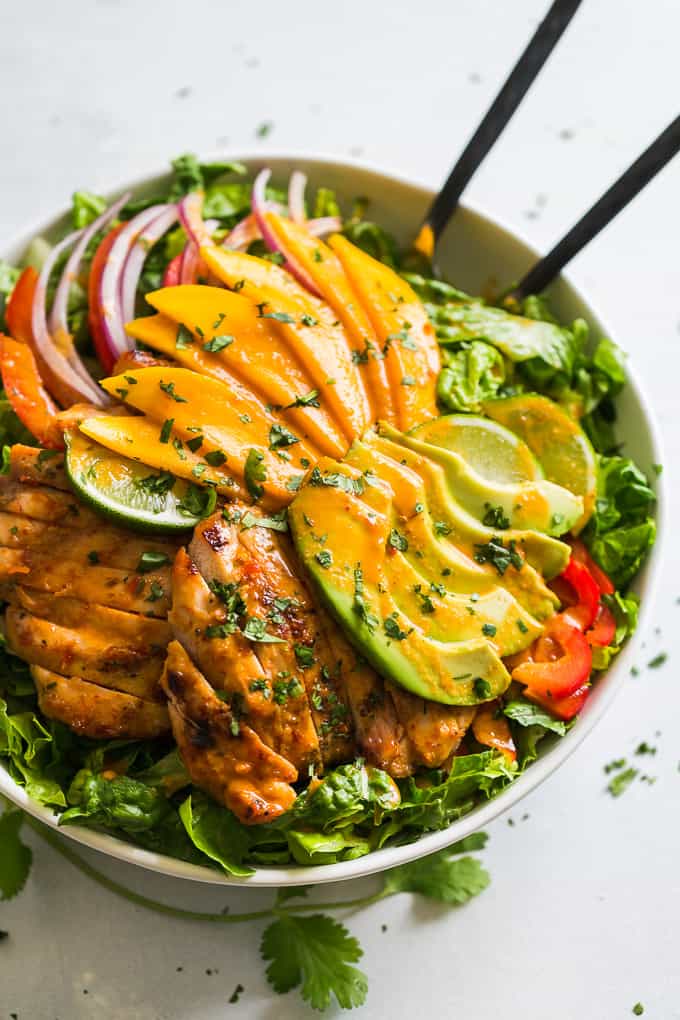 And finally everything is served together with the dressing. At home if it's just the 2 of us, I always toss the salad with the dressing. But if we have company, I like to serve the dressing on the side so everyone can choose how much they like. We're sort of dressing freaks, (all sauces really) so it goes without saying we love plenty of dressing on our salads!
Print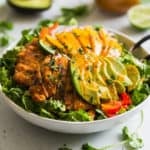 Grilled Sweet Chili Chicken and Mango Salad
---
Sweet Chili Dressing:
1 Tablespoon

ginger, minced

1/4 cup

freshly squeezed lime juice

2

cloves garlic, minced

1 Tablespoon

sambal oelek chili paste, or

2 Teaspoons

chili flakes for paleo

2

–

4

Tablespoons maple syrup, to your taste

1/4 cup

coconut aminos, gluten free soy sauce, or tamari

1/3 cup

avocado oil
Marinated Chicken:
1

pound boneless, skinless chicken thighs, about

4

1/4 cup

sweet chili dressing, from the above recipe

1 Tablespoon

sambal oelek chile paste, or

1 Teaspoon

chili flakes for paleo

1 Tablespoon

maple syrup
Salad Ingredients:
1

–

2

heads romaine, washed and chopped, about

12 cups

1

red bell pepper, stemmed, seeded, and thinly sliced, 8 ounces

3

Champagne mangoes, 1 1/2 pounds, peeled and thinly sliced/cubed

1/2

small red onion, thinly sliced, 4 ounces

1/2 cup

chopped fresh cilantro

1

ripe avocado, sliced

1

lime, cut into wedges for serving
---
Instructions
Add all the ingredients for the sweet chili dressing to a blender, and blend until smooth. Pour out 1/4 cup of the dressing to add to the chicken marinade. Then refrigerate the remaining dressing for up to 4 days, you should have about 1 cup remaining.
Mix together the chicken with all the marinade ingredients, then refrigerate for at least 1 hour, but 8+ hours is better for flavor.
When the chicken is done marinating, preheat the grill over medium high heat until it reaches a temperature between 350º-400ºF.
While the grill heats, prepare all the salad ingredients and place them in a large serving bowl.
When the grill is ready, cook the chicken for 6-8 minutes or until it loosens from the grill. Turn the chicken and cook for another 4-5 minutes, or until the chicken is done and no longer pink in the center. The cooking time will vary depending on the size of your chicken thighs.
Let the chicken cool for a few minutes before slicing/cubing it up for the salad.
Top the salad with the chicken, and serve it along with the dressing.
Prep Time:

30 mins

Cook Time:

15 mins