Goat cheese paired with veggies is a summer tradition for my sister and I. I think it started with homegrown Brandywine tomatoes (where we made a Caprese Salad of sorts), and the combination was so good, it just sort of spiralled from there!
Mini sweet peppers turn even sweeter when you put them on the grill, and they make the best sort of appetizer when stuffed with herbed goat cheese. And… you know the herbed part of the goat cheese filling is even optional, sometimes I just stuff them with straight up goat cheese and go to town! I really have to restrain myself from not making an entire meal out of these because I love them that much. But… if one wanted to eat an entire package of goat cheese in one sitting, all you'd need to do is add a lovely salad of chopped cucumbers and tomatoes to round things out a bit!
I used a mixture of chives, rosemary, basil, and parsley for this recipe which is great for summertime abundance, but if you're making this in the winter season feel free to use just chives or basil for a more economical choice.
I planted an herb garden this year, and it's been absolutely wonderful to have so many herb choices on hand at any given time! It's probably one the best things to grow if you only have a tiny space. My mom has a mini herb garden in containers right on her porch that's been thriving through the summer. It adds so much flavor to your food to be able to clip a bit of rosemary or snip a few chives as a final touch!

When you mix the chopped herbs into the goat cheese, be sure to really mash the herbs with the back of the spoon. This helps the herbs release their flavor into the goat cheese, and even though it might sound a little silly, I promise it does actually make a difference!
I like to let the peppers cool a bit after grilling, then I make a slit in each one being careful not to cut all the way through. These are best at room temperature, but they're almost as good straight out of the refrigerator if you want to make them ahead for a party.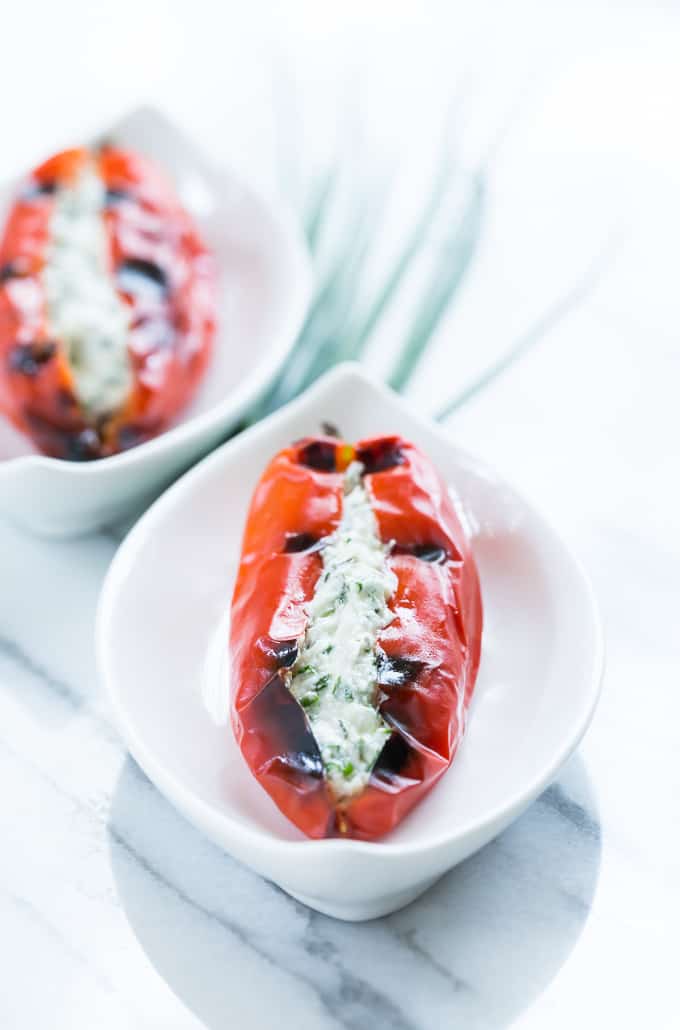 I meant to say earlier that container gardening can be really great for herb gardens because you can easily move them inside in the winter. When we were living in Calgary (in a basement apartment with next to no space or light) I grew herbs in the windows of the sunniest room.
Even the tiniest space will do just fine especially for the herbs with woody stems like rosemary, sage, and thyme. Those are my 3 favorites to bring inside because they pack so much flavor and you only need to use a small amount. It's pretty hard to grow enough basil in a window sill to make something like pesto, but I also keep 3 basil plants in my living room window all winter long, and it's more than enough for a sprinkling added to dinner a few times a week!
Print
Grilled Sweet Peppers Stuffed with Herbed Goat Cheese
---
1/2

pound or

8

mini sweet peppers

4 ounces

soft goat cheese, 1/2 cup

1 Tablespoon

extra virgin olive oil

1/4 cup

chopped fresh herbs, 1/2 ounce – I used a mix of rosemary, basil, parsley, and chives
---
Instructions
Preheat the grill over medium high heat until the grill reaches a steady temperature of 350º – 400ºF.
While the grill heats prepare the goat cheese filling. Place the goat cheese, olive oil, and chopped herbs into a bowl and mash the herbs into the goat cheese with the back of a spoon to help release their flavor. Set the mixture aside.
When the grill is heated to temperature, place the peppers on the grill and immediately lower the heat to medium. Grill for approximately 5 minutes per side, or until the peppers have grill marks on each side and have softened and begun to split.
Remove the peppers from the grill and let them cool until they're easy to handle without burning yourself. Cut a slit from the top to the bottom in each pepper without cutting all the way through. Clean out the seeds and carefully stuff each pepper with goat cheese.
Place the peppers on a serving platter and serve immediately.
The finished peppers can be refrigerated 1 day in advance. It's best to get them out of the refrigerator 30 minutes before your serving time to take the chill off.
Notes
If you're serving these as an appetizer, 1 per person is perfect in a dinner party setting. If you're serving them as part of a cocktail party where there are several appetizers, it's usually best to figure on 2 per person if appetizers are the main event.
Prep Time:

10 mins

Cook Time:

10 mins