These Healthy No Bake Cookies are based off the childhood classic that many of us grew up with. They're easy to make with reduced sweetener and no refined sugar at all. They're also gluten free, dairy free, and I'll show you how to make them paleo as well.
I've been eating no bake cookies all my life, and I love them! They're so easy to make, and I never get tired of this childhood favorite. Our family recipe for No Bake Cookies probably isn't the healthiest, so I came up with this healthier version to satisfy my sweet tooth.
We did three different versions of this recipe: original plain, original with chopped walnuts, and one with almond butter. I really like all three, but I'm totally crazy about the version with almond butter!
The original cookie is awesome just as it is, but once you mix the almond butter in, they become insanely addictive (don't say I didn't warn you!). It has the perfect trio going on: chocolate, coconut, and almonds! Also these are fantastic with peanut butter or cashew butter too. You can't go wrong with any nut butter you would choose to add.
Let's jump in and make these Healthy No Bake Cookies step by step!
The first step is to mix together the coconut sugar, coconut milk, coconut oil, and cocoa powder. When a lumpy mixture forms, start bringing it to a boil while stirring frequently.
After the chocolate mixture comes to a boil, it will turn thicker like the picture above. Once it thickens, remove it from the heat and mix in the coconut or oats, and any add-ons that you might want.
Tip: Sometimes it's nice to have more that one kind of cookie, so I spoon out half the batch and then add almond butter or walnuts to the other half.
FAQ's
Why didn't my no bake cookies set up?
This happens occasionally when you haven't cooked the chocolate mixture for long enough. Try boiling it a touch longer next time around. The mixture should reach soft ball stage which on a candy thermometer reads 235ºF.
Why are my cookies hard or dry?
This happens when no bake cookies are overcooked. I've found a 2 minute cook time to yield a more consistent result than the original 1 minute cook time I grew up learning. If you cook the chocolate mixture too long, it reaches a temperature closer to hard crack stage which will produce a drier harder cookie with a grainy texture from the sugar crystallizing.
Allergic to coconut?
You can sub in any milk of choice, regular or vegan butter for the coconut oil, and cane sugar in place of the coconut sugar. Also this recipe works perfectly with rolled oats instead of shredded coconut.
Do the paleo no bakes taste like coconut?
YES! They definitely taste like coconut since the paleo version of the recipe is almost entirely coconut based.
Are these no bake cookies gluten free?
Only if your rolled oats are certified gluten free – Bob's Red Mill is what I use.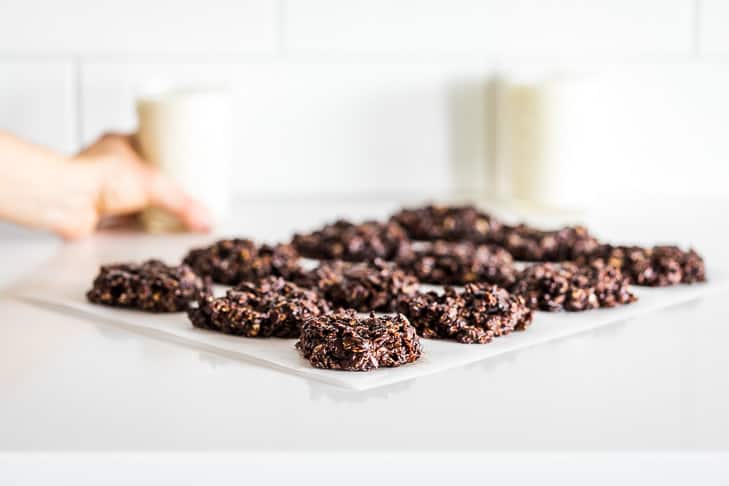 I've always considered these cookies more of a snacking kind of sweet, but you can dress them up too. They're really good served warm, before they set up, with Homemade Coconut Ice Cream.
These cookies are also particularly good on a Saturday morning with coffee, (yes I do have cookies for breakfast once in a while)!
Cookie Recipe Inspiration
I sure hope you get a chance to make these cookies soon, and if you do, I hope you'll leave me a comment/rating below. I always love hearing from you here in the comments. And also over on Instagram where you can tag me at #getinspiredeveryday with your photos of what you make.
Print
Healthy No Bake Cookies
---
Author:

Kari

Total Time:

15 mins

Yield:

15

cookies

1

x

Diet:

Gluten Free
Description
My family's recipe for the classic childhood cookie made healthier with no refined sugar, and a dairy free and paleo option too.
---
1/2 cup coconut milk
1/2 cup cocoa powder, unsweetened
1/2 cup coconut oil
1 1/2 cups coconut sugar, see notes
2 Teaspoons vanilla extract
Paleo version:
2 cups finely shredded coconut, unsweetened
1 cup big flake coconut, unsweetened
Classic version:
Omit the coconut and sub in 3 cups rolled oats
Additions:
1/2 cup chopped walnuts, almonds, or pecans, or 1/2 cup almond butter/peanut butter/cashew butter
---
Instructions
Combine the coconut milk, cocoa powder, coconut oil, and coconut sugar in a larger saucepan. Cook the mixture over medium-high heat, stirring constantly until it comes to a boil, then boil this mixture for 2 minutes.
Remove the mixture from the heat, whisk in the vanilla. Then add either the coconut flakes or the rolled oats depending on which kind of cookie you're making.
From here, you can spoon the cookies onto a parchment lined baking sheet to cool, or you can pick an addition to add before portioning this mixture into the cookies.
These keep at room temperature in a sealed container for 4-5 days. They also freeze perfectly in a well sealed container for at least 1 month.
Notes
I have reduced the coconut sugar down to 1 cup before, but be aware this can cause the oil to separate sometimes from the cookies while they're cooling. It's barely noticeable when it's happened to me, but it's never happened with the full amount of sugar listed.
If you're using the rolled oats, be sure to check the label to make sure they're truly gluten free.
Also the amount of coconut or oats can vary a bit from batch to batch due to evaporation during the cooking process. If it looks too loose, or not as thick as the pictures, add a touch more coconut or oats.
The nutrition facts are counted using the coconut. It varies just slightly from the coconut in a couple measurements using the oats to 224 calories per cookie, 9.2 grams of fat, and 32 grams of carbohydrates.
Prep Time:

10 mins

Cook Time:

5 mins

Category:

Dessert

Method:

Stove Top

Cuisine:

American
Keywords: Paleo No Bake Cookies, Healthy No Bake Cookies, Dairy free No Bake Cookies, Gluten free No Bake Cookies