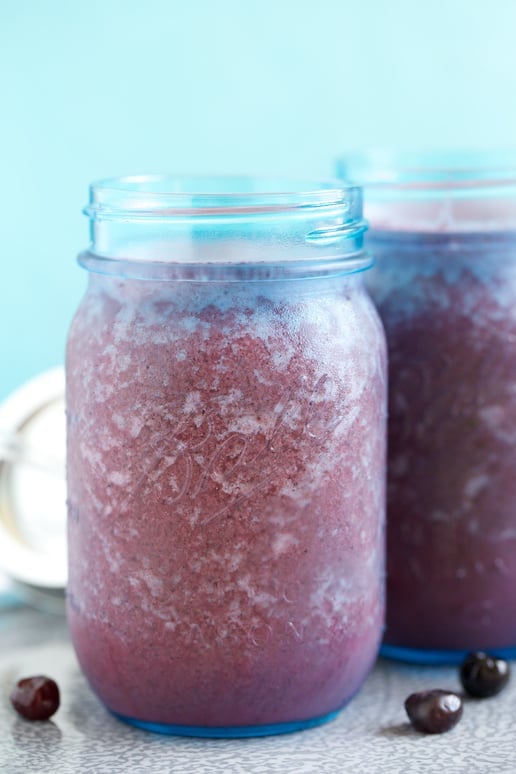 Every time the temperature shoots through the roof, I find myself making a frosty! Last summer I was all about this Strawberry Watermelon creation, but this year I can't get enough blueberries, (and now local huckleberries). This version is easier to make for year round enjoyment because it's made with frozen berries, (whereas watermelon in January just isn't quite right)!
When I hear the word frosty, I always think of a variety of sugary drinks from childhood, (anyone remember Mr. Misty freezes and Slurpies?). These treats were reserved for those days when our family was getting out of town to head to a local lake for a weekend of sun and swimming. Now, I have a few versions of these childhood favorites that are healthy enough to have for breakfast, (and I love them even more than the originals)! The pure flavor and sweetness of real fruit wins every time!
These are just as easy to make as a smoothie, so it's a good thing they're healthy too, and I don't have to worry about overindulging! You can add more or less ice depending on how thick and icy you like your drink. The amount of sweetener will totally be dependent on your fruit – I've had blueberries sweet enough I didn't add any sweetener, and other times I've had to add a couple of tablespoons of maple syrup.
It's funny how fickle the weather is around here lately – I made these frosty drinks a week ago when it was boiling hot, and this morning I could see my breath it was so cold outside, (I love hot days with cool crisp mornings though – best time of the year)!
Print
Healthy Huckleberry Frosty
---
2 cups

frozen blueberries or huckleberries

1 cup

honey Greek yogurt or vanilla coconut yogurt for dairy free and Vegan

1 Teaspoon

vanilla extract

2 Tablespoons

maple syrup – optional, add to taste according to your fruit sweetness

2

–

3

cups ice cubes
---
Notes
I love using greek yogurt in this recipe because it reminds me of a milkshake, however I'm rather partial to the coconut yogurt flavor as well – so either way it's a win!