Cozy up with this easy-to-make Healthy Zuppa Toscana! You can make this in the Instant Pot or on the stove top, either way, it's super simple. This recipe is naturally gluten-free, dairy-free, and Whole30, but there is an option to add heavy cream to the recipe just like the Olive Garden classic. Chock full of sausage and potatoes with some hearty kale added in, this soup is pure comfort food.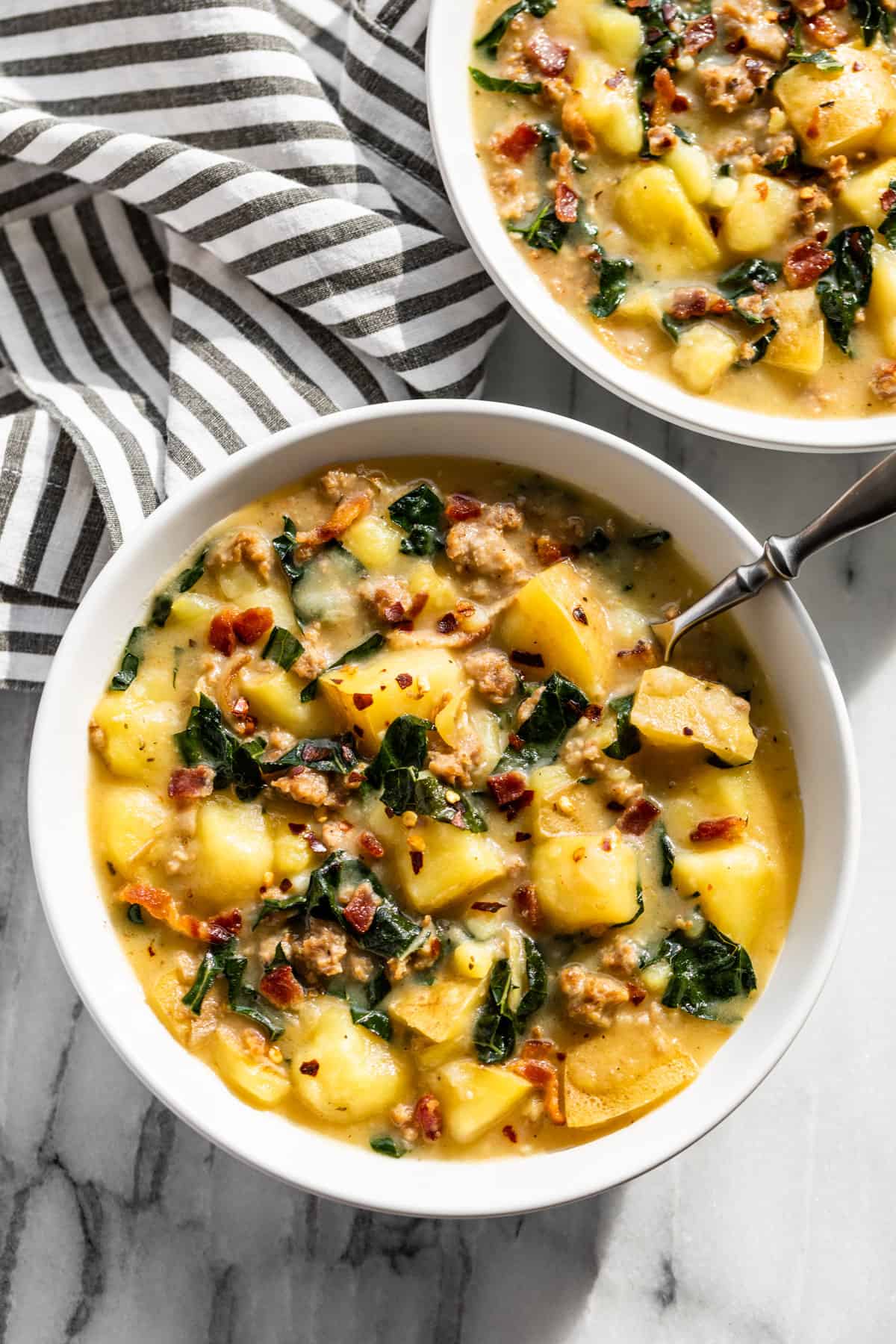 Everyone's favorite Olive Garden soup is made easily at home, and dairy-free too! Savory sausage and bacon add flavor to this comfort food soup. And the kale in there makes this a hearty one-pot meal the whole family will love.
This soup comes together quickly and reheats well. This makes it perfect for meal prepping for the work week. Snd you'll often find us making this one the weekend to take the leftovers for lunches during the week.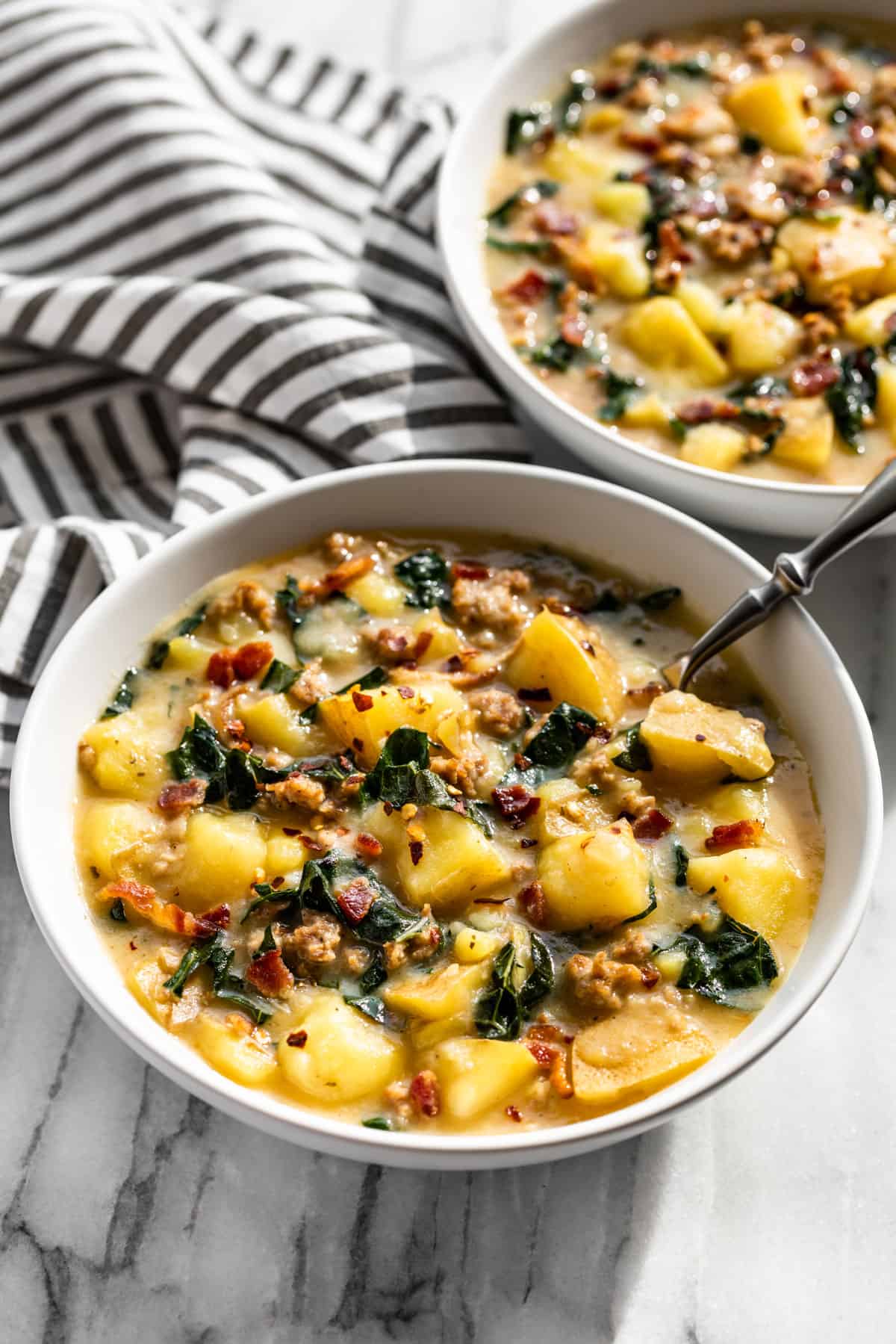 Watch how to make Healthy Zuppa Toscana
Ingredients & Substitutions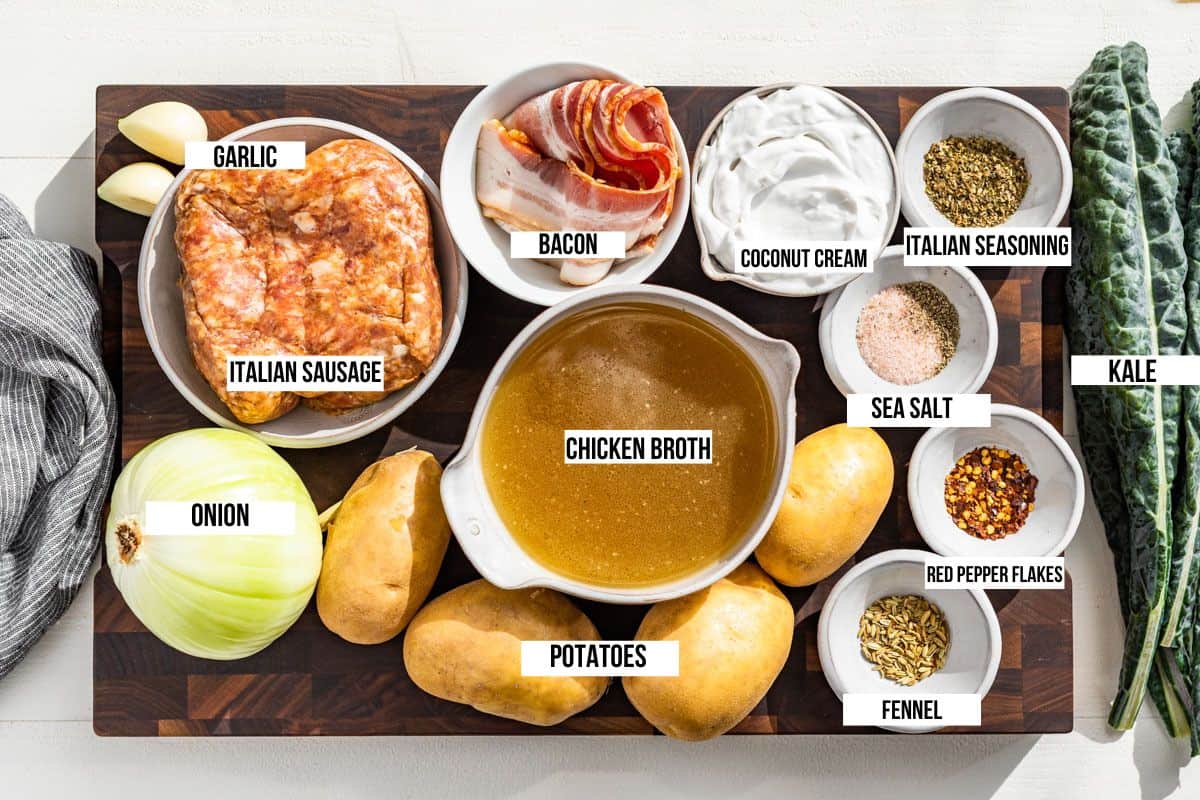 Bacon – adds so much flavor to this soup. We sometimes brown up some extra bacon bits to sprinkle over the top as well. I wouldn't recommend subbing in anything else here, but if you can't have pork you could try turkey bacon instead.
Italian sausage – I use mild Italian pork sausage here but spicy is really good if you enjoy a bit of spice. I've sometimes used ground pork and doubled the spices when I unexpectedly didn't have sausage on hand. You could use turkey sausage but it will be drier.
Spices – fennel, Italian seasoning, and red pepper flakes add the classic 'Olive Garden' flavor to this soup. You can use fennel seeds and grind them up in a mortar and pestle or ground fennel. Fennel can be omitted if you can't find it, but it does add a lot of great flavor here. You can also omit the red pepper flakes if you don't like even a hint of spice!
Onion & garlic – add lots of savory flavor to this soup. Try using a garlic press to speed up the prep work.
Potatoes – are the cozy part of this classic soup. I use a few more than you'd normally find in your soup at Olive Garden, but it makes this soup a little heartier and thicker. I like to use Yukon gold potatoes but red potatoes work well here too. Russet potatoes would be my last choice because they're mealier in soups.
Chicken stock – the more flavor in your stock, the more flavor your soup will have. Try and find low-sodium stock or chicken broth at the store or reduce the salt in the recipe. If you make your own Homemade Chicken Stock, you will need to add more salt to the finished soup.
Kale – is the classic choice for this soup, but I've also used chopped fresh spinach when I haven't had any kale around. I feel like kale is the better choice overall because it's a bit heartier and stands up well in this soup.
Coconut cream – is what makes this soup creamy while still being dairy free. You can also use heavy cream the way they do at the restaurant. Don't worry about the coconut flavor, you can't taste it in this recipe.
How to make this Healthy Zuppa Toscana step by step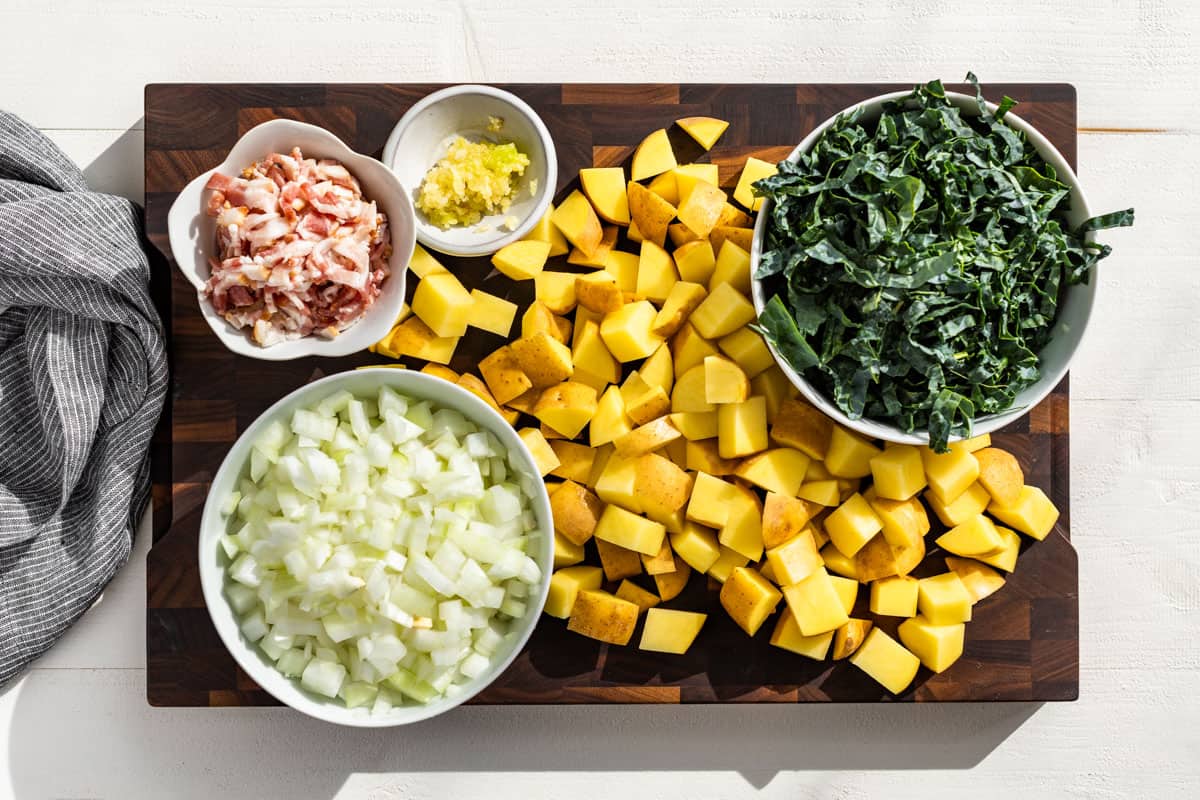 Step 1: Start by prepping all of your ingredients. Dice the onion, mince the garlic, cube up the potatoes, thinly slice the kale, and finely chop the bacon.
Don't worry if you don't have an Instant Pot, there are stove-top instructions in the recipe. This soup is easily made on the stovetop and takes about the same time as the Instant Pot.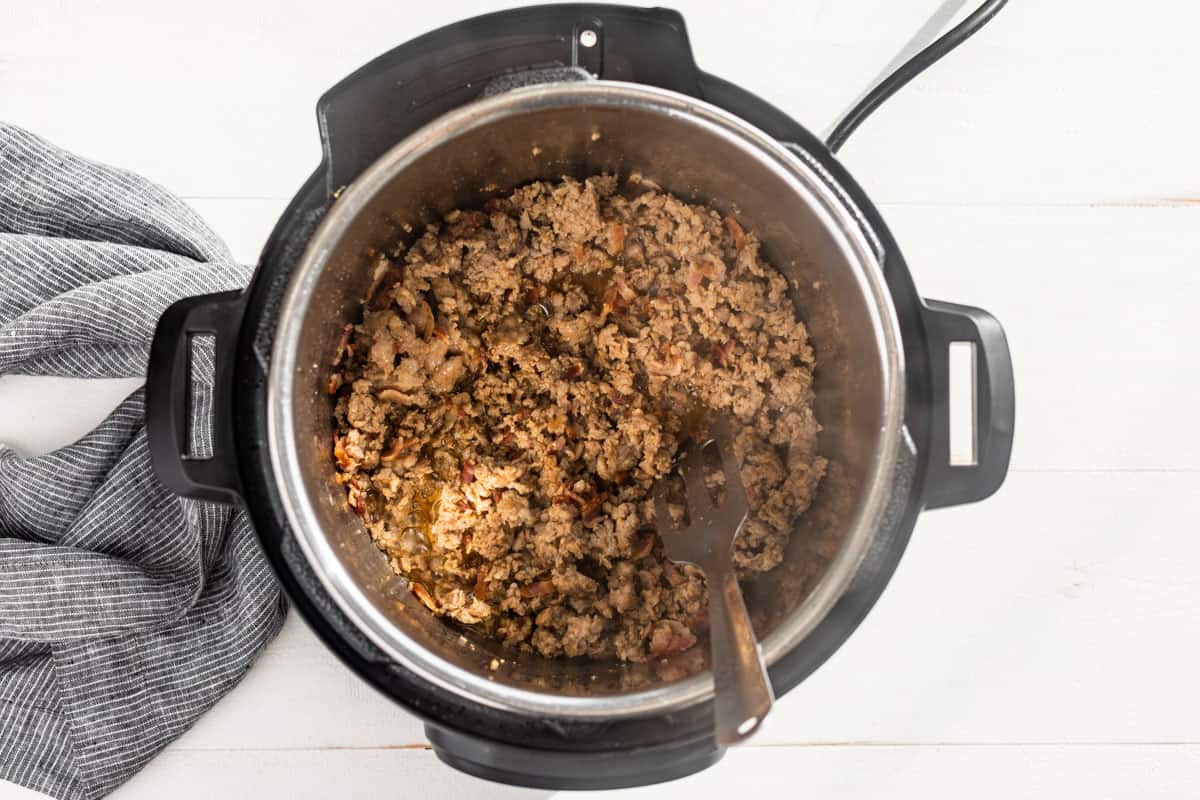 Step 2: Cook the bacon with the 'sauté' setting on your instant pot or in a large pot on the stovetop. As the bacon begins to brown and crisp up, add the sausage and break it up as it cooks into small bits.
Step 3: Add the onion, garlic, and spices to the sausage and stir to combine.
Step 4: Then add the potatoes and chicken stock. Stir to combine then push the potatoes down into the liquid with the back of a spoon if you use the instant pot. Bring the soup to a simmer if you're on the stovetop, or set the instant pot to cook for the time listed.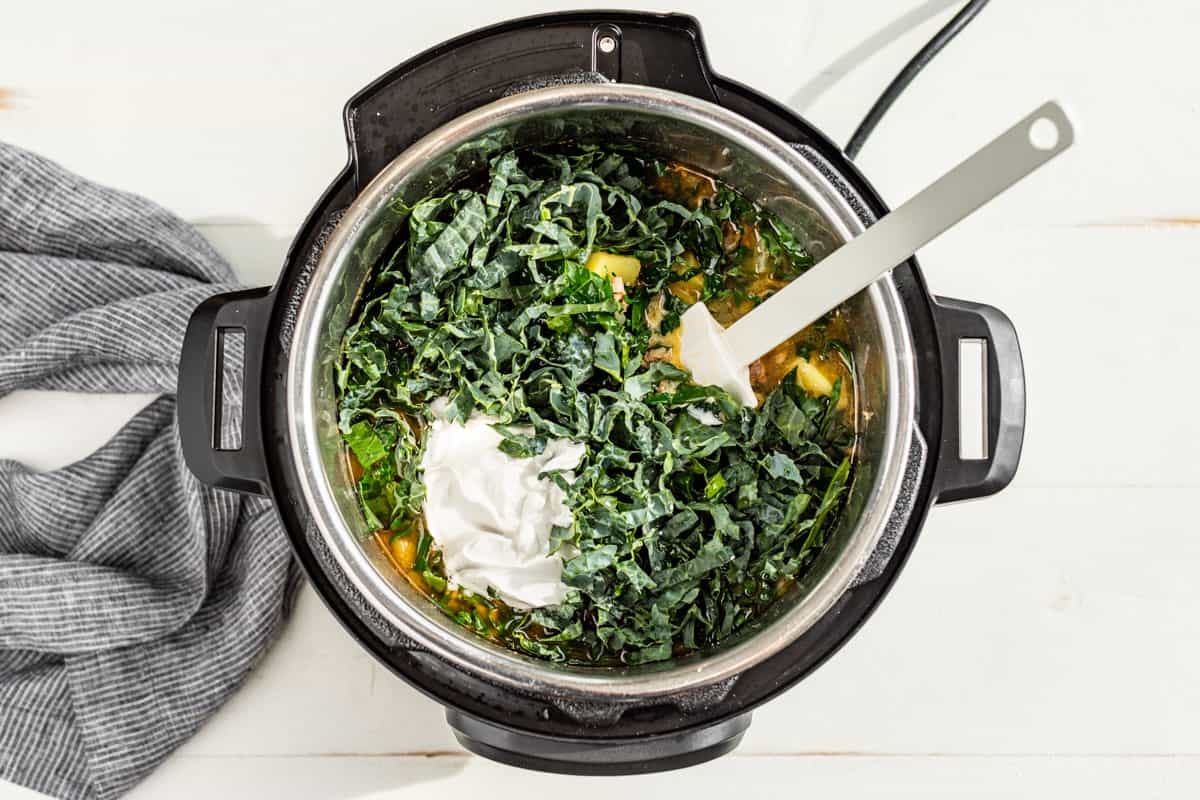 Step 5: When the soup has finished cooking and the potatoes are tender, add the kale and coconut cream. Stir to combine and cook just until the kale is wilted, before seasoning to taste with sea salt and pepper.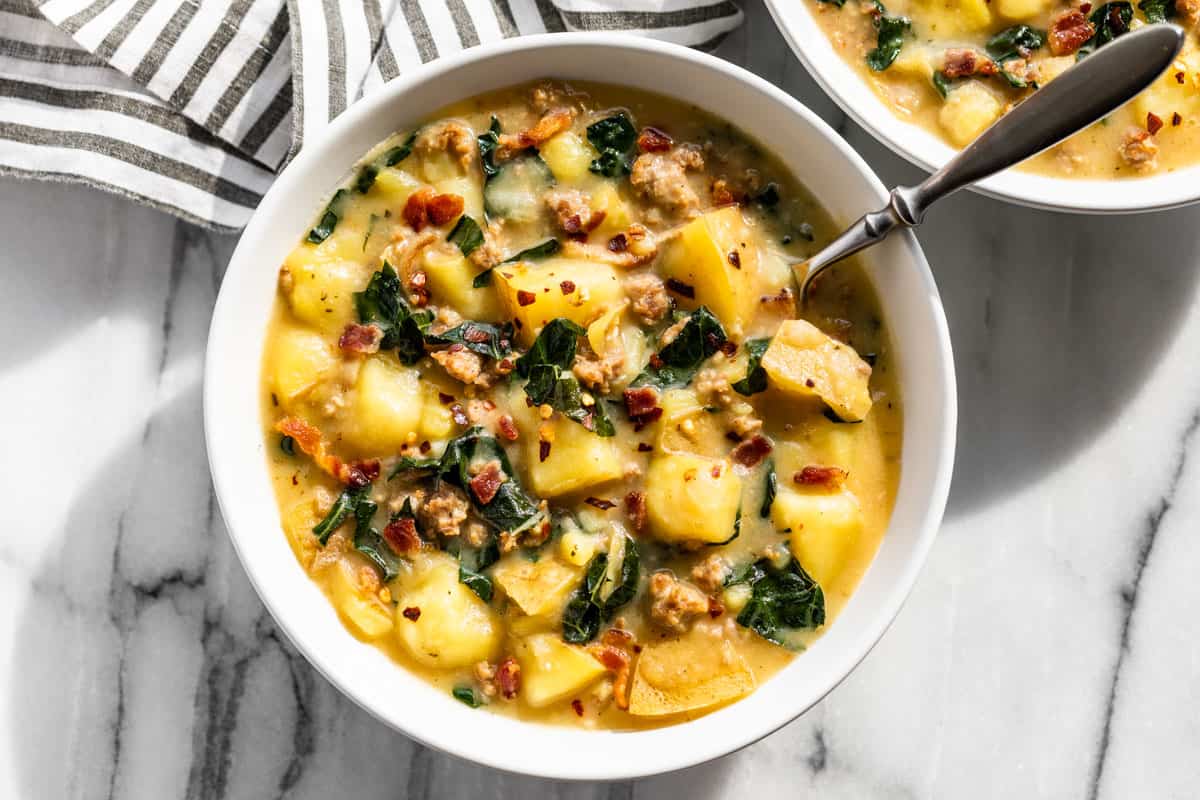 Ways to serve this
Add my Apple Spinach Salad to the menu to round things out.
Or try my Roasted Carrots, Roasted Broccoli, or Brussels Sprouts for an extra veggie.
This Healthy Zuppa Toscana is great for breakfast lunch or dinner. If you've never had soup for breakfast before, try it and you may find you really enjoy it. This recipe is a breakfast favorite of mine during the winter.
I often heat this soup up to place in a thermos for Tyler to eat for lunch during the winter months when he's working outside in the cold. And we even take it in thermoses to go out hiking or cross-country skiing during the chilly months.
FAQ's
What does Zuppa Toscana mean in English?
It translates to Tuscan Soup. Zuppa means soup and Toscana is Italian for Tuscan. A classic Tuscan soup is made quite differently, but this is an Olive Garden copycat.
What should I serve with Zuppa Toscana?
Try adding your favorite side salad to the dinner table and any kind of crusty bread or dinner roll goes really well with this soup. We love to add another veggie as linked above from roasted carrots to broccoli.
Storing leftovers
To store – any leftovers can be placed in an airtight container and refrigerated for up to 1 week.
Make ahead – this soup keeps and reheats really well, so you can make it ahead and reheat as desired. I recommend not making it more than 2-3 days ahead of time. That way you still have some time to eat up any leftovers.
Reheating – place any leftovers into a saucepan and heat over medium heat stirring often until heated through. You can also reheat this soup in the microwave.
To freeze – I don't recommend freezing this soup because the potatoes break down and become grainy/mushy when thawed again.
Tips & Tricks
I often double or triple the amount of bacon, and brown it up. From there I scoop it out, drain off the excess bacon fat and proceed with the recipe. I take all the extra bacon and freeze it so I have a jump start on the next time I make this soup.
You can also dice up large packages of raw bacon, then portion out the raw diced bacon for the freezer. Then you're all ready to go the next time you want to make soup.
You can thicken this soup slightly to make it even cozier. Simply mix 1-2 tablespoons of cornstarch/tapioca starch together with a bit of water until smooth. Add this starch slurry in a slow drizzle to your simmering soup until the right thickness is reached.
Dietary Options & Substitutions
Dairy-free – this recipe is dairy-free and paleo as written, but you can feel free to use the traditional heavy cream if you're not dairy free.
Whole30 – this soup is whole30 as written if the ingredients you buy are Whole30 compliant. Be sure to check the labels for your bacon and Italian sausage to make sure there's no sugar, additives, or dairy. Sometimes you'll find cheese added to Italian sausage. Also make sure your Italian seasoning is just herbs, no added sugar or dairy which is sometimes present.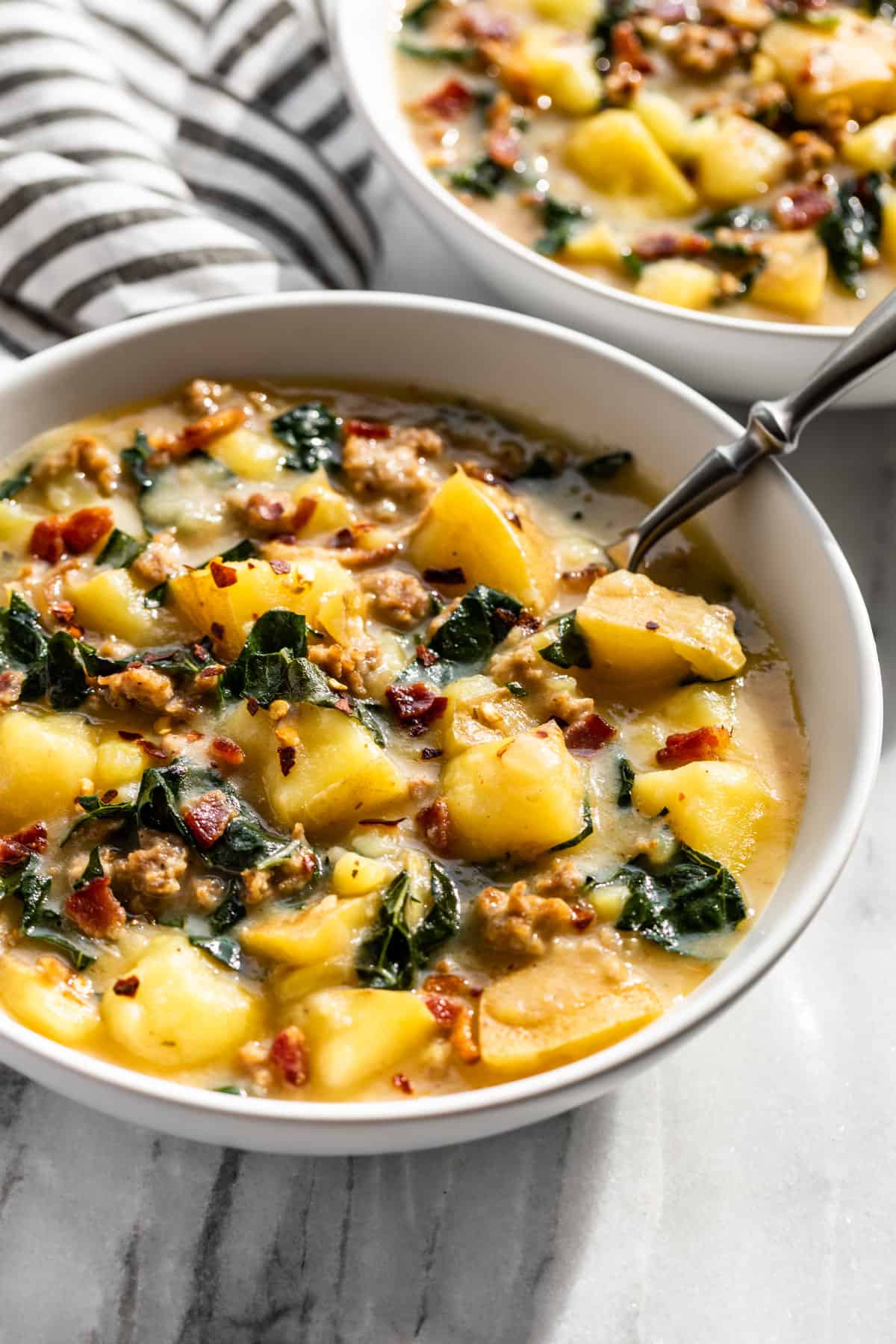 I really hope you enjoy this Healthy Zuppa Toscana! If you do get a chance to make this recipe, I'd love to hear from you in the comments.
(Extra note: the cooking time does say 5 minutes which is technically correct, but just know with all the extras, it's actually more like 30 minutes for either the Instant Pot or the stovetop.)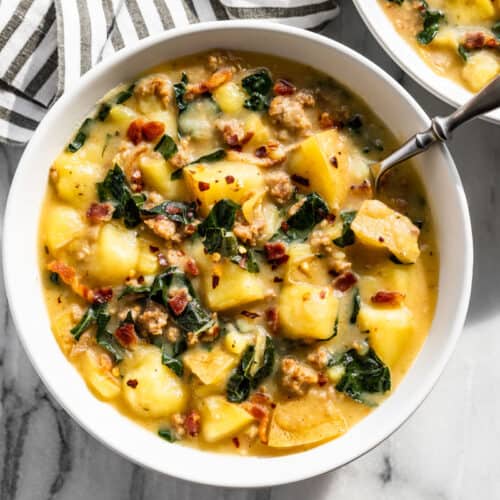 INGREDIENTS
4

slices

bacon

-

thinly sliced, 6 oz, see notes

1

pound

mild Italian sausage

-

see notes

1/2

tsp

red pepper flakes

-

optional

1/2

tsp

fennel seeds

-

crushed, see notes

1

tsp

Italian seasoning

-

see notes

2

cloves

garlic

-

minced

1

medium

onion

-

diced 1/4″, 3 cups

1.5

pounds

Yukon gold potatoes

-

3-4 potatoes, diced into 1" cubes

4

cups

Homemade Chicken Stock -

or low sodium broth

1

teaspoon

sea salt

-

or to taste

4

cups

thinly sliced kale

-

1/2 of a large bunch

1

cup

unsweetened coconut cream

-

see notes

Sea salt and freshly ground black pepper to taste
Optional Soup Thickener:
1-2

tbsp

tapioca starch or cornstarch

-

mixed with water until smooth
INSTRUCTIONS
For the Instant Pot, (6 quart) version of this soup, turn it to the sauté setting. Add the bacon to the pan and cook until it's beginning to brown. Then add the sausage and use a metal or wooden spoon to break it up into bite sized pieces.

Add the spices and stir to combine. Then add the garlic and onions and stir again before adding the potatoes, chicken stock, and sea salt. Press down the potatoes with the back of a spoon to submerge in the liquid.

Secure the lid, make sure the valve is set to 'sealing' and cook on high pressure for 5 minutes. When the cooking time is done, quick release the pressure, then add the kale and coconut milk.

Add the optional thickener mixture if using until your desired thickness is reached.

Stir until completely mixed, then season to taste with sea salt and pepper. When the kale is tender, 3-5 minutes, serve immediately.

Any leftovers keep well for at least 4 days in the refrigerator, and it's perfect for lunches.
Stove top instructions:
Sauté the bacon and sausage in a large soup pot, then add the spices, garlic, and onions. Stir to combine, then add the potatoes, chicken stock, and sea salt. Bring to a boil, partially covered with a lid and simmer until the potatoes are tender, about 20 minutes. Add the kale and coconut milk, stir to combine and season to taste, and serve when the kale is tender.
Slow Cooker instructions:
After the bacon, sausage, spices, garlic, and onions have been sautéed on the stove top. Transfer that mixture along with everything else, except the kale and coconut milk to a slow cooker. Cook on low heat for 6-8 hours or 3-4 hours on high. When the cooking time is done, and the potatoes are tender, proceed with the recipe as directed in the stove top directions.
Bonus Step
If you made this recipe, please leave a rating/comment. Ratings really help us continue to bring you high-quality free recipes. Rate This Recipe!
NOTES
For both the sausage and bacon read the labels carefully to be sure they're Whole 30 compliant, (no sugar/additives/dairy).
I crushed my fennel seeds in a mortar and pestal, but you can also use ground fennel. I prefer to buy fennel seeds, because they take just seconds to crush and have so much more flavor. I also don't use fennel all that often, so ground fennel looses it's flavor too fast to keep it in the pantry for me.
For the Italian seasoning be sure and read the label. I use the one from Simply Organic because there's no salt, sugar, additives, or dairy added.
The amount of salt you'll need will depend on what chicken stock you use. When you use store bought, chances are you'll need less salt than homemade. The nutrition facts don't account for the salt to taste at the end.
For the coconut cream, you can scoop that from the top of a refrigerated can of coconut milk. Or if it's available in your area, you can buy cans of unsweetened coconut cream.
nutrition facts
Calories:
583
kcal
|
Carbohydrates:
28
g
|
Protein:
20
g
|
Fat:
45
g
|
Saturated Fat:
23
g
|
Polyunsaturated Fat:
5
g
|
Monounsaturated Fat:
14
g
|
Trans Fat:
0.02
g
|
Cholesterol:
67
mg
|
Sodium:
1104
mg
|
Potassium:
1053
mg
|
Fiber:
5
g
|
Sugar:
2
g
|
Vitamin A:
1462
IU
|
Vitamin C:
40
mg
|
Calcium:
88
mg
|
Iron:
4
mg
This post was originally published in 2018 but has been updated in 2022 to include more tips, information, and new photos.