There's something about the weekend that always calls out for baked goods. Lazy mornings with coffee, and something sweet to nibble on, are one of my favorite things to do in life. Whether we're at home or out camping in nature, I try and have one morning a week where I'm not tearing off in a hurry to get a million things done.
This past weekend we took this Zucchini Bread with us to Glacier National Park. And in the interest of slow mornings, we've picked up a new hobby – time lapsing. The basic principle of time lapse photography is to set the camera up to catch and entire sunrise/sunset or something of interest. The camera will take hundreds or even thousands of photos which later you mesh all together to create a high definition video. It's amazing to watch an entire sunset compressed into just a few seconds!
What we both love about setting up for a time lapse, is that the camera just clicks away while we have a lazy morning. Once it's all set up, I use our Jet Boil stove to make pour over coffee, (the easiest and tastiest camp coffee I've ever had) and then we break out the baked goods while we watch the sunrise for a couple of hours.
This is a far cry from how we usually roll on a weekend which usually goes more like this: wake up in the dark to get to your sunrise location in time. Next we'll set up and take pictures off and on for hours, while the sun rises, trying to catch the ultimate moment.
Then we'll eat something real quick before staring off on the day's hike, and we usually don't get back until just in time for sunset. After getting sunset shots, we'll make dinner on the side of the road somewhere in the dark, before getting set up for star shots and the milky way.
Entire weekends and vacations used to pass like this, barely getting a few hours sleep, and never slowing down to catch our breath. And while it's exhilarating, it's also exhausting! So we've made an effort to slow down, (just a little) and take some time to enjoy the moment, instead of always capturing the moment.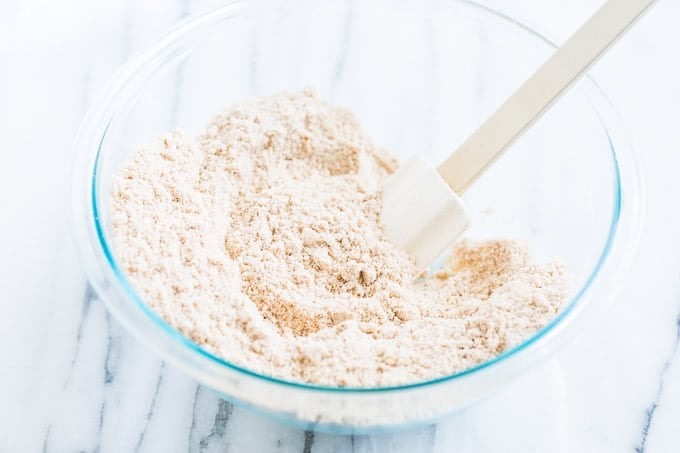 It's funny how homemade baked goods have the power to turn back time to a slower era, where people took the time to enjoy the small things in life. And while I might just be overly nostalgic, I still think savoring the small things like a cup of hot coffee and a slice of zucchini bread, are the kinds of experiences that make it all worth while!
In the spirit of enjoying the small things, as usual, I tried to keep this recipe as simple as possible. The dry ingredients are mixed together, then the grated zucchini and blueberries are folded in before adding the wet ingredients – no mixer required.
I used mini loaf pans in this recipe for several reasons:
This recipe is sweetened with honey which has a tendency to burn when baked for a long time. A full sized loaf pan requires an hour of baking time which makes for dark brown/burnt edges.
Mini loaf pans only take half the time to cook which means this zucchini bread is in your hands twice as fast.
And finally, any kind of grain free baking doesn't have the support to rise properly like a normal quick bread made from wheat flour. I've found you get the best rise when you bake the batter in small containers like mini loaf pans or muffin tins.
This zucchini bread is great on it's own, but it's also really good with the lemon glaze which really compliments the blueberries.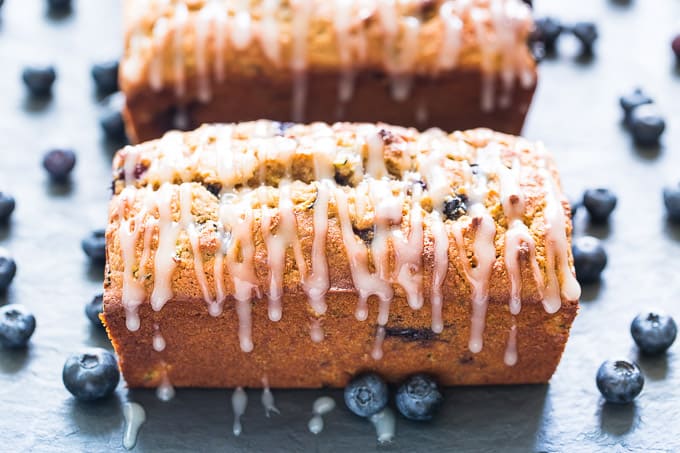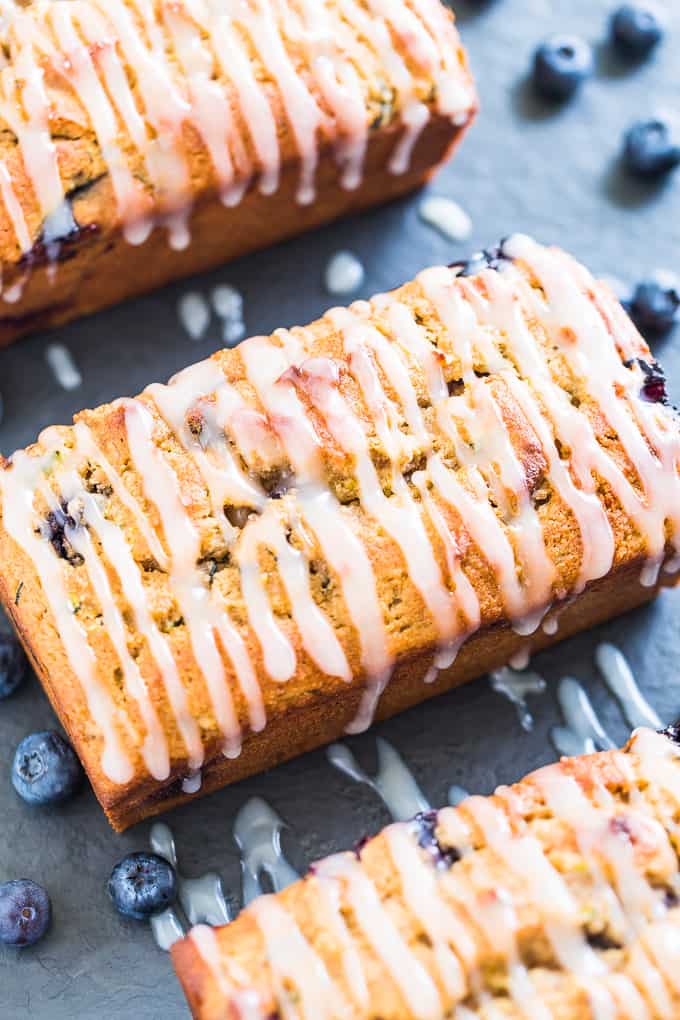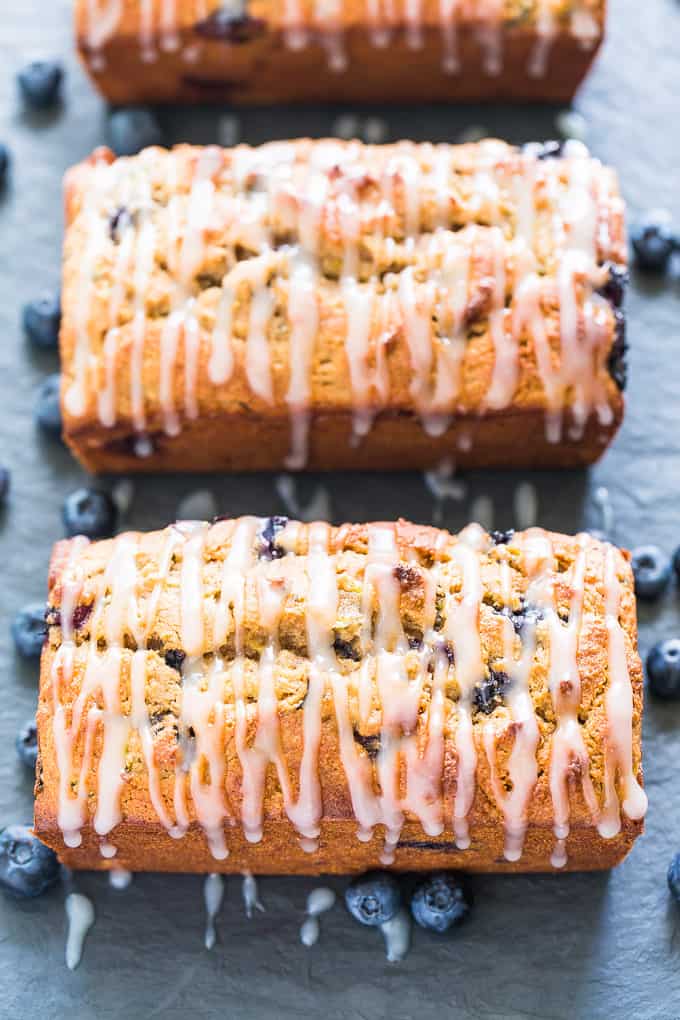 So here's to slow weekend mornings and enjoying the little things in life!
Print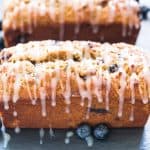 Healthy Zucchini Blueberry Bread
---
2 1/2 cups

fine almond flour

1/2 cup

tapioca starch, also called tapioca flour

1 Tablespoon

Vietnamese cinnamon

1/2 Teaspoon

sea salt

2 Teaspoons

baking powder

1 Tablespoon

lemon zest, grated with a microplane grater

1 1/2 cups

grated zucchini, 6 ounces

1 cup

blueberries, 5 ounces

1/2 cup

honey

4 Tablespoons

butter, or coconut oil for dairy free

2

eggs

2 Teaspoons

vanilla extract

1/2 Teaspoon

almond extract
Lemon Glaze:
3 Tablespoons

coconut butter, also called coconut mana

1 Tablespoon

honey

1 Tablespoon

freshly squeezed lemon juice
small amount of water or lemon juice if needed
---
Instructions
Preheat the oven to 325ºF and lightly grease 3 non-stick mini loaf pans, (a muffin tin will also work).
In a medium sized mixing bowl, whisk together the almond flour, tapioca starch, cinnamon, sea salt, and baking powder until thoroughly combined. Fold in the lemon zest, zucchini, and blueberries and set the mixture aside.
Melt the honey and butter or coconut oil together over low heat. Add the melted honey butter mixture to the mixing bowl along with the eggs, and vanilla and almond extracts. Mix until combined and portion equally into the 3 mini loaf pans.
Place the pans in the oven and bake for 30-35 minutes, or until golden brown, puffed in the middle, and no longer gooey.
Remove the pans from the oven, and let them cool on a cooling rack for 10 minutes before turning them over to remove the loaves from the pans.
Let the loaves cool completely before glazing.
For the glaze, melt the coconut butter and honey over low heat. When the mixture is liquified, remove it from the heat and whisk in the lemon juice. If the mixture seems too thick to drizzle, add 1-2 more teaspoons of lemon juice or water to thin it out – coconut butter varies in thickness with every jar I've bought so far.
Drizzle the glaze over the loaves and serve immediately, or keep in an airtight container for up to 2 days. I've also frozen these and they come out almost as good as fresh, straight out of the freezer, but warming them in the oven restores their texture to freshly baked. Leave the glaze off if you're going to freeze and reheat them.
Prep Time:

20 mins

Cook Time:

30 mins