This Coconut Ice Cream has been a staple in our house for so many years, and no one ever knows it's dairy free! It's super creamy, perfect with so many different baked desserts, and it's paleo and vegan as well. This vanilla scented version of Coconut Ice Cream is just 3 simple ingredients and all creamy-dreamy texture. It's the perfect dairy-free and vegan ice cream for everything you can think of all summer long. And don't miss trying it in my Cookie Dough Ice Cream Sandwiches!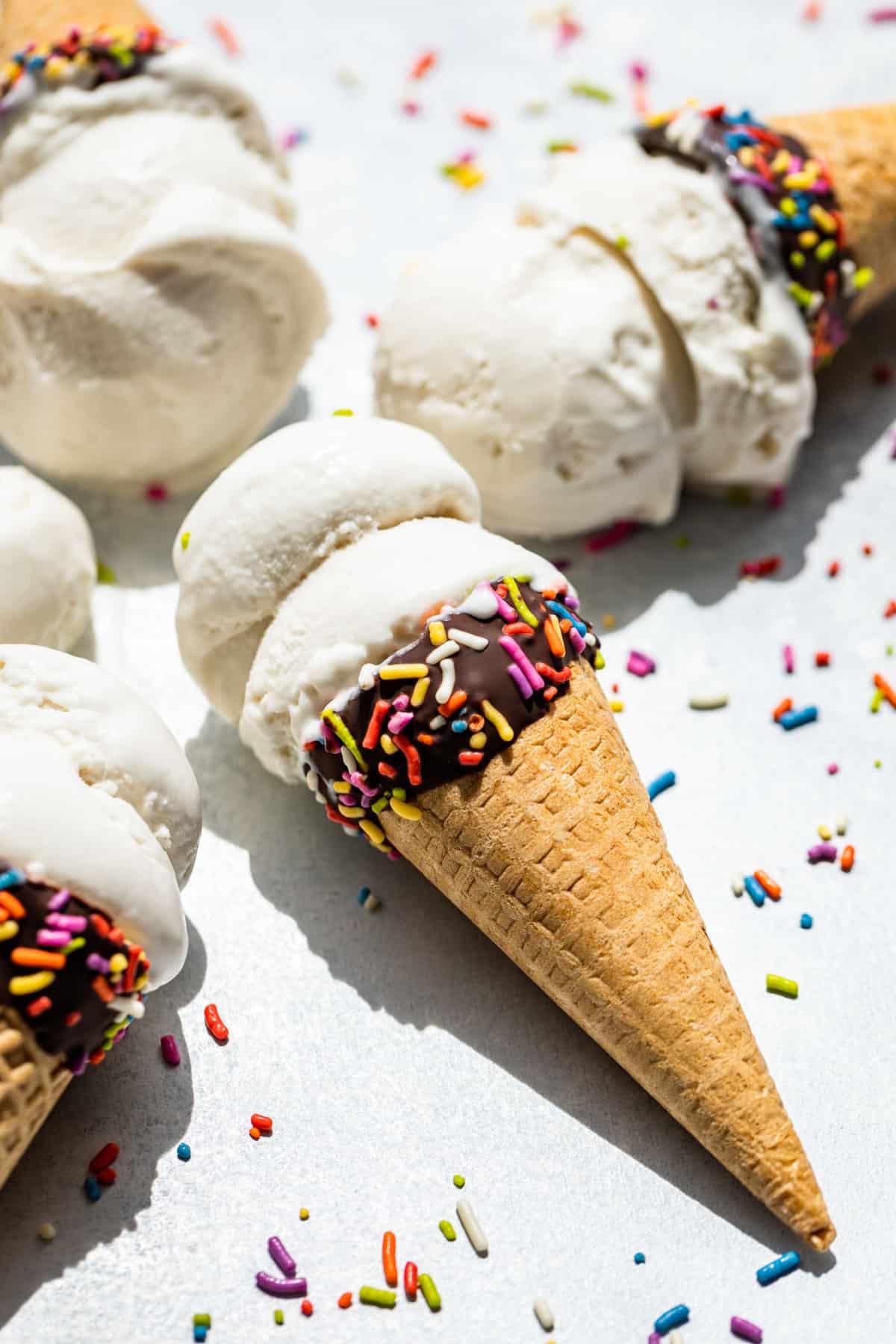 This ice cream… it's silky smooth and so delicious. It reminds me of childhood days getting strawberry sundaes with soft serve at a certain popular chain restaurant. This recipe is also my all time most popular dessert recipe on the blog. I'll admit I was a little shocked this is the case considering how many chocolate recipes I've made. (But I guess everyone likes ice cream as much as I do!)
Now I know this delectable ice cream bears no real resemblance to the restaurant chain version. But, that's okay because it's so much better. Something about the amazingly smooth mouthfeel of this ice cream is so much like soft serve. Just add your favorite toppings, or pile it into cones and enjoy!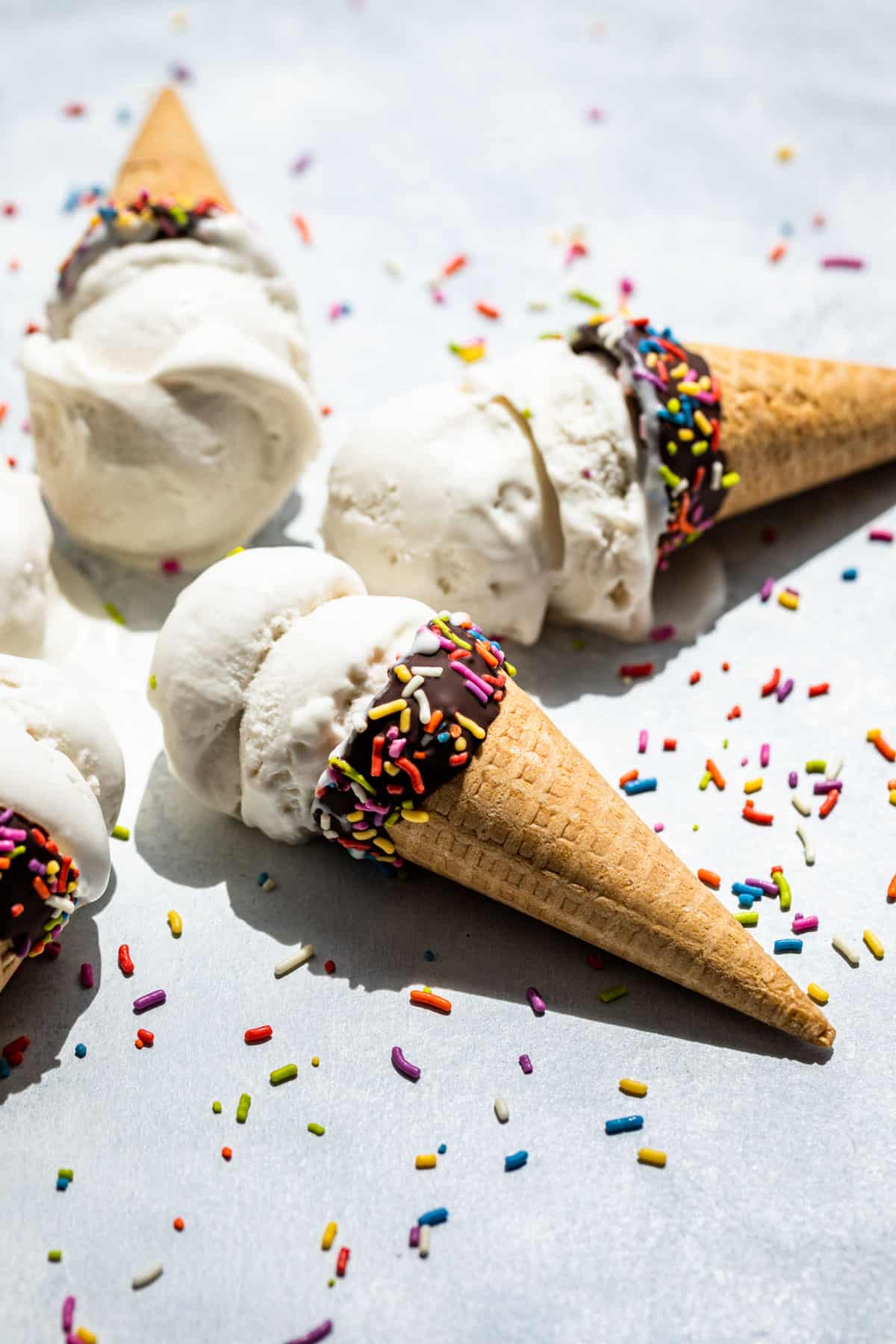 Tip: I like using grade A amber maple syrup for the lightest maple flavor. Honey can be tricky to blend in, so I've quit using it over time. You can also use powdered sugar to taste for the least intrusive flavor. But I think you'll find Grade A amber maple syrup to be super yummy here with little to no maple flavor.
Ingredients & Substitutions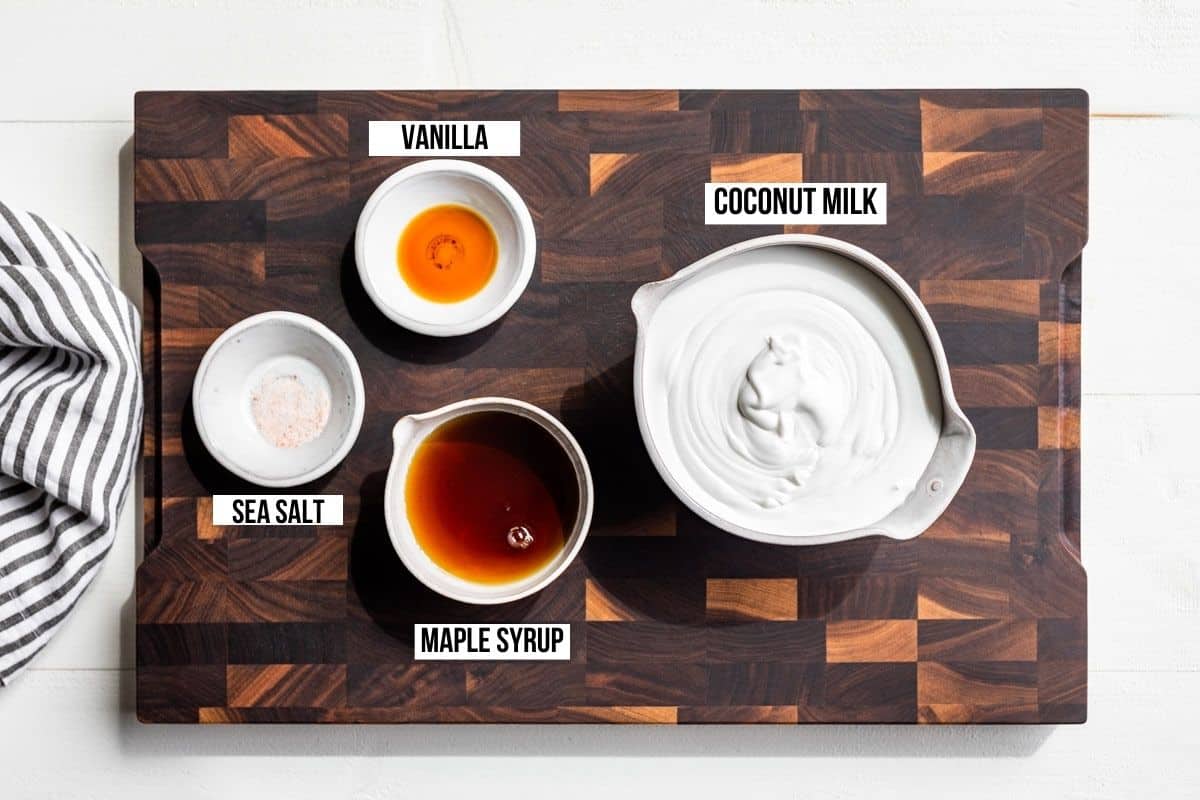 Coconut Milk – full fat coconut milk is a must here for the best texture, or go all out with coconut cream for the creamiest texture. Coconut milk overall makes a lower fat ice cream than the traditional dairy. So you don't want to go with low fat coconut milk because it will make a much icier texture. Also don't sub in coconut milk from the carton because it's way too watery for a nice cream ice cream. It will give you a texture more like an icy sorbet.
Sweetener – I like to use Grade A amber maple syrup that I get from Costco for a pretty good price. It has a very light maple flavor that doesn't overwhelm here, but you can use honey as well. Make sure your honey is fully smooth and not crystalized before blending it with coconut milk. I also recommend blending it together with room temperature coconut milk so it doesn't seize up, then chill the mixture before adding it to the ice cream maker.
Vanilla – extract, vanilla bean paste, or scraping out the center of a halved vanilla bean all work well here. Vanilla extract is the most budgtet friendly, but vanilla bean paste is convenient and very tasty for special occasions.
Sea salt – is very important to the overall flavor of this ice cream. Definitely don't omit it because the ice cream will taste flat.
How to make this recipe step by step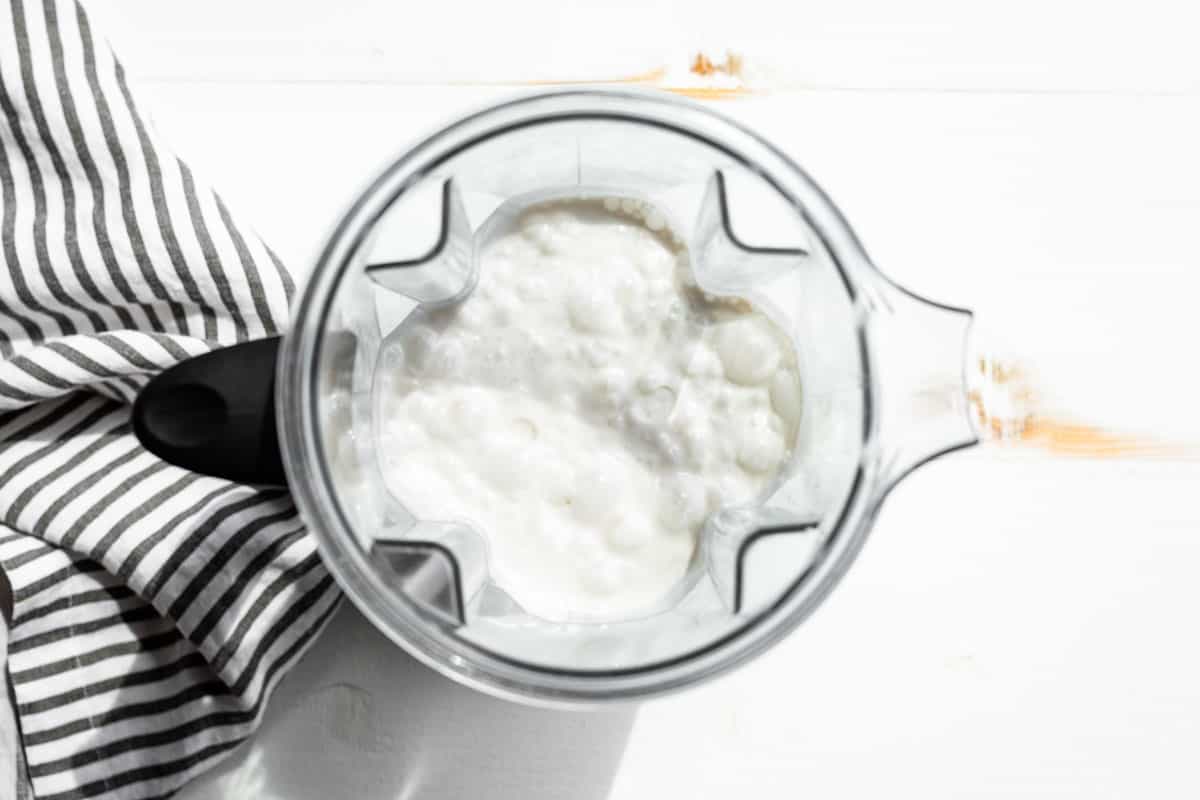 Step 1: Blend all the ingredients listed in a blender on low speeds until smooth. Chill thoroughly in the refrigerator if your coconut milk isn't pre-chilled. If all your ingredients are at room temperature, you can also whisk them together and then chill, no need for a blender if you don't have one.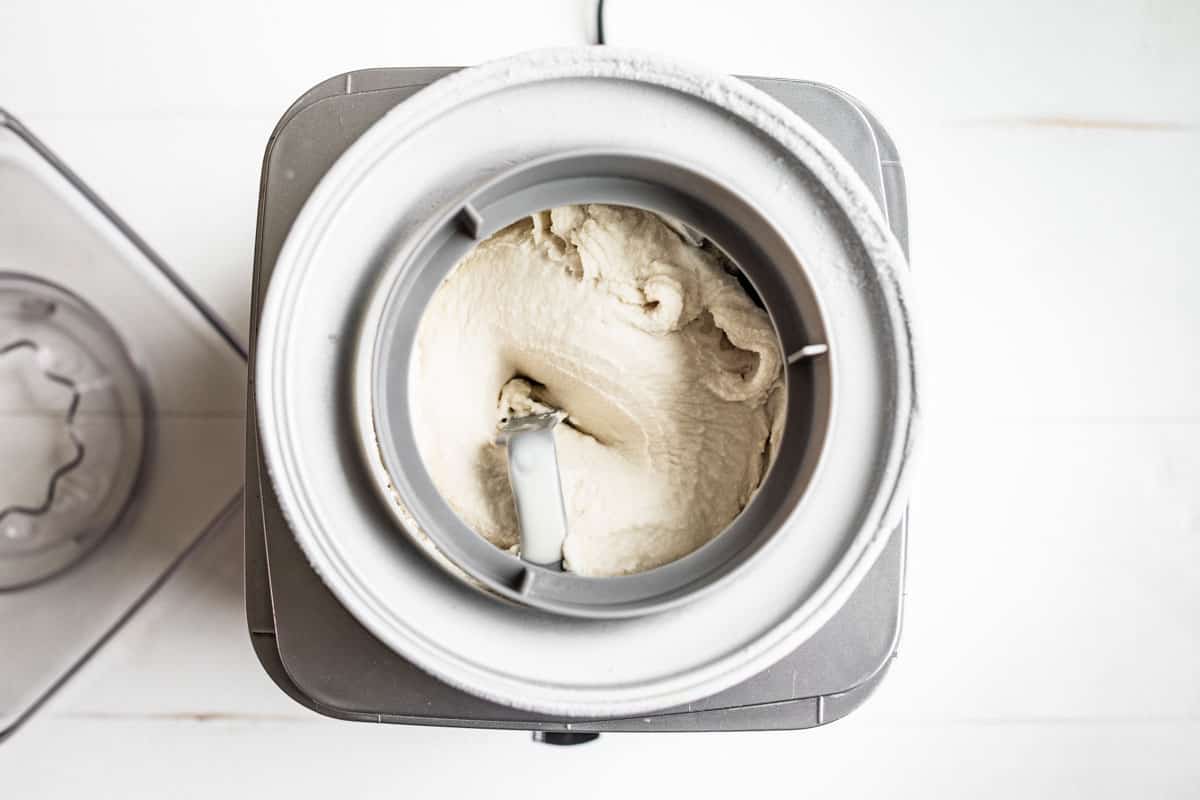 Step 2: Churn the coconut mixture according to the manufacturers instructions. I like to take the ice cream out when it's just a firm enough consistency that it sticks to a spoon when you lift some out.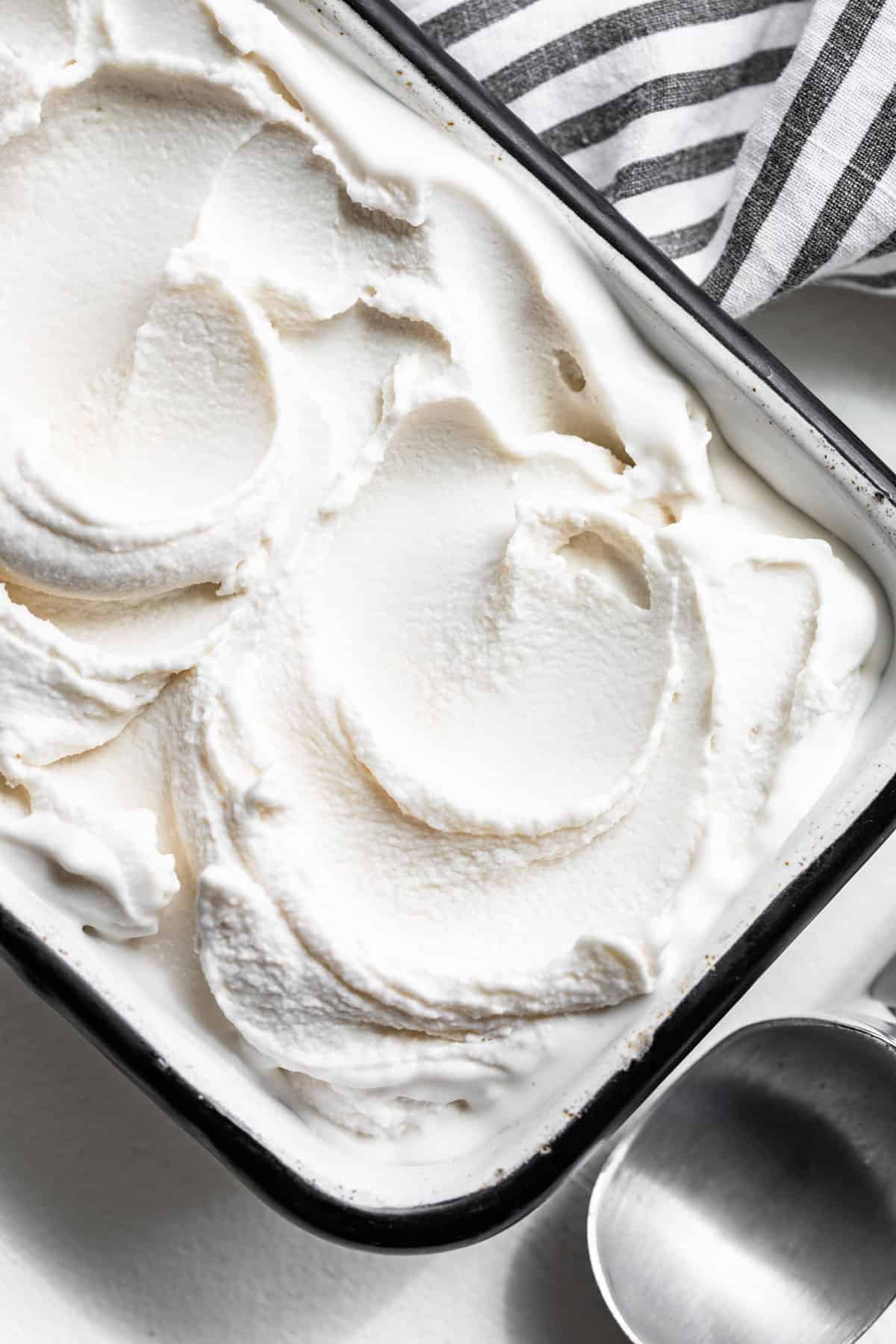 Step 3: Transfer the ice cream to a suitable freezer container, seal with a lid, and freeze for a firmer texture if desired.
Important Note: This Coconut Ice Cream will become rock hard when fully frozen. To bring it back to a scoopable texture, place it on the counter for 20+ minutes or for the most even texture place it in the fridge for 45 minutes to soften it.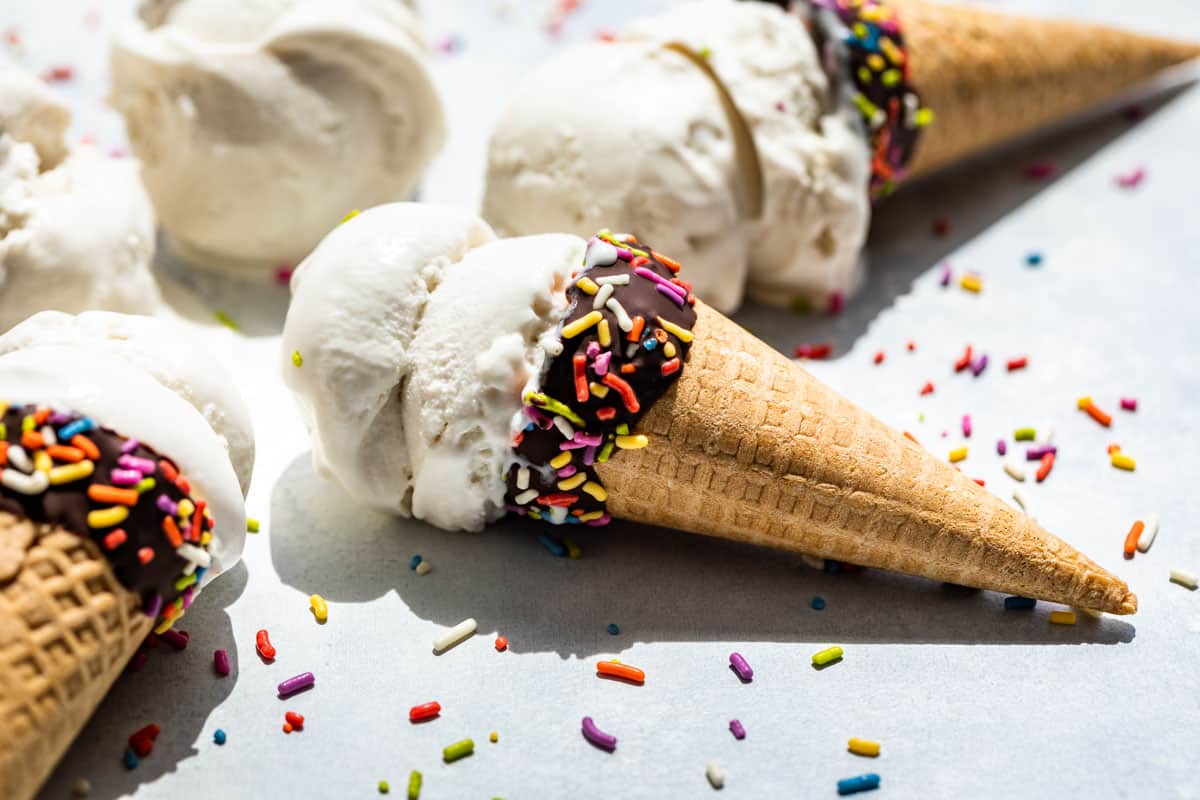 FAQ's
What is Coconut Ice Cream versus Old Fashioned Coconut Ice Cream?
Coconut Ice Cream like my recipe here are dairy free and often vegan as well. Old Fashioned Coconut Ice Cream is made by infusing coconut into heavy cream and making a custard with eggs and sugar before chilling and freezing it.
What is the difference between coconut milk and coconut cream?
Coconut cream is a bit richer with a little more fat in it. It will make a touch smoother ice cream than coconut cream. Neither coconut cream or coconut milk should be confused with creamed coconut which is a sweetened concoction that won't work in this coconut ice cream recipe.
What is the difference between coconut cream and cream of coconut?
Coconut cream is unsweetened and a richer version of coconut milk. Cream of coconut is an entirely different mixture of coconut milk, sweetener, and additives to emulsify it. You definitely don't want to sub in cream of coconut for this ice cream recipe because it will be way too sweet.
Storing leftovers
To store – place any leftovers into a sealed container or bowl suitable for the freezer. Place the container in the freezer and use within 2 weeks for the best texture. This ice cream will last 1 month for sure, but it does get more icy over time in the freezer.
Refreeze – if you find your ice cream is too icy after some time in the freezer, you can melt it in the fridge and refreeze in your ice cream machine. The texture is almost as good as the first time around.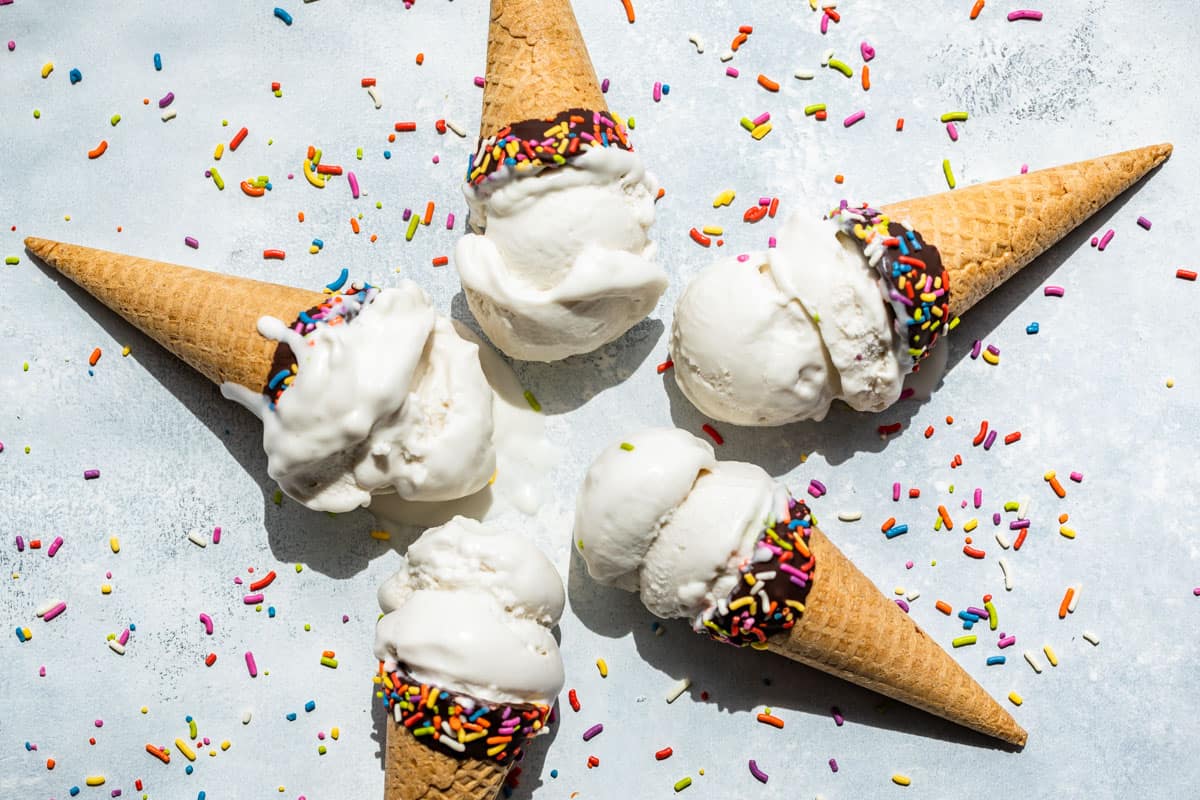 Tips & Tricks
Keep cans of coconut milk in the fridge for quick and easy ice cream at a moments notice.
Make this recipe with cans of coconut cream in place of the coconut milk for an even richer texture.
Add the sweetener to your taste! The more sweetener you add the softer and smoother the ice cream will be. But it's also import to get the right amount of sweetness for you.
How to make this ice cream without an ice cream maker
First blend together all the ingredients.
Next freeze the mixture in ice cube trays, keeping back about 1/2 cup liquid.
When the ice cream cubes are frozen, add them to a high speed blender with your reserved, (refrigerated) 1/2 cup liquid ice cream base. You can also do this in a food processor, but you may need to do small batches.
Blend on low speeds using the tamper until you have a thick and creamy ice cream.
Serve immediately, or freeze for a couple hours for a firmer texture, stirring every 30 minutes to break up the crystals forming.
Notes about blending ice cream in your blender
This only works with a high powered blender, and it's hard work even for them. If you don't have a high powered blender, I absolutely wouldn't attempt to blend ice cream. You can try the same method in a food processor instead – I use my Cuisinart.
It's super important to monitor the blending constantly. Don't step away for a moment because blending ice cream is hard on a blender. By monitoring and using the tamper, everything 'should' be fine. I have a Vitamix and it has a safety feature that turns the blender off if it starts to overheat. So that definitely gives me some peace of mind.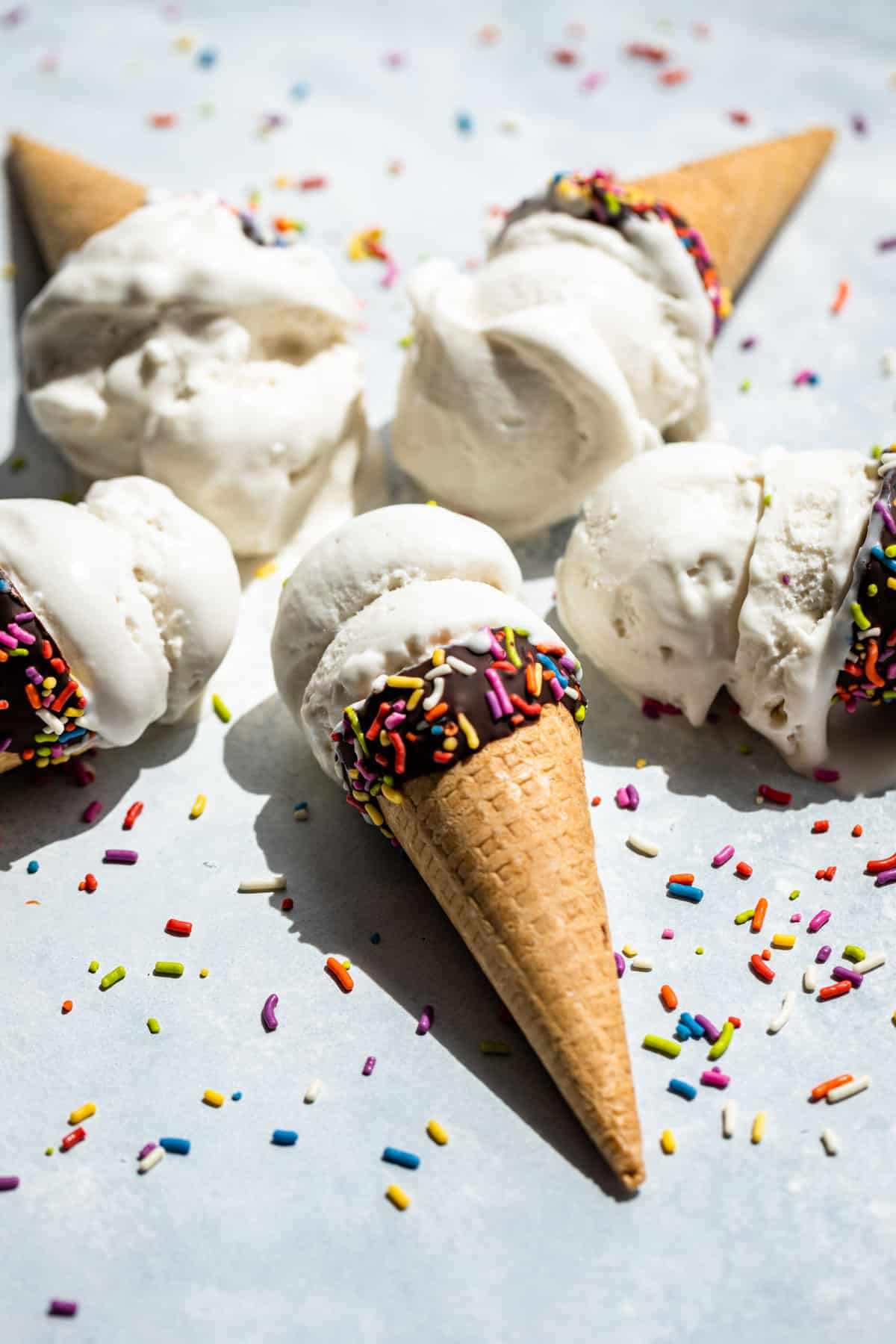 More dairy free ice cream recipe inspiration
Final tip: It seems like the about the amount of sweetener varies with people liking every amount from 1/4 cup to 1 cup. My advice is to start with a small amount of sweetener, and keep adding until it tastes right to you! Also keep in mind that once the coconut mixture is frozen, it won't taste as sweet as when it was a warmer temperature.
If you're looking for more dairy free ice creams, I wrote a whole book with all the favorites called Inspired Ice Creams! There's 32 recipes + 143 variations which = 175 total frozen treats!
I really hope you enjoy this Homemade Coconut Ice Cream! And if you do get a chance to make it, I hope you'll leave me a comment/rating below. I always love hearing from you here! Also for even more ice cream and ice cream sandwich recipes, head over to the recipe index.
Print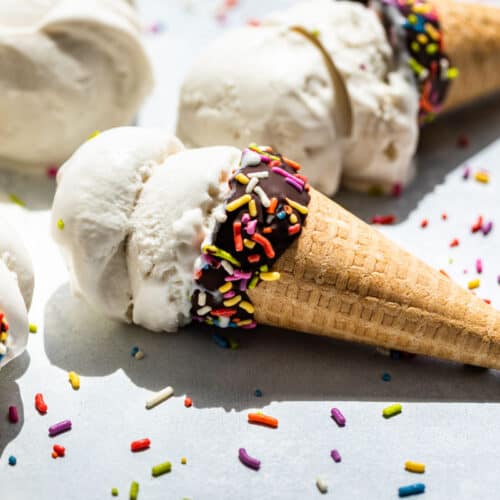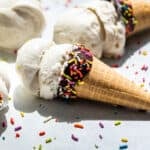 Coconut Ice Cream
---
Author:

Kari Peters

Total Time:

10 mins

Yield:

1 quart

1

x

Diet:

Gluten Free
Description
Our favorite dairy free ice cream, perfect for pairing with all sorts of desserts or fresh fruit!
---
2 cans (403 ml each or 13.66 oz each) coconut milk, see notes
1/2 – 1 cup Grade A amber maple syrup, start with a small amount and keep adding to your taste
pinch of sea salt
1 Tablespoon vanilla extract
---
Instructions
Blend the coconut milk, your choice of sweetener, pinch of salt to taste, and vanilla extract until thoroughly combined.
If your coconut milk isn't chilled, chill the mixture for 2 hours in the refrigerator before placing it in the ice cream machine.
Freeze according to instructions for your ice cream maker, this should take 20-30 minutes. When the mixture begins to look thick and frosty, (you'll be able to see lines the dasher will make as the ice cream maker turns) spoon out a little and if it sits up on the spoon instead of slipping right off, it's done.
The ice cream will be the texture of soft serve when it's done. You can transfer to a container suitable for the freezer, and freeze and additional 4 hours for a firmer texture. A wooden spoon is the best tool I've found for removing the ice cream from the container, spatulas are too flexible and won't clean out the container well.
Equipment
Notes
The nutrition facts are calculated with 3/4 cup pure maple syrup.
If your coconut milk is chilled, you can freeze the ice cream mixture right away. It's easier to blend with room temperature coconut milk, but in that case it needs to be chilled first.
Prep Time:

10 mins

Category:

Ice Cream

Method:

Blending/Freezing

Cuisine:

American
Keywords: Vegan Coconut Ice Cream, Paleo Coconut Ice Cream, Dairy Free Ice Cream, Easy Coconut Ice Cream
This post has been updated in 2022 with new photos, information, and lots more new tips.