This Homemade Maple Ice Cream is perfectly creamy and simply silky smooth. It has a wonderful maple flavor that pairs well with so many desserts, but especially with my Gluten Free Apple Crisp. It's simple and can be made ahead and frozen to be a firmer texture. Or enjoy it right out of the ice cream machine for a soft-serve texture. And as a bonus, there's no refined sugar in this recipe, just pure maple syrup!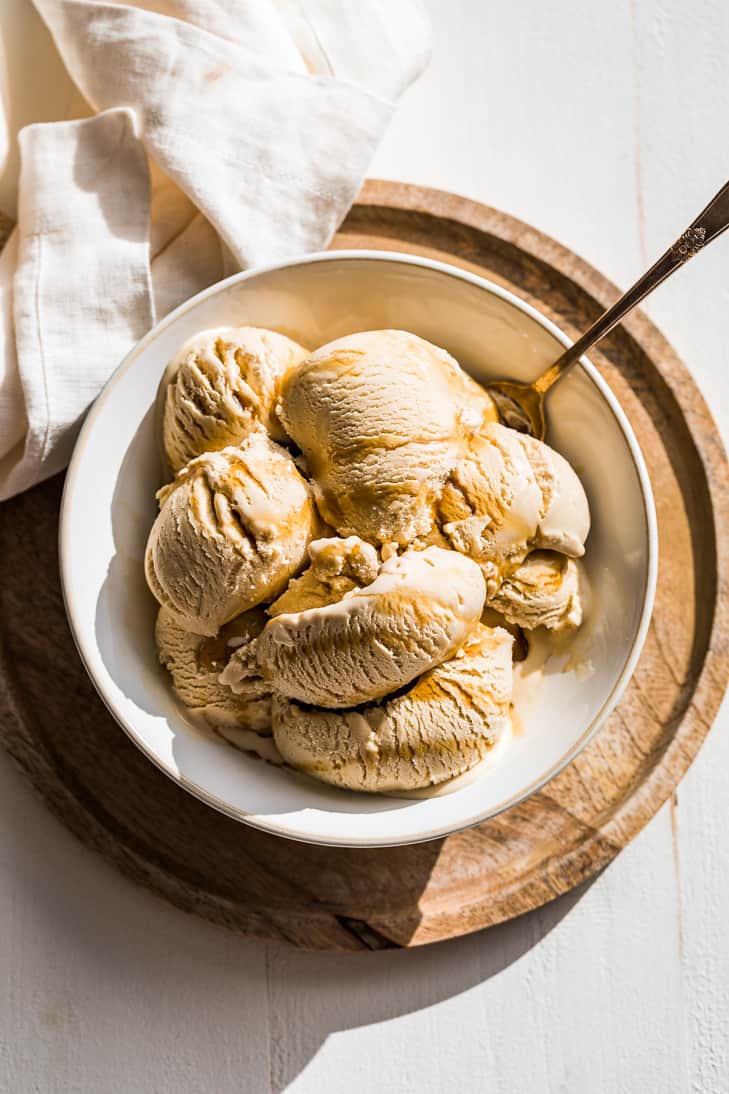 This Homemade Maple Ice Cream is my first choice to pair with my favorite holiday desserts. It's so perfect with apple pie or crisp, pecan pie, or the traditional pumpkin pie.
The only dessert that I prefer vanilla over maple is of course with cherry pie. But, overall maple ice cream definitely wins in my book. I absolutely love the combination of the creamy maple flavor with the flavors of fall, particularly apple desserts.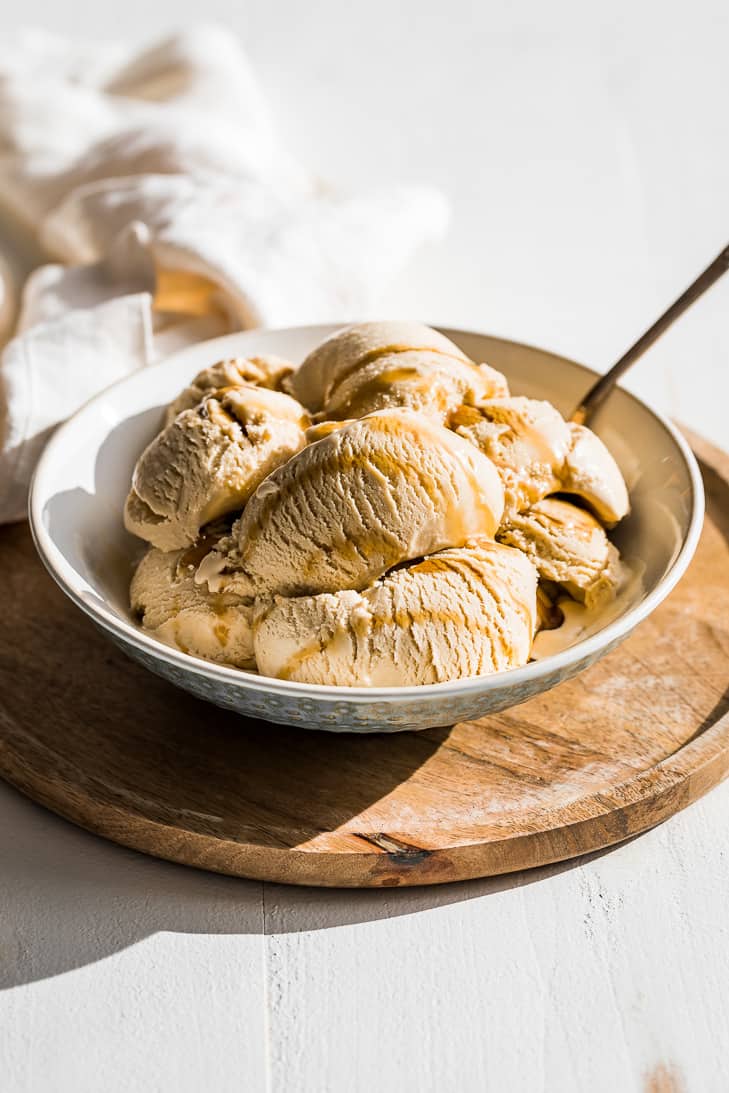 If you're looking for a dairy-free ice cream for the holidays, try my Coconut Ice Cream. Even though it has a clear coconut flavor, it pairs with almost anything, much to my surprise.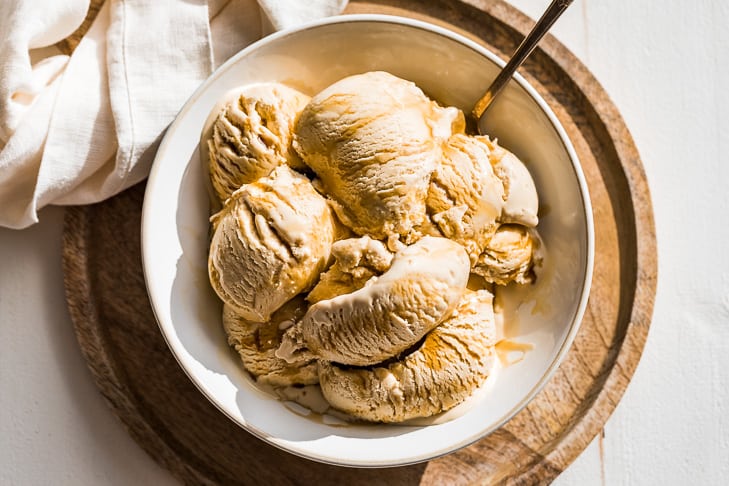 top 5 tips for making homemade ice cream
All the books I've ever read say to cook it your custard to 175°F, but every time this scrambles the eggs. I always cook the custard until just thickened. If it starts to bubble at all, take it off the heat immediately and add the cold cream to cool it down.
Making your own ice cream isn't very hard, once you get the hang of it. It's also insanely delicious, and you may never go back to store-bought.
They also say to cook your custard in a double boiler. Well… if you have the better part of 45 minutes to stand there stirring over low heat – go ahead, but I cook my custard in a saucepan over direct medium heat, and it's not a problem.
Never walk away or turn your back on the stove. Making ice cream custard only requires a few minutes but it's easily wrecked if you're multi-tasking. Stirring constantly for 6-10 minutes yields great results every time.
Finally, don't worry if you overcook it a little. The slightly scrambled taste isn't the end of the world. I like to ere on the side of not quite thick enough as opposed to overdone. If you're not sure, take it off the stove and spoon a bit out. If it stands up a bit on its own, it's done. But if it immediately spreads out on the counter, cook it for a little longer. Refer to the picture below to show you the finished texture – it's not as thick as you might think – it's a thin custard, not pudding thickness.
How to make this recipe step by step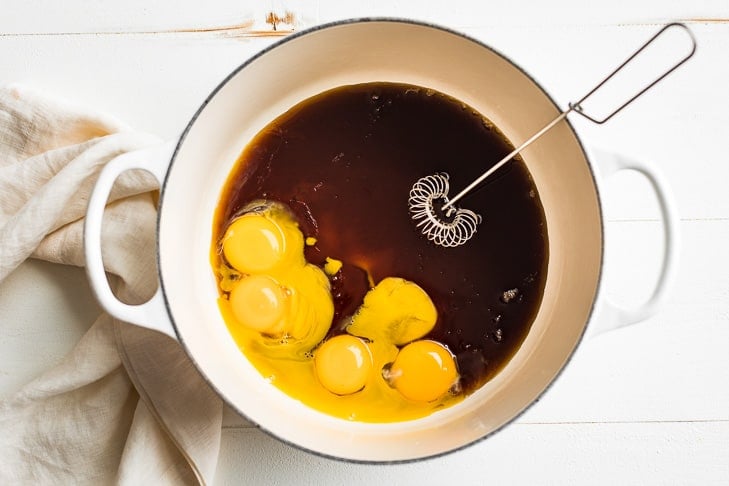 Step 1: Start by whisking together the egg yolks and maple syrup in a medium saucepan.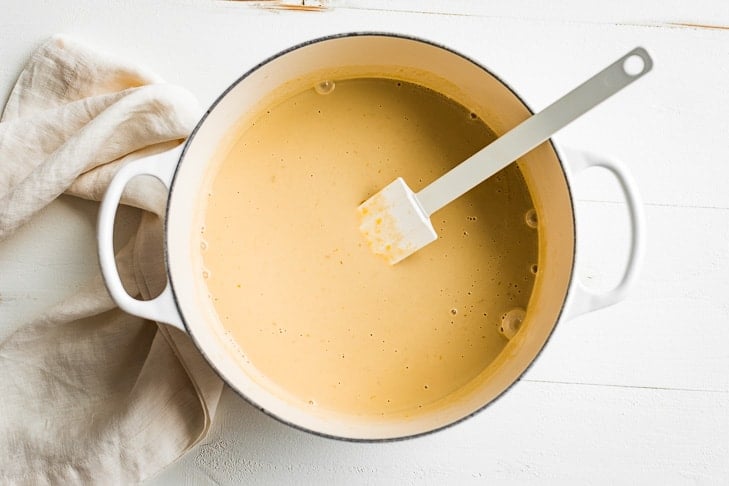 Step 2: Stir in the half and half. Place the mixture on the stove and cook over medium high heat until the mixture begins to thicken, stirring constantly. You don't want it to come to a full boil, but you'll know it's done when it begins to bubble around the edges slightly.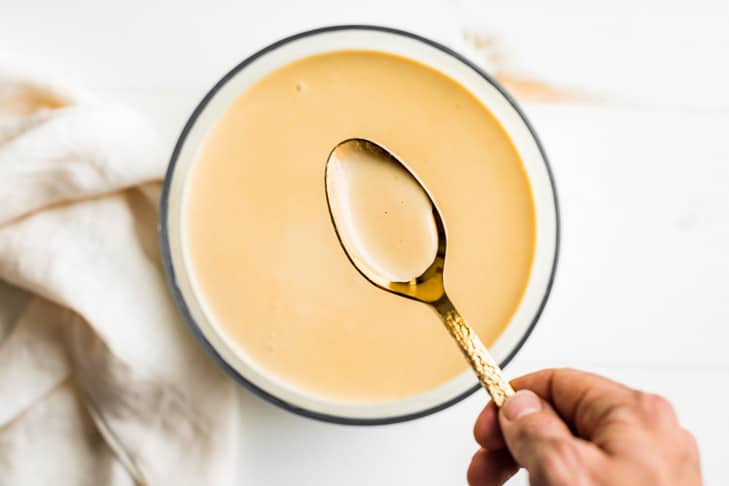 Step 3: Next strain the custard mixture and refrigerate until fully chilled. The texture of the maple ice cream base is still runny but noticebly thicker than before you cooked it. The mixture 'coats a spoon' like the above photo and has some body.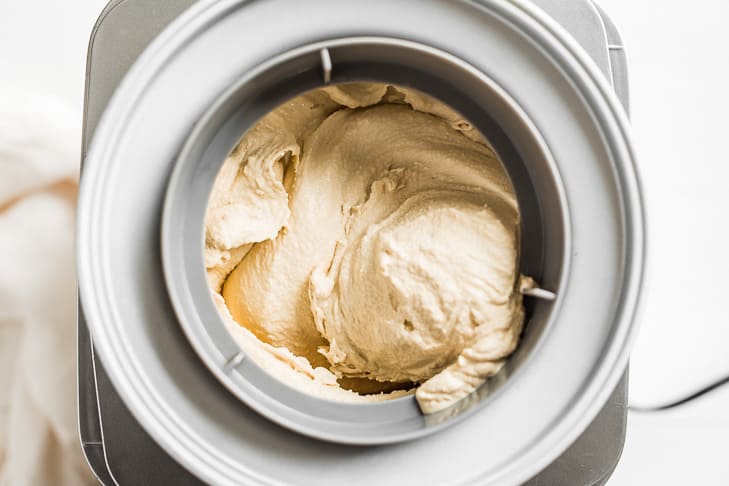 Step 4: finally freeze/churn the chilled ice cream base accordingly the instructions for your ice cream machine. The ice cream should look similar to the above photo and be a soft serve texture.
Tip: Don't skip chilling the ice cream base! The ice cream base from your ice cream maker will melt before it can properly freeze your ice cream.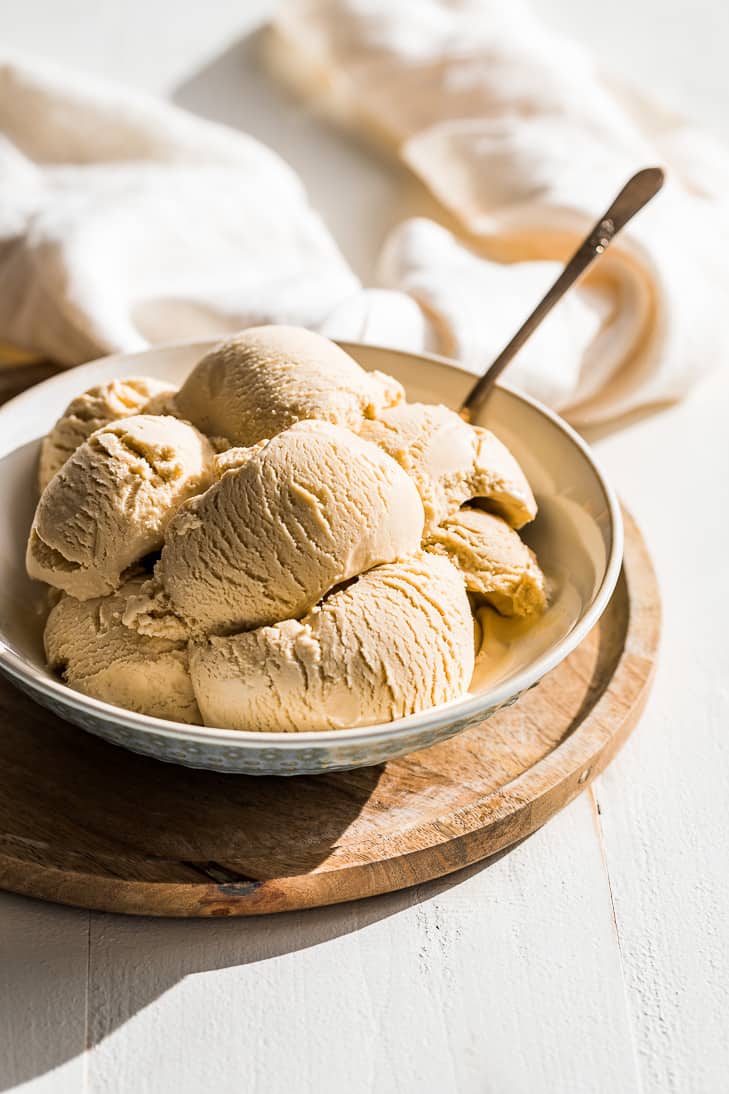 From here it takes about 6-8 hours in the freezer for the soft-serve to freeze solid. The texture of this ice cream is totally fantastic, even after a week in the freezer it doesn't get icy at all!
FAQ's
Can I use whole milk in place of the half and half?
I don't recommend it, the blend of half and half and heavy cream in this recipe makes the best smoothest texture. If you sub in milk, the texture won't be as rich and will tend to be icy.
What kind of maple syrup should I use?
I recommend Grade B because it has the deepest maple flavor. Grade A or fake syrups don't have the right flavor for a good maple ice cream. You can use Grade A but you won't really taste nearly as much maple flavor.
Storing leftovers
To store – place the ice cream in the freezer for 4+ hours for a firmer texture. Or freeze any leftovers in an airtight container for up to 3 months.
Make ahead – this ice cream keeps perfectly for at least 2 weeks in the freezer with great texture. It will keep up to 3 months, but the quality of the texture will go down over time, so I recommend making it no more than 2 weeks in advance.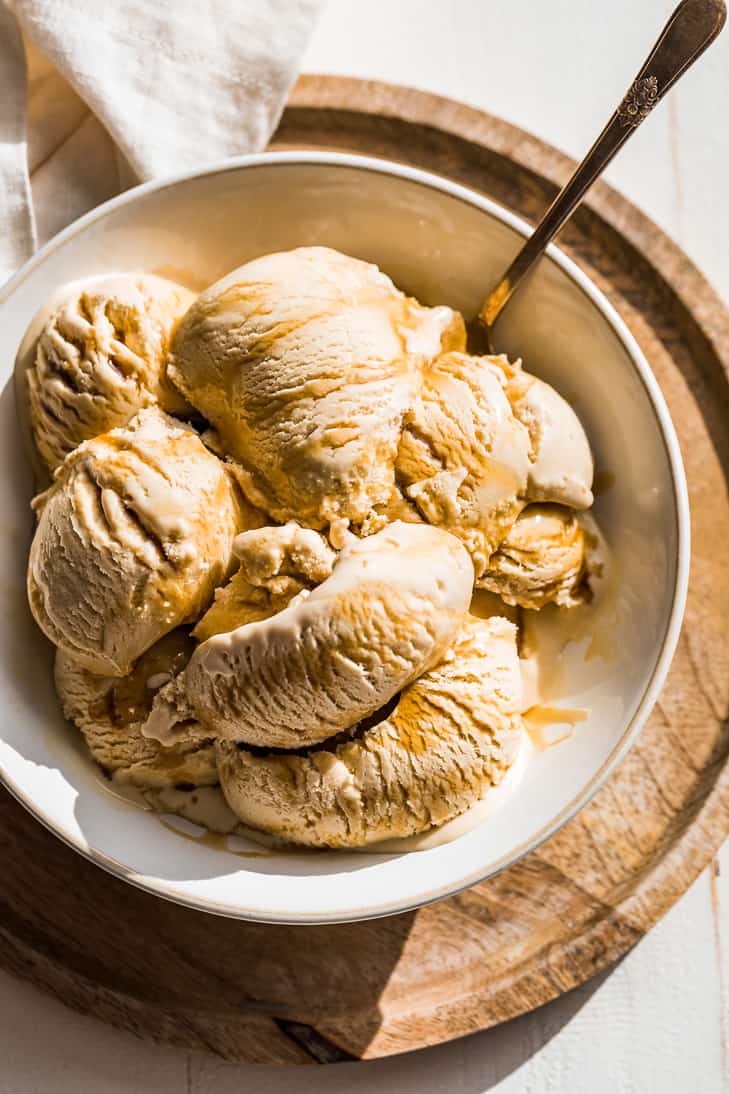 Tips & Tricks
Pure maple syrup is essential for the best-tasting maple ice cream. I buy mine at Costco because it's more affordable.
Also, Grade B will give you the deepest flavor whereas Grade A will give you a light maple flavor.
Be very careful not to overcook the ice cream custard, it will scramble the eggs which affects the flavor! The custard will only thicken slightly, it's not the texture of custard you eat like pudding from a bowl.
More Ice Cream Recipe Inspiration
I really hope you enjoy this Maple Ice Cream recipe! If you do get a chance to make this recipe, I'd love to hear from you in the comments.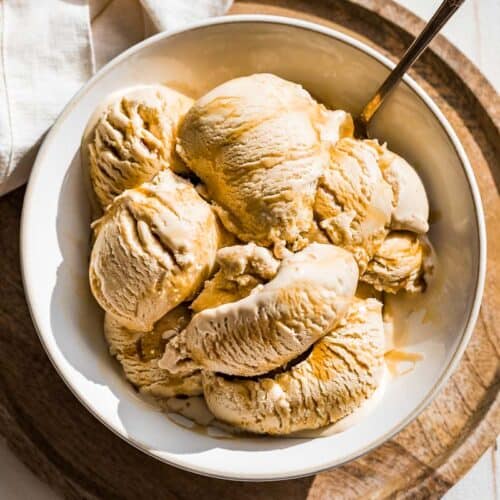 INGREDIENTS
6

egg yolks

3/4

cup

maple syrup -

Grade B, see notes

1

tsp

arrowroot

-

tapioca starch, or cornstarch

1/4

tsp

sea salt

1 1/2

cups

half and half

1 1/2

cups

heavy cream

1

tsp

vanilla extract
INSTRUCTIONS
Whisk together the egg yolks, maple syrup, arrowroot, and sea salt until fully combined.

Whisk the half and half into the egg mixture and cook over medium-high heat, whisking constantly until the mixture begins to thicken but doesn't come to a boil.

When the mixture thickens, immediately remove the pan from the heat and whisk in the cream and vanilla.

Pour through a strainer to remove any stray bits and chill the custard in the refrigerator for at least 4 hours.

Freeze the ice cream according to the manufacturer's instructions for your 2-quart ice cream machine. The ice cream is done freezing when it stands up on a spoon.

Remove the ice cream from the machine and place the container in the freezer for 4-6 hours to fully freeze it.
Bonus Step
If you made this recipe, please leave a rating/comment. Ratings really help us continue to bring you high-quality free recipes. Rate This Recipe!
NOTES
Add the maple syrup to your taste! I've had lots of feedback ranging from 1/2 cup to 1 cup of maple syrup being preferred. We feel 3/4 cup to be the right amount for our taste!
Use Grade B maple syrup for the best maple flavor.
nutrition facts
Serving:
0.5
cup
|
Calories:
226
kcal
|
Carbohydrates:
16
g
|
Protein:
3
g
|
Fat:
17
g
|
Saturated Fat:
10
g
|
Polyunsaturated Fat:
1
g
|
Monounsaturated Fat:
5
g
|
Cholesterol:
141
mg
|
Sodium:
81
mg
|
Potassium:
124
mg
|
Fiber:
0.01
g
|
Sugar:
14
g
|
Vitamin A:
674
IU
|
Vitamin C:
0.5
mg
|
Calcium:
86
mg
|
Iron:
0.3
mg