The savory rosemary flavor makes this Turkey Breakfast Sausage something you'll want on the menu every week. It's a protein-packed healthy breakfast option that's easy to mix together. You'll find 2 meal prepping options below to make this even easier. Ground turkey is a lean protein option, but you can also use ground pork here as well in this homemade sausage recipe.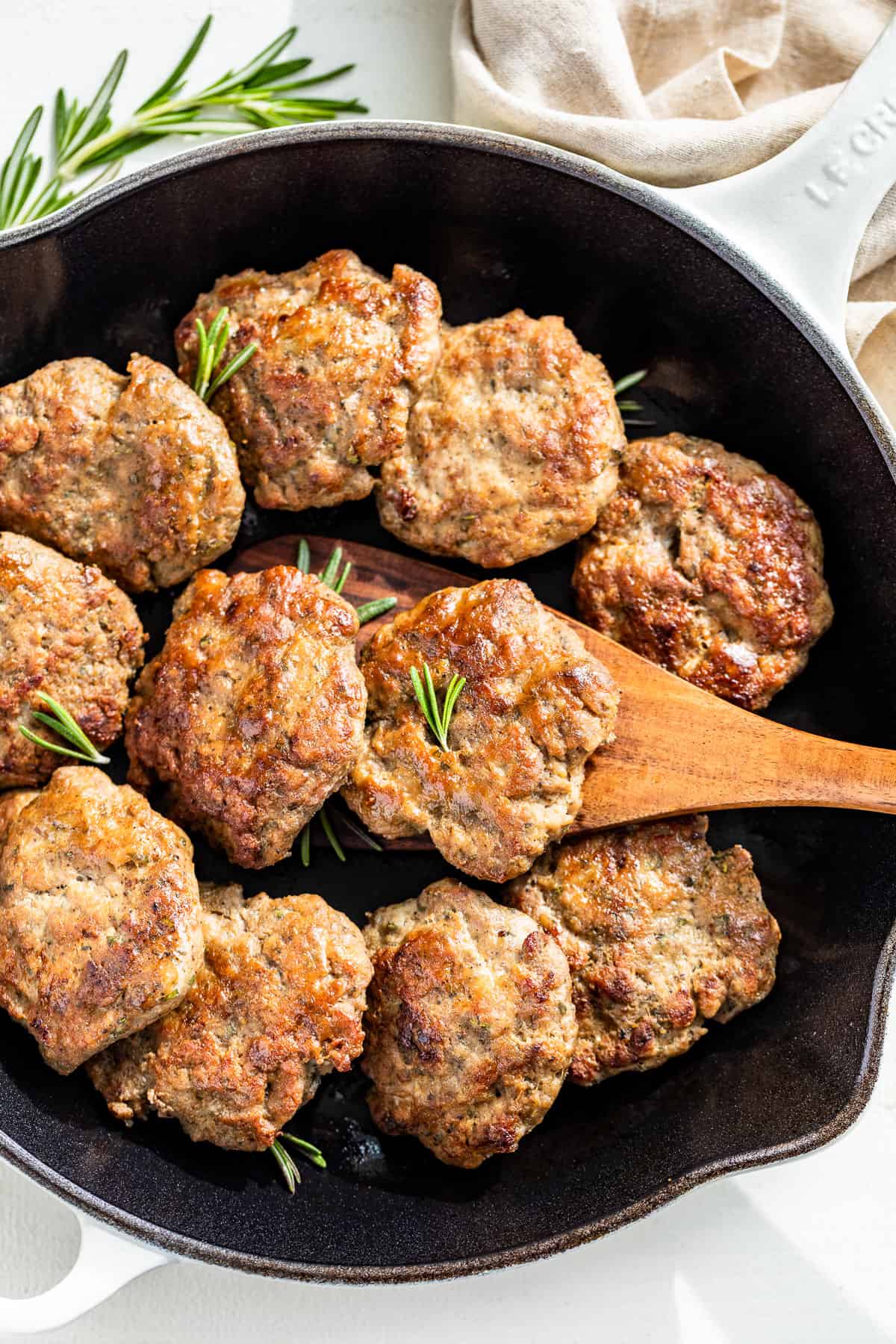 We used to buy these incredibly delicious chicken patty sausages from a local farmers' market. And they were most definitely a highlight of many weekend breakfasts. But when we couldn't get them anymore, I made a homemade version.
My homemade version turned out even better because I used ground turkey instead of ground chicken for a moister sausage patty. And now I get to share it with you as well!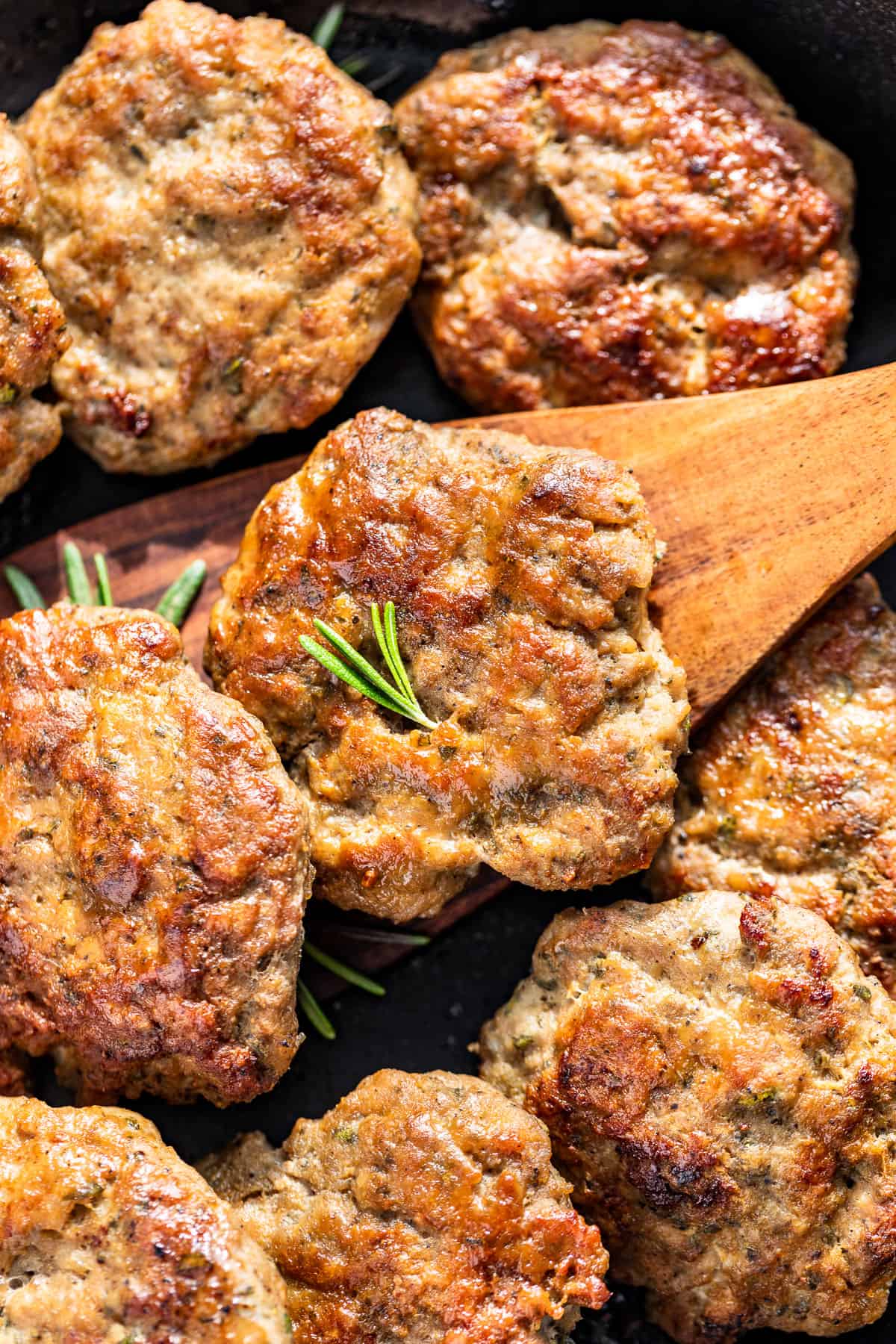 Ingredients & Substitutions
Ground turkey – any kind of ground turkey works well in this recipe, but I do prefer turkey chub whenever I can get it because it seems a bit moister. You can also use ground chicken, but it does dry out more easily. I also love using ground pork in this recipe.
Granulated onion & garlic – is slightly different than garlic and onion powder. You can use those as well, but granulated garlic and onion taste even better with a nice toasty flavor that adds a lot of depth. Whichever you use be sure it's unsalted so you can add salt to taste.
Fresh rosemary – gives a lot of flavor to this turkey sausage. I use rosemary in particular because that's the herb they used in the sausages we used to buy. Fresh is best here and dried rosemary doesn't taste that great.
Poultry seasoning – is a spice blend made up of sage, thyme, rosemary, marjoram, nutmeg, and onion powder. There isn't a good substitute for it because it adds so much flavor. You may find it useful to have in your spice drawer for Thanksgiving stuffing as well. You can try adding a bit of ground sage etc. then fry up a bit of the sausage mixture to see if there's enough flavor for your taste if you don't have poultry seasoning.
Salt & black pepper – salt is essential to bring out all the other flavors, and black pepper plays a key role in flavor as well because it tastes so good with the rosemary.
How to make this recipe step by step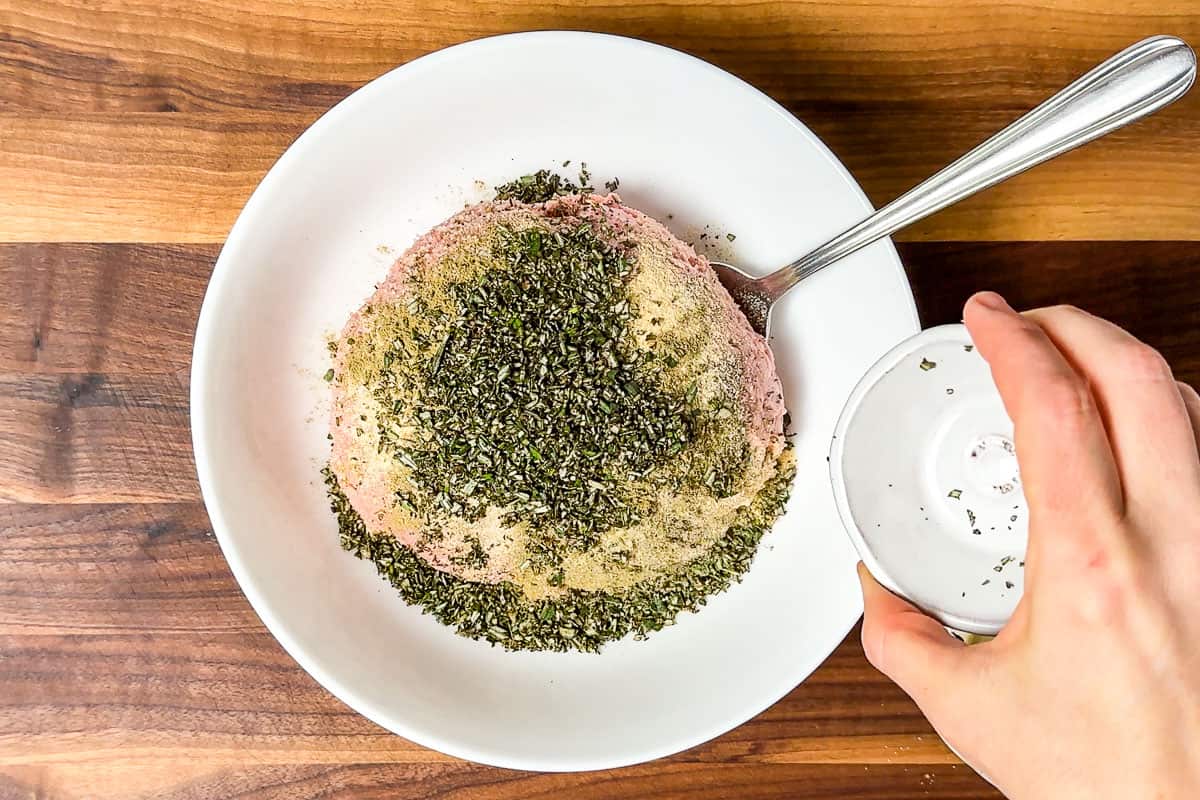 Step 1: Start by adding the ground turkey to a mixing bowl. Then add the herbs and spices.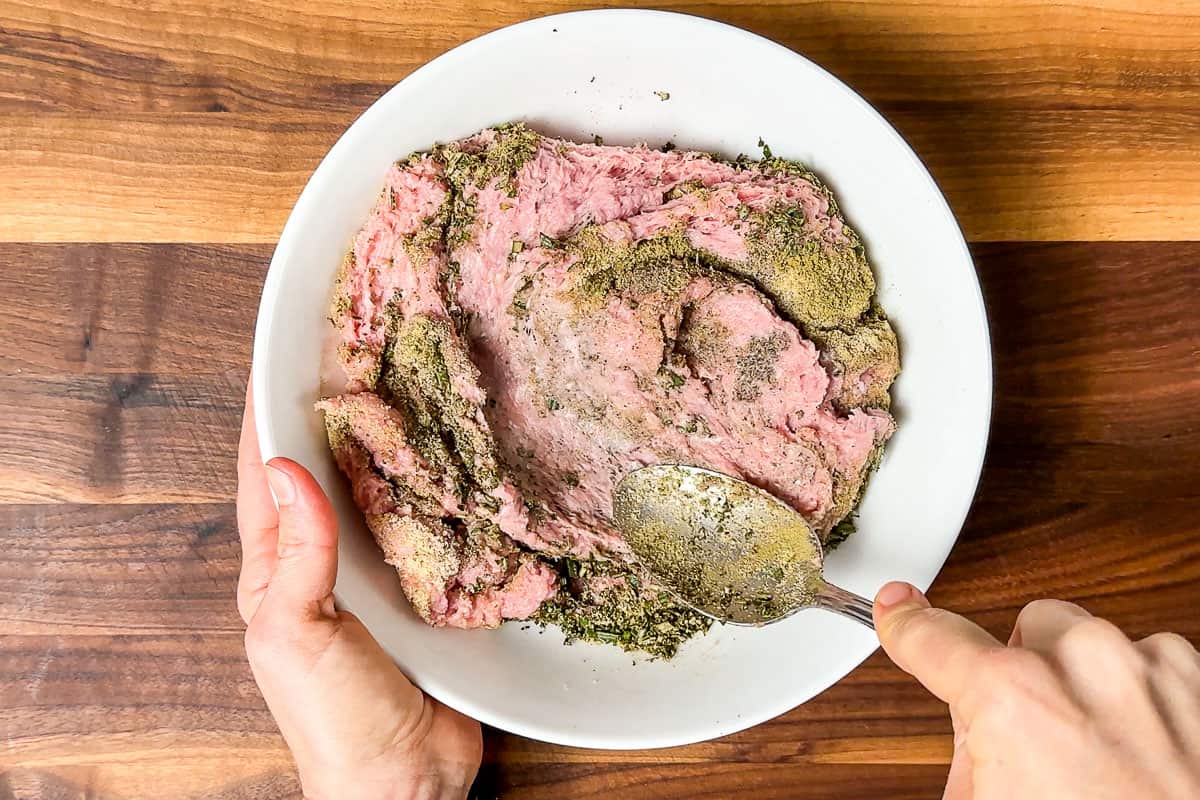 Step 2: Mix to thoroughly combine and refrigerate overnight to allow the flavors to fully develop.
I've often been in a hurry and just cooked the sausage right away and it's still good, but it's definitely better the next day.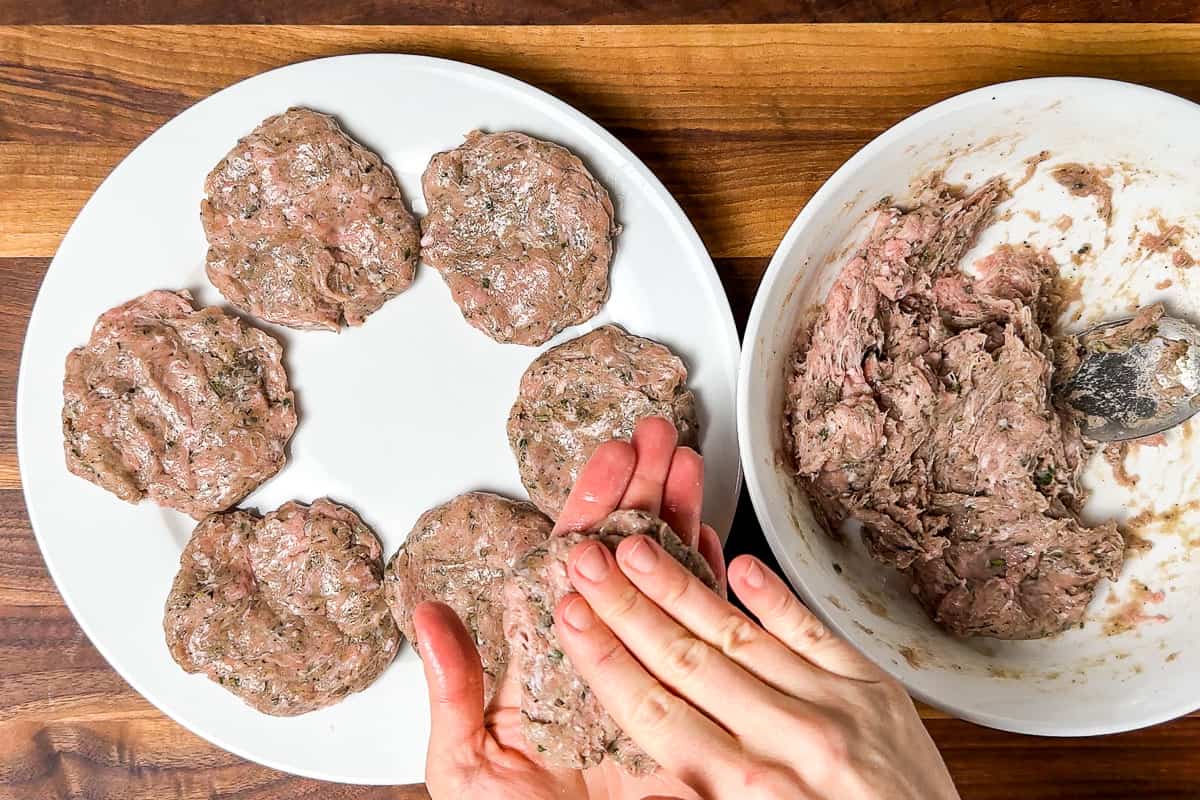 Step 3: When you're ready to cook the sausage form it into patties. I like to oil my hands first but you can also use gloves if desired.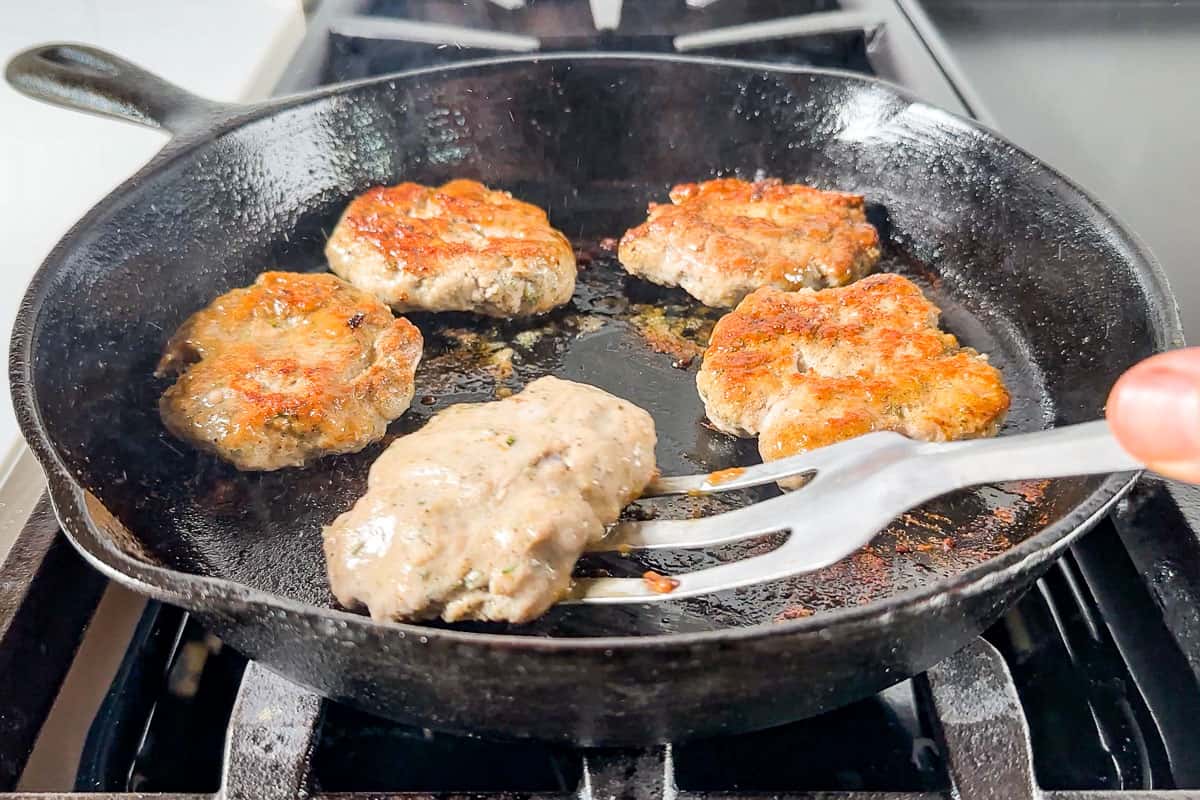 Step 4: Pan-fry the patties using a touch of oil until golden brown on both sides and cooked in the center.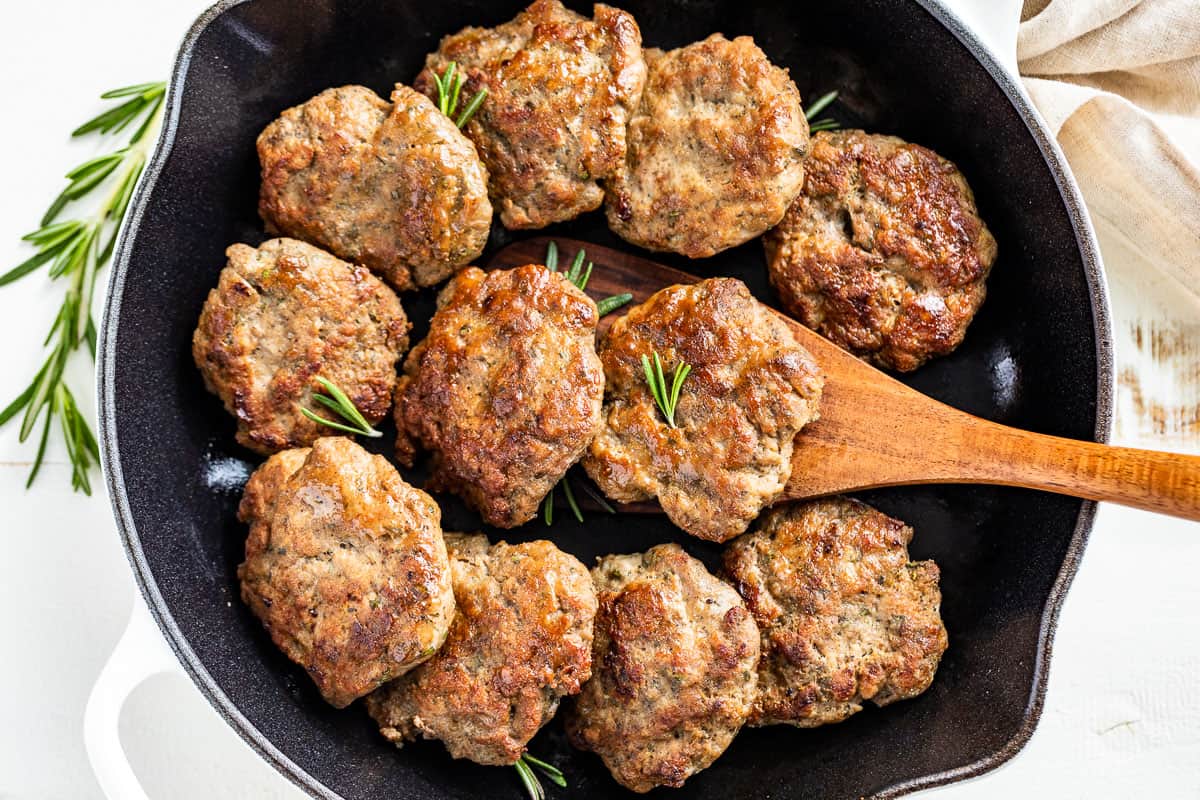 FAQ's
What can I substitute for poultry seasoning?
I would try subbing in 2 parts dried sage to 1 part dried thyme in general. For the measurements listed for the 3-pound batch of sausage in this recipe, I would use 3/4 tsp dried sage and 1/4 tsp dried thyme.
Is turkey breakfast sausage healthy?
Turkey breakfast sausage is a high protein low-fat option that's a great way to start your day. By making your own you control what ingredients go in which makes it even healthier and no sugar if you follow my recipe.
What is poultry seasoning?
It's a blend of spices that usually contains sage, thyme, rosemary, marjoram, nutmeg, and onion powder. You'll usually find it called for in Thanksgiving stuffing recipes, but it makes incredible breakfast sausage as well. It's definitely worth adding to your spice pantry!
Storing leftovers
To store – place any leftover cooked sausage patties into an airtight container and refrigerate for 2-3 days.
Make ahead – these are great made ahead and frozen. Or you can also make the sausage mixture, form it into patties, and freeze them on a wax paper or parchment-lined baking sheet. Then transfer them to an airtight storage container. That way you can defrost them anytime and cook them up fresh. Remember if you want to freeze these raw it's recommended to start with fresh (not previously frozen) ground turkey.
Reheating – place any leftover cooked sausage patties into a skillet with a touch of water. Cover and simmer until heated through or you can also microwave them.
To freeze – you can freeze these as raw patties to cook later or freeze them as cooked patties. Defrost in the refrigerator overnight before cooking or reheating as directed above.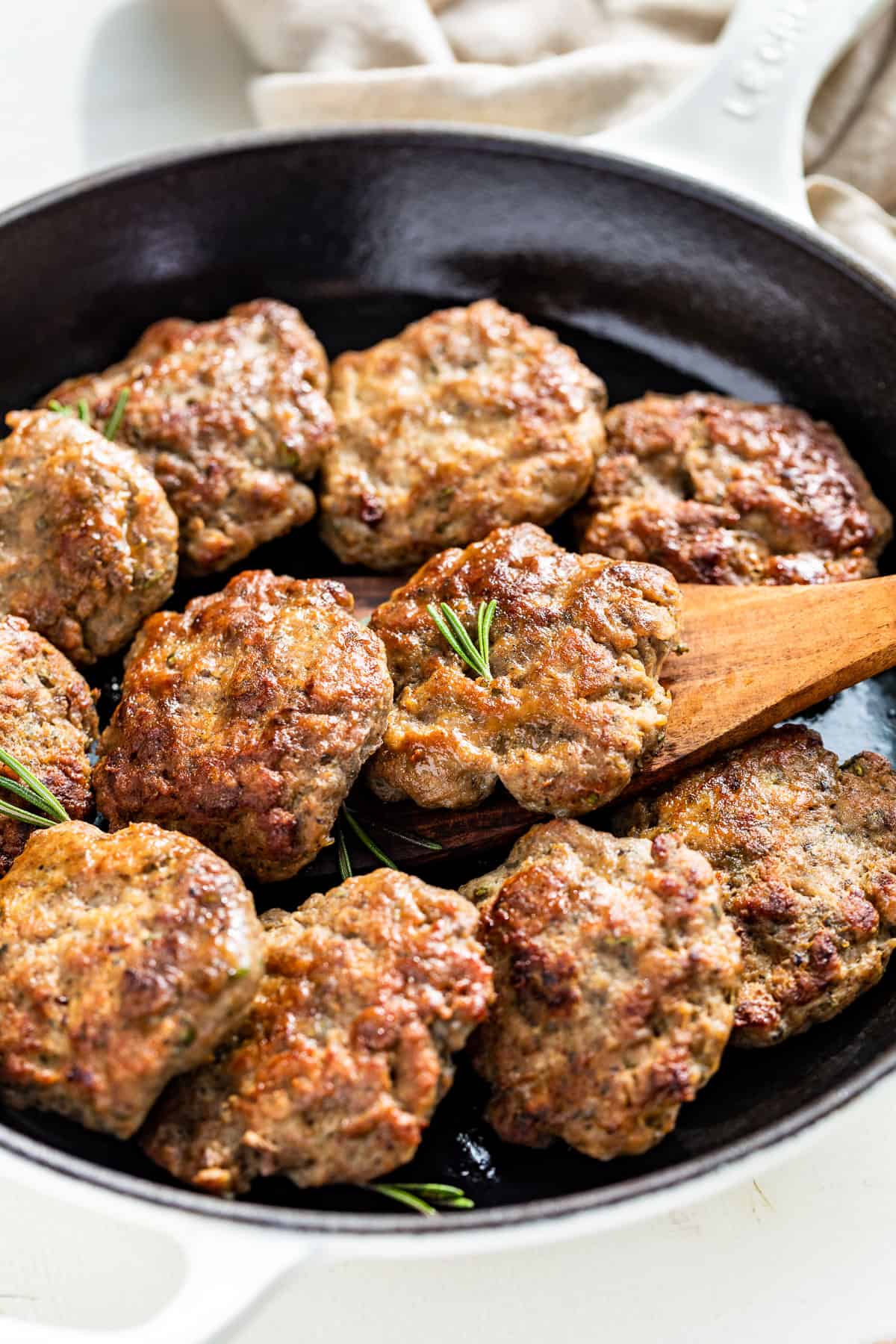 Tips & Tricks
Lately, I've been meal-prepping this sausage 2 different ways. First, I like to make a 3-pound batch and freeze it in formed patties on a wax paper or parchment-lined baking sheet. Then you can transfer them frozen to an airtight container.
The other way I've been loving is to prepare the sausage and fully cook the patties before freezing them. That way they're ready for grab-and-go breakfasts. Tyler has been loving them mid-morning at work along with hard-boiled eggs dipped in everything bagel seasoning for a protein-packed breakfast.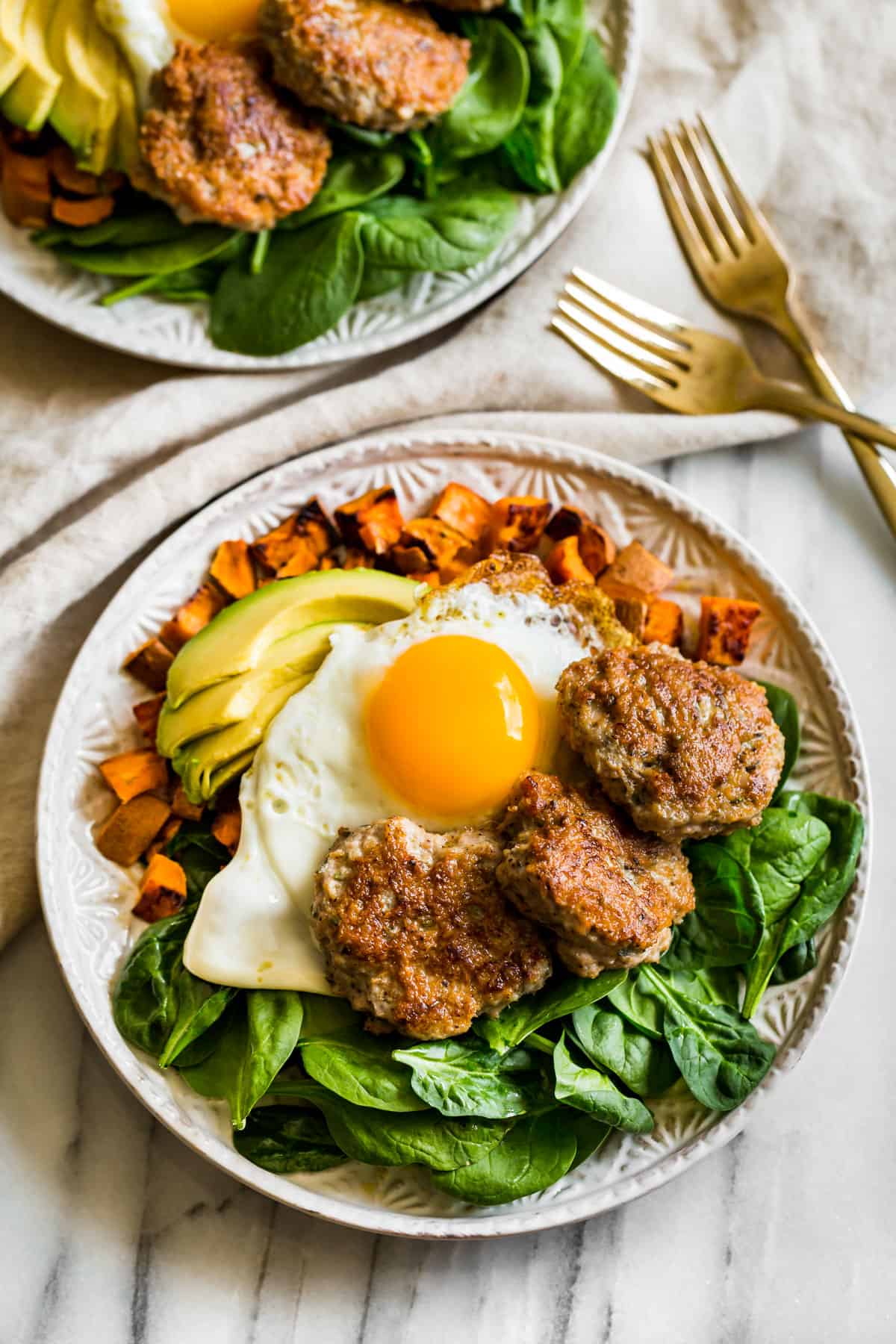 More Breakfast Recipe Inspiration
I really hope you enjoy this Turkey Breakfast Sausage! If you do get a chance to make this recipe, I'd love to hear from you in the comments.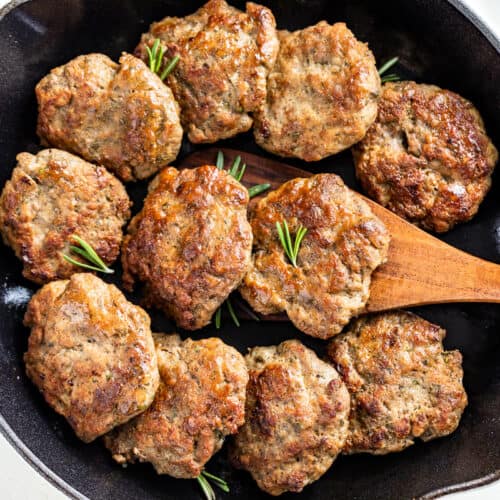 INGREDIENTS
1

pound

ground turkey

-

chicken, or pork

1

tsp

freshly ground black pepper

1

tsp

onion granules

-

unsalted

1/2

tsp

garlic granules

-

unsalted

1

tsp

sea salt

-

or to taste

1/4

tsp

poultry seasoning

1

tbsp

fresh rosemary

-

chopped

optional: 1 tbsp olive oil, it browns a bit better this way
INSTRUCTIONS
Mix together all the ingredients listed until the herbs have been completely mixed in.

Cover the container and refrigerate for at least 1 hour, or 1 day before using. This allows the flavors of the herbs to sink in. You can cook it right away, but it's better after it sits.

When you're ready to use the sausage, portion it into 4-8 patties, depending on the size you like. Cook the patties in a cast iron pan with a touch of oil until browned on each side. This takes about 8 minutes on medium heat.

Or if you want to freeze the sausage for future use, portion out the patties. Place them on a parchment or wax paper-lined baking sheet and freeze them until firm. When the patties are frozen, place them in an airtight container, and store them in the freezer for up to 6 weeks.
Bonus Step
If you made this recipe, please leave a rating/comment. Ratings really help us continue to bring you high-quality free recipes. Rate This Recipe!
NOTES
I changed a couple of measurements compared to my original version so you can scale the recipe even easier. I had several taste testers try the new version and no one can tell the difference in flavor, but it's much easier to make big batches now!
The nutritional facts were calculated without the optional oil and without whatever you use in the pan to fry them.
nutrition facts
Serving:
4
ounces
|
Calories:
132
kcal
|
Carbohydrates:
1
g
|
Protein:
27
g
|
Fat:
2
g
|
Saturated Fat:
1
g
|
Polyunsaturated Fat:
1
g
|
Monounsaturated Fat:
1
g
|
Trans Fat:
0.02
g
|
Cholesterol:
62
mg
|
Sodium:
640
mg
|
Potassium:
355
mg
|
Fiber:
0.3
g
|
Sugar:
0.1
g
|
Vitamin A:
49
IU
|
Vitamin C:
0.2
mg
|
Calcium:
11
mg
|
Iron:
1
mg
This recipe was originally published in 2018, but has been updated in 2023 with new photos, more tips, information, and nutritional facts.