The story of these breakfast sausage patties goes back a few years to when we were living in 2 countries at once. When we were first married, we had a fair bit of complications involving immigration that resulted in one of us on each side of the border for 4 years. So every weekend one of us would make the 6 hour trip, (one way) to see the other one for the weekend.
Obviously weekends were a big deal because it was the only time we spent together. So whenever I'd head up to Canada, (Calgary to be specific) for the weekend, the first place I'd go was the local farmer's market to stock up on everything we'd be eating for the weekend.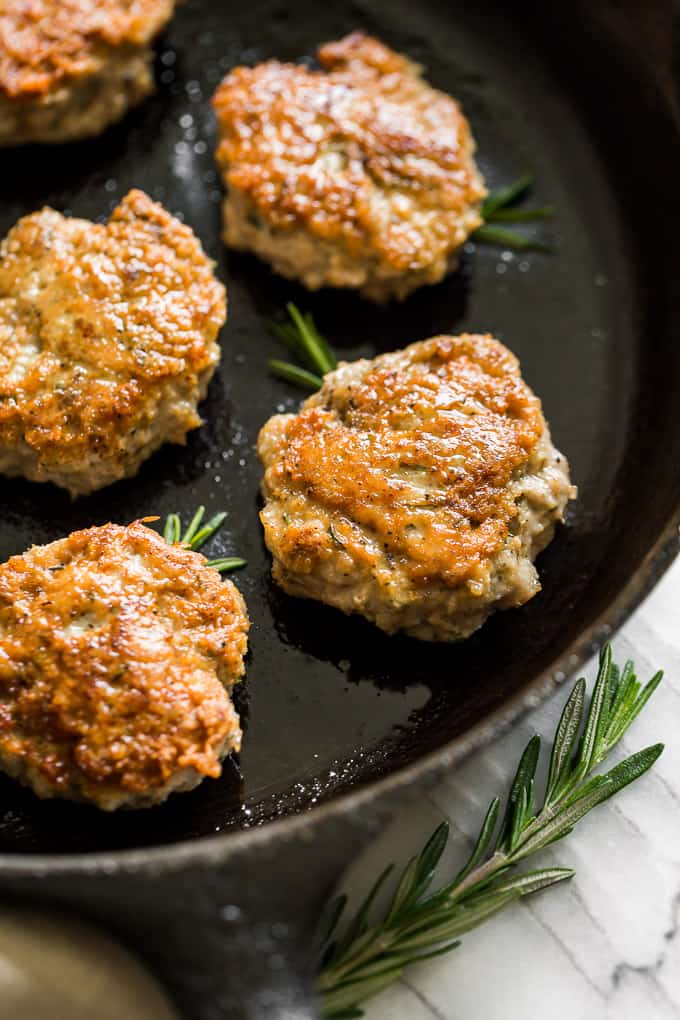 And there was one stand in particular I'd always make sure and visit, because they had absolutely the best heavy whipping cream, (farm fresh) I've ever had. But they also had these chicken breakfast sausage patties that were unbelievable! So of course I'd almost always pick those up as well for Saturday morning breakfasts.
Saturday's have always been our 'head for the mountains' days, so a good filling breakfast has always been a priority. Most often I'd pair those sausage patties with either my Rosemary Potatoes or roasted sweet potatoes, and over easy eggs. Once in a while I'd bake muffins or something along those lines, but mostly we stuck to savory breakfasts.
Nothing much has changed in the breakfast department, except the fact we both live in Montana now, and there's no freshly made chicken patty sausages to be had. Which leads us to today, I finally came up with a homemade version that Tyler approves of. In fact he's decided these are even better than the original we used to get.
As a bonus these sausage patties are super easy to make with mostly pantry staples. All the herbs are mixed into the ground chicken, or turkey as I've taken to using lately because we like it better. And if you want you can use ground pork as well.
Next the mixture sets for a few hours in the fridge to let the flavors really sink in. Then you form the mixture into patties to cook. The patties can also be placed on a parchment lined baking sheet and frozen individually before being transferred to an airtight container.
I like to make big batches of this recipe, (4x the recipe usually) because it's the perfect amount to use up 1 package of fresh rosemary. But if you do make the recipe as written, you can always use up any extra rosemary you have making my Rosemary Sea Salt Roasted Almonds, Life Changing Rosemary Mushroom Cream Sauce, or my Rosemary Potatoes.
Print
Homemade Rosemary Breakfast Sausage Patties
---
1 1/2

pounds ground turkey, chicken, or pork

1 1/2 Teaspoons

freshly ground black pepper

2 Teaspoons

onion powder

1/2 Teaspoon

garlic powder

1 1/2 Teaspoons

sea salt, or to taste

1/2 Teaspoon

poultry seasoning

1 Tablespoon

+

1 Teaspoon

chopped fresh rosemary
---
Instructions
Mix together all the ingredients listed until the herbs have been completely mixed in. I like to use a glass bowl for this since you're dealing with raw meat. Cover the container and refrigerate for at least 1 hour, or 1 day before using. This allows the flavors of the herbs sink in.
When you're ready to use the sausage, portion it into 6 patties. Cook the patties in a cast iron pan with a touch of oil until browned on each side. This takes about 8 minutes on medium heat.
Or if you want to freeze the sausage for future use, portion out the patties, and place them on a parchment or wax paper lined baking sheet and freeze them until firm. When the patties are frozen, place them in an airtight container, and store in the freezer for up to 6 weeks.
Prep Time:

10 mins

Cook Time:

8 mins