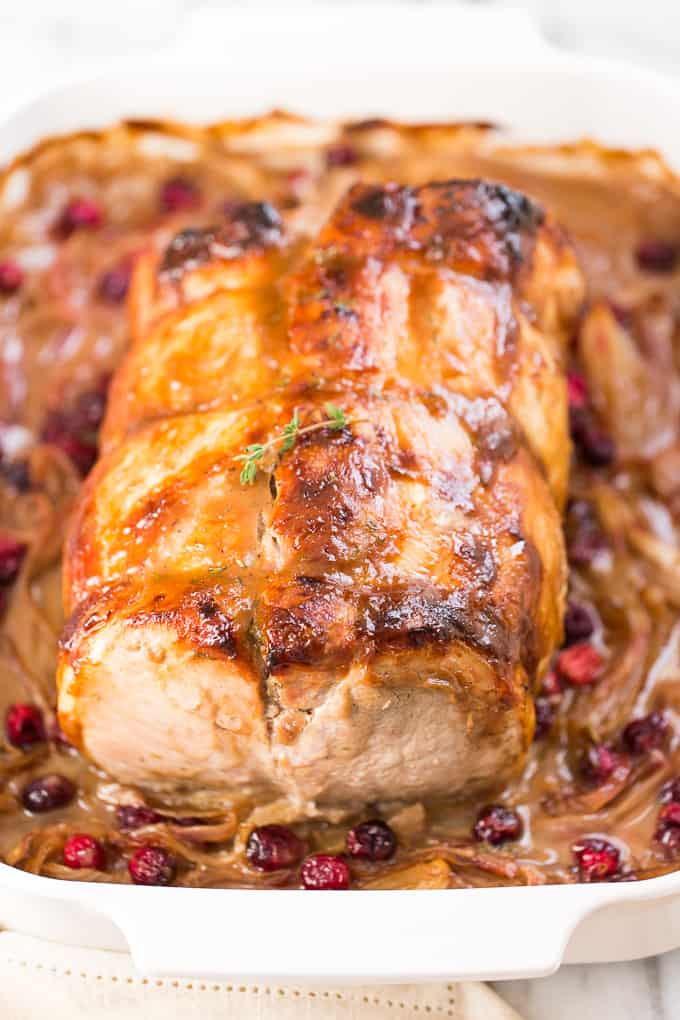 I'm not sure why, but I often find myself at a loss for what to make when we're having company over. I know that probably seems weird since at any given time I'm either thinking about food or in the kitchen preparing it, but entertaining  is a lot different than just cooking dinner.
There's so many factors involved in the making of a great evening. For starters it really helps if you're not slaving over the stove all night long, because it's really hard for anyone to have a good time when the host(ess) is stressed out. So with that in mind as my main criteria, I've been working on a few recipes that I know I'll be using over and over again. It's nice to have a set of reliable recipes with some wow factor that you're comfortable making!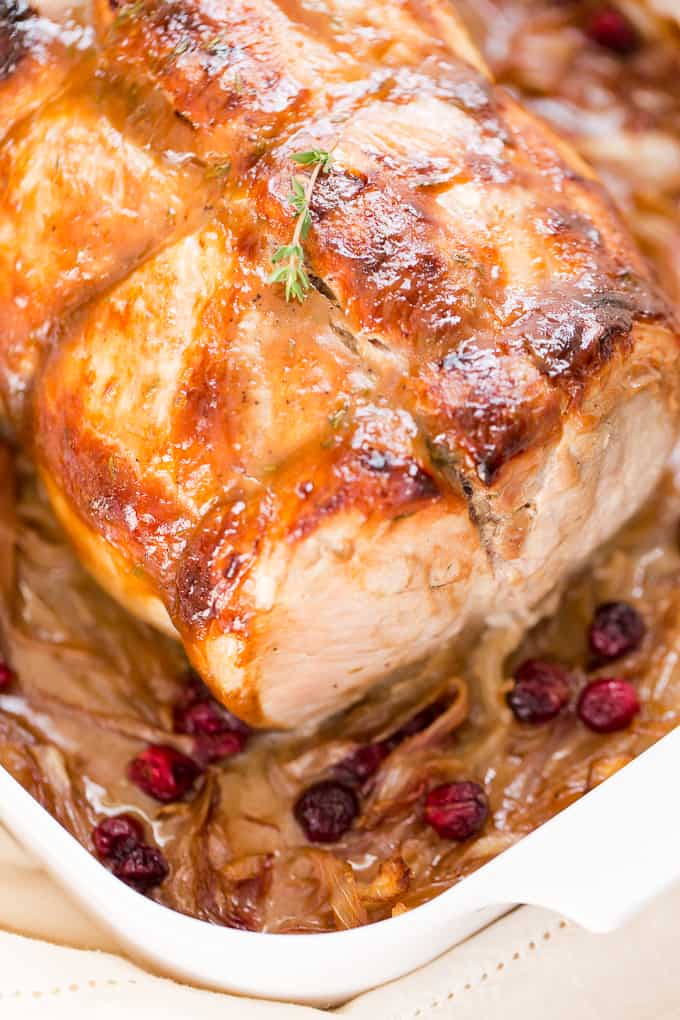 This pork roast is super simple and it makes it's own cranberry onion sauce/gravy while it cooks. When you pair that with a couple of simple side dishes and a make ahead dessert, you're pretty much home free!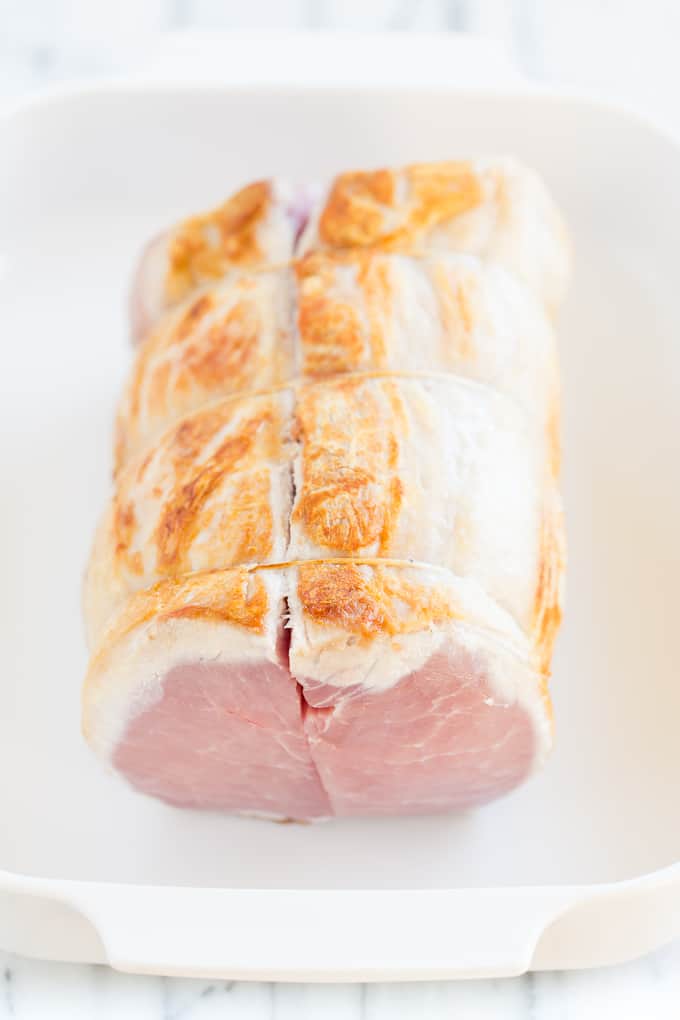 I like to brown my roasts before I do anything else because it adds so much flavor. As you can see, my pork loin roast is actually 2 pork loins tied together which really helps the roast cook more evenly and stay juicy.
For the onions, start by slicing off both the top and bottom of the onions, and peeling away the tough outer layer. Next you slice them in half from the top to the bottom and lay each half flat side down on the cutting board. Finally you slice them into 1/4″ thick half moons – this is one of my favorite (read fastest) ways to slice up an onion for everything from caramelized onions to stir fries.
Then the onions get a quick sauté until they're golden with some browned edges, then they're spooned around the browned pork loin.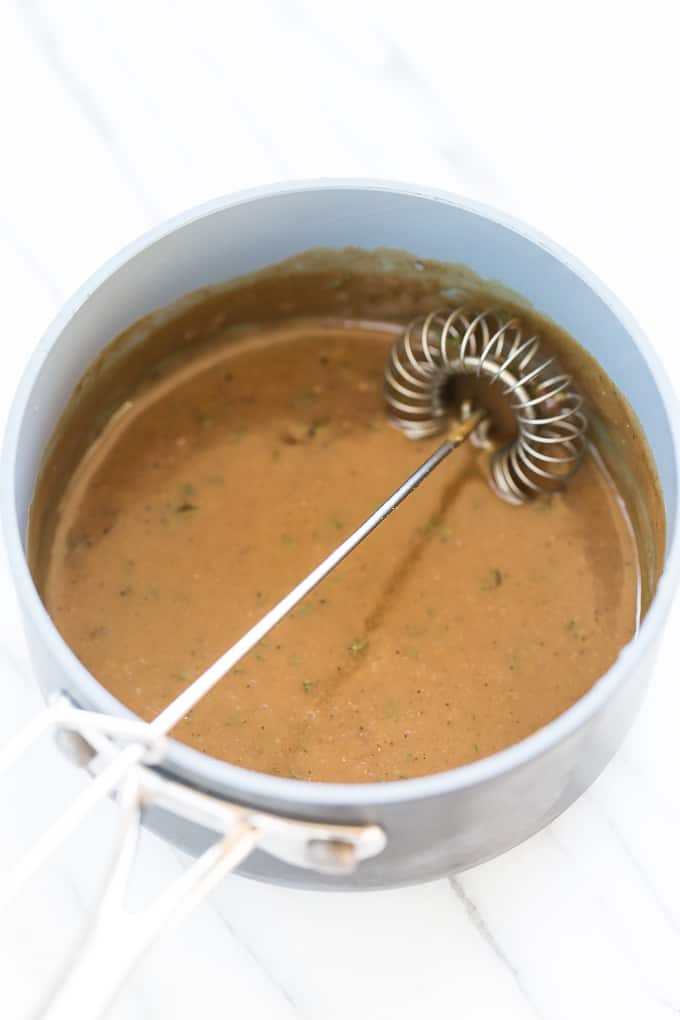 Next up we're whisking together the glaze. I find it easiest to melt the honey on the stove over low heat before mixing in the rest of the ingredients because honey can be a bit unmanageable when it's not liquified.
Once the glaze is ready, brush all of it over the browned pork loin roast and sprinkle the cranberries over the top of the onions.
For the sauce/gravy part of the recipe, I whisked together some tapioca starch with white wine and poured it over the onions. The white wine adds a wonderful flavor that will remind you of restaurant style sauces, but you can use a good quality chicken stock as well. The sauce may seem overly simple with just 2 ingredients, but as the roast cooks the juices from the pork mingle with the sauce which also takes on the flavor of the sautéed onions.
The main key to this recipe is the low baking temperature which is a trick I learned from Cook's Illustrated. When you're roasting a pork loin, they almost always come out drier than sawdust on the edges with the center still a bit pink. But by keep the oven temperature really low, the pork roasts evenly, and comes out perfectly juicy!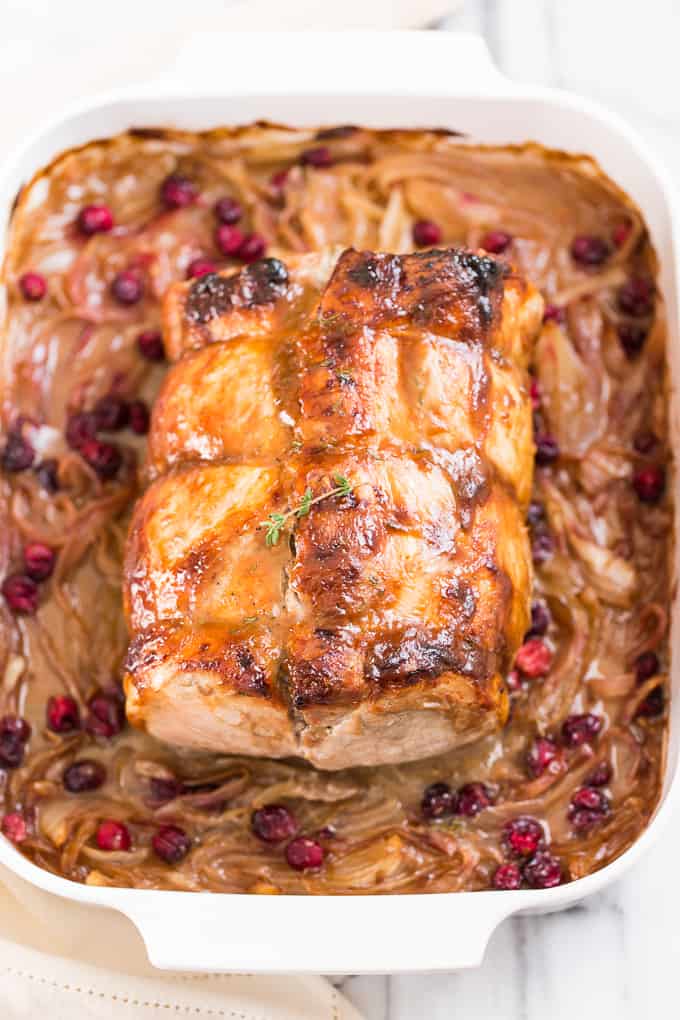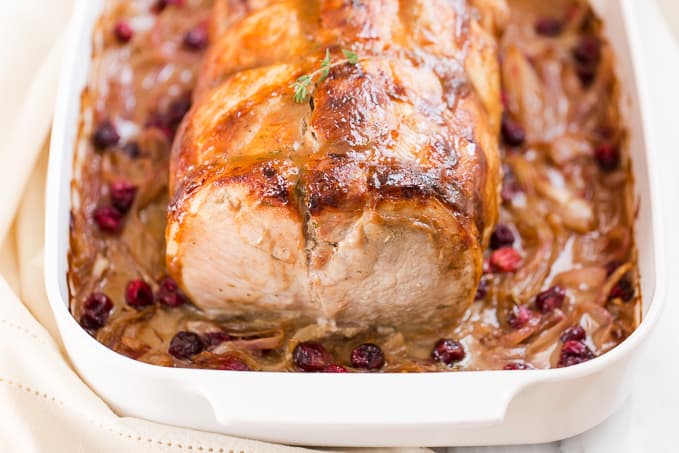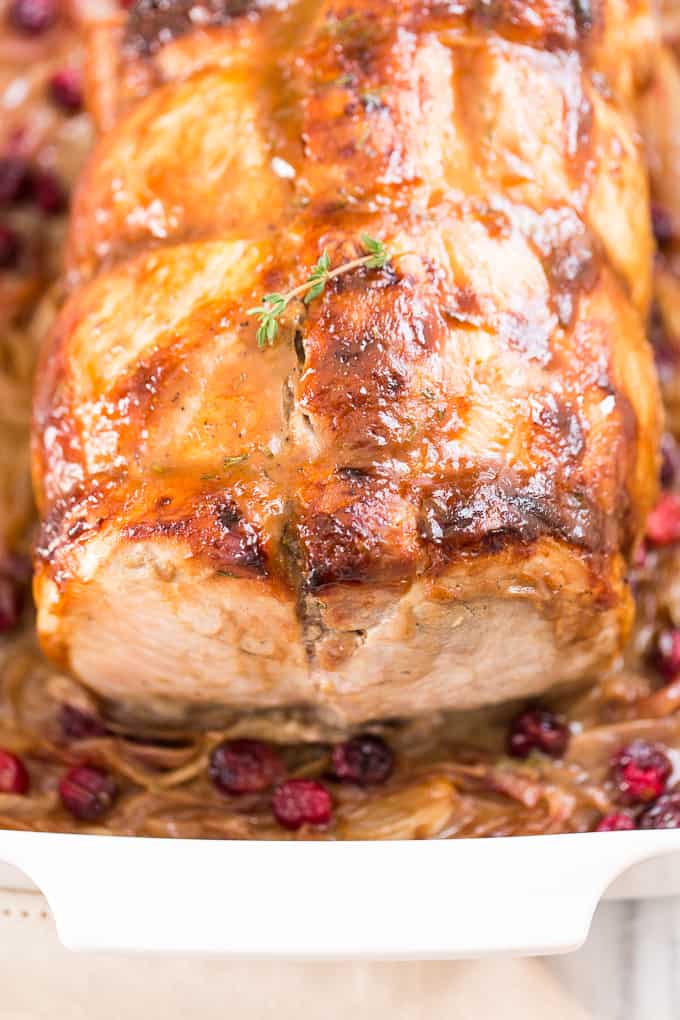 This last weekend we served this roast with my Sweet Potato Stuffing and Broccoli Rabe with Prosciutto, followed by Cinnamon Cranberry Apple Crisp and Homemade Coconut Ice Cream. Everything can be made ahead except the broccoli rabe which can be partway prepped, and then finished while the pork is roasting, which leaves you free to socialize with your guests and actually enjoy the evening!
Pretty much everything for this menu worked out really well because I had almost everything already pre-made or prepped, and it only took 1/2 hour to pull the whole thing together. However I did end up making the crisp at the last minute because we were running a bit late with Black Friday shopping, (every 2 years we renew our phone contracts on Black Friday which is great for getting a good deal on your upgrade, but always leaves me feeling like I need my head checked for shopping in the middle of such chaos).
Anyways… back on track with the dessert portion of dinner, hand peeling 4 pounds of apples at the last minute did leave me wishing I had made my favorite crowd pleaser, Chocolate Tart (and for a peeler/corer/slicer which is going on my list immediately). Everyone absolutely loves this Chocolate Tart and you really can't go wrong with it, especially because it's even better when it's made a day ahead!
Print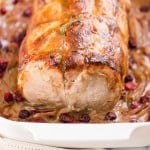 Honey Mustard Glazed Cranberry Pork Loin Roast
---
Author:

Get Inspired Everyday!

Prep Time:

30 mins

Cook Time:

1 hour 45 mins

Total Time:

2 hours 15 mins

Yield:

Serves

12

-

16

1

x
Pork Loin Roast:
1

–

6

pound pork loin roast, see note

2 Tablespoons

avocado or olive oil

2

large onions, 2 1/2 pounds

1 cup

cranberries, fresh or frozen, 3.5 ounces
Honey Mustard Thyme Glaze:
2 Tablespoons

honey

1/4 cup

Dijon mustard

1 Teaspoon

fresh thyme, stems removed and minced

1/2 Teaspoon

sea salt, or to taste

1/4 Teaspoon

freshly ground black pepper
White Wine Sauce:
1 Tablespoon

tapioca starch

1 cup

dry white wine, or good quality chicken stock
---
Instructions
Preheat the oven to 325ºF.
Place a large skillet over medium-high heat, I used a 6-qt stainless steel pan which you can actually make the whole dish in if you don't want to put it in a serving dish. When the pan is hot but not quite smoking, add the oil and brown the roast on each side, this will take about 8 minutes. When the roast is browned, remove it from the pan and place it into a large (5qt) baking dish.
While the roast is browning cut up the onions by slicing off both ends and peeling away the tough outer layer. Slice the onions in half from the top to the bottom and lay each half flat side down on a cutting board, then cut across the rounded tops into 1/4″ thick half moon slices.
After the roast has been removed from the pan, add the prepared onions along with 2 Tablespoons of water. This helps to loosen the browned bits on the bottom of the pan, and prevent them from burning.
Sauté the onions until golden with browned edges, then place them into the baking dish around the browned pork roast, and sprinkle the cranberries over the top of the onions.
Make the glaze by melting the honey in a small saucepan over low heat and whisking in the rest of the ingredients. Brush all the glaze over the roast.
For the white wine sauce, whisk a small amount of wine into the tapioca until it's completely dissolved with no lumps. Add the rest of the white wine and stir to combine. Pour the white wine sauce over the cranberries and onions (but not over the roast, you want the glaze to stay intact).
Place the roast in the preheated oven and roast for about 1 1/2 hours to 1 3/4 hours, or until the internal temperature of the roast is 145º-150ºF when the pork is completely cooked.
Remove the roast from the oven and serve with your choice of side dishes.
Notes
For the pork loin roast, it's much better if you have a roast that has been tied because it keeps the roast in a round shape which cooks more evenly. I used a roast that was actually 2 pork loins tied together. You can also cut this recipe in half and use only a single tied pork loin if you're not serving a crowd, but you'll want to check it much sooner because it will cook quite a bit faster.
I like to use a sturdy pair of tongs for turning the roast during the browning process, it's so much easier than trying to flip a heavy roast with spatulas.
You can completely prep this dish ahead leaving the glaze off. When your'e ready to cook the pork, brush it with the glaze and roast.
Any white wine will work for this recipe as long as it's not a sweet dessert wine.