These Honey Sriracha Shrimp Sushi Bowls are the perfect way to have easy-to-make sushi flavors at home! Sweet and lightly spicy, the sriracha shrimp make the perfect cooked protein in these gluten free and dairy free sushi bowls. It's complimented by the juicy sweet mango and cooling cucumber along with the creamy avocado making these bowls a crowd pleaser.
This recipe is perfect for anyone who loves sushi but is wary of handling raw seafood at home. I live in a land locked state where fresh seafood can be hard to come by. So I prefer to make my sushi bowls with cooked seafood or fish.
Another favorite way to make them is with fruits and veggies like these Mango Sushi Bowls. But usually I keep it on the mild side when I make them with seafood so the flavors with wasabi can really shine. However my sriracha addiction knows no bounds. So I thought it might be fun to add sriracha as the main flavor and spicy factor in place of wasabi.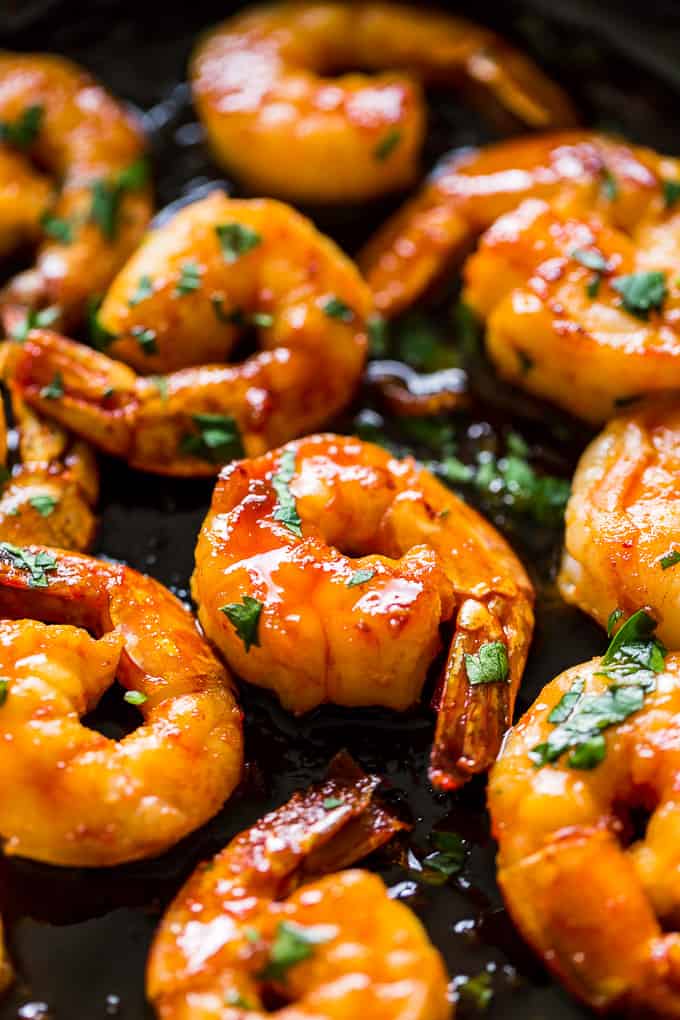 The shrimp get a quick pan sear and are coated in a spicy sweet sauce that makes the entire dish. From there it's tempered just a little by the juicy sweet mango, and cooled by cucumber and avocado slices. A little bit of slivered nori sheets over the top, and you're in business.
One of these days, I might make some actual sushi rolls, but for now let's just revel in how easy sushi bowls are. I love just placing all the ingredients into a bowl, and that's it, you're done! Some people have taken to calling them 'deconstructed' sushi bowls, which seems rather fitting.
Tips to make these Honey Sriracha Shrimp Sushi Bowls:
The shrimp cooks so fast that I like to have everything else ready to go before I start the cooking process. To make the cucumber slices a little prettier, try cutting them on the bias which is just a 45º angle.
I like to cut the mango into a small dice, so there's more mango bits in every bite.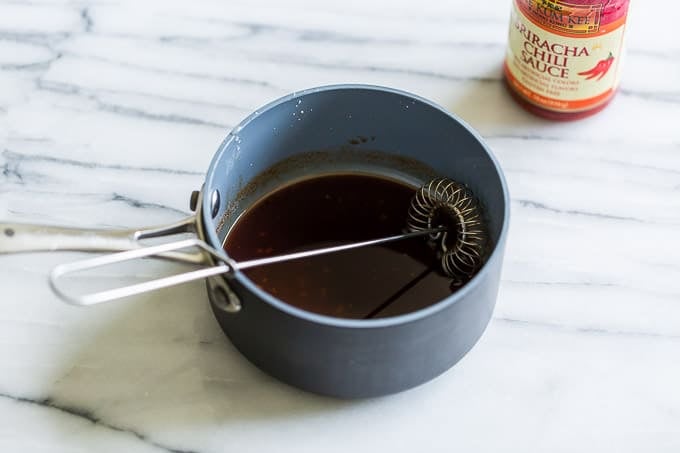 Next up it helps to melt the honey first in a small saucepan to make it easier to mix into the sauce for the shrimp.
And finally about these shrimp! I almost ended up making a full recipe out of just the sriracha shrimp because it's so good that I can see adding it into all sorts of things.
More inspiration for recipes using sriracha: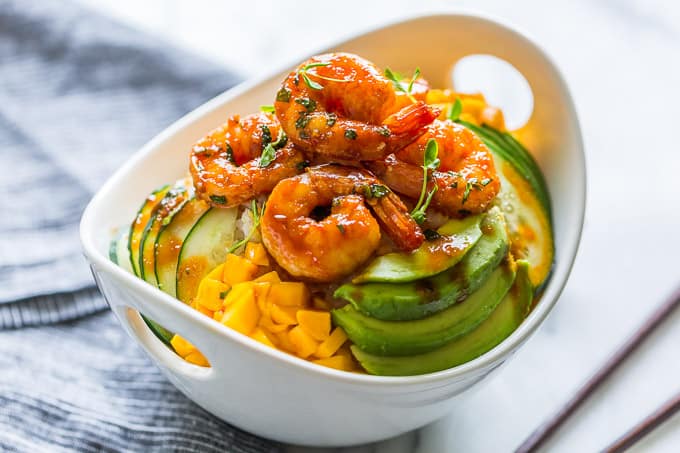 Tip for reluctant sushi eaters! The #1 thing I like to do to introduce wary people to sushi, is to leave off the nori. Something about seaweed really weirds out some people. So I've found it's best to start with normal easy to recognize ingredients. And then after some success maybe try and add some of the 'stranger' ingredients.
From there you can build up until before you know it, you've created another sushi fan! And just in case you're looking for more sushi bowl inspiration, I highly recommend these California Sushi Bowls with Japanese Togarashi Mayo.
So I hope you'll enjoy these sushi bowls as much as we have! If you do make them, I hope you'll leave me a comment/rating below. And I always love hearing from you here. Or over on Instagram where you can tag me at #getinspiredeveryday with your photos.
Print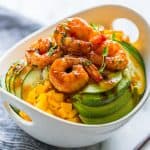 Honey Sriracha Shrimp Sushi Bowls
---
Description
These super flavorful sushi bowls are easy to make at home and the sweet-spicy combination is always a hit paired with the creamy avocado and sweet mango!
---
Sushi Rice:
1/2 cup sushi rice, short grain white rice, see notes
1 Teaspoon honey or maple syrup
1 Teaspoons rice wine vinegar, or freshly squeezed lime juice
1/2 Teaspoon sea salt, or to taste
Sriracha Shrimp:
1 Tablespoon avocado oil
1/2 pound large shrimp, fresh or defrosted and drained
1 clove garlic, minced
1 Tablespoon honey
1 Tablespoon sriracha, or to taste, start with less and work up
2 Tablespoons gluten free soy sauce or coconut aminos
1–2 Teaspoons rice wine vinegar, or freshly squeezed lime juice
Toppings:
1 small cucumber, 8 ounces
1 small avocado, 6 ounces
1 champagne mango, 10 ounces
1–2 sheets toasted nori, torn or cut into thin strips
1–2 Tablespoons sprouts, optional, I used pea shoots
---
Instructions
Start making the sushi rice by rinsing the rice well in cold water 3 times, draining it after each rinse until the water runs clear. This step is really important to get the excess starch off the grains of rice that can cause sushi rice to be gummy.
Place the rinsed rice into a medium sized saucepan and cover with 1 1/2 cups water. Bring the rice to a boil, then lower the heat to a bare simmer and cover the pan with a lid. Cook until all the water has absorbed and the rice is just tender, about 20 minutes.
While the rice is cooking, prepare the sauce for the shrimp by mixing together the honey, soy sauce, and rice wine vinegar, set the mixture aside.
Prepare the sushi toppings, starting with the cucumber, cut off both ends and slice it in half lengthwise. Lay each half flat side down and cut into thin half moon slices. Then thinly slice the avocado and peel and dice the mango. Set all the toppings aside.
When the rice is done, drizzle the honey and rice wine vinegar over the surface and sprinkle with the sea salt. Using a spatula, carefully fold in mixing just enough to distribute the ingredients. Set the sushi rice aside while you finish the recipe.
Preheat a 9″ cast iron skillet over medium high heat. When the pan is hot, add the avocado oil and shrimp. Cook without turning for about 2 minutes or until the shrimp are halfway cooked. Then add the garlic to the pan and turn the shrimp over to cook another 1-2 minutes or until almost done. Next add the sauce the pan and let the sauce simmer around the shrimp for about 30 seconds, or until the shrimp are just done.
Remove the pan from the heat and serve the sriracha shrimp, sushi rice, and toppings together.
Notes
You can also make these bowls with short grain brown rice, just cook it according to the package directions as it will need more water.
The nutrition facts were calculated without the nori sheets which are very nutritionally dense but vary from brand to brand. From a calories standpoint there's almost nothing in seaweed.
Prep Time:

20 mins

Cook Time:

25 mins

Category:

Dinner

Method:

Stove Top

Cuisine:

American-Japanese
Keywords: Deconstructed Shrimp Sushi Bowl, Easy Sushi Bowl Recipe, Gluten Free Sushi Bowl, Sushi Bowls, Sushi in a Bowl