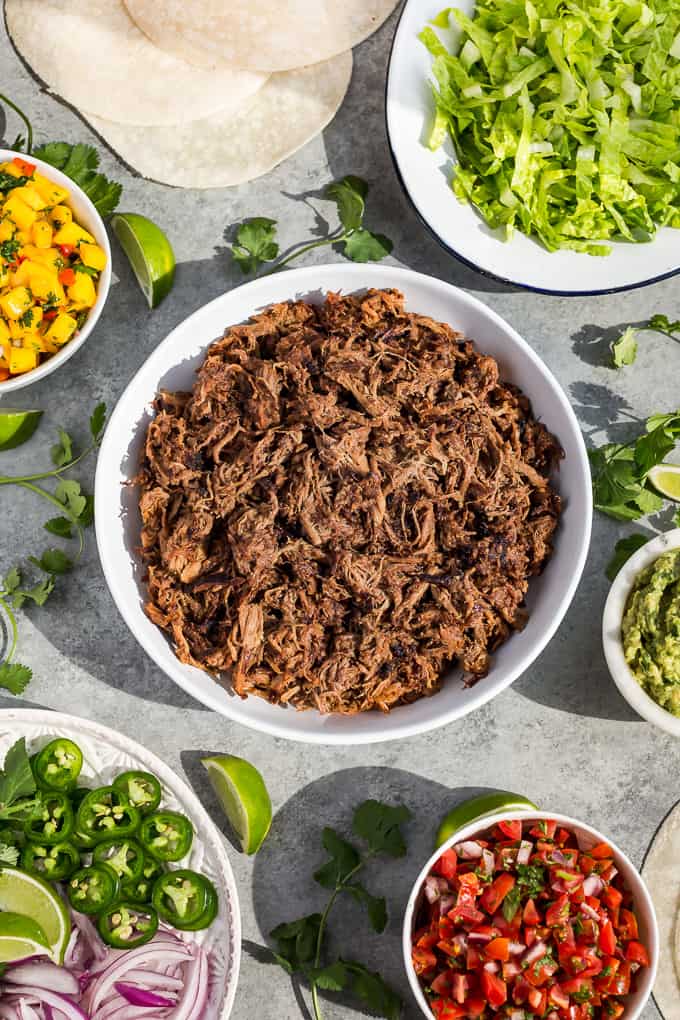 The Instant Pot really shines when you place tough cuts of meat in it because in a short time, it breaks it down into perfectly tender shredded meat. I've been having lots of fun creating Mexican inspired recipes with the Instant Pot simply because it makes it so easy.
I started out with my Salsa Chicken, then there was these Chicken Tinga Tacos, and this Beef Barbacoa. And now today we're moving on to carnitas! While I love every single one of these recipes, these carnitas have my heart since it's nigh impossible to beat shredded/pulled pork.
This recipe makes a large quantity, so it's perfect for entertaining, or as part of meal prepping. It's not really a good option to make a small batch of carnitas since pork shoulders already come in large quantities. Also I figure you might as well make the whole batch, and then freeze the rest if you don't need it right away, for easier meals down the road.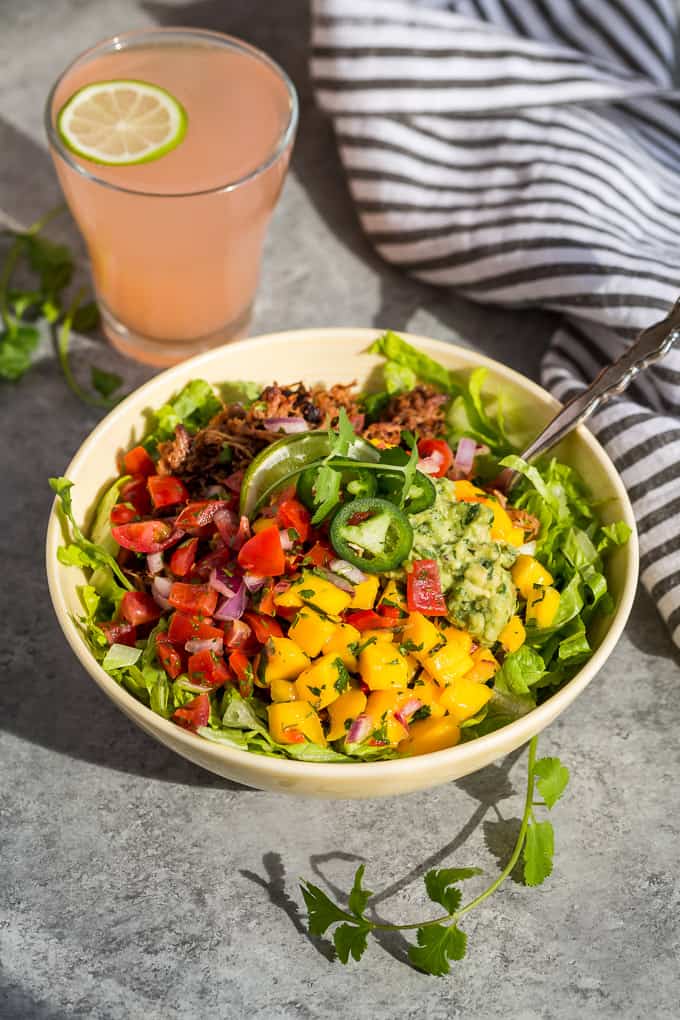 What to make with all your carnitas:
Carnitas make great bowl food, try them over a bed of greens with your choice of salsa(s), guacamole, and anything else you'd like. We sometimes add steamed rice or roasted sweet potatoes for carbs. And we've even been known to add some sour cream, and or shredded cheese.
Small amounts of leftover carnitas are perfect made into quesadillas with your choice of veggies, cheese, and toppings like salsa and guacamole.
They're also really great on nachos of any kind, with pretty much any topping you can think of.
And finally they make fantastic tacos, again with your choice of toppings, but salsa and guacamole are a must for me!
How to make this recipe:
Start by sautéing the onions and garlic until browned.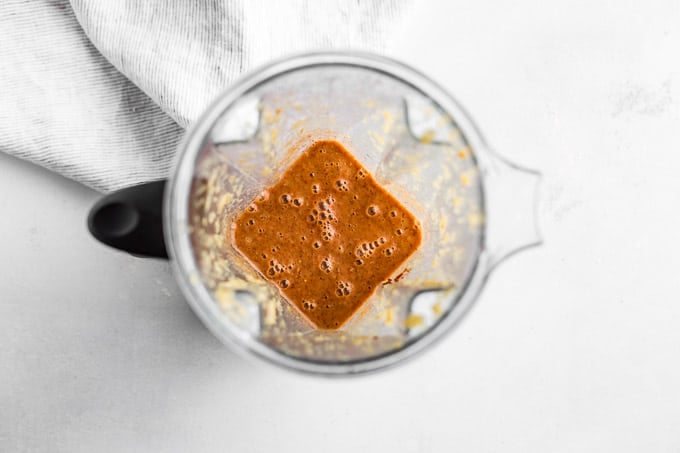 2. Next up blend the onion/garlic mixture along with the orange juice and spices.
3. Then the sauce is poured over the seared roast and cooked into perfection.
How to cook Carnitas 2 ways:
You can sear the whole roast and place it in the Instant Pot, this way takes a full 2 hours to pressure cook.
Or you can cut the roast into 2″ cubes, sear them, and then the pressure cooking time is only 45 minutes.
Either way you go the end result is the same, I guess it just depends on what kind of time you have in the evening. By cutting up the roast first which takes maybe 20 minutes or so, you save over an hour on the cooking time. And by not cutting up the roast, you save about 20 minutes hands on time.
While your roast cooks, choose what you'd like to serve the carnitas with and prepare everything.
When the carnitas are done, you're going to want to remove the meat from the juices to cool a bit. While the meat is cooling, simmer the sauce until it's reduced by half. Then when the meat is cool enough to handle, shred it with 2 forks or your hands, discarding any tough bits or fat.
And finally to go the extra mile, after the meat has been mixed back into it's juices, you're going to want to pan fry it. I personally like to use bacon fat to pan fry these carnitas into crispy-ness. But you could use avocado oil instead as well. Traditionally carnitas are fried in lard (pork fat) which I don't usually have on hand, but bacon drippings work wonderfully!
If you know you want to freeze some or all of this recipe, portion it out and freeze it without pan frying it. Then once you've removed the carnitas from the freezer and thawed then in the fridge, pan fry them right before serving.
Print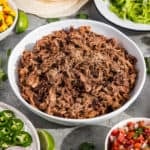 Instant Pot Carnitas (Whole30, Paleo, Keto)
---
Author:

Kari

Total Time:

2 hours 20 minutes

Yield:

16

servings

1

x

Diet:

Gluten Free
Description
These Carnitas couldn't be easier thanks to the Instant Pot, and they're perfect for meal prepping too!
---
1 – 4 pound pork shoulder roast, see notes 
2 Tablespoons avocado oil
1 small yellow onion, diced
4 cloves garlic, minced
1 cup freshly squeezed orange juice
1/4 cup coconut aminos
1/4 cup freshly squeezed lime juice
1 Tablespoon dried oregano
1 Tablespoon ground cumin
2 Teaspoons smoked paprika
2 Teaspoons sea salt
1 Teaspoon onion powder
1/2 Teaspoon garlic powder
1 Teaspoon chili powder
2 bay leaves
Serve with:
Bowl style – over cauliflower rice or roasted sweet potatoes with salsa or mango salsa, guacamole, shredded romaine, and even sautéed peppers and onions if desired.
Taco style – your choice of shells with salsa of choice, guacamole, and a touch of sour cream if you do dairy.
---
Instructions
Brown either the whole roast on both sides in the oil, or cut it into 2″ pieces and brown the pieces, (refer to the notes below). Set the meat aside, and using the sauté function on the Instant Pot brown the diced onion and garlic in the oil remaining in the pot. When the onion is browned, turn off the Instant Pot, and spoon the onion/garlic mixture from the pot into a blender.
Add the orange juice, coconut aminos, and lime juice to the blender as well. Blend until smooth, then add all the spices except the bay leaves, and blend just to combine.
Pour a little of the sauce into the Instant Pot to help loosen any browned bits from the bottom. Be sure to carefully scrape the bottom, browned bits can cause the Instant Pot to have a 'burn' signal. Add the meat back to the Instant Pot, place the bay leaves on the meat, then pour the remaining sauce over the top.
Secure the lid, set to 'sealing', and pressure cook for 2 hours for the whole roast, or for 45 minutes if you cut the roast into 2″ pieces.
When the cooking time is over, use the quick release function. Then when the Instant Pot is safe to open, remove the meat from the juices, and set it aside to cool. Using the sauté function, reduce the juices by half, about 10 minutes. When the meat is cool enough to handle, shred it, discarding the fat and gristle. 
Mix the shredded meat back into the juices. From here you can serve it as is, or cool and portion the carnitas to freeze for meal prep. Or for a true carnitas flavor, pan sear as much as you'll need in batches in a cast iron skillet until browned, with lots of crispy pieces. I use either avocado oil or bacon drippings to do this, bacon drippings are best when you have them.
Serve the crispy carnitas with your choice of sides and toppings.
Notes
You can sear the whole roast on both sides, then proceed with the recipe, and the cooking time will be 2 hours. Or you can cut the roast into 2″ pieces, brown them, and proceed with the recipe with a cooking time of 45 minutes.
Prep Time:

20

Cook Time:

2 hours

Category:

Dinner

Method:

Instant Pot

Cuisine:

Mexican
Keywords: Pulled Pork Carnitas, Carnitas Chipotle, Easy Carnitas Recipe, Carnitas Recipe