This Instant Pot Chicken and Rice 3 Ways provides you with chicken and rice the classic way, plus 2 fun variations. All 3 are super easy, and the texture in the Instant Pot comes out extra creamy!
Chicken and rice dinners always remind my of my mom's home cooked meals. Most often she made things from scratch, but sometimes she'd also make rice-a-roni. And I can tell you I absolutely loved this stuff. In fact, I probably would've lived off of it, and ramen noodles solely given the chance!
But more recently my mom started making chicken and rice in the Instant Pot. And of course like many good home cooks, there's no recipe to go along with this most wonderful of comfort food dinners. So I figured if I wanted to enjoy it at our house, I needed to be serious about getting some measurements down.
I started testing based on what I knew she put in hers, and it turned out to be one of the easiest recipes I've ever put together. It turned out perfect the first time, and every time since, along with the variations I listed out below.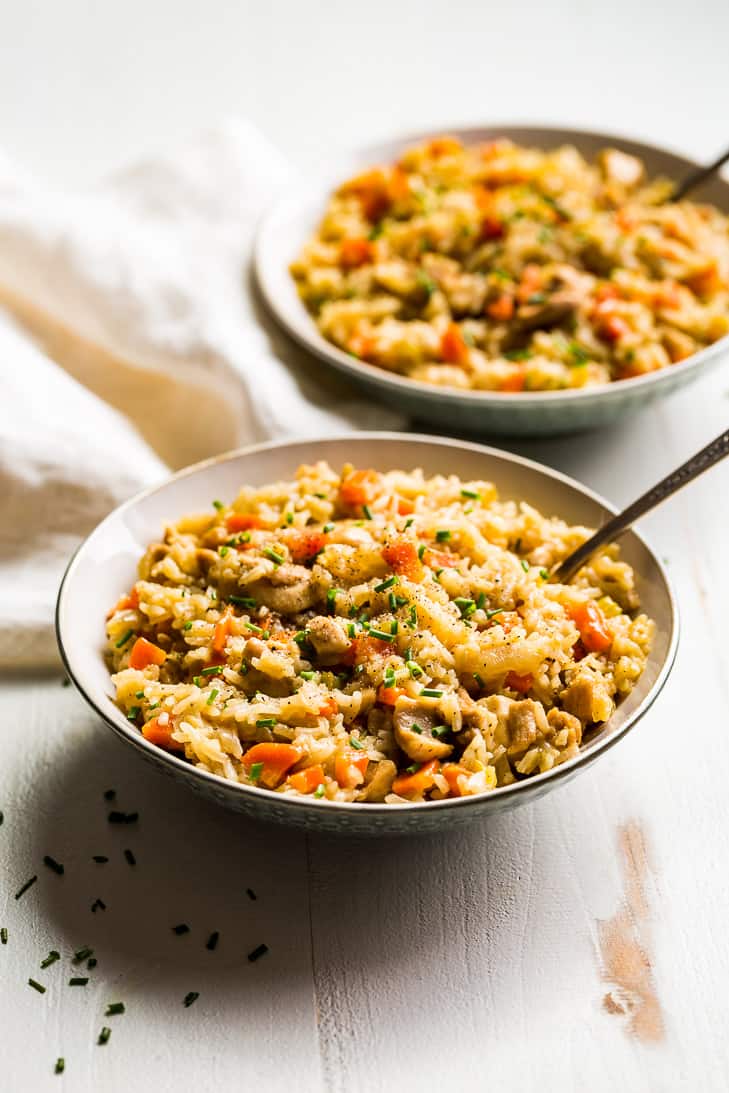 It's definitely one of those recipes where a few good quality ingredients come together to make perfect comfort food so simple you'll want to make it every week. So this brings me to a few tips for the best chicken and rice!
Tip #1: Use the best tasting chicken stock you have. Homemade chicken stock, or a really good quality bone broth will give you the best results. Chicken stock really is the primary flavor that infuses the whole dish, so the best you can find will most definitely give you the best flavor.
Tip #2: Chicken thighs really are better here if you have some on hand. I've done 2 batches with chicken breast, which is still good, but the chicken thighs have better texture, and stay moister.
Now… let's make this Instant Pot Chicken and Rice 3 Ways step by step!
Step 1:
First up you want to prep your veggies. I diced everything, but you might find it speeds things up to thinly slice the carrots.
Step 2:
Next we're going to sauté the veggies in the Instant Pot until they begin to soften.
Step 3:
From there it's time to add any of the ingredients from the variations if you're using them. Then briefly sauté the chicken before adding the chicken stock and rice.
Step 4:
And now it's time to let the Instant Pot make some magic happen. When the cooking time is up, let the Instant Pot natural release for 2 minutes, then use the quick release function.
Instant Pot Tip: I like to cover the valve when it lets off steam with a cloth so I don't end up with splatters everywhere!
When the chicken and rice is done, give it a stir and season it to taste. You'll see as you stir it that chicken and rice in the Instant Pot is creamier than stove top versions – so good! If you have any green onions or fresh chives around, they make a great topping.
How to add more veggies:
Chopped baby spinach is great in any of these variations.
Frozen veggies like peas or broccoli are also great pairing with any variations.
Or add a pan of roasted veggies to your dinner like my new Easiest Garlic Roasted Green Beans which seem to work perfectly with everything right now. And as a bonus, that recipe gives you all my tips for getting the best roasted veggies from frozen!
Now let's talk about variations:
First up I did an Italian variation that works well with pantry ingredients. You add some Italian seasoning in before pressure cooking. Then after it's done cooking, I stirred in some chopped fresh spinach. But you could also used frozen greens, or frozen veggies as well.
It does help to thaw anything frozen first before stirring it into the rice. If the veggies are a bit bigger, you may need to use the keep warm function. This will allow the rice to cook the veggies, and not get cold. For serving this one, I love a good sprinkle of parmesan. But there's still plenty of flavor to go around if you can't have dairy.
And now for the other variation – ginger turmeric! This one is so good, and I love the lovely golden color as well. Just be careful as turmeric is notorious for staining things like spatulas or your skin. This variation does rely on fresh chopped ginger for it's flavor. So if you don't have any around, I don't recommend dried ginger, just make a different variation!
Finally, I really hope you enjoy one of my favorite comfort food dishes. And I've been thinking about making a broccoli cheddar version, so let me know below if you're interested?
If you do get a chance to make this, I hope you'll leave me a comment/rating below. And I always love hearing from you here, and over on Instagram where you can tag me at #getinspiredeveryday with your photos.
Print
Instant Pot Chicken and Rice 3 Ways
---
Author:

Kari

Total Time:

25 minutes

Yield:

4

servings

1

x

Diet:

Gluten Free
Description
This Chicken and Rice recipe is extra easy in the Instant Pot and includes 2 more variations to keep the comfort food coming!
---
2 Tablespoons butter or olive oil
2 carrots, peeled and diced, 2 cups
3 stalks celery, diced, 2 cups
1 onion, peeled and diced 1/2″, 3 cups
2 clove garlic, minced
1 pound boneless, skinless chicken thighs cut into 1" pieces
1 Teaspoon poultry seasoning, omit for the ginger turmeric variation
1 1/2 cups chicken broth, homemade tastes the best when you can
1 cup long grain white jasmine rice
1 Teaspoon sea salt, more or less to taste, see notes
1/2 Teaspoon ground black pepper
Italian Version:
2 Teaspoons Italian seasoning
3 cups baby spinach, chopped
1 cup freshly grated parmesan, optional – omit for dairy free
Ginger Turmeric Version:
1/4 cup minced fresh ginger
2 Teaspoons ground turmeric
Garnish:
Freshly chopped chives are my favorite with all 3 versions
---
Instructions
Start by prepping all of your ingredients before you begin cooking.
Select the sauté function on the Instant Pot. When it's hot, add the butter or olive oil along with the carrots, celery, onion, and garlic. Cook, stirring occasionally until the veggies begin to soften with some browning.
Then add the chicken, and sauté about 2 minutes until the outer edges of the chicken begin to turn white. At this point you want to add either the Italian seasoning or the turmeric and ginger if you're making either of the variations.
Add the poultry seasoning for the classic or Italian versions. Next turn off the sauté function and add the chicken stock. Scrape the bottom of the Instant Pot well to make sure to remove any browned bits. This is important so you don't get a burn signal.
Finally add the rice, salt, (you can also add salt at the end if you prefer) and pepper to the Instant Pot. Stir to evenly distribute, then set the valve to sealing, and pressure cook for 8 minutes.
When the timer is up, let the Instant Pot naturally release for 2 minutes, then use the quick release function. I find it useful to cover the valve with a cloth to prevent spattering. 
Stir the rice and season to taste. Serve immediately.
For the Italian variation, add the chopped spinach and half the parmesan before stirring. Stir to combine and season to taste. Let the heat of the rice wilt the spinach, about 1 minute, then serve with the remaining parmesan.
Notes
The amount of salt will vary depending on the amount of sodium in the chicken stock you choose. To be on the safe side, you can add salt to taste at the end of the cooking time.
The cooking time in the Instant Pot is only 10 minutes, but with the time to come up and down from pressure, the total time is around 30 minutes.
The nutritional information is for the basic/classic version of chicken and rice.
Prep Time:

15

Cook Time:

10

Category:

Dinner

Method:

Instant Pot

Cuisine:

American
Keywords: Creamy Chicken and Rice, Chicken and Rice recipe, Creamy Instant Pot Chicken and Rice, Gluten Free Chicken and Rice