This Instant Pot Chicken and Wild Rice Soup is super easy to make. And it can also be cooked on the stove top as well. It's gluten free and dairy free, but there's also a creamy option to check out as well. It's chock full of veggies and I love making it for meal prep lunches during the winter.
This soup is the definition of cozy and comforting! I started making it back in March, and it really just came together based off what I had in the pantry/freezer. It was such a hit, I've been making it ever since.
So during the colder months this year, I've been making this soup for anyone we know going through a hard time, or that has gotten sick. It's just the right amount of filling when you're not at your best. And it really just hits the spot in a way I can't describe. There's something about the flavors just keeps you coming back for more.
It's also super easy to make which I think is at least half the reason it's become such a go-to recipe for me. So if you know anyone who could use some extra care, try taking them a container of this soup with a batch of my Healthier No Bake Cookies.
That has been a winning combination for me so far this year! (Also this combo is allergy friendly because it's a meal that's… gluten free, dairy free, egg free, nut free, soy free, and refined sugar free… phew!)
We're also so fond of this soup, I often make it as part of my weekly meal prep. It reheats beautifully for healthy (and warm) lunches all week long.
Lately Tyler has been working at a job site that doesn't have heat. And so after a few hours of working around cold concrete walls, he loves having hot soup for lunch. He's also always excited to see the above mentioned no bake cookies in his lunch too. And he's begged me every time I make a batch not to give them all away!
Now let's jump in and make this Instant Pot Wild Rice and Chicken Soup step by step!
We're going to start by prepping all the ingredients listed in the recipe. Then it's time to hit the sauté button on the Instant Pot. When it comes up to temperature, cook the onion, carrot, and celery mixture for a few minutes until just beginning to soften.
From there you'll add the cubed up chicken thighs, and cook briefly just until the edges begin to turn white.
Then it's time to add the wild rice and sweet potato. I cut the sweet potato chunks to be on the large side so they don't completely break down during the cooking time.
Finally pour the chicken stock over the top. Then using the back of a spoon press the chunks down to be as covered as possible by the chicken stock. From there you pressure cook and quick release. Season to taste with sea salt and pepper, and dinner is ready!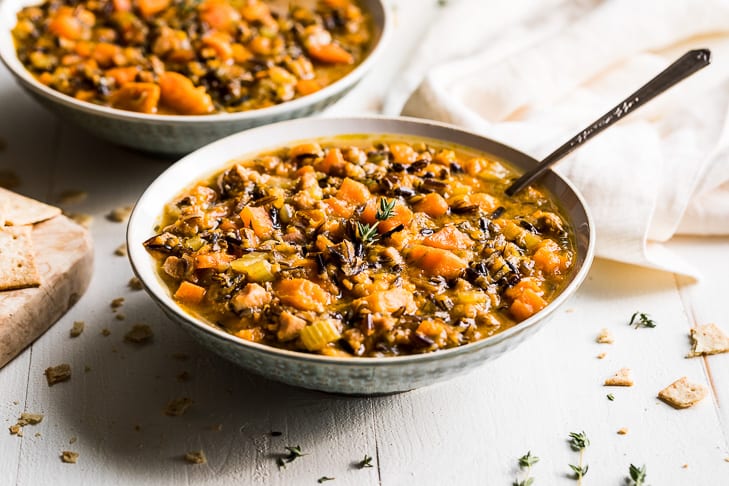 Questions & Substitutions:
Can I use chicken breast? Yes you can sub in chicken breasts for the chicken thights. But I would recommend cutting the pieces 2x as big so the chicken doesn't dry out too much. I've made this soup with chicken breasts, and the chicken thighs really are better, but it can be done.
Will regular potatoes work? The answer is yes and it's quite a tasty variation!
Does winter squash work in place of sweet potatoes? Yes and no. If you cook this on the stove top, add the squash in after about 10 minutes of simmering the wild rice. If you add it in too soon, it will dissolve into the soup. And I've found it doesn't hold up well cooking in the Instant Pot because it cooks faster than the wild rice.
How can I make this creamy? To keep things dairy free, stir in 1/2 cup or more to taste of coconut cream or my Savory Vegan Cashew Cream after the cooking time is done. You can also use the same amount of heavy cream. Adding a touch of liquid will make your soup a bit thinner. If you cook it on the stove top, you can add it in in the last 10 minutes of cooking time.
What can I use in place of the thyme? Rosemary would be my go-to replacement here for the thyme.
Can I freeze this soup? Yes, but it will be softer and the sweet potatoes will break down a bit more. I've made huge batches of this on the stove. Then cooled it and frozen it for meal prepped lunches for the months ahead. Just remove your container from the freezer and thaw in the fridge overnight. If you freeze it in a ziplock bag, try laying the bag of soup on the cookie tray so it freezes nice and flat. Then when it's time to defrost, lay it in a baking dish or cookie sheet to thaw in the fridge. Sometimes bags leak when the come out of the freezer, so always place something under it while it's thawing.
And lastly some more soup recipe inspiration:
I sure hope you get a chance to make this soup soon, and if you do, I hope you'll leave me a comment/rating below. I always love hearing from you here in the comments. And also over on Instagram where you can tag me at #getinspiredeveryday with your photos of what you make.
Print
Instant Pot Chicken Wild Rice Soup
---
Author:

Kari

Total Time:

50 minutes

Yield:

12 cups

1

x

Diet:

Gluten Free
Description
You'll love this giant bowl of coziness with this super easy to make wild rice soup. It's naturally gluten free and dairy free, and chock full of veggies.
---
2 Tablespoons avocado oil, or olive oil
1 onion, 1/4″ diced measuring 3 cups
4 stalks celery, thinly sliced measuring 2 cups
4 carrots, peeled and sliced measuring 2 cups
2 cloves garlic, minced
1 pound boneless skinless chicken thighs, cut into 1/2 pieces
1 teaspoon poultry seasoning
1 tablespoon chopped fresh thyme leaves, or 1 teaspoon dried
2 sweet potatoes, peeled and cubed 1/2″x 3/4″, measuring 6 cups
1 cup wild rice, not cooked
4 cups chicken stock, preferably low salt or unsalted
1 teaspoon sea salt, or to taste, see notes
1/2 teaspoon ground black pepper
Optional Creamy Variation:
1/2 cup coconut cream, Savory Cashew Cream, or heavy cream
---
Instructions
Press the sauté button on the Instant Pot, (I use the 6 quart) and allow it to come up to temperature. When the Instant Pot is heated, add the avocado oil along with the onion, celery, carrots, and garlic. Sauté stirring often until the veggies barely start to soften 4-6 minutes.
Add the cut up chicken thighs with the poultry seasoning and thyme. Continue to sauté until the outer edges of the chicken begin to turn white, 2-3 minutes. (The chicken doesn't need to be done at this step.)
Turn off the sauté function, then add the sweet potatoes and wild rice. Pour the chicken stock over the top. Then stir the ingredients together and push the ingredients down with the back of a spoon to submerge them as best as possible.
Secure the lid, set to sealing, and pressure cook for 30 minutes. When the timer is done, cover the valve with a cloth to avoid spattering and quick release. When the Instant Pot is safe to open, stir in salt and pepper to taste.
If you're using the creamy option, stir in either the coconut cream or cashew cream and serve immediately.
To make this on the stove top, sauté just like you would with the Instant Pot version. After you've reached the step where you add in the chicken stock, partially cover and simmer until the rice is tender. You may need to add as much as 2 additional cups of chicken stock due to evaporation. Season to taste and serve. If you're using the creamy variation, add the cream of choice in about 10 minutes before the soup is done.
Notes
Add sea salt just to taste which will vary depending on whether or not your chicken stock is salted. None of my ingredients were salted, and so we found we like just under 2 teaspoons of salt to season this batch of soup.
Prep Time:

20

Cook Time:

30

Category:

Soup

Method:

Instant Pot

Cuisine:

American
Keywords: Chicken Wild Rice Soup, Chicken with Wild Rice Soup, Chicken and Wild Rice Soup