I've been really branching out with different pasta salads this summer, and we've been loving every single version. Pasta salads are pretty much the ultimate summer food since they're incredibly portable. They also keep well for a few hours or even overnight in the fridge.
Besides picnicking and barbecues, pasta salads are also awesome for all sorts of adventuring. You can almost always find a big container of pasta salad in our backpacks whenever we're hiking. And there's a good reason for this, it's perfect energy food, and tastes amazing in the middle of nowhere!
For any pasta salad, you rinse the pasta to cool it down after cooking, and then combine it with all the prepped ingredients.
And since we're in the height of summer, I couldn't resist adding a large handful of chopped basil. But you definitely don't need it if you don't have fresh herbs around because there's plenty of flavor here.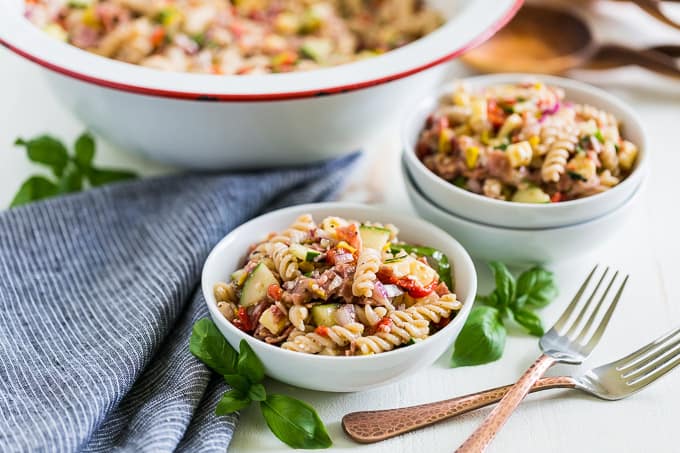 We make our pasta salads with gluten free pasta, and I have a tip below for you in that department. Gluten free pasta doesn't keep as well in the fridge as regular wheat pasta, so this pasta salad is best eaten the same day it's made.
But since we often take this hiking, I make it the night before and package it for our backpacks. My #1 tip for gluten free pasta salads, is to overcook it slightly more than you would if you were eating it hot. Gluten free pasta is overly springy when chilled, and barely overcooking it takes care of that little problem!
Print
Italian Antipasto Pasta Salad
---
Italian Dressing:
1/4 cup

white wine vinegar

1

–

2

Teaspoons maple syrup

1

clove garlic, minced, or

1/2 Teaspoon

garlic powder

1 Teaspoon

onion powder

2 Teaspoons

Dijon mustard

1/2 Teaspoon

sea salt, or to taste

1/2 Teaspoon

freshly ground black pepper

1 Teaspoon

Italian seasoning

1 Tablespoon

diced red bell pepper, see notes

1/2 cup

olive oil
Pasta Salad Ingredients:
1

–

12

ounce package pasta, I used 100% brown rice gluten free pasta

1 cup

chopped roasted red bell peppers

1/3 cup

chopped pepperoncini peppers, about

10

1 1/2 cups

cubed cheese, about

6 ounces

, I used fontina but provolone is nice too

2 cups

chopped salami, about

6 ounces

, see notes

1 cup

finely diced red onion

1 1/2 cups

chopped cucumber

1/2 cup

grated parmesan cheese
---
Instructions
Combine all the ingredients for the Italian Dressing except the olive oil in a medium sized bowl. Then begin to slowly drizzle in the olive oil while whisking constantly until all the olive oil is mixed into the dressing, and it's emulsified.
Cook the pasta according to the package instructions. I prefer to slightly overcook mine just past al dente so that it's not so springy when chilled.
Place the pasta in a large mixing or serving bowls along with the rest of the pasta salad ingredients. Pour the dressing over the pasta salad, and toss thoroughly to combine.
Serve immediately or refrigerate for 2-3 hours to let the flavors deepen. This pasta salad can be kept for 2-3 days, but it does become slightly soggy over time. I personally like to eat it within the first day and half.
Notes
For the salami, you want to make sure it's gluten free if you're strictly gluten free. For this recipe, I used a mixture of genoa, coppa, and peppered salami.
My original recipe for Italian Dressing had fresh red bell pepper in it. But to simplify when I'm making this salad, I often sub in roasted red peppers since that's what's already going in the salad.
Prep Time:

30 mins

Cook Time:

10 mins