This Jalapeno Cilantro Lime Grilled Chicken is a summertime favorite in our house, especially paired with my Strawberry Mango Salsa! It's easy to make, gluten free, paleo, and it's dairy free as well.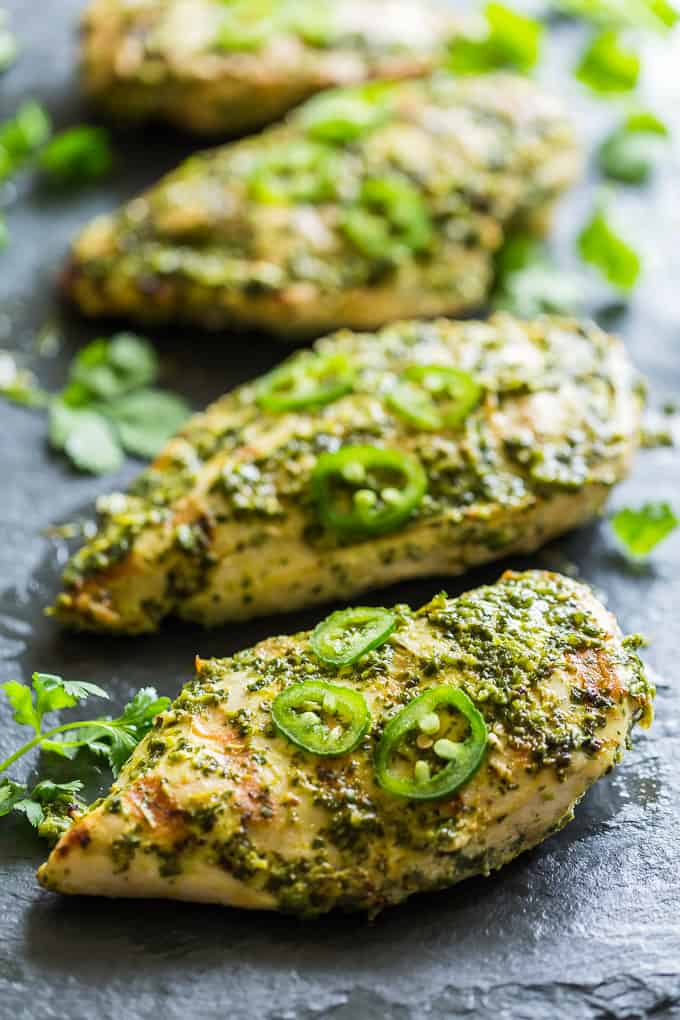 This recipe is very loosely based off a pesto grilled chicken we make. I've never written down that particular recipe because it's basically chicken + pesto = dinner. But for this variation, I went with Mexican flavors, and it's been an even bigger hit!
First you whirr together a few ingredients in a food processor into a 'pesto' of sorts. Then you toss some of it with the chicken, grill it, and then brush with some of the reserved mixture for extra flavor. It's incredible on it's own with a simple side dish, or you can pair it together with so many Mexican based dishes.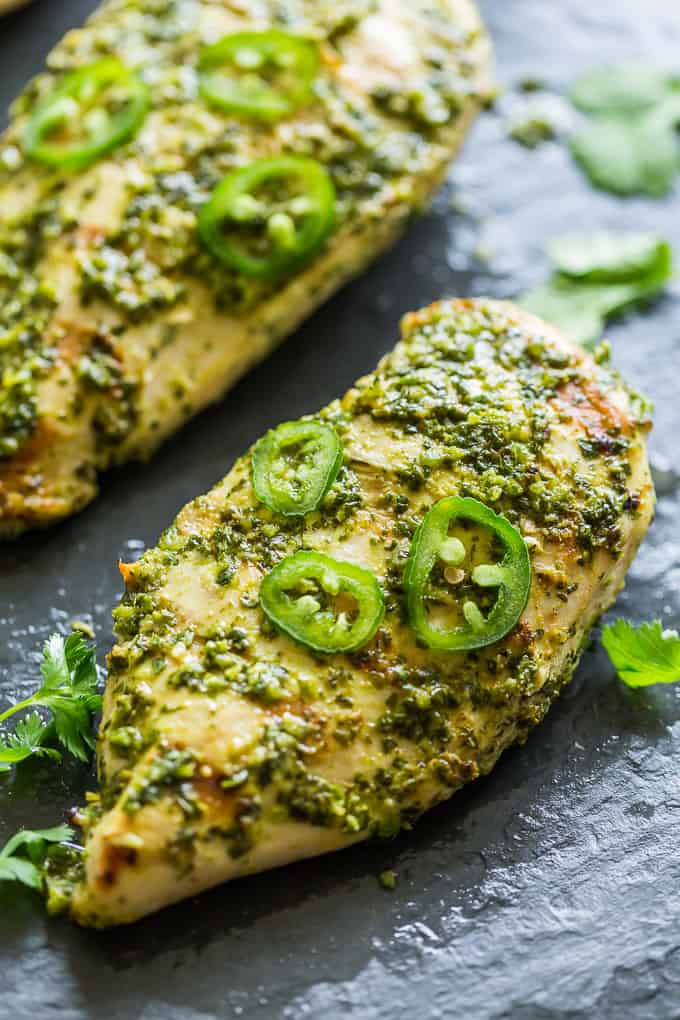 For a truly stunning, company worthy dish, top this chicken with some Strawberry Mango Salsa. I just wanted to make sure I gave you the chicken recipe separate so that you'd have it around as a basic.
It's one of those recipes you can double or triple just so you have leftovers to use as a building block. Making homemade quesadillas/taco bowls is much easier if you already have part of it cooked.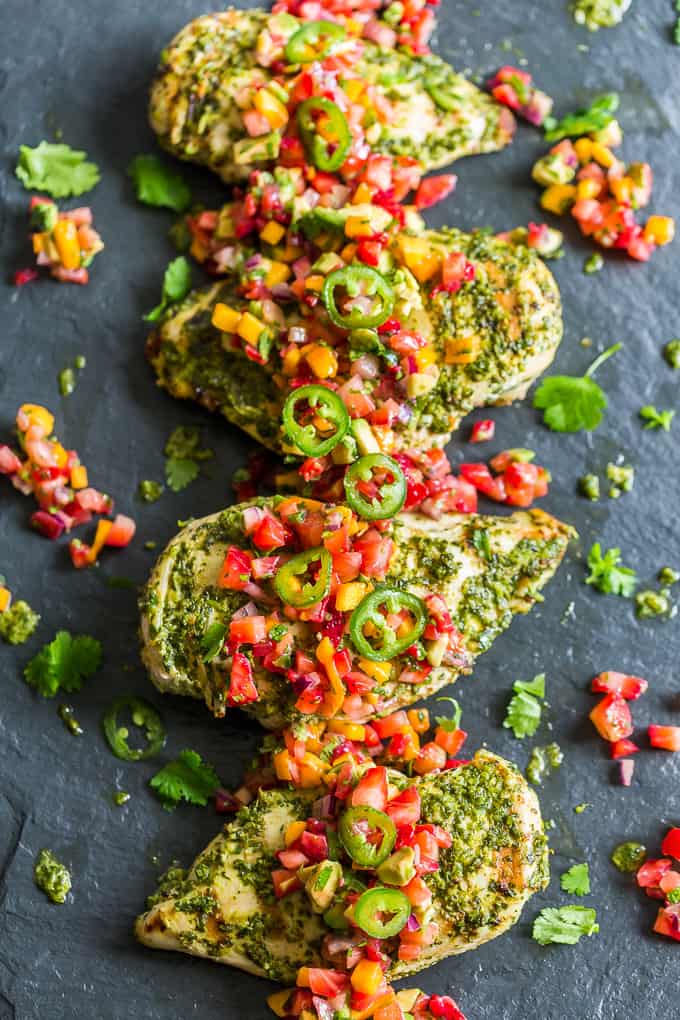 Now let's jump in and make my Jalapeno Cilantro Lime Grilled Chicken!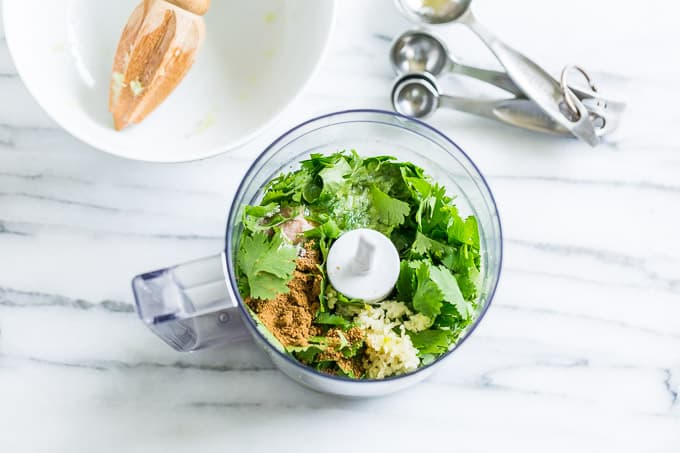 I like making small amounts of thick sauces like pesto in my mini food processor, but you can also use the small bowl insert that often comes with larger food processors.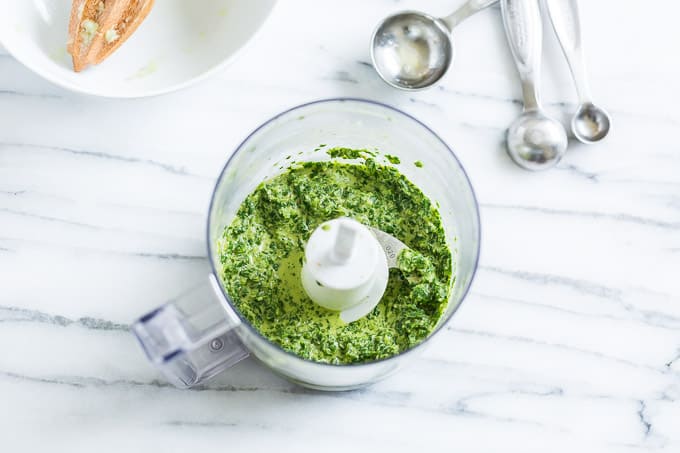 All the ingredients go in… and in just seconds the sauce is done!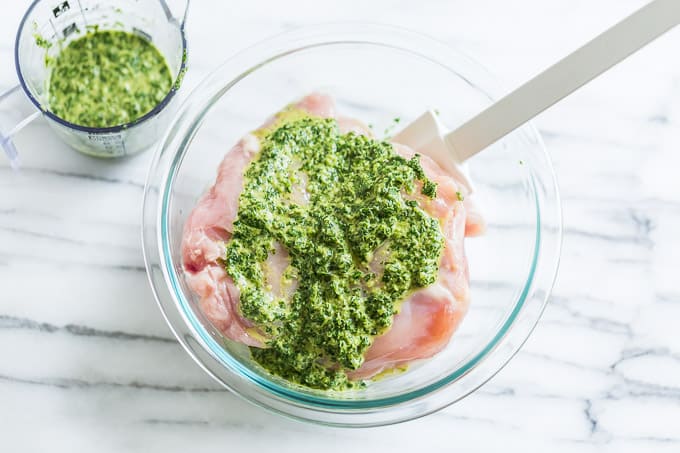 As I mentioned above, I like to keep back part of the cilantro lime 'pesto' back to brush on the chicken after it's been grilled.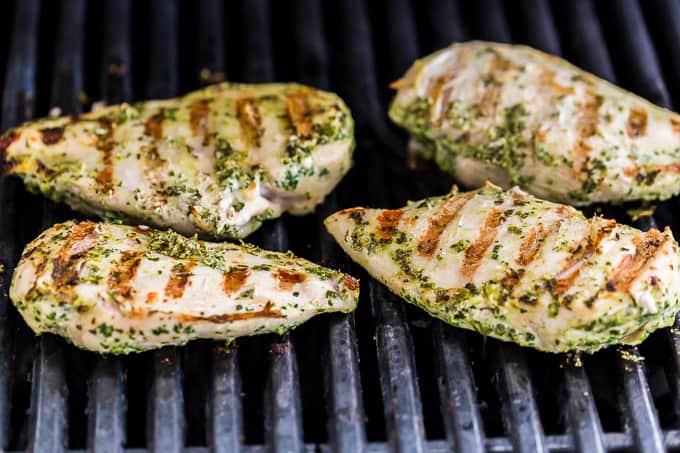 I've found it's best to grill chicken breasts over medium heat. When the heat is higher, the chicken browns too much on the outside without being fully cooked.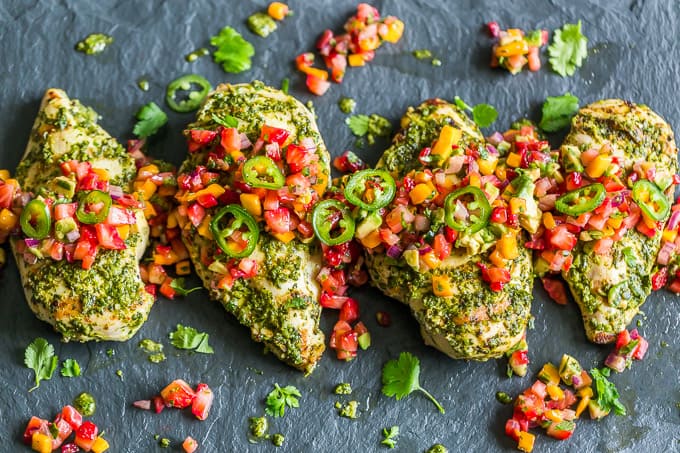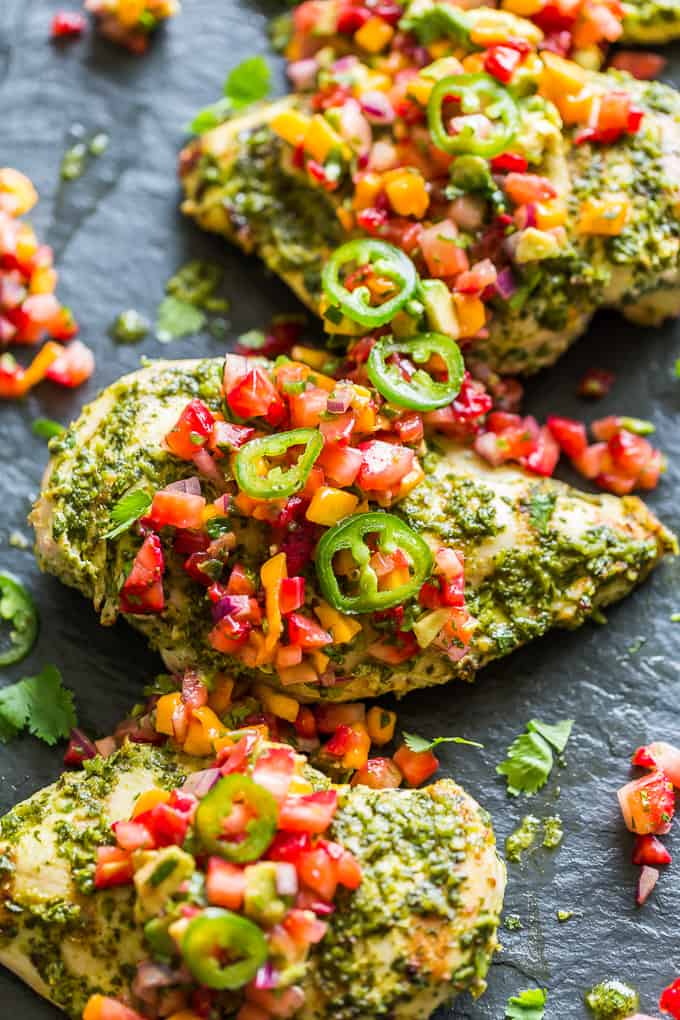 The recipe for the Strawberry Mango Avocado Salsa is coming next week. So hang tight, and enjoy the start of another grilling season with this super versatile recipe!
Print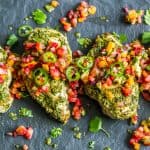 Jalapeno Cilantro Lime Grilled Chicken
---
2 Tablespoons minced jalapeno
2 cups roughly chopped cilantro, not packed
1 Teaspoon ground cumin
1 Teaspoon sea salt
2 Tablespoons freshly squeezed lime juice, from 1 lime
1 clove garlic, minced
2 Tablespoons olive oil
4 boneless, skinless chicken breasts, 1 1/2 – 2 pounds
---
Instructions
Place all the ingredients except the chicken breasts into a small food processor and process until it's a pesto like consistency. You should have 1/2 cup pesto/sauce.
Measure out 1/4 cup, cover and place it in the refrigerator to reserve it until the end of the cooking time.
Pour the remaining 1/4 cup over the chicken breasts and toss to fully coat each chicken breast. Cover and place the chicken breasts into the refrigerator to marinate for 1 hour.
When the chicken has finished marinating, remove the reserved sauce from the refrigerator and let it start to come to room temperature.
Preheat the grill over medium heat until it reaches a steady temperature of 350º-400ºF.
Place the chicken on the grill and grill for about 8 minutes per side or until no longer pink in the center.
Remove the chicken from the grill and brush the reserved sauce over the top and serve immediately.
Prep Time:

10 mins

Cook Time:

16 mins

Category:

Dinner

Method:

Grilling

Cuisine:

Mexican
Keywords: Jalapeno Lime Grilled Chicken, Cilantro Lime Grilled Chicken, Cilantro Lime Grilled Chicken Recipe