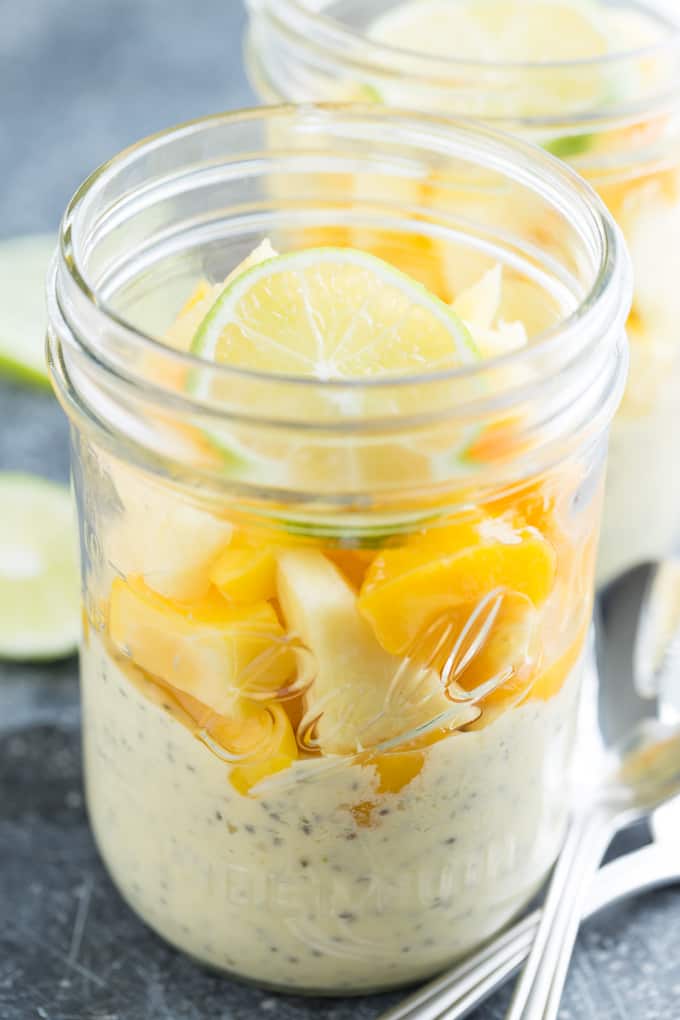 Chia puddings have to be the easiest make-ahead breakfast ever! Simply throw a few ingredients in the blender, pour the pudding into jars, and top with your favorite fresh fruit – and wha-la healthy breakfasts all week long!
My new favorite way of making chia puddings is to add fresh or frozen fruit right into the pudding for more fresh flavor! When I had my mom recipe test my Cherry Almond Chia Pudding, the first words out of her mouth were, "I can't believe how easy this was to make, and so good"! Now… I know she's my mother but she's a great recipe critic – there are no holds barred just because I'm her kid! I loved how simple it was to make too, so when I developed this one I kept to the same super easy preparation with bright fruit flavor.
For the chia pudding you want to blend everything but the seeds until smooth. Then you can either stir or blend the seeds in on low just to combine. This recipe makes 4 cups of pudding so you can portion it out however you'd like.
They make plastic lids for most sizes of glass jars now which is really great! Anything that's acidic will cause the regular metal lids to rust after awhile – my Cranberry Orange Smoothie is particularly tough on metal lids. The only bummer about the plastic lids, is they tend to leak so be sure to keep your jars upright!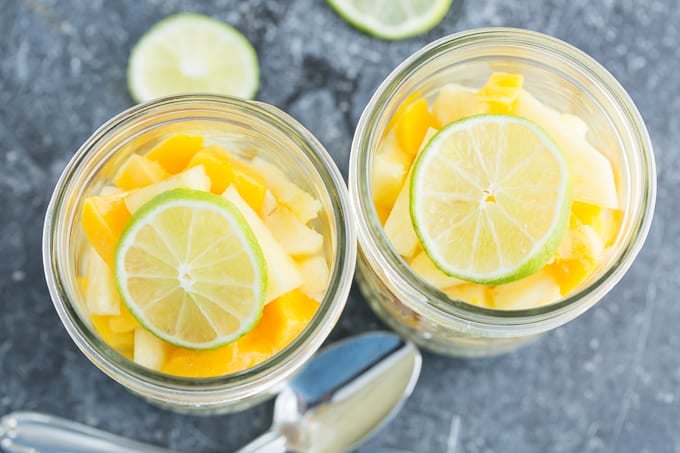 In this recipe, I've listed the amount of mango in both cups and weight because I know not everyone owns a scale. But… I really want to tell you how much easier your life could be with a scale i.e. way… less dishes. For recipes like this, I place the blender right on the scale and zero out the weight, then you just add mango to the blender without having to measure for ultimate easiness! I usually take it 1 step further and use the measurements on the side of the blender to measure out my maple syrup and lime juice before going through the zeroing step and adding the mango – like I said, super easy and no extra dishes!
Print
Mango Lime Chia Pudding
---
1

15.5 ounce can coconut milk

3 cups

or

10 ounces

fresh or frozen mango chunks

1/4 cup

maple syrup, I used Grade A amber

1 Tablespoon

lime zest, grated with a microplane zester

1/4 cup

freshly squeezed lime juice

1/3 cup

chia seeds

1/4 cup

hemp seeds
Topping:
mango, pineapple, banana or any fruit you'd love with mango/lime
---
Instructions
Place the coconut milk, mango chunks, maple syrup, lime zest, and lime juice in a blender and blend until smooth.
Add the chia and hemp seeds to the blender and stir or blend on low just to combine.
You will have 4 cups of pudding and you can portion it however you'd like. I pour about 1/2 cup into each 1 pint jar for a total of 8 servings, and then top with 1 cup of fresh fruit each for a total of 8 cups of fresh fruit.
Just as a note, if you're using banana to top your pudding you'll want to wait until you're ready to eat it before adding the banana so it doesn't turn brown and mushy.
Refrigerate the puddings until you're ready to eat, at least 4 hours to set up. These puddings will keep 5-7 days.