It's been a while since I stumbled across a new green smoothie combo that I just couldn't stop drinking. But finally I have another great one for you! It's filled with tropical ingredients which is always a bonus about this time of the year, and it's incredibly refreshing, with a little zip from fresh lime.
I've been using frozen mango chunks to make this even easier, and because sometimes a little extra convenience helps me eat healthier! Mango and lime is a favorite combination, and we make a chia pudding with those flavors quite often. Then finally it dawned on me one day this combo would also make a great green smoothie.
The sweetness of the mango is great in a smoothie, but it's not really adequate in covering up the 'green' flavor you can sometimes get in green smoothies when you don't have an assertive dominate flavor. But not to worry, the lime juice sweeps in there, and this goes from ho.. hum. to I can't get enough!
I usually make a full blender of green smoothie and divide it between the two of us, but sometimes it's just too much, so I just halve the recipe.
One secret to making really good green smoothies, (besides having an assertive flavor) is to invest in a high powered blender. I've tried making green smoothies in a normal blender, and it's not all that pleasant with a chunky texture. Even the flavors aren't the same when it's not creamy smooth.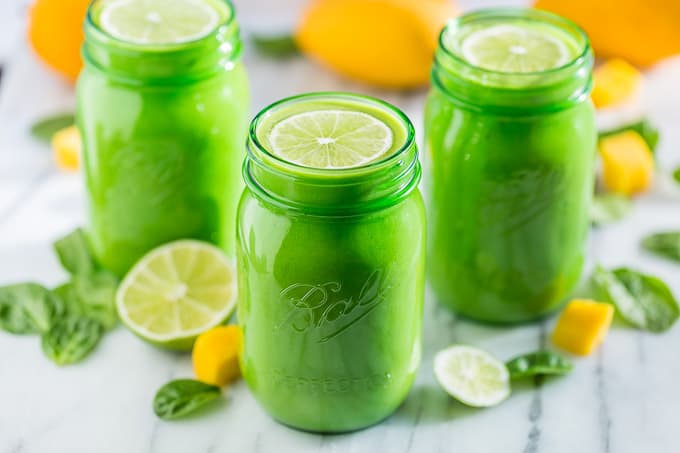 I hope you enjoy this burst of tropical flavor wherever you are! It's been unusually cold here this winter, and I've been feeling the need for sunshine, even if it's in the form of a green smoothie!
Print
Mango Lime Green Smoothie
---
4 cups

frozen mango chunks, 1 pound

1/2 cup

freshly squeezed lime juice, from 2 limes

1 cup

coconut milk, from the can for best flavor

2 cups

water or coconut water

1

orange, 10 ounces, peeled

1/2

small avocado, peeled and pitted

2

ripe bananas, peeled

2 cups

washed baby spinach, 2 ounce
---
Instructions
Place all the ingredients into a high powered blender in the order listed.
Secure the lid and blend, starting on low speed and working up to high, using the tamper as needed to keep the mixture moving.
Serve immediately, or refrigerate and enjoy within 1 day.