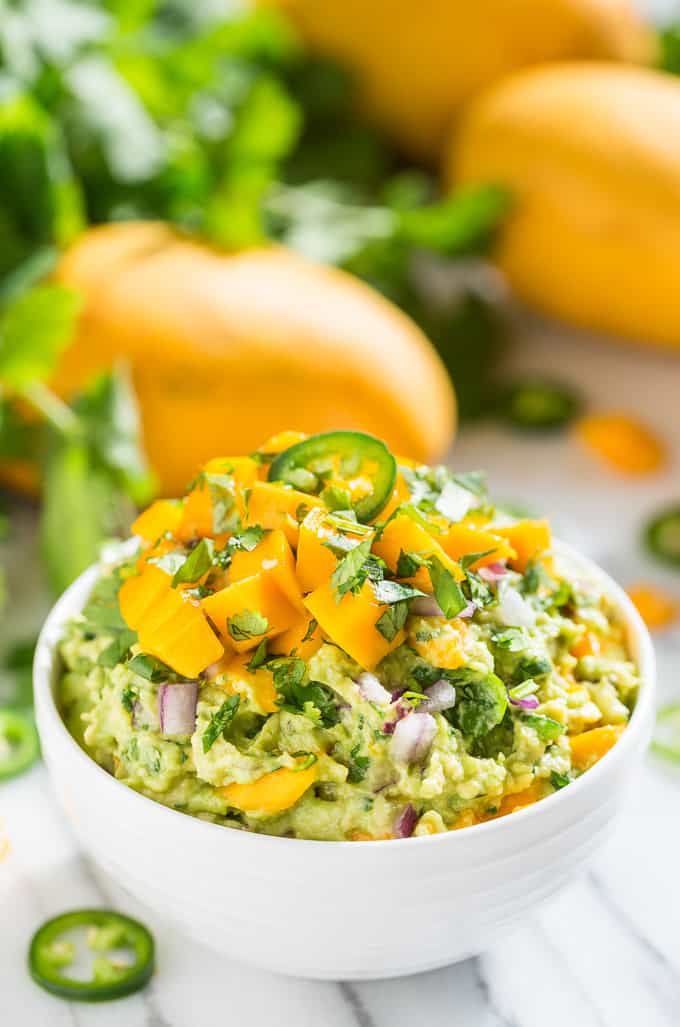 It's that time of year where mangos are starting to fill up the shelves again, and I'm celebrating in the usual way of over-buying and putting them in everything! These days it seems to be easier to get semi-decent mangoes year round, but it's only in the late winter/early spring months that champagne mangos become widely available.
They have a deep yellow skin when they're ripe, and the mango fruit is the same deep color. Their flavor is a spectacular mix of sweet, sour, and an indefinable note of something floral, (I know this sounds weird but their flavor is really hard to describe). The other amazing thing about champagne mangos is their smooth silky texture, they're not nearly as fibrous as the regular mangos that are available year round.
I'm sure I've written about my mango infatuation before, but I get just as excited every year when these beauties are in season again. For year round mangos, I've been getting the big packages of frozen diced mango that Costco has been carrying. It's a huge time saver to have already diced mangoes on hand for smoothies and one of my favorite make ahead breakfasts – Mango Lime Chia Pudding. But for this recipe, I'd urge you to find the freshest most flavorful mangos you have available because the results are 100% worth cutting up a fresh mango for!
I have 2 tips for making the best guacamole of your life (seriously this is not an exaggeration).
Keep it simple – this is super important, so many recipes have all sorts of extra ingredients like sour cream or chili powder. The best guacamole always has the freshest ingredients prepared in the simplest way.
Mash the minced ingredients (like cilantro, onion, and jalapeno) into the avocados. By mashing the minced ingredients into the avocado they release their flavors, and it really takes guacamole up a notch. For years I use to just stir my added ingredients into the mashed avocado, but after reading a recipe where they actually made guacamole in a mortar and pestle, I started using my mashing technique. The mortar and pestle idea sounds like a good one, but in reality I almost never have the time to do this, (and I figure life is pretty much the same for you) so I use this mashing shortcut.
As I mash the minced ingredients into the avocado, I try to leave some avocado chunks because we like a slightly chunky guacamole, but you can mash it however you'd like. If you like a smoother guacamole you can try it out in a food processor which really speeds up you prep time for bigger batches. However it's almost impossible to make a chunky guacamole in a food processor – it always comes out fairly smooth.
Any time you're adding extra ingredients to guacamole (think mangoes, caramelized pineapple, bacon, or even chopped shrimp) always stir them in at the end after you've achieved the consistency of guacamole that you like.
For even more mango inspiration, I've included some of my favorites below:
Fish Taco Lettuce Wraps with Mango Salsa and Avocado Crema
Thai Slaw with Coconut Mango Dressing
Paleo Burrito Bowls with Mango Salsa
Mango Veggie Noodle Bowls with Creamy Ginger Dressing
Thai Broccoli Mango Salad with Sweet Chili Dressing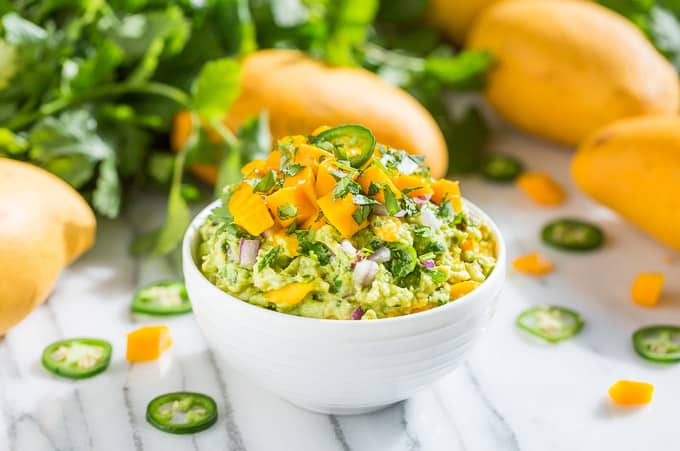 Everyone who tastes my guacamole wants to know what the secret is, and I always tell them the exact same 2 tips I gave you today. But however you make guacamole, it always boils back to one main thing – keep it simple!
We make my basic recipe for The Best Guacamole at least twice a week, but lately I've started adding a feature ingredient to the regular recipe like mango. Caramelized grilled pineapple also makes an unbelievable guacamole (I'll write down and exact recipe someday but I wanted to share that tidbit right away with grilling season right around the corner). In fact I've been getting into guacamole toppings and additions so much that I'm organizing all my ideas to write a post about how to put together a guacamole bar for the easiest party ever (stay tuned)!
Print
Mango Madness Guacamole
---
2

large ripe Hass avocados, peeled and pitted

2 Tablespoons

minced cilantro

1

small clove garlic, minced

1 Tablespoon

minced onion, red or yellow onion

1 Tablespoon

minced jalapeno

1

–

2

Teaspoons freshly squeezed lime juice

1 Teaspoon

Celtic gray sea salt, or to taste

1 cup

diced mango chunks, 6 ounces, I used 1 Champagne mango
---
Instructions
Place the peeled and pitted avocados into a medium sized bowl and sprinkle all the toppings except the sea salt and mangos over the top.
Using a fork, mash the minced ingredients into the avocados to help release their flavor. Mash until your desired consistency is reached. Then stir in sea salt to taste and add the mangos.
Serve immediately or keep refrigerated in an airtight container for up to one day.
Notes
Guacamole is always best eaten right away, but I often make enough to have leftovers for lunch the next day. The key is to keep the guacamole from touching air which is what makes it turn brown. I've found storing it in the appropriate sized mason jar to be the best solution. If you have 1 cup of guacamole, use a 1 cup mason jar and pack it in tightly. The next day scrape off the top layer of browned guacamole and you're good to go.