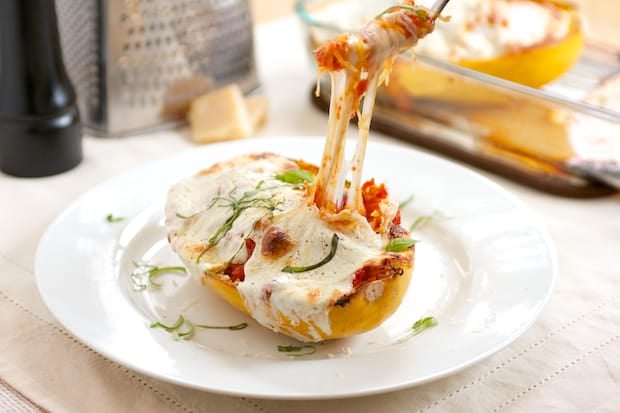 My favorite pizza is the classic Pizza Margherita. I just love the simple combination of a good quality tomato sauce paired with the subtle flavors of fresh mozzarella. A sprinkling of freshly cut basil leaves over the top brings it all together in it's perfection. Since my craving for pizza happens more often than I can actually eat it, I'm developing a few recipes with the same flavors so I can enjoy it more often.
First off: spaghetti squash – don't be afraid of it like I was. I have in inherent fear of anything sounding too healthy (I'm working on it) because it's often synonymus with 'not very tasty'. This is just not the case with spaghetti squash, it's healthy but it's also actually really good. Like I mentioned with my Spaghetti Squash with Easy Meatballs, I don't think of it as a substitute for pasta or anything else for that matter, it's flavors and texture stand alone in their deliciousness.
After the spaghetti squash is roasted, scrape out the strands and mix it with the tomato sauce. Put the mixture back into the shells, top with the remaining sauce and fresh mozzarella.
Tip: I used a glass pan to bake my spaghetti boats, but it made quite a mess of the pan. I would use either non-stick or parchment paper to keep the bottom of the pan from burning.
Here's some of our favorite variations of this dish:
1. Spicy salami or pepperoni
2. Browned hot or mild Italian sausage
3. Leftover roast chicken cut up and add to the marinara sauce with 1 Teaspoon chopped fresh rosemary
One of the major benefits of this recipe is that you can make the spaghetti boats ahead of time and refrigerate. When you're ready to serve dinner, you only have to top it with cheese and bake them, making it my new favorite thing for entertaining!
Print
Margherita Baked Spaghetti Squash Boats
---
2

–

3

pound spaghetti squash, cut in half and seeded

3 cups

+

1/2 cup

for topping, Simple Marinara Sauce

1 Teaspoon

sea salt

12 ounces

fresh mozzarella, sliced

1/2 cup

fresh basil, thinly sliced
---
Instructions
Preheat the oven to 375° F and line a baking sheet with parchment paper.
Roast the spaghetti squash cut side down for 45 minutes or until just tender.
Let the squash cool slightly or use an oven mitt to hold it while you scrape out the 'pasta strands'. Lightly mix the squash with the marinara sauce and sea salt.
Spoon the filling back into the squash skins. Using the remaining 1/2 cup marinara sauce, top the squash boats with about 2 Tablespoons each. At this point, you can refrigerate until the next day.
If you're using the squash boats right away, top with the sliced mozzarella and bake for 15-20 minutes until the cheese is bubbly. If you're baking the boats right out of the refrigerator, top with the cheese and bake for 45 minutes or until the cheese is bubbling and the squash boats are heated through.
Serve immediately with fresh basil, and freshly ground black pepper.
Prep Time:

20 mins

Cook Time:

1 hour