What if you were just minutes away from a breakfast like this on your average Tuesday? Well thanks to meal prepping, this can actually be the case. Having the sweet potato toast already prepped ahead makes this recipe extra easy.
From there you just mash some avocado right onto the toast, top with an over easy/poached egg, and sprinkle with everything bagel seasoning. And there you have it, a cafe style breakfast in just minutes.
If you want to take this right over the top, I like to add some sliced radishes and micro greens to the mix as well.
So why sweet potato toast instead of regular toast?
Well here's the thing, sweet potatoes make a great gluten free/grain free alternative to actual toast. Also I personally don't eat toast anymore, so sweet potatoes are a perfect substitute. Much to my dismay the whole 'avocado toast craze' started after I stopped eating wheat. I always felt like I was missing out whenever we were in a coffee shop, and I'd watch plate after plate of avocado toast go by our table.
So I decided to create an at home version that I could eat. And while there's plenty of gluten free bread out there, I try to stay away from gluten free products for the most part. This brings us to sweet potato which is a fantastic flavor pairing with avocado, and makes a great substitute for toast as well.
Once you have your sweet potato toast all prepped, you're good to go for the week.
How to meal prep sweet potato toast:
Line a baking sheet with parchment paper and preheat the oven.
Lightly brush the sweet potato slices with avocado oil on both sides.
Roast until tender, then cool and store in an airtight container.
Then when you're ready to serve your 'toast' you can either toast it in a toaster. Or if you're like me and no longer even have a toaster, warm it in a pan on the stove top, then use the same pan to cook your egg(s).
Topping Ideas for Avocado Toast:
Everything bagel seasoning is great sprinkled over the top. You can find a recipe to make your own under my Breakfast Salad recipe.
Micro greens, sprouts, or chopped fresh herbs in the summertime.
Thinly sliced radishes.
Consider leaving out the egg if you're not looking for some protein and adding a sprinkle of pomegranate arils or fresh berries.
Crumbled feta cheese is a favorite of mine to add along with the bagel seasoning, micro greens, and radishes.
How to cook the eggs:
You can poach them by boiling several inches of water in a saucepan. Lower the heat to a simmer, then add a teaspoon of vinegar and crack the eggs into a bowl before lowering them into the water. From there use a slotted spoon to gently move them to keep them from sticking to the bottom. Then simmer until your desired doneness is reached. I love mine with loads of runny yolk!
You can also cook the eggs over easy in a skillet on the stove top to avoid poaching altogether. Add just a touch of avocado oil or butter to the pan. Then crack the eggs into the pan and cook over medium heat until the bottom begins to set up. Flip the egg(s) and cook until the desired doneness is reached. Again I prefer my over easy eggs to have plenty of runny yolk to go along with the mashed avocado and sweet potato toast.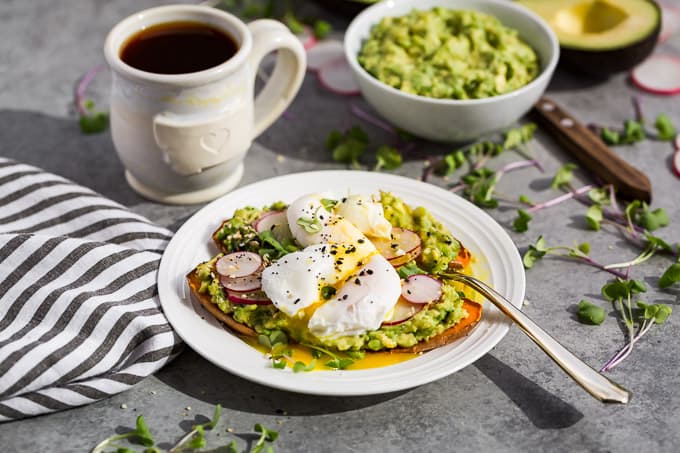 More Meal Prepping Recipe Inspiration:
And finally, if coffee is you thing, this is a great breakfast to break out you best brew!
Print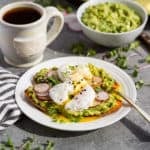 Meal Prep Sweet Potato Avocado Toast
---
Author:

Kari

Total Time:

30 minutes

Yield:

6

servings

1

x
Description
Cafe worthy avocado toast at home with minimal effort!
---
2 sweet potatoes, (2lbs) sliced about 1/4″ thick yielding 12–16 slices, (you'll want about 2 slices per person)
avocado oil for brushing
To Serve:
mashed ripe avocado, 1 regular avocado serves about 4
1–2 poached or over easy eggs per person
1 thinly sliced radish per person
Everything bagel seasoning, about 1 teaspoon per person
Sprouts, I like to use radish sprouts
---
Instructions
Preheat the oven to 350ºF and line two baking sheets with parchment paper.
Evenly space the sweet potato slices on the baking sheets and brush both sides of the sweet potato toasts lightly with avocado oil.
Roast the sweet potato toasts until tender, about 15 minutes. Cool on a wire rack before placing the sweet potato toasts in an airtight container to store in the refrigerator.
To serve the sweet potato toasts, prepare any or all of the toppings. Pan fry the sweet potato slices over medium heat until browned and warmed through. Or you can toast them in a toaster.
Top each sweet potato slice with mashed avocado, eggs, radish slices, everything bagel seasoning, and sprouts. Serve immediately.
Prep Time:

10

Cook Time:

20
Keywords: Meal Prep, Paleo, Whole30, Gluten Free, Dairy Free, Grain Free, Sweet Potato Toast