My favorite cookie are definitely these Molasses Ginger Cookies, but that doesn't mean I don't like a little variety, and where better than to start than with my mom's favorite cookie? Snickerdoodles are an awesome little cookie because you just can't go wrong with their buttery flavor paired with a hint of cinnamon.
Growing up, my mom would bake like crazy every holiday, I mean batch after batch of cookies and homemade candies! Whenever she was baking cookies, she always made Snickerdoodles last, and I think it might have been her attempt to fill everyone up on everything else so that there might just be a few of her favorites still around for a day or two. I'm not sure how successful this strategy was,(or if it even was a strategy) since the smell of cinnamon enveloping the house would bring everyone out to hover around the stove anxiously anticipating the arrival of these beauties.
I haven't done much in the way of holiday baking for a few years, but this year I pulled it together and got at least 2 of our family recipes out in time for the holidays. And maybe next year we'll tackle my mom's chocolate covered coconut balls (which are so! good!).
These cookies are made by the creaming method, which means that you're going to beat the butter and sugar together until they're light and fluffy. I've found that when you're using organic sugar it's best to beat the butter/sugar mixture for at least 4-5 minutes because the sugar granules are bigger than normal sugar.
I took just one departure from my mom's original recipe, (besides the gluten free flour) and I put a pinch of cinnamon in the batter. Normally with snickerdoodles the cinnamon is only in the sugar that you roll the cookie in, but I thought a bit right in the cookie sounded like a good idea, and my mom definitely approved the new change!
Traditionally, Snickerdoodles are rolled in a cinnamon sugar mixture which is their primary flavor.
The cookies are done when they're puffed in the middle and no longer gooey. It's just my personal opinion, but these are one kind of cookie that I prefer not to have a gooey center.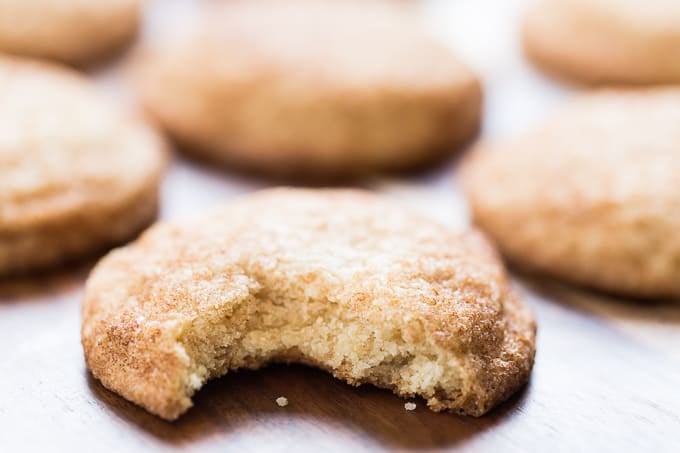 As these cookies bake, the cinnamon-sugar creates a crunchy crust that when you bite into it, yields to a buttery cinnamon scented middle. It's no wonder that my family always makes these during the holidays!
Print
Mom's Snickerdoodle Cookies
---
1/2 cup

salted butter, softened, 8 Tablespoons, 4 ounces

3/4 cup

organic sugar

1/8 Teaspoon

Vietnamese cinnamon

1

egg

1 1/2 cups

gluten free flour, I used Namaste

1 Teaspoon

cream of tartar, see note

1/2 Teaspoon

baking soda
pinch of sea salt
Cinnamon Sugar:
2 Tablespoons

organic sugar

1 1/2 Teaspoons

Vietnamese cinnamon
---
Instructions
Preheat the oven to 400ºF and line a baking sheet with parchment paper.
Cream together the butter, sugar, and cinnamon with an electric mixer, scraping down the sides as necessary. This will take 4-5 minutes to properly break down organic sugar.
Scrape down the sides and and add the egg. Beat the egg in to thoroughly combine, then add the flour, cream of tartar, baking soda, and pinch of sea salt. Turn the mixer on low speed and mix just to combine.
Portion the cookie dough into 1 1/2 Tablespoon portion and roll them into balls. Mix together the sugar and cinnamon and roll the cookie dough balls in it until they're completely covered.
Place them, about 10-12 per baking sheet, and bake for 8-10 minutes or until they're puffed in the middles with browned bottoms, and are no longer gooey or doughy in the middle.
Cool completely before storing in an airtight container. These keep for 2 days at room temperature or up to 1 month in the freezer.
Notes
If you don't have cream of tartar, you can substitute 1 1/2 Teaspoons baking powder for the cream of tartar and baking soda. I've made them this way a few times when I've ran out of cream of tartar. I couldn't tell any difference and neither could my mom.
Prep Time:

10 mins

Cook Time:

10 mins