This morning started off just like any other regular work day in the country. We got up in the dark, made scrambled eggs and coffee before my husband headed off to work just before sunrise. However this morning he got a serious surprise on the way out to his truck.
I had just locked the door behind him and headed back up the stairs, when all of a sudden there's a pounding on the door. I ran back to see him wide-eyed at the door, and when I let him in he told me there was a skunk literally running right up the driveway at him, so he turned tail and ran back to the house!
There's nothing like a skunk encounter to get your blood moving that's for sure! I know it sounds silly considering I live in an area with giant wolves and grizzly bears, but ultimately I'm really afraid of skunks (or to be more accurate, I'm afraid of getting sprayed by one). And because we live along a river, there's a lot of them around here. We're always on the lookout when we go on evening walks after sunset in the nearby golf course because they're everywhere!
Not that that has anything to do with banana cream pie whatsoever, other than it just happened, and now I'm sipping my coffee with a few bites of this pie. I just made my 4th batch of this pie, and put it into mason jars to take with us camping this weekend.
You can make this pie several different ways as you'll see below, but nothing beats homemade pie in the wilderness that's for sure. I can barely wait for tonight when I'll be sitting by a campfire, (my first of the season) and eating Banana Cream Pie. Then we'll be heading out of our campsite to take pics of the giant harvest moon that will be out tonight!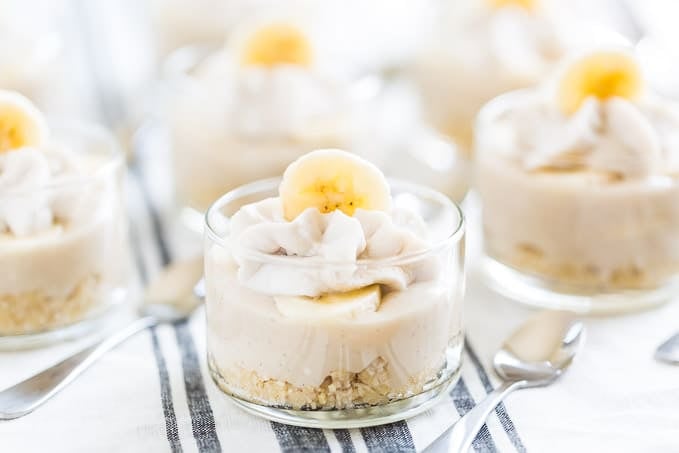 I've had lots of questions about what we eat when we're on the road and camping, so here's the weekend menu:
Friday night: The classic Italian dish Penne alla Vodka with 100% brown rice gluten free pasta from Delallo and their pre-made Creamy Vodka sauce which is so good. We alternate between this one and their tomato basil, and we always bring along some pre-grilled chicken and cooked veggies to add to the sauce. Then we'll finish it all up with this Banana Cream Pie by a campfire.
Saturday morning: Pumpkin Spice Streusel Muffins, (recipe coming next week) and Italian Sausage Egg Bake with pour over coffee. Pour over coffee is the easiest way to make coffee on the road, especially when you don't always have a sink or running water.
Saturday hiking lunch: Blue Diamond seeded rice crackers with sharp cheddar cheese and Honeycrisp apples.
Saturday snack: A few pounds of cubed up watermelon is our favorite snack to rehydrate after hiking.
Saturday dinner, (back at home): Grilled Chicken Caesar and of course some more Banana Cream Pie.
I've been keeping track of our meals so I can do a bigger camping post on what we usually take along, especially for longer adventures.
Ok… so on to the pie making! There's almost no cooking involved at all in this pie and no oven time at all. Another bonus is there's definitely no pie crust rolling/par baking business to deal with.
You just put the nuts and coconut in a food processor and get it to the texture you like, see above photo.
Then you add a touch of maple syrup and vanilla, and you end up with a cookie dough like crust.
From there that's where all the options start:
You can press the crust into a 9″ pie pan just like a normal pie.
Or you can make it into little individual pies in small glass containers sort of like a trifle, see the first photo of the post.
And finally you can layer the crust, pudding, bananas, and whipped cream into mason jars if you want to it to be easily portable.
If you do go with the traditional pie route, it takes a full 8 hours to set up. The above picture was taken after about 4 hours in the fridge and the crust was still a little too fragile, but after 8 hours the pieces of pie actually held together on the plate.
So if you're in a bit of a hurry, I'd recommend the small glass bowls because they set up quickly, and it's really pretty to see the pie through the side of the dish.
Print
No Bake Banana Cream Pie
---
Pie Crust:
2 cups

raw cashew pieces, see notes

1 cup

unsweetened shredded coconut
pinch of sea salt

1 Tablespoon

maple syrup

1 Teaspoon

vanilla
Vanilla Pudding Layer:
1/3 cup

pure maple syrup, I use Grade A amber

3 Tablespoons

tapioca starch

1

can full fat coconut milk, I use Native Forest
pinch of sea salt

1/2

vanilla bean, split lengthwise
Banana Layer:
3

ripe bananas, peeled and thinly sliced +

1

additional banana for garnishing the top
Coconut Whipped Cream:
---
Instructions
For the pie crust, add the cashews, coconut, and sea salt to a 12-cup food processor and process until the texture is fine. Add the maple syrup and vanilla, and process again until it starts to clump. If it looks a little dry, add a small amount of water, 1 Teaspoon or so until the dough comes together.
Press the crust into a 9″ pie plate, or divide it evenly among individual serving dishes. Depending on the size of your serving dishes, this recipe will make between, 8-12 individual servings. Cover and refrigerate the crust(s) while you make the rest of the recipe.
Next make the pudding by whisking together the maple syrup and tapioca starch in a medium sized saucepan. Then whisk in the coconut milk and sea salt, and add the vanilla bean. Cook the pudding over medium-high heat, whisking constantly until it comes to a boil. Once it boils immediately remove it from the heat, and leaving the vanilla bean in, place it into a container to refrigerate for 1-2 hours, or until barely warm.
When the pudding has cooled to barely warm, it's time to make the coconut whipped cream.
Scoop the hardened coconut cream off the top of each can of coconut milk and place it into a bowl. Then add the maple syrup, sea salt, and vanilla before using a stand mixer or electric mixer to beat the coconut cream into fluffy peaks.
Remove the vanilla bean from the pudding and using your fingers, strip out all the vanilla bean seeds into the pudding, mix to combine. Measure out 3/4 cup of coconut whipped cream and fold it into the cooled pudding.
For the individual desserts, layer the thinly sliced bananas over the refrigerated crust, then top with the pudding, and finally the whipped cream. The individual desserts only need another 2-3 hours in the refrigerator to set up.
For the regular 9″ pie, refrigerate it covered with just the bananas and pudding, and refrigerate the coconut whipped cream separately.
Chill the banana cream pie again for another 6 hours or overnight. When you're ready to serve the pie, top with the additional banana and pipe the remaining whipped cream around the edges. You won't need the extra banana if you're doing individual desserts.
This pie keeps well refrigerated for up to 3 days.
Notes
Very few nuts are truly raw, I just specified raw to indicate that they're not toasted. Cashew pieces are usually sold in bulk at health food stores and are much cheaper than whole cashews.
Prep Time:

25 mins

Cook Time:

5 mins