This Paleo Fish and Chips has a shatteringly crisp batter that's perfect dipped into a homemade tartar sauce – pair it all with home fries and you have some serious comfort food made completely gluten free!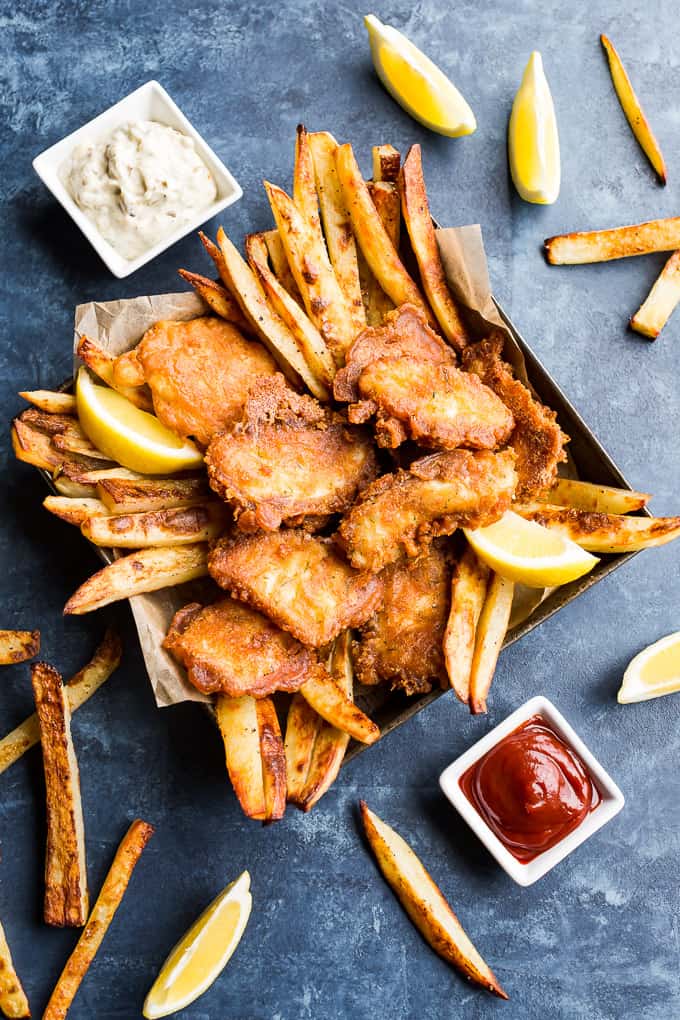 Fish and chips has always been one of my most favorite things. And while I know I say so many things are my favorites, fish and chips is right up there with my #1 – pizza!
Every single vacation we've ever taken near the sea has always involved fish and chips. In fact I view finding the best ocean side fish and chips as an adventure worthy of a day unto itself. And so of course all of my ocean vacation memories involve this favorite.
Tyler has been beyond patient with this little habit of mine since he's not all the fond of seafood. (I mean I've even gone as far as paying for a boat ride out to a spot recommended by a local for the best fish and chips that was floating out in the ocean.) In fact he prefers not to eat seafood at all. But over the years all my fish and chips adventures have rubbed off on him.
I think his first experience with this delightful classic was on Vancouver Island at a little place called Red Fish Blue Fish. This small but awesome place is basically a C-can/shipping container turned mini restaurant. It's down on the wharf, and they have fish and chips that still occupy my daydreams even years later!
It was here I first convinced him to try fish and chips. I say convinced, but it was mostly due to the fact they don't have a single item on their menu that's not seafood. I'm happy to say he more than polished off his portion, and now every once in a while he eats seafood with me!
Let's talk about tips for this Paleo Fish and Chips!
Tip #1: To make the crispiest oven fries, you need to give them a bit of space. You can see I was a little overzealous with how many fries I thought I could fit in a pan, and a few of them didn't brown as well as the others.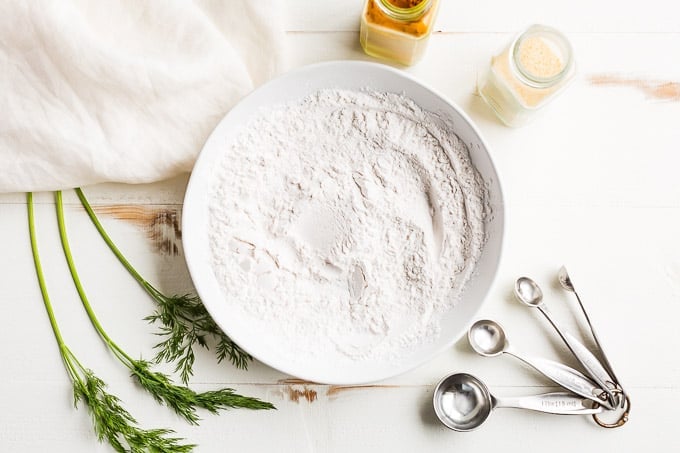 Tips for frying fish:
Make sure everything is well ventilated, from the fan running on high to cracking open a window. I make it a principle not to fry things at home if I can. But it's hard to find a good gluten free fish and chips where we live. So it's one thing I definitely make an exception for!
Try burning a candle during and after frying fish inside, it really helps with any lingering smell.
And finally, keep the heat on medium. You don't want the oil too hot as it will burn the coating without cooking the fish.
Like I mentioned above, normally I have a pretty strict policy about frying things at home. It's a little messy and just not my favorite thing. However that being said, sometimes a girl just needs fish and chips!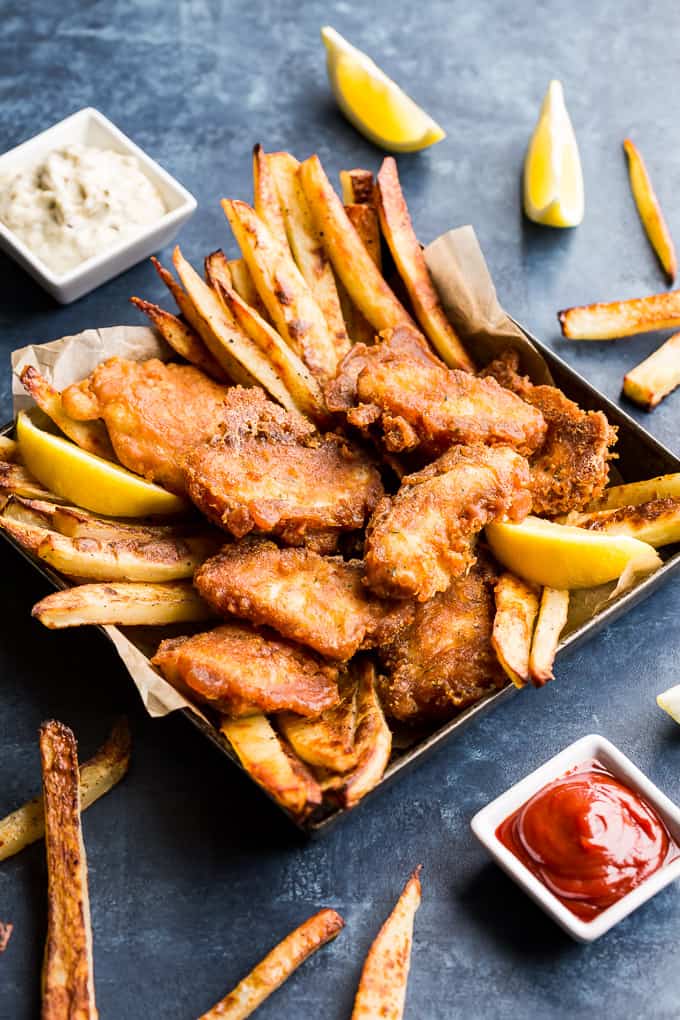 Notes about flavor:
I really upped the flavor in my tartar sauce compared to the classic. I often find tartar sauce to be bland, so I made mine with an extra punch capers and pickles.
The turmeric called for in the batter is so little there's no flavor. It's there to give the crispy coating the most lovely golden glow. However the fresh dill called for is completely optional. The first time I had fish and chips with fresh dill in the batter. And I'm afraid to say I was a little outraged. I mean why would they go and ruin it like that. But over time I ran into the combination more and more, and now I like it – go figure!
I sure hope you'll enjoy this classic as much as we have! If you do make this, I hope you'll leave me a comment/rating below. And I always love hearing from you here. Or over on Instagram where you can tag me at #getinspiredeveryday with your photos.
Print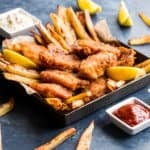 Paleo Fish and Chips
---
Author:

Kari

Total Time:

50 minutes

Yield:

6

servings

1

x

Diet:

Gluten Free
Description
The beloved classic made both gluten free and paleo!
---
Oven Fries:
2 pounds russet potatoes, cut into 1/2–3/4" fries, peeling is optional
2 Tablespoons avocado oil
1/2 Teaspoon each sea salt and black pepper
Tartar Sauce:
1 cup avocado mayonnaise
1 Tablespoon pickle juice
1/3 cup minced dill pickle
2 Tablespoons capers, drained, then minced
1 Tablespoon stoneground mustard
1/2 Teaspoon black pepper
1–2 Teaspoons chopped fresh dill, to taste
Fish:
1 pound white fleshed fish, cut into 2"x 4-5" strips, cod or halibut are my favorites
1 cup avocado oil, for pan frying
Batter:
1/2 cup tapioca starch
1/4 Teaspoon dried granulated onion
1/2 Teaspoon sea salt
1/4 Teaspoon baking soda
1/4 Teaspoon ground turmeric
Optional: 1-2 Teaspoons chopped fresh dill
1 egg
1–2 Tablespoons plain kombucha, or sparkling water
---
Instructions
Start by preheat the oven to 425ºF. Line 2 baking sheets with parchment paper. Toss the cut fries with the avocado oil, sea salt and black pepper to coat. Evenly space out the fries over the 2 baking sheets.
Mix together everything for the tartar sauce, and set it aside in the refrigerator until you're ready to eat.
Cut up the fish and pat it dry with paper towels. Next start making the batter by mixing together the tapioca starch, granulated onion, sea salt, baking soda, turmeric, and optional dill.
Place the prepped fries into the oven, one pan on the lower rack and one on the upper. Cook for about 20 minutes, turn over the fries, switch the pans, and cook for another 20 minutes. Use the broiler if necessary to brown the fries at the end of the cooking time.
While the fries are cooking, add the avocado oil to a 9″ cast iron skillet and heat over medium high heat until the oil is shimmering, but not smoking.
While the oil heats, add the egg and 1 tablespoon kombucha to the prepped batter, mixing to form a batter. Add the 2nd tablespoon of kombucha only if the batter is still too stiff. The tapioca will resist being mixed, but be patient, it will come together.
Dip 1 piece of fish at a time into the batter, evenly coating both sides. Carefully place the pieces of fish into a skillet 1 at a time until the skillet is full. Fry the fish over medium heat for about 6-8 minutes per side, or until golden brown on each side and done in the center.
Use a slotted metal spatula to turn the fish and remove it from the pan. Continue to fry the fish until all the pieces are cooked, keeping the already done pieces warm in an oven at 200ºF after the fries are done.
When the fish is done, serve with the oven fries and tartar sauce or ketchup.
Prep Time:

30

Cook Time:

20

Category:

Dinner

Method:

Frying

Cuisine:

British
Keywords: Gluten free fish and chips, Easy gluten free fish and chips, fish and chips, Gluten Free Fish and Chips