So… there's always a first time for everything because today is the first time I've ever put 2 recipes on the blog in one day! But here's the thing, I made these s'mores brownies last week, and they were so good I just knew I had to get them out in time for the 4th of July. However I forgot I already had my Grilled Summer Veggie Pesto Pasta Salad scheduled to come out.
Which of course meant I needed to post 2 recipes today because I couldn't leave you high and dry without this recipe in time for the holiday this week. Not that you need a holiday to celebrate the classic s'mores combo, but the 4th of July is such a s'mores kind of holiday isn't it!?! Maybe it's just me, but certain holidays have always come along with certain foods. And pretty much every summer holiday needs lots of grilling, followed by s'mores in my book.
I was never really that into s'mores growing up. I loved the chocolate graham cracker part, but I've never been that crazy about all that marshmallow in there. As I kid, I'd happily eat s'mores without the marshmallow, which looking back is kind of weird. What can I say, I just really like chocolate!
However I loved roasting marshmallows, and my friends and family would often ask me to roast their marshmallows for them, because I would patiently turned them over the coals until they were toasty brown and molten. For me though, marshmallows were just too sweet. So sometimes I'd just pull the crispy outer edges of the toasted marshmallow off, and add that to my s'more, which was a better ratio of chocolate to marshmallow in my opinion.
But moving on to today's recipe, I started out with a blondie brownie base to imitate graham crackers. Then I topped the brownies with chocolate melted and swirled together with butter. After the chocolate sets up, the whole concoction is topped with a honeyed marshmallow meringue, and toasted into perfection.
A typical meringue like this would have about 1 cup of sugar in it. But since I'm not a fan of things overly sweet, I decided to try drastically reducing the sweetener to just 1/4 cup of honey. I was a little worried whether or not this would work, because reducing sugar in desserts is most often problematic.
But luckily it turned out great, the meringue tastes like toasted marshmallows, but not nearly as sweet! Plus when you add brownie+chocolate+marshmallow meringue, it's so decadent there's no way you'll be missing all that extra sugar.
For the blondie brownies, you start by mixing together all the dry ingredients before adding in the wet ingredients.
When it's been thoroughly combined into a thick batter…
… you spread it as evenly as possible into a baking pan. You can see I lined my baking pan with strips of parchment paper two ways. This creates the perfect handles for lifting the brownies out of the pan after they're finished. You can just grease the pan, and serve the brownies straight out of the pan, but if you want to make nicer looking slices, removing them from the pan really helps.
Once the brownies have baked, it's time to layer on the chocolate. Then there's a chilling time for the chocolate to set up before adding the marshmallow meringue. It's impossible to spread meringue over molten chocolate without making a huge chocolate swirled mess. If you're in a bit of hurry, you can chill the brownies in the freezer for around 20 minutes to quickly set up the chocolate.
Once the chocolate is just set, the marshmallow meringue is spread over the top…
… and toasted into perfection with a few minutes under the broiler.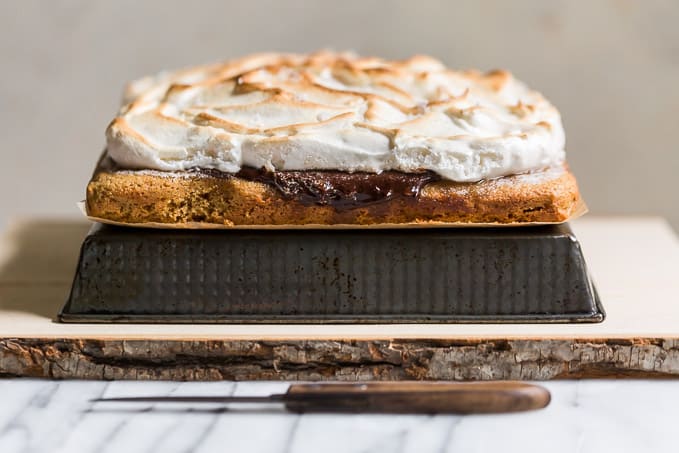 And as you can see the chocolate became molten again during the brief stint back in the oven, which makes for ooey gooey decadence.
Print
Paleo S'mores Blondie Brownies
---
Author:

Kari

Total Time:

40 minutes

Yield:

16

-

2

" brownies

1

x
Blondie Brownie Base:
2 cups fine almond flour
1/4 cup tapioca starch
1 1/2 Teaspoons baking powder, see notes
1/2 cup coconut sugar
1/4 Teaspoon sea salt
6 Tablespoons melted ghee, butter, or coconut oil for dairy free
2 eggs
1 Tablespoon vanilla extract
Chocolate Layer:
1 cup chocolate chips, 6 oz, I used Enjoy Life
2 Tablespoons ghee, butter, or coconut oil for dairy free
Honeyed Marshmallow Meringue:
3 egg whites
1/4 cup honey
1/4 Teaspoon cream of tartar
---
Instructions
Preheat the oven to 350ºF and lightly grease an 8″ baking pan. Cut 2 strips of parchment paper the width of the baking pan, then place them into the pan crosswise.
Mix together the almond flour, tapioca starch, baking powder, coconut sugar, and sea salt until combined. Add the melted ghee, eggs, and vanilla extract and mix until combined again.
Scrape the batter into the prepared baking pan, and carefully spread it as evenly as possible into the pan. Bake the blondie brownie base until puffed in the middle, about 15 minutes. When the brownies are done, let them cool on the counter while you make the chocolate layer.
For the chocolate layer, melt the chocolate chips and ghee together over low heat, stirring constantly until all the chocolate chips have melted. Pour the chocolate layer over the brownie base, and chill in the refrigerator or freezer just until the surface of the chocolate has set up, (about 20 minutes in the freezer). You can also leave them at room temperature at this point for several hours until you're ready to serve them. Then briefly chill the brownie base to make sure the chocolate is set up before topping with the meringue.
To make the marshmallow meringue, add the egg whites and honey to a small saucepan or double boiler pan if you have one. Place the saucepan or double boiler over another pan of barely simmering water to create a double boiler. Make sure if you're using 2 saucepans together that you don't tip the pan because any water in the meringue will ruin it. Whisk the egg whites and honey together in the double boiler until they reach a temperature of 145ºF on an instant read thermometer. While you're making the marshmallow meringue, preheat the oven on the broiler setting.
Pour the egg white mixture into the bowl of your electric mixer, add the cream of tartar, and beat with the whisk attachment until stiff peaks form, 5-8 minutes. Then spread the marshmallow meringue evenly over the chilled chocolate layer. Broil the meringue on the top rack until it's golden brown and toasty like a marshmallow, about  3-5 minutes.
Serve immediately for the crispiest marshmallow meringue. Refrigerate any leftovers for 3 days, the meringue will soften in the refrigerator, but they still taste great!
Notes
Baking powder can often have additives which means it's not always gluten free or paleo. To be on the safe side, you can make your own by using 1 part baking soda and 2 parts cream of tartar, and using the mixture right away.
Prep Time:

20

Cook Time:

20