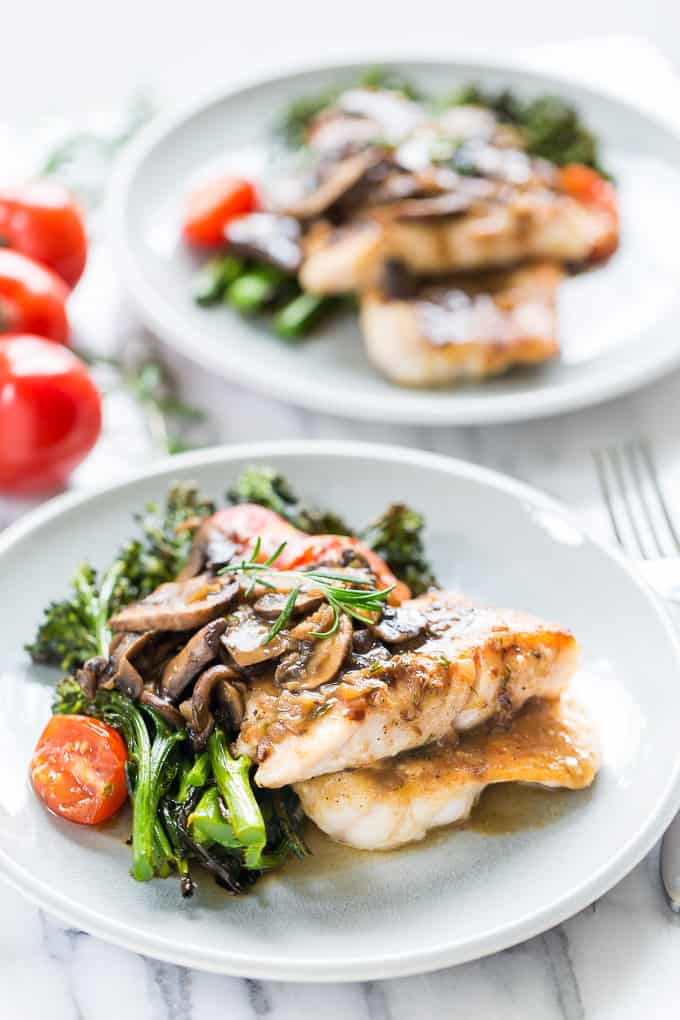 This is yet another recipe inspired by a text message – a few weeks back my sister texted me a picture of her dinner and it looked a lot like this! I changed a few things along the way, but this dinner is essentially her idea, and it happened like all great dinners – on the spur of the moment with whatever's handy.
If you haven't had rockfish yet, stop right this minute and write it on your grocery list! No exaggeration… it is so good, buttery and rich, budget friendly (for fish that is) and easy to cook. I first had rockfish a a fancy restaurant many years ago, it was served with a red curry sauce made from scratch, and it was all very exotic in the days before the internet made these types of dishes more mainstream.
It's funny to look back and realize that there was a time where Thai curry of any sort was a strange and exotic treat, and rockfish wasn't even available in the grocery store. Of course this could be because I live in Montana where we're happily a decade behind everyone else, but sometimes I can't even fathom how far the food movement has come in such a short time. I'm getting way off topic as usual, but I remember bringing back saffron and smoked paprika from San Francisco to make Paella before anyone I knew even knew what Paella was, (needless to say I used to be an oddity, and now it's all just common knowledge).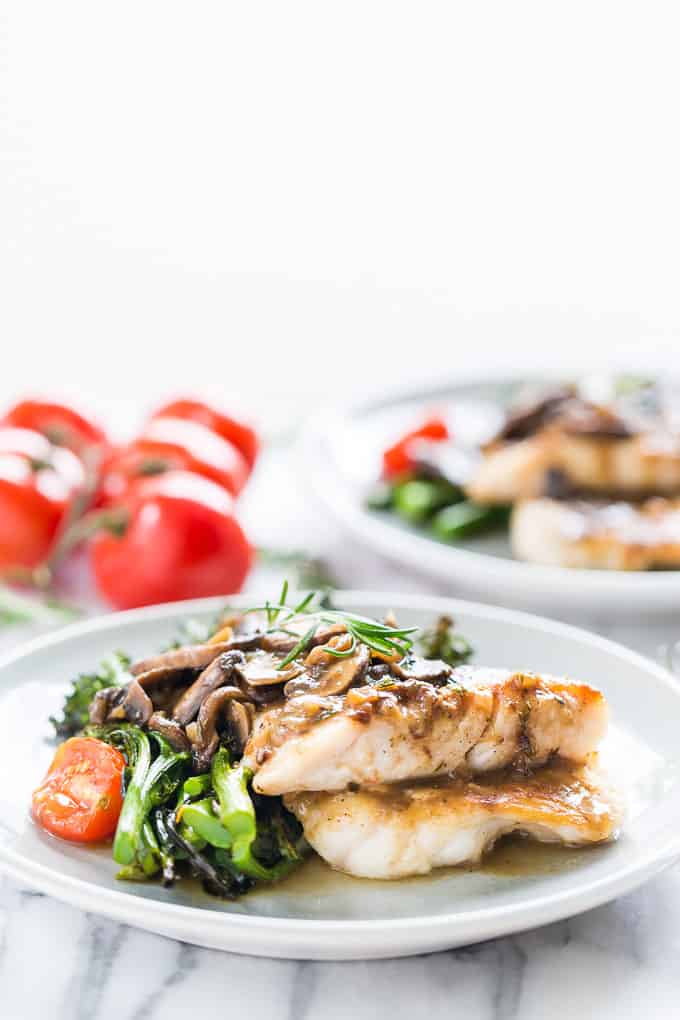 Overall I love the food movement going on with widespread food knowledge, and everyone wanting quality ingredients and easy healthy meals. The only thing that bugs me is the sky high price of certain ingredients like leeks and fennel that used to be so cheap, oh well… it's a small price to pay considering all the benefits of the foodie movement. After all I now have access to rockfish and all sorts of Thai curry pastes, so I'm on board!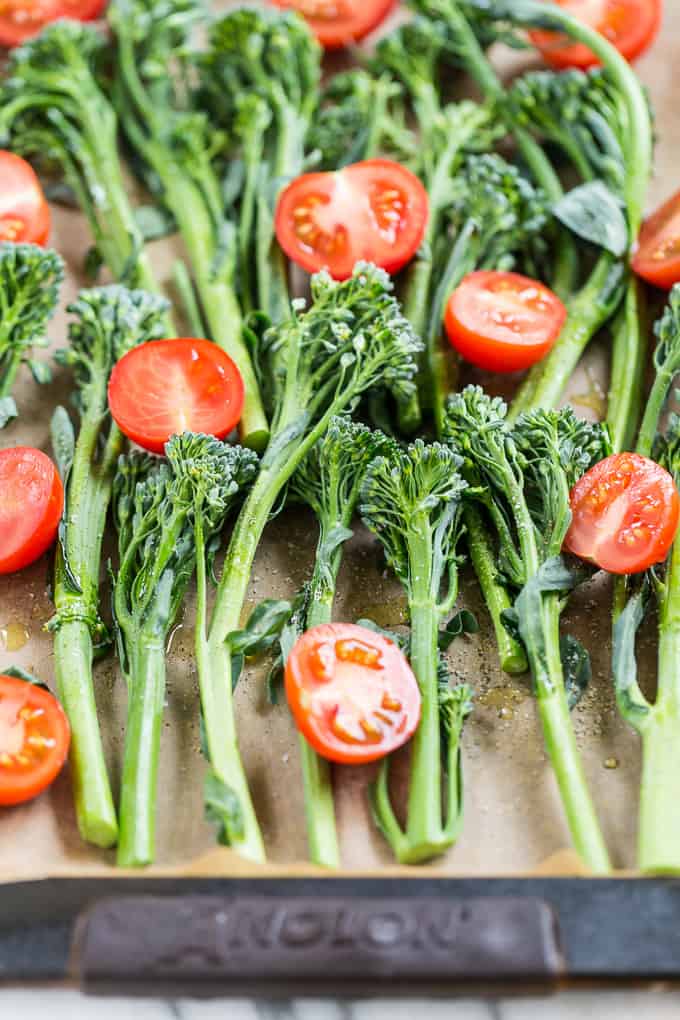 This dish comes together in a flash, so I like to have my ingredients prepped before I start cooking. The veggies get laid out on a tray, drizzled with olive oil, and sprinkled with salt and pepper. They can sit there all prepped like that until you're ready to go.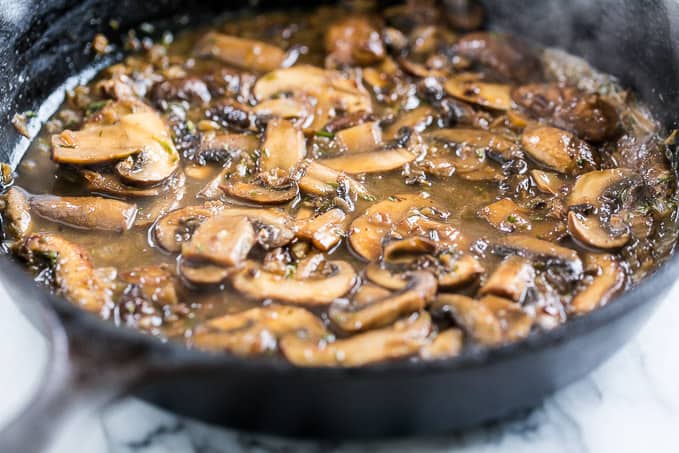 The quick mushroom pan sauce can be fully made and kept warm on a back burner while you sauté the fish (or chicken cutlet). Having everything prepped like this gives you the full control of how things are going to go instead of freaking out as your veggies or worse your fish overcook while you frantically try to juggle fish, veggies, and sauce at the same time! Not that I speak from experience or anything, but the real secret to having a gorgeous plate of restaurant quality food is being prepped ahead.
When everything is prepped, dinner comes together without stress – the sauce is just hanging out on the back burner keeping warm, the veggies roast away without you needing to do anything except monitor your fish on the stove top. When the fish is done, you simply assemble the plates and you're done – it's really that simple!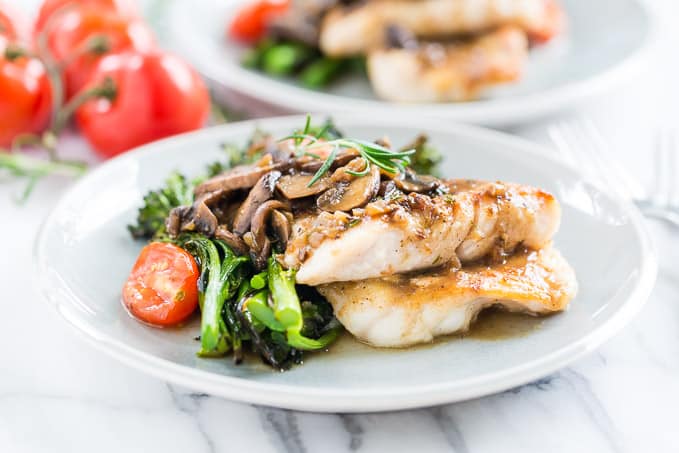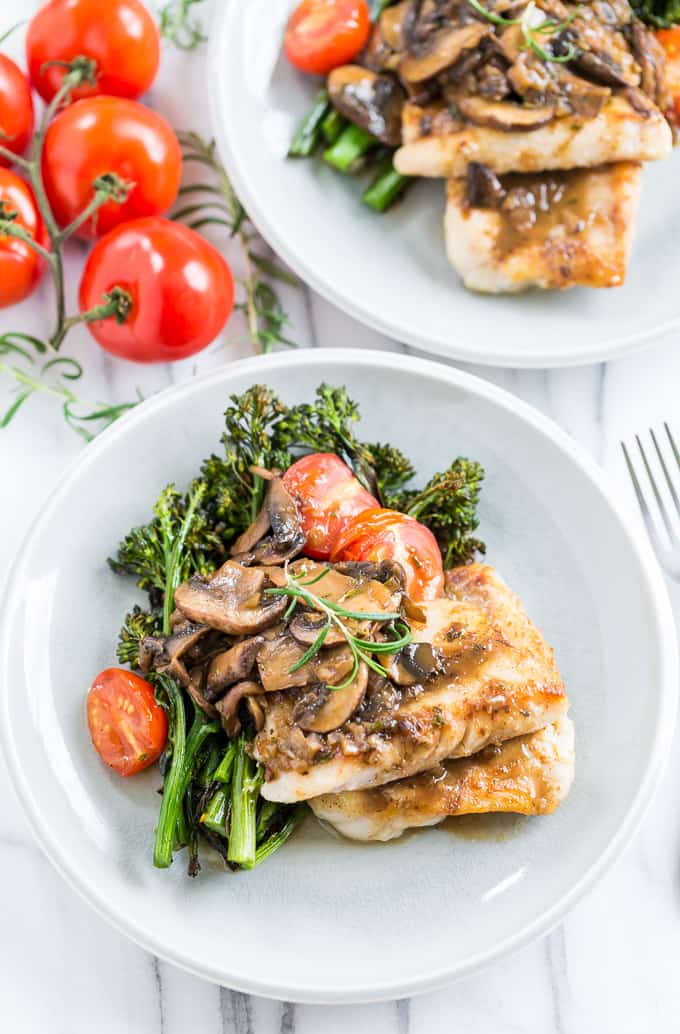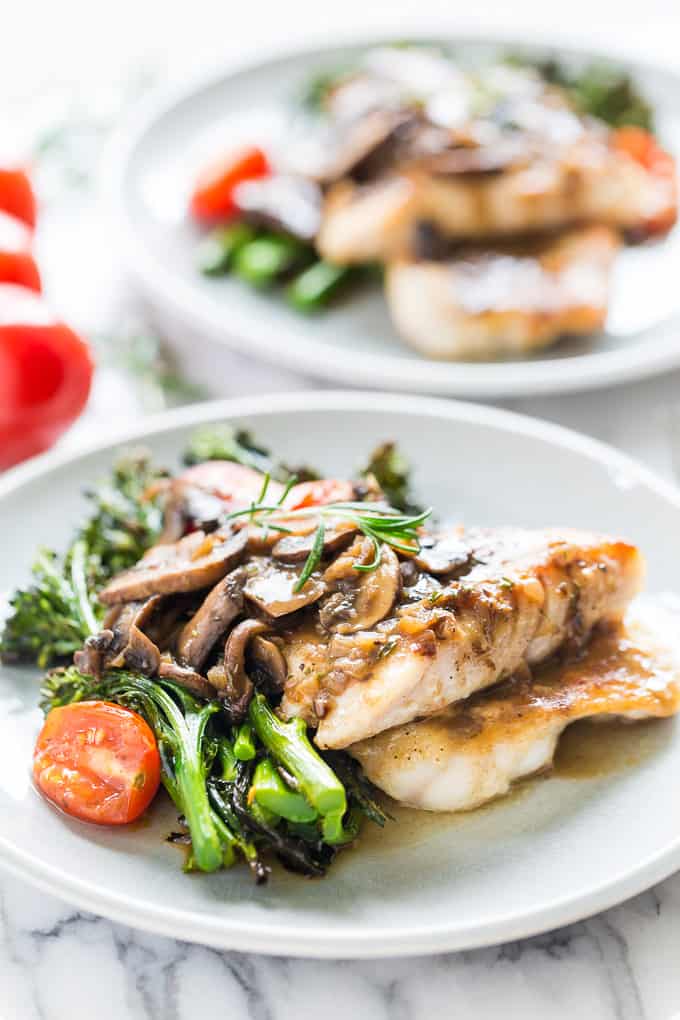 My final tip for restaurant worthy plates is to keep it simple. This dish only has 1 component that really brings the main flavor, and that's the mushroom pan sauce. By keeping it simple, the fish has a chance to shine only being enhanced by a simply sauce, and you have room to relax without having to make a main dish with complicated side dishes as well!
Note: If you're really not a fan of fish, (I would recommend trying rockfish if you haven't) you can make this with chicken cutlets. To make your own chicken cutlets, take a boneless, skinless chicken breast and cut it in half lengthwise which will give you 2 chicken cutlets. You can use the chicken like this or pound it flatter by placing it between 2 sheets of plastic wrap, and pounding it with a meat mallet.
Print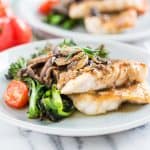 Pan Fried Rockfish with Quick Rosemary Mushroom Sauce and Broccolini
---
Roasted Veggies:
10

stems of broccolini, 8 ounces

6

small tomatoes, 8 ounces

1 Teaspoon

olive oil
sea salt and pepper to taste
Mushroom Pan Sauce:
12

cremini mushrooms, 8 ounces

1 Tablespoon

butter, or olive oil for dairy free

1

shallot, minced, 1/4 cup

2 Teaspoons

minced fresh rosemary

1/2 cup

white wine, or chicken stock
sea salt and pepper to taste

1

–

2

Teaspoons reserved flour mixture from fish
Pan fried Rockfish:
12 ounces

of rockfish for a 6 ounce serving each

2 Tablespoons

cassava flour, I used the Ottos brand

1/2 Teaspoon

sea salt

1/4 Teaspoon

black pepper
pinch of cayenne pepper

1/8 Teaspoon

garlic powder

1 Tablespoon

olive oil for pan frying
---
Instructions
Preheat the oven to 450ºF and line a baking sheet with parchment paper.
Cut the tomatoes in half and place them on the lined baking sheet with the broccolini. Drizzle with olive oil and season with sea salt and pepper. Set the veggies aside until you're done with the pan sauce.
Make the flour mixture for the fish by whisking together the cassava flour, sea salt, black pepper, cayenne, and garlic powder. Reserve 2 Teaspoons of this flour mixture on the side for thickening the mushroom sauce.
Thoroughly clean the mushrooms and thinly slice them.
Preheat a 9″ cast iron pan over medium heat, add the butter or olive oil and minced shallots. Sauté the shallots until translucent and lightly browned, about 3-4 minutes. Turn the heat up to medium high, add the minced rosemary and sliced mushrooms, sauté turning the mushrooms every 30-45 seconds when they've browned. When the mushrooms are tender, turn the heat back down to medium, and add the white wine. Simmer for 1-2 minutes and season to taste with salt and pepper. Thicken the sauce by stirring vigorously while sprinkling in 1 Teaspoon of the reserved flour mixture. If the sauce is still too thin, stir in the remaining teaspoon of reserved flour mixture. Set the sauce on a back burner over the lowest heat to keep it warm while you cook the fish and veggies.
Place the prepared veggies in the oven to roast until tender, about 12 minutes.
Preheat another 9″ cast iron skillet or nonstick skillet over medium heat. Rinse the fish thoroughly with water and pat the fillets dry with paper towels. When the veggies are halfway cooked, you're ready to start the fish.
Add the tablespoon of olive oil to the preheated pan, and dredge both sides of each fish fillet into the flour mixture you made earlier. Place the fillets into the pan and fry for 4-6 minutes per side, or until golden and the fish is beginning to flake apart. The timing will vary every time depending on the thickness of your fillets.
Serve by placing a fillet on each of the 2 plates, split the roasted veggies onto each plate, and top with the mushroom sauce.
Serve immediately.
Notes
If the mushroom sauce becomes too thick while you're finishing the fish and veggies, whisk in a little water or more white wine until the desired consistency is reached.
Prep Time:

20 mins

Cook Time:

20 mins