This is my new favorite breakfast on the go! It's packed with protein (15g per serving), really quick to make, and can be made year round with either fresh or frozen berries.
It doesn't hurt that there's peanut butter in there either, which makes everything so tasty. To be technically accurate, it's actually peanut butter powder which is really high in protein. This is a fairly new ingredient to me, and so far I'm loving it. It's a great way to get protein on the go, from busy mornings to road trips, it's been fun having such a tasty source of protein handy.
Peanut butter powder has way less fat in it than peanut butter. This isn't a really huge concern to me, but what interests me most is the high protein content. I'm all for healthy fats, and luckily peanut butter powder still has enough fat in it to make what I would call a balanced breakfast. If we're expecting to be burning tons of calories hiking in the mountains, I sometimes double up by using both peanut butter powder as well as some peanut butter.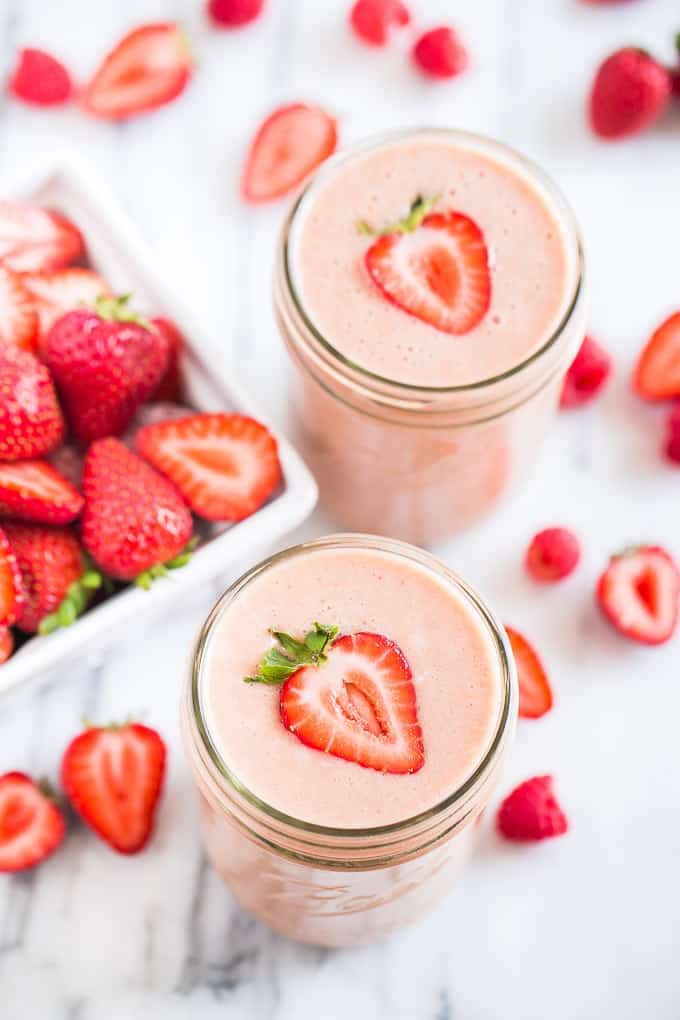 Nutritional reasons I love this smoothie:
A healthy dose of protein in the morning helps me feel my best.
Carbs and naturally occurring fruit sugars help provide that instant energy boost.
And finally a little fat from the peanut butter powder helps me stay full longer, and for long lasting energy.
Whoops, one more reason to love this – a couple servings of fruit to start the day helps me stay on track eating lots of fruits and veggies throughout the rest of the day.
Flavor reasons to love this smoothie, (because let's face it, healthy needs to taste really… really good!):
I love berry smoothies, so pretty much every combination a win for me.
Peanut butter makes the world go round, but in all seriousness it sure makes me think I'm having a milkshake for breakfast.
I used ice in this smoothie because I happened to have lots of fresh berries on hand, but if you're using frozen berries, you won't need the ice.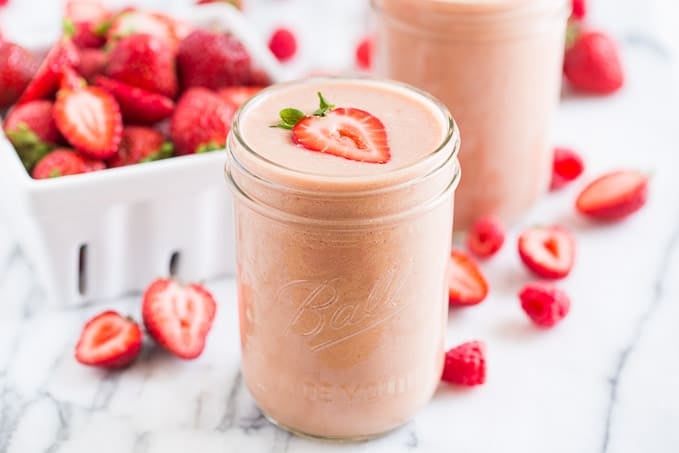 The funny thing is with this smoothie is that I don't even like peanut butter and jelly sandwiches, so you'd think I'd avoid the combo altogether. I got really burnt out on PBJ's somewhere around the 2nd grade, and I've been refusing to eat them ever since.
But it must just be something about the sandwich because I do love the peanut butter jelly combo in so many other ways, (including a PBJ cheesecake I had once, and really should recreate someday). So until we have cheesecake, I'll just keep drinking this healthy breakfast smoothie masquerading as a milkshake!
Print
Peanut Butter and Jelly Protein Smoothie
---
1 1/2 cups

whole strawberries, 5 ounces, raspberries are also great

2

ripe bananas, peeled

1/4 cup

peanut butter powder

1 Teaspoon

vanilla extract

1 cup

water

1

–

2

cups of ice, if you're using fresh berries
---
Instructions
Place all the ingredients in the order listed into a blender, breaking the bananas up into 2″ chunks. Secure the lid and blend starting on low and working up to high speed. Blend until smooth, and serve immediately for best flavor, or refrigerate and serve within 1 day.
Notes
I usually make this as 1 serving to have as a meal, but you can easily divide it into 2-3 servings for a smaller snack.
Nutrition
Serving Size:

1

Calories:

350

Fiber:

12g

Protein:

15g