3 Ingredient Peanut Butter Cookies are flourless cookies that are naturally gluten-free and dairy-free too. They're simple to stir together and have so much peanut butter flavor. They're easy to make and perfect warm right out of the oven. They're crispy crumbly with soft centers.
The recipe for 3-Ingredient Peanut Butter Cookies has been around for a really long time. I'm not sure anyone knows who the original author was, but they sure are delicious.
I found out about these amazing cookies when I was given a large recipe tin from my aunt. Inside was hundreds of recipes that have been floating around the state of Montana for over 50 years.
Amongst several gems, I found a recipe card titled 'Unbelievable Cookies'. So with a name like that I had to give them a try! They're basically peanut butter cookies made without flour and they have so much flavor.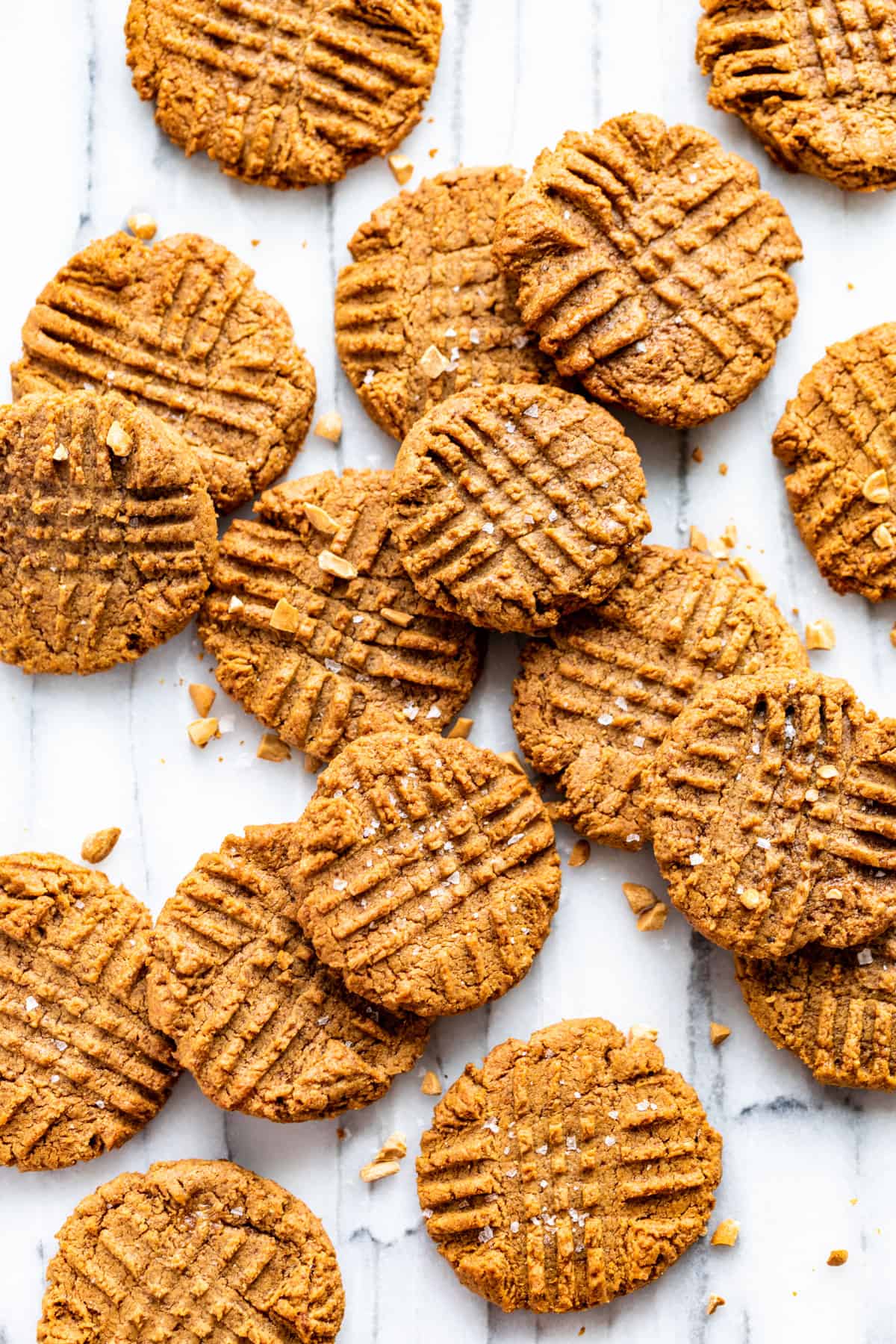 They turned out great of course, and we've been making them ever since. So I hope you will enjoy these super simple and incredibly flavorful cookies too!
Most recipes will recommend a creamy peanut butter (no stir) like Jiffy rather than natural peanut butter. But the cookies pictured here were made with natural peanut butter, they're just a little bit more crumbly.
Ingredients & Substitutions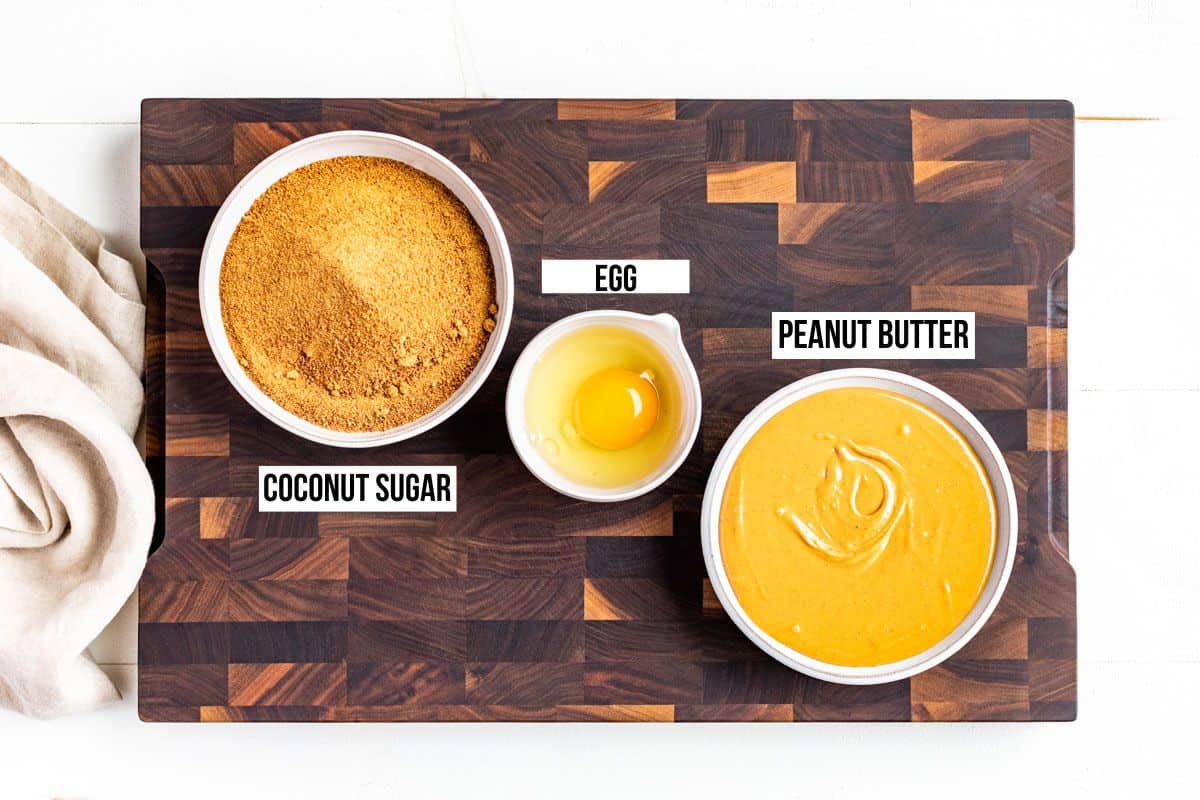 Peanut Butter – regular creamy peanut butter like Jiffy will give you the best texture. But I make these with natural organic peanut butter from Costco and we love them a bit crumbly, (it's also what's pictured here). If you can't have peanuts, you can use another nut butter, but the texture does vary with the different kinds.
Egg – works to bind the peanut butter together with the sugar and is essential for a good cookie texture.
Sugar – I like to use coconut sugar as a natural option, but regular cane sugar will give you a less crumbly cookie.
Salt – if you use natural peanut butter you'll need to add a bit of salt since it's unsalted. Your cookies will taste way better with a touch of salt, added or from the kind of peanut butter you use.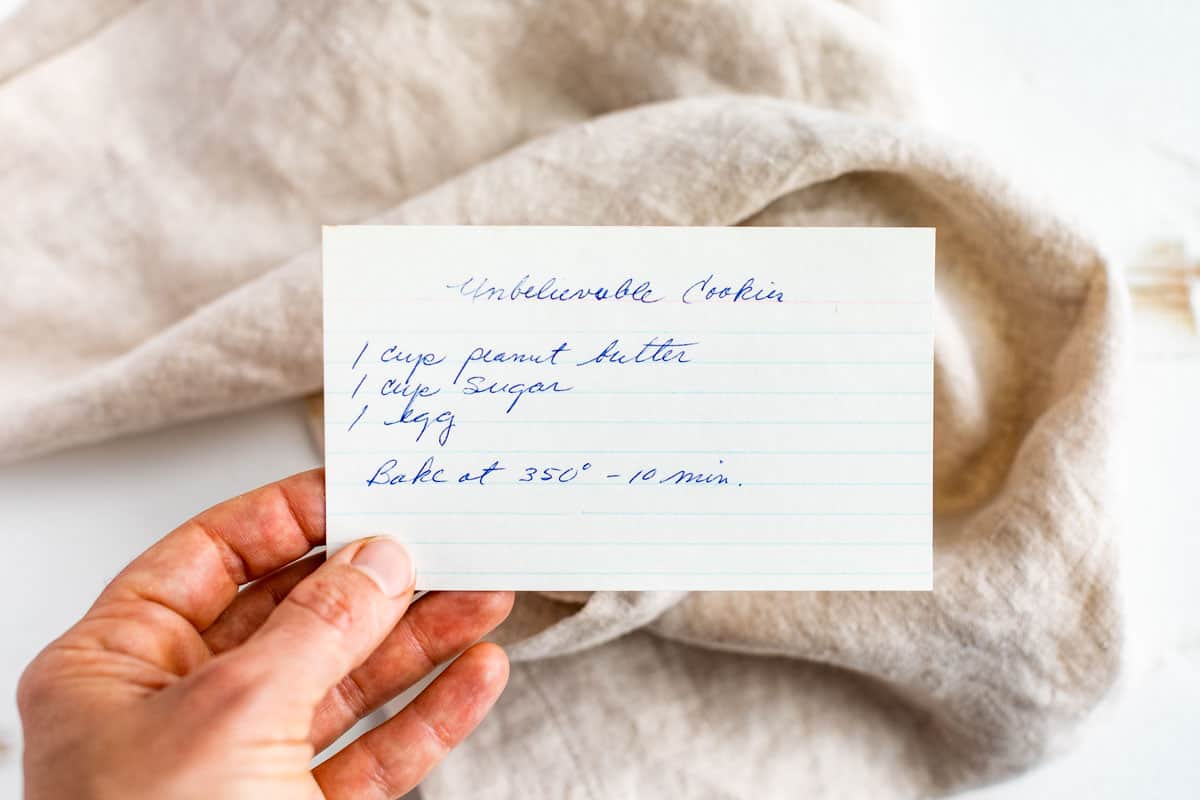 How to make these 3-Ingredient Peanut Butter Cookies recipe step by step
Step 1: Start by stirring together the peanut butter, coconut sugar, and egg together in a medium-sized bowl until completely combined. No need for an electric mixer with this cookie dough. A firm silicone spatula or wooden spoon works well.
You could also stir in some chocolate chips during this step if desired.
Step 2: Portion the cookie dough into dough balls as pictured with a cookie scoop or using 2 spoons onto a parchment paper-lined baking sheet.
Step 3: Flatten them with the back of a fork to make a crisscross pattern. These cookies don't spread, they bake up the same size as the cookie dough rounds.
Step 4: Bake until golden brown, crispy on the edges, and soft in the center, about 10-12 minutes. Let cool on the baking sheet until they firm up enough to transfer to a wire rack.
FAQ's
Why are my 3 Ingredient Peanut Butter Cookie falling apart?
2 reasons, first you need to wait for them to cool on the cookie sheet for a bit before trying to transfer them to a cooling rack. Secondly, if you make them too thin they will fall apart. If you're looking for a less crumbly cookie, try my Monster Cookies.
Why do you put fork marks on peanut butter cookies?
This slightly flattens the peanut butter cookie dough and allows these cookies to bake more evenly. They're also very traditional on peanut butter cookies and it's a visual signal they're peanut butter.
Storing leftovers
To store – you can store these cookies in an airtight container at room temperature for up to 3 days. They will get drier over time, so I recommend freezing them right away.
Make ahead – these can be made ahead and frozen for 2-4 weeks before use. They can be stored for longer but they do start to dry out in the freezer over longer periods of time.
Reheating – you can lightly warm these in a 150ºF oven for a few minutes or place them in a microwave.
To freeze – place any leftover cookies into an airtight container and freeze for up to 1 month for the best results.
Tips & Tricks
If you're looking for a cookie that doesn't crumble using natural peanut butter, try my Monster Cookies which are also flourless.
Natural peanut butter does work here as well as other nut and seed butter. However, each one will have a slightly different texture. The best texture in these cookies is with an unsweetened creamy peanut butter like your classic Jiffy. I use the natural organic peanut butter you get from Costco.
Also if you use cane sugar rather than coconut sugar your cookies will be less crumbly.
I like to use natural nut butter in these cookies, but it is more crumbly and you want to add 1/4 tsp sea salt to the cookie dough or sprinkle them with flaked sea salt since natural peanut butter doesn't have salt.
Be sure to check out the notes in the recipe card! The original recipe calls for 1:1:1 of the 3 ingredients, but I've found these cookies work perfectly with 3/4 cup of sugar. The original recipe is a bit too sweet for us!
Dietary Options & Substitutions
Paleo – try these with almond butter or cashew butter. The texture will be different and the cookies do tend to spread more, especially with almond butter.
Vegan or Vegetarian – Try using a flax egg, the cookies will be more crumbly.
More Cookie Recipe Inspiration
I really hope you enjoy these 3 Ingredients Peanut Butter Cookies! If you do get a chance to make this recipe, I'd love to hear from you in the comments.
3 Ingredient Peanut Butter Cookies
---
INGREDIENTS
1

cup

peanut butter

-

unsweetened, see notes, I used a natural brand

3/4

cup

coconut sugar

-

The original recipe calls for 1 cup, but we find 3/4 cup to be plenty sweet

1

egg

1/4

teaspoon

sea salt

-

use only if your peanut butter doesn't contain salt
INSTRUCTIONS
Preheat the oven to 350F.

Place all ingredients in a medium sized bowl, and mix until combined.

Portion out the cookie dough with a cookie scoop (#40) onto parchment lined baking sheets.

Lightly flatten each cookie dough ball with the back of a fork to create criss-cross marks on the tops of the cookies.

Bake for about 10 minutes. The cookies are done when they start to turn golden brown, but are still soft in the middle.

Let the cookies cool for a few minutes on the baking sheet until they are firm enough to move to a wire rack to cool completely.
Bonus Step
If you made this recipe, please leave a rating/comment. Ratings really help us continue to bring you high-quality free recipes. Rate This Recipe!
NOTES
Your cookies will be less crumbly if you use a no stir peanut butter and regular cane sugar.
If you're using natural peanut butter, be sure to stir it well to make sure the oil is combined. Also you'll need to add 1/4 tsp of salt or to taste since natural peanut butter doesn't have any salt.
nutrition facts
Serving:
1
cookie
|
Calories:
125
kcal
|
Carbohydrates:
10
g
|
Protein:
4
g
|
Fat:
9
g
|
Saturated Fat:
2
g
|
Polyunsaturated Fat:
2
g
|
Monounsaturated Fat:
4
g
|
Trans Fat:
0.001
g
|
Cholesterol:
10
mg
|
Sodium:
124
mg
|
Potassium:
95
mg
|
Fiber:
1
g
|
Sugar:
7
g
|
Vitamin A:
15
IU
|
Calcium:
9
mg
|
Iron:
0.3
mg