Chocolate and peanut butter are a classic combo that never gets old, and it's extra tasty in these Peanut Butter Granola Bars drizzled with melty chocolate and sprinkled with flaked sea salt. This granola bar recipe is naturally gluten-free and dairy-free, you'll also find my vegan suggestions below. They're simple to make with healthy ingredients and store well too.
The thing that makes these Peanut Butter Granola Bars extra tasty is the toasted oats. I got the idea from a peanut butter cookie recipe a friend sent me.
From there I tinkered with her recipe a bit to make them into these granola bars. They turned out so tasty and I love how well they keep in the freezer too.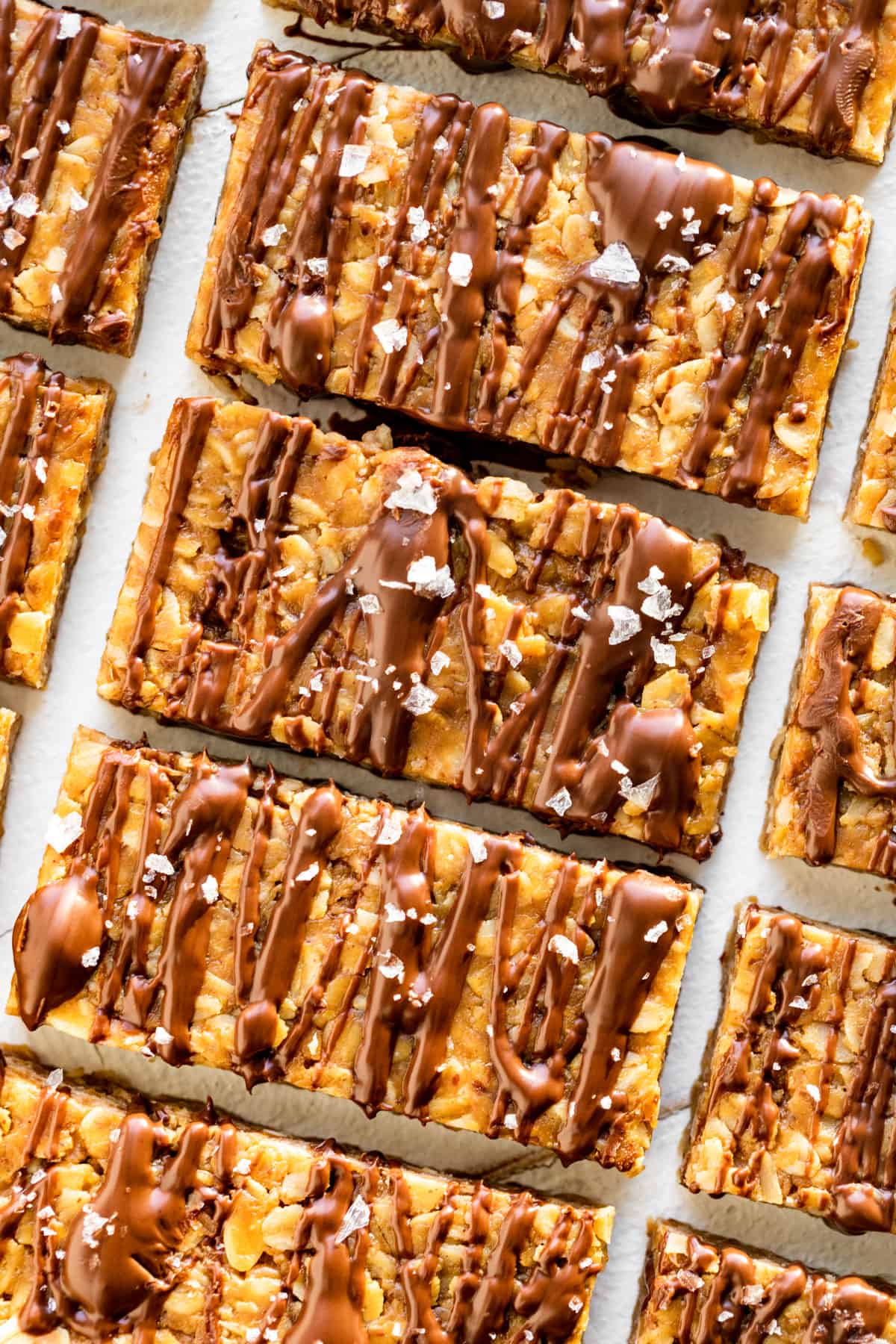 Ingredients & Substitutions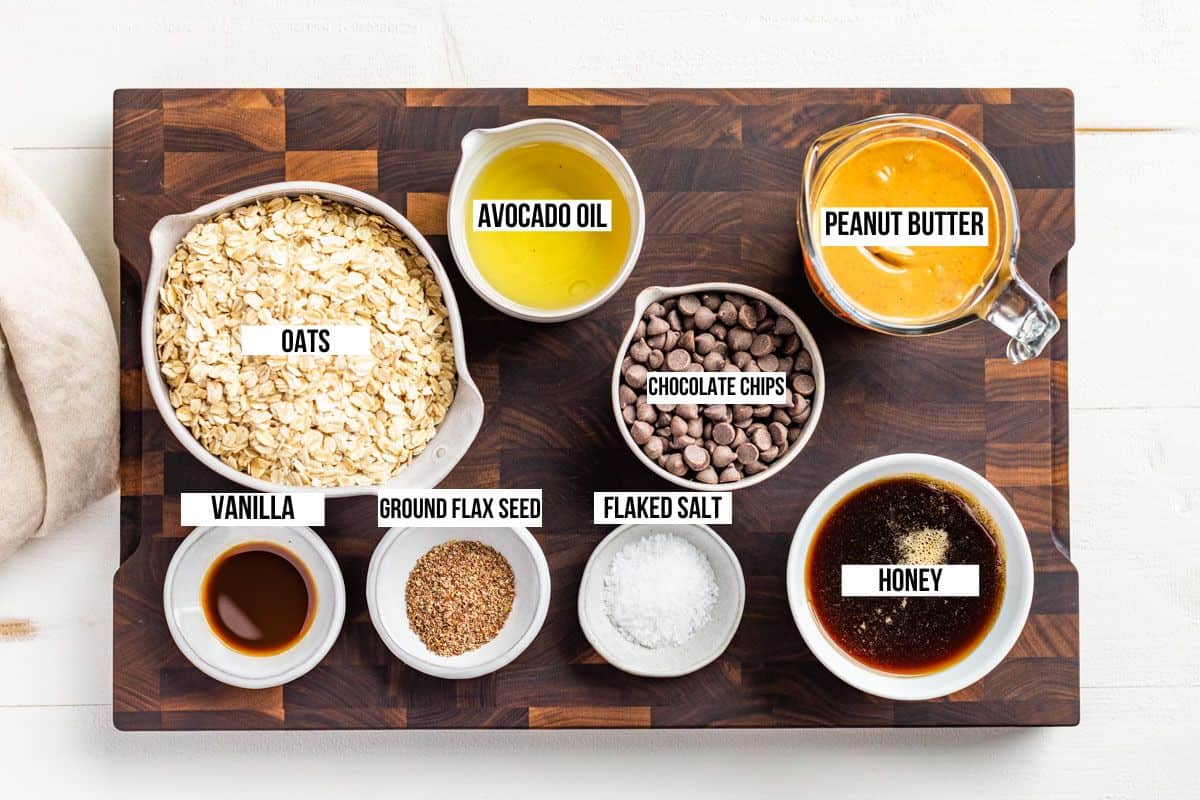 Oats – make up the base of these granola bars, but they're extra tasty because they get toasted first. Regular rolled oats are what you want for this recipe. If you're gluten-free, check the label to ensure your oats are certified gluten-free. Bob's Red Mill makes gluten-free rolled oats and it's labeled right on the front of the bag.
Ground flax – holds these granola bars together a little better and adds fiber and Omega 3's. The original recipe I posted called for whole flax seeds that you lightly toast. However, I've found ground flax seeds to be easier to use in this recipe!
Honey – is the perfect pairing with peanut butter, but you could also try maple syrup or agave nectar as well.
Peanut Butter – is my favorite flavor for these bars, but you can use almond butter or cashew butter if you can't have peanuts.
Avocado oil – or any other neutrally flavored oil works here. You can even use melted butter.
Vanilla – rounds out this recipe and deepens the peanut butter and chocolate flavors.
Chocolate Chips – get melted together with a touch of avocado oil to make the perfect chocolate drizzle over the peanut butter granola bars.
Flaked Sea Salt – can be left out, but it's so good sprinkled over the chocolate drizzle and really makes the flavors pop.
How to make this recipe step by step
Step 1: Start by toasting the oats until they're golden brown. Then set them aside to cool on a wire rack.
Step 2: Meanwhile melt the honey in a large pot/pan and add the peanut butter, avocado oil, and vanilla extract stirring to completely combine.
You want the mixture to be hot, but you don't need to boil it like no bake cookies.
Step 3: Add the oats when they're room temperature or barely warm to the peanut butter mixture.
Step 4: Stir to completely combine the oats with the peanut butter mixture.
The mixture will be very thick.
Step 5: Line a half-sized cookie sheet with parchment paper and firmly pat the peanut butter oat mixture into the pan.
You can also use a regular-sized cookie sheet and pat the mixture only halfway across the cookie sheet. Spread the mixture is the thickness you want your granola bars to be.
Let the bars set at room temperature for 30+ minutes or pop them in the fridge to firm them up before cutting and drizzling with chocolate.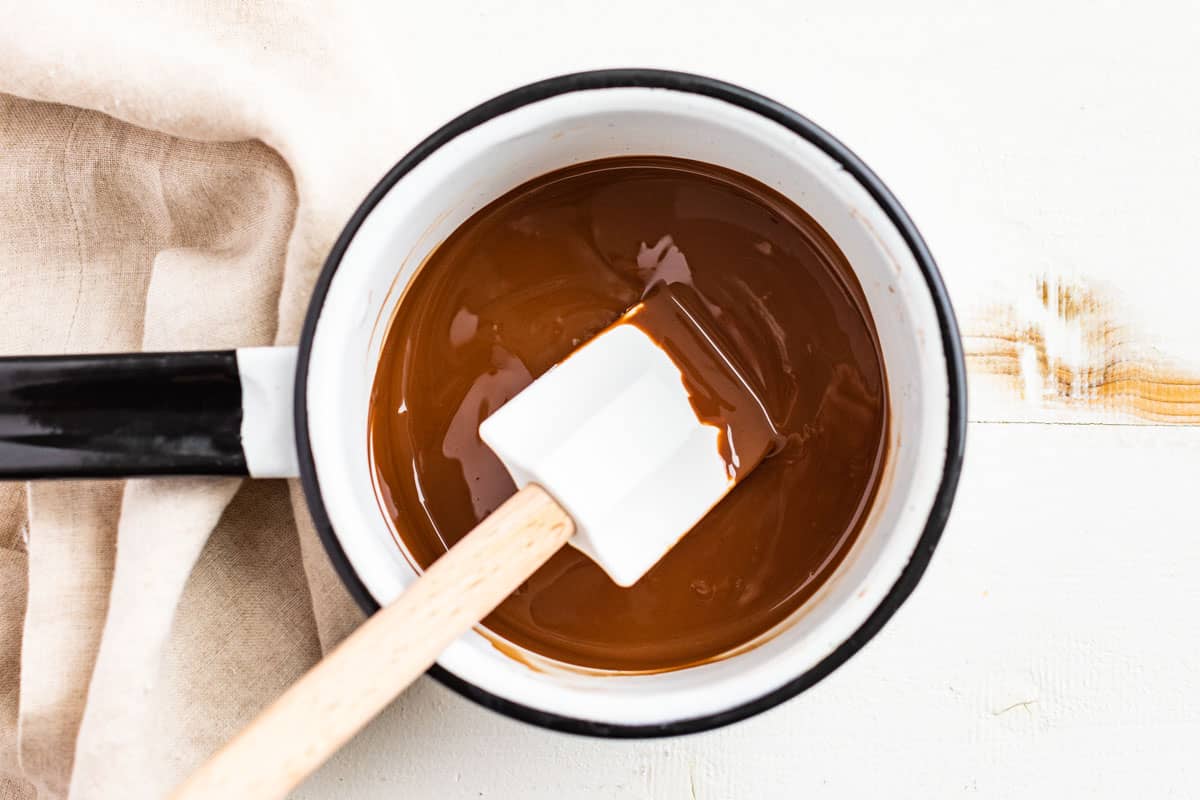 Step 6: If you're using the chocolate drizzle, melt the chocolate chips together with the avocado oil over very low heat until just melted.
Step 7: When the bars are firm, cut them into your desired sizes. I cut mine into 1.5″x3″ bars for a total of 24 bars.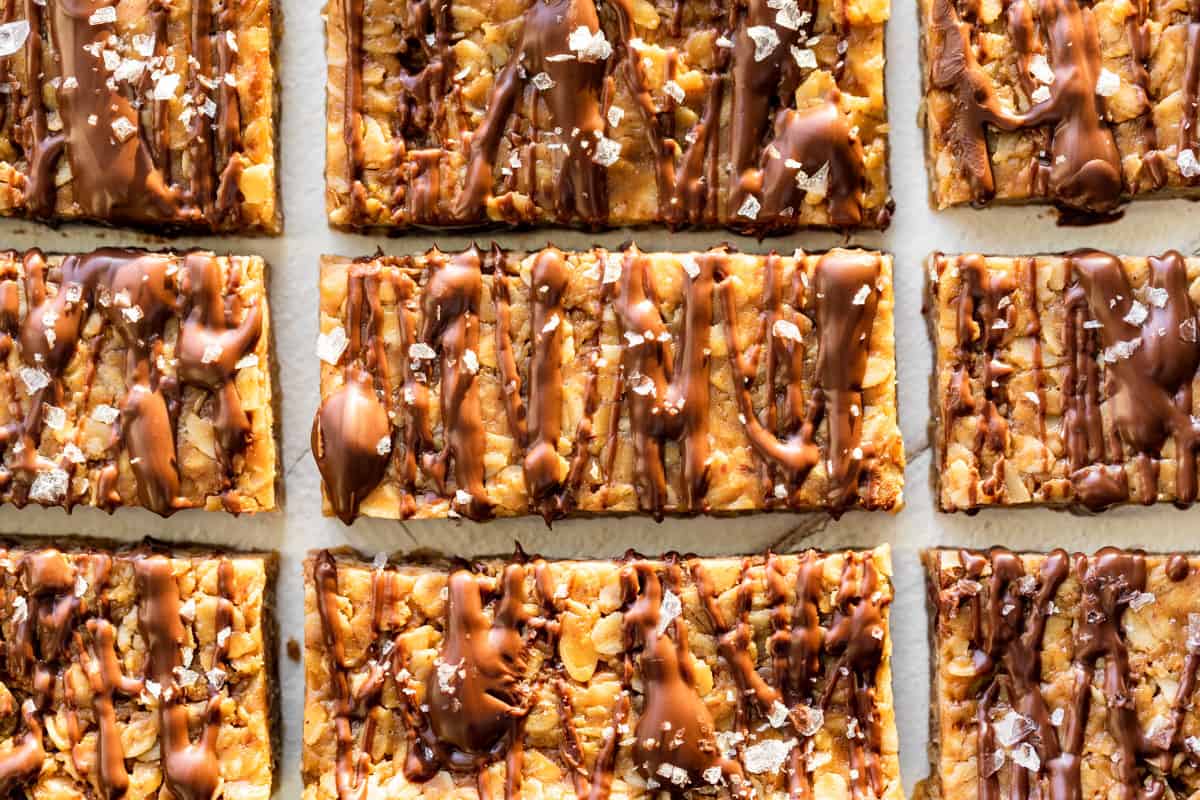 Step 8: Drizzle the bars with chocolate and let the chocolate set up partially before sprinkling with flaked sea salt.
Ways to serve this
As a snack any time of the day!
Cut these into squares and serve them for dessert, they're rich enough and everyone loves the chocolate peanut butter combo.
You can also serve the peanut butter oat mixture warm right out of the pan in dollops like a no-bake cookie and top it with your choice of vanilla ice cream or chocolate ice cream.
FAQ's
Are granola bars healthy?
Many brands of granola bars aren't very healthy, they're basically candy bars chock full of sugar. The good news is they're easy to make yourself with healthy ingredients and natural sweeteners like honey.
What can I use in place of peanut butter?
You can use any nut butter you like instead of peanut butter for this recipe. However different kinds of nut butter vary slightly in texture, so if the bars are too soft, you may need to add a few more oats.
Storing leftovers
To store – when the chocolate drizzle has been set up, store the bars in an airtight container and refrigerate for up to 2 weeks. They get drier over time, so I suggest storing them in the freezer. From there you can pull out a few at a time to keep on hand in the fridge.
Make ahead – these are the perfect make-ahead recipe because they keep so well in the freezer. Consider adding them to your meal prep to have on hand for quick snacks or a treat.
To freeze – these freeze beautifully! When the chocolate drizzle has been set up, transfer them to an airtight container and freeze them for up to 6 weeks. You can also place these in the freezer to quickly firm up the chocolate before placing them into your container.
Tips & Tricks
Don't skip toasting the oats, it adds incredible flavor and texture!
Keep a close eye on the oats in the oven so they don't burn.
You can also spread the chocolate mixture over the bars to create a 'frosting' if you want to serve these as desserts. That's what I did in my original recipe, but I've switched over to a chocolate drizzle for a bit less sugar. That way these granola bars are a bit healthier, but they don't sacrifice flavor.
Dietary Options & Substitutions
Dairy-free – These granola bars are naturally dairy free as long as you use dairy-free chocolate chips like Enjoy Life.
Paleo – There isn't a good substitute for oats in these bars, so I recommend trying my Almond Butter Chocolate Chip Energy Bites instead. You can form that mixture into bars rather than bites if desired.
Vegan or Vegetarian – Swap the honey for your choice of maple syrup or agave nectar and use vegan chocolate chips.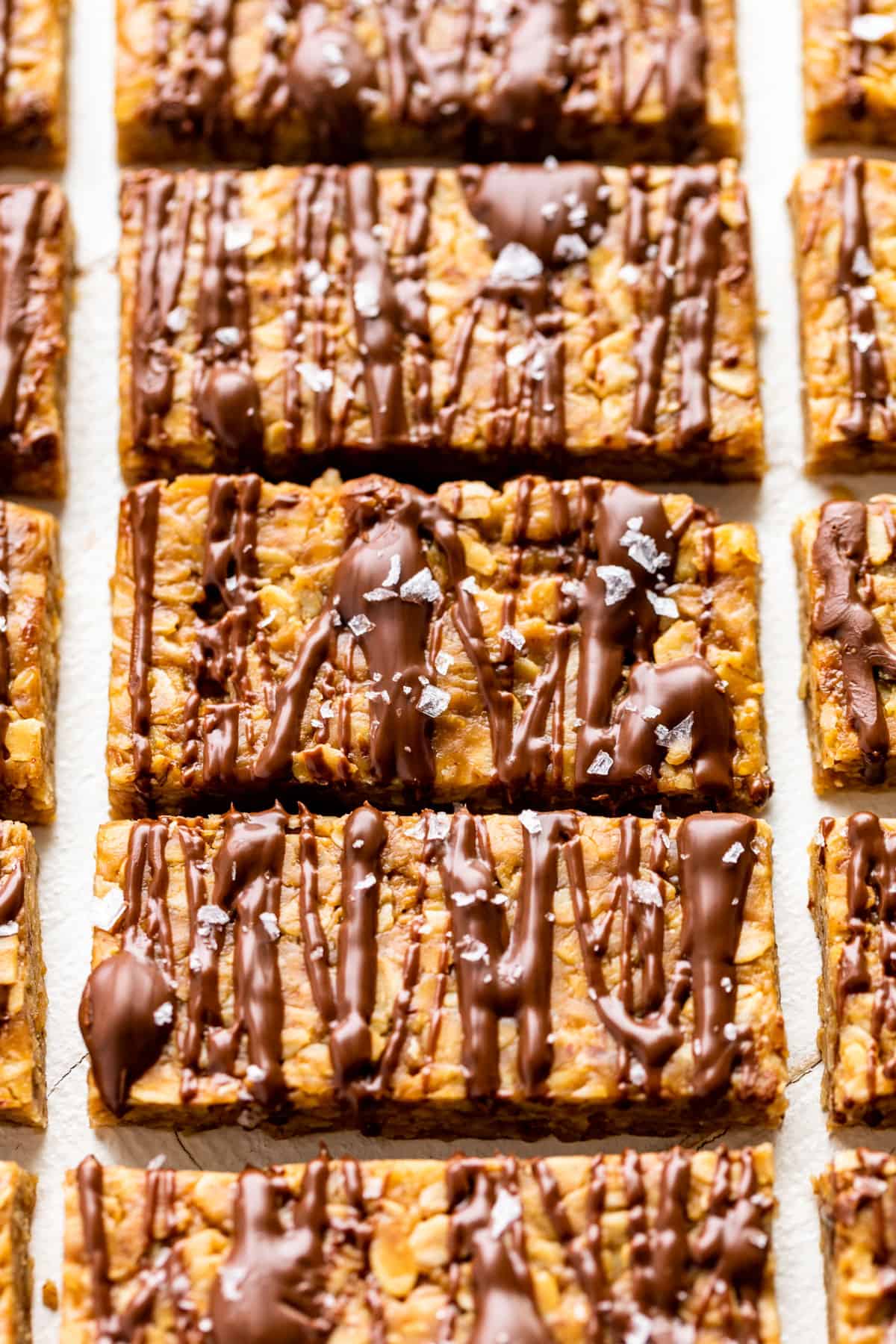 More Healthy Snack Recipe Inspiration
I really hope you enjoy these Peanut Butter Granola Bars! If you get a chance to make this recipe, I'd love to hear from you in the comments.
Peanut Butter Granola Bars
---
INGREDIENTS
The Dry Ingredients:
3

cups

old fashioned oats

1

tbsp

ground flax seeds
The Wet Ingredients:
1 1/4

cups

peanut butter

-

no added salt or sugar

1/4

cup

avocado oil

2/3

cup

honey

-

maple syrup, or agave

1

tbsp

vanilla extract
Salted Chocolate Frosting:
1/3

cup

chocolate chips

-

(I use Enjoy Life)

1

tsp

avocado oil

Flaked sea salt for sprinkling over the top of the frosted bars
INSTRUCTIONS
Preheat the oven to 350ºF.

Spread the oats evenly over a cookie sheet and toast for 10-15 minutes or until lightly golden. Stir the oats halfway through the cooking time to make sure they toast evenly.

Let the oats cool for 10-15 minutes.

Next, combine the wet ingredients on the stove top in a large pot over medium heat until hot, but not boiling.

Spread the mixture evenly over a parchment lined half size cookie sheet (or spread the mixture halfway down a regular cookie sheet). Let the granola bars set up at room temperature for a couple of hours or refrigerate to firm up faster.

While the granola bars set up, melt the chocolate chips together with the teaspoon of avocado oil over low heat stirring constantly.

Cut the granola bars into 1.5"x3" bars for a total of 24 bars.

Drizzle the melted chocolate over the granola bars. Let the chocolate set up partially, then sprinkle with sea salt.

Let the granola bars set up fully at room temperature or in the refrigerator before stacking together in a container.
Bonus Step
If you made this recipe, please leave a rating/comment. Ratings really help us continue to bring you high-quality free recipes. Rate This Recipe!
NOTES
Store the granola bars for up to 1 week in the fridge or 3 months in the freezer.
nutrition facts
Serving:
1
bar
|
Calories:
185
kcal
|
Carbohydrates:
19
g
|
Protein:
4
g
|
Fat:
11
g
|
Saturated Fat:
2
g
|
Polyunsaturated Fat:
2
g
|
Monounsaturated Fat:
5
g
|
Sodium:
3
mg
|
Potassium:
127
mg
|
Fiber:
2
g
|
Sugar:
11
g
|
Vitamin C:
0.05
mg
|
Calcium:
15
mg
|
Iron:
1
mg