This Pineapple Orange Banana Smoothie was inspired by my favorite flavor of juice from childhood. It's hard to get enough of this tasty combination and it's not surprising that kids absolutely love this one!
Pineapple Orange Banana was my favorite flavor of juice when I was a kid. But these days we're more nutrition savvy, and juice is no longer the breakfast staple it once was. Enter the smoothie… complete with all the fiber, and packed with vitamins and minerals!
I don't have anything against juice necessarily, it is rather tasty. But now that I know there are better options, I tend to steer clear of it (except for fresh pressed juices). Regular store bought juice is essentially liquid fruit sugar. And because it's been pasteurized you're missing a lot of the live enzymes, along with the vitamins and minerals.
The great thing about smoothies is they're so much easier to make than making your own juice first thing in the morning. We try to make a couple of green juices at home every week. But I always rely on smoothies to get plenty of fruits & veggies from day to day.
So if you're not feeling like a green smoothie first thing, give this one a try. The tropical flavor is bound to pick up your winter blues! Although I do like to make this recipe sometimes with a green spin on it.
First up you make the recipe as written. Then pour out half, and blend the remaining half with however much spinach or kale you like. That way you end up with a fruit smoothie and green smoothie!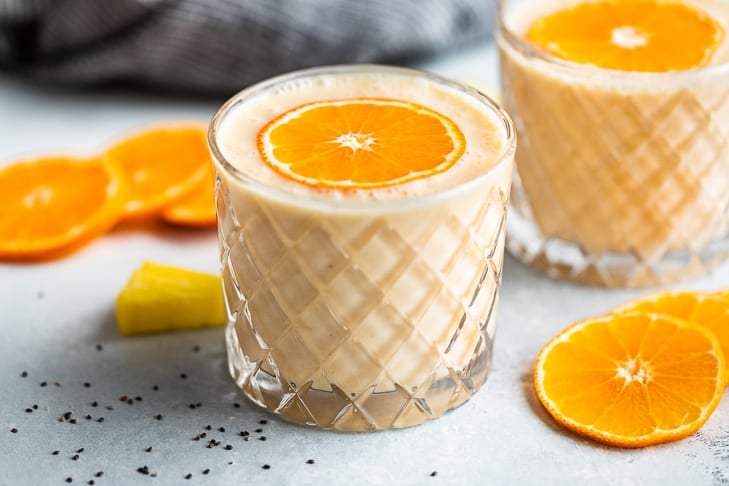 Let's talk about the ingredients for this Pineapple Orange Banana Smoothie!
Pineapple – Fresh or frozen works best here, although I have used canned pineapple chunks once which were ok but I definitely don't recommend them as a great option.
Orange – Whatever is most flavorful is what I'd recommend here from the classic navel oranges to Cara Cara and Mandarins/tangerines are great too!
Banana – Again fresh or frozen works great here.
Yogurt – Any yogurt you love will work in this recipe. I go back and forth between Greek yogurt and coconut yogurt.
Extras – A touch of vanilla is delicious and blending in a few handfuls of spinach or kale makes this a super tasty green smoothie! Also check out my Superfood Smoothies for more ideas about what you can add to your smoothie. Another favorite of mine is to add any type of protein powder you like, I usually go with a couple scoops of collagen powder.
And finally for some more favorite smoothie recipe inspiration!
And for even more recipe inspiration, head over to the smoothie section of our recipe index! I sure hope you get a chance to make this smoothie soon. And if you do, I hope you'll leave me a comment/rating below. I always love hearing from you here in the comments. And also over on Instagram where you can tag me at #getinspiredeveryday with your photos!
Print
Pineapple Orange Banana Smoothie
---
Description
A classic fruity smoothie combo that tastes like the tropics and is perfect for the winter months!
---
1 pound of fresh or frozen pineapple chunks, about 3 1/2 cups
2 large bananas, peeled, fresh or frozen
1 large orange, peeled and quartered weighing 12 ounces
1 cup either coconut yogurt (for vegan & dairy free) greek yogurt, or canned coconut milk
1–2 cups ice cubes, use if none of your fruit is frozen
Optional: 1-2 teaspoons vanilla extract
---
Prep Time:

15 mins

Category:

Smoothie

Method:

Blending

Cuisine:

American
Keywords: Pineapple Banana Smoothie, Orange Banana Smoothie, Pineapple Orange Smoothie
This post was originally published in 2015, but has been updated to include new information and photos in 2021!