Packed with fresh flavor and easy to make, this Grapefruit Green Smoothie is a hit with kids as well. The pineapple and grapefruit create the perfect amount of flavor to 'mask' the greens making this an easy way to add more fresh fruits and veggies. It's naturally dairy-free and there's no banana in this one either, just a touch of avocado for creaminess!
True story… I have gone through 30 pounds of grapefruit making this smoothie every day for a few weeks. It's really that good! And just like most of my green smoothies, this one came around by chance.
I was getting low on groceries, but I still really wanted to make a green smoothie. I've been craving all things super fresh lately. So I used what I had on hand, even though I thought it might be a strange combo.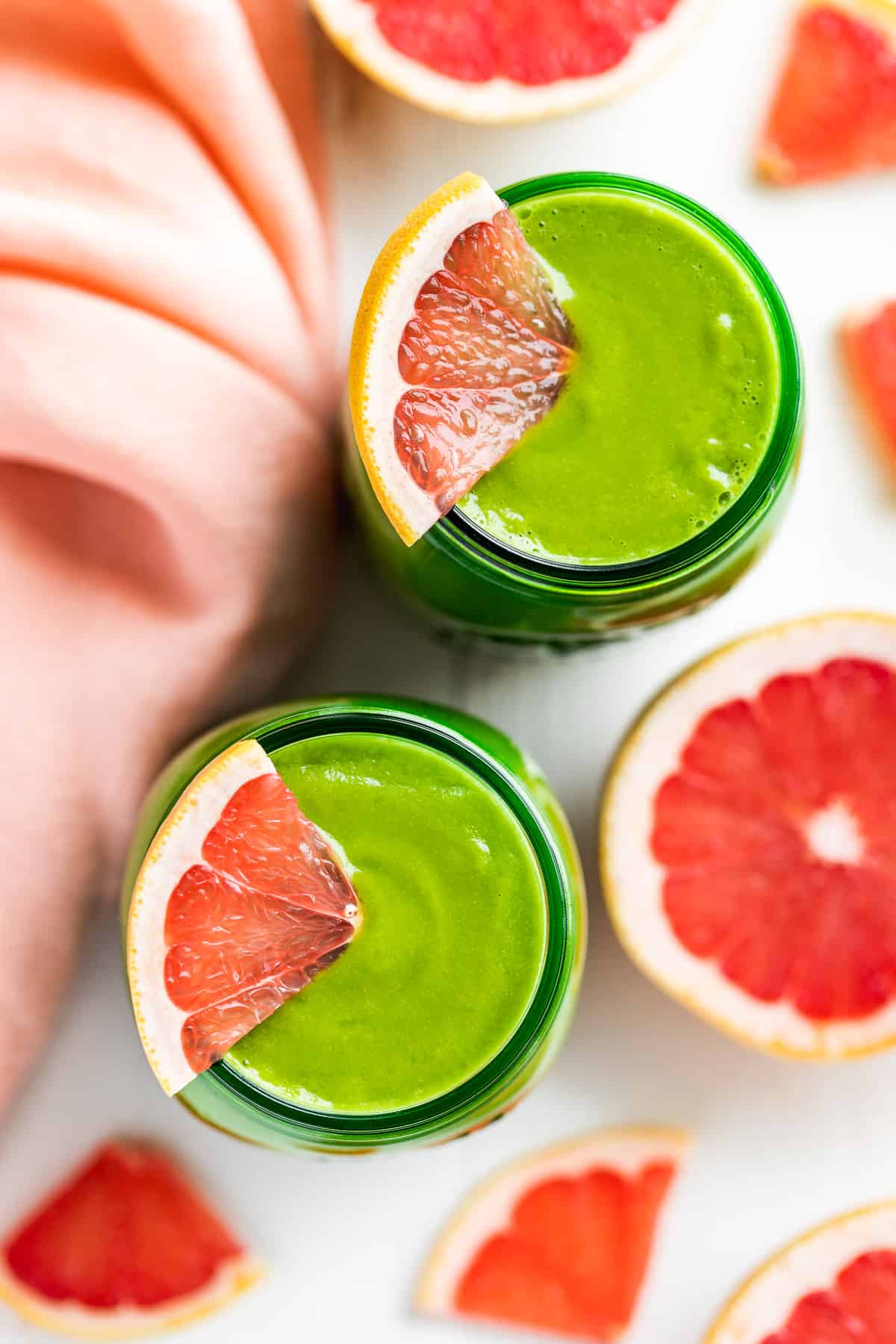 It turns out pineapple and grapefruit is a great combination and my new favorite. Both pineapple and grapefruit are really awesome at cutting through any green flavor. Now lets jump right in and make this step by step!
Ingredients & Substitutions
Pineapple – frozen works best here so your smoothie stays cold and creamy. You can use fresh, but I would recommend adding some ice in that case.
Grapefruit – Is full of Vitamin C and antioxidants! I juice them using the glass juicer you'll see in the photo below. But you can also use fresh grapefruit juice from the store. The advantage of juicing your own is you get way more pulp and fiber. I use pink grapefruit also known as ruby red grapefruit, but any grapefruit or citrus fruits like oranges, mandarins, etc. works here.
Avocado – adds both creaminess and a healthy fat to the mix in this smoothie. You can also use a 1/2-1 cup Greek yogurt here in place of avocado. Or any dairy-free yogurt works.
Spinach – is my preferred green in this green smoothie but you can use kale (to taste, it's much stronger) if you'd like.
How to make this Grapefruit Green Smoothie recipe step by step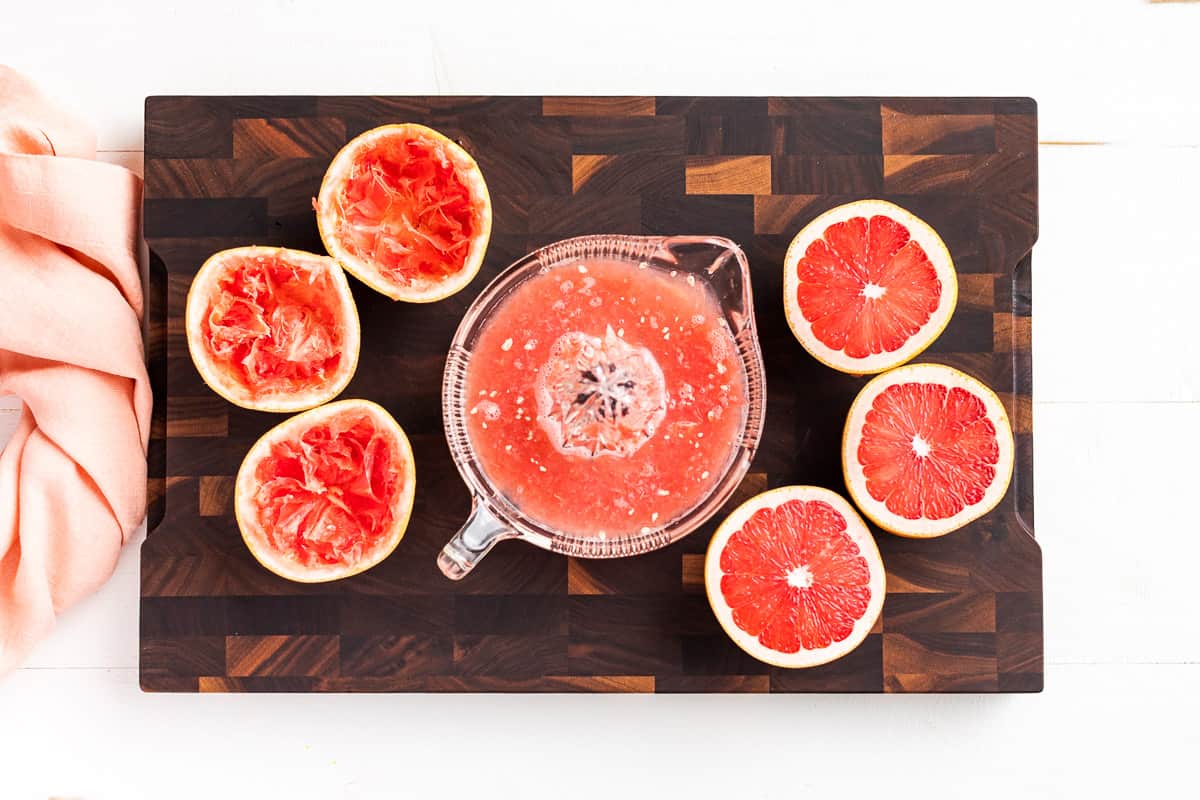 Step 1: Start by cutting the grapefruits in half and juicing them with a reamer. I recommend the ones like the above photo rather than the hand-held wooden ones because they're easier and faster.
Step 2: Add the frozen pineapple, grapefruit juice, avocado, and fresh spinach to a high-powered blender.
Step 3: Blend until smooth and enjoy right away for the best flavor.
FAQ's
Can I add protein powder to this smoothie?
Yes! You can add any protein powder you like the flavor of that is on the neutral side. For example, you wouldn't want to add a chocolate protein powder here, but vanilla or plain would work well. I like to add Hawaiian spirulina to this smoothie.
Can I add a superfood to this smoothie?
I like to add Hawaiian spirulina to this smoothie. But barely grass juice powder or a sprinkle of bee pollen on top would be good as well. You can also add chia seeds or ground flax for added fiber. For more inspiration, check out my Superfood Smoothie Boosters post.
Are green smoothies good for weight loss?
Yes, they can be, and this is a common question! I have seen this play out 2 ways, I personally have lost weight drinking green smoothies. I've seen others that were looking to gain weight and be able to with green smoothies. By adding more fruits and veggies to your diet it can change your body composition for the better! (Not medical advice just anecdotal observations.)
Storing leftovers
To store – this smoothie is best right away but can be refrigerated for 4 hours or so.
Make ahead – have your greens washed and you can even juice the grapefruit the night before. That way you can make this smoothie in under 5 minutes.
To freeze – try making this recipe in a Freezer Smoothie Pack. Leave out the grapefruit juice and add it in fresh when you go to blend your smoothie. Also, you might need a bit more liquid when more ingredients are frozen.
More green smoothie recipe inspiration
I really hope you enjoy this Grapefruit Green Smoothie! If you do get a chance to make this recipe, I'd love to hear from you in the comments.
Grapefruit Green Smoothie
---
INGREDIENTS
4

cups

fresh pineapple chunks

-

1 1/4 pounds

3

grapefruit

-

about 2 1/2 pounds

1/2

ripe avocado

-

peeled and pitted

4

cups

washed baby spinach

-

4 ounces
INSTRUCTIONS
Place the pineapple chunks into a high powered blender.

Cut the grapefruits in half and juice them, discarding any large seeds. You will have about 1 1/2-2 cups average.

Pour the grapefruit juice over the pineapple, then add the avocado and spinach.

Blend until completely smooth.

Serve immediately for best flavor. This smoothie keeps well for up to 24 hours, so you can easily make it the night before and take it to work.
Bonus Step
If you made this recipe, please leave a rating/comment. Ratings really help us continue to bring you high-quality free recipes. Rate This Recipe!
NOTES
1-2 small slices of fresh ginger are really tasty in this smoothie.
You don't have to use the avocado in this smoothie but I like to use it for 2 reasons. The first being that healthy fats help you absorb nutrients better, and the second reason is that it helps the smoothie to keep for a few hours if necessary. Without the avocado the greens start to oxidize, and the flavor isn't as good after 1-2 hours.
You can also sub in 1-2 cups orange juice to taste in place of the grapefruit juice.
nutrition facts
Calories:
140
kcal
|
Carbohydrates:
30
g
|
Protein:
2
g
|
Fat:
3
g
|
Saturated Fat:
0.4
g
|
Polyunsaturated Fat:
0.4
g
|
Monounsaturated Fat:
2
g
|
Sodium:
18
mg
|
Potassium:
486
mg
|
Fiber:
5
g
|
Sugar:
20
g
|
Vitamin A:
3436
IU
|
Vitamin C:
100
mg
|
Calcium:
64
mg
|
Iron:
1
mg
This recipe was originally published in 2016, but has been updated with nutritional information, tips, and new photos in 2022.