Fluffy and perfectly spiced, these Almond Flour Pumpkin Muffins are everything I love about fall baking! Your house will smell incredible the minute you have these baking. And I guarantee they won't last very long once they're done. They're gluten-free, grain-free, and paleo as well as dairy-free when you use the avocado oil option. They freeze nicely which makes them great to make ahead for grab-and-go breakfasts or snacks.
Sunshine on crisp fall mornings is one of my favorite things. The temperatures drop, and the leaves start turning color. Best of all, I turn my oven back on and start baking again after a summer filled with all things grilled! Weekend mornings become filled with yummy baked goods and fresh hot coffee.
I love the smell of cinnamon baked deliciousness wafting through the house when these muffins are in the oven. And there's nothing like pumpkin and spice that says fall in quite the same way.
These muffins are the definition of perfectly moist, (if I'm allowed to say that word) topped with cinnamon pecan streusel and lightly glazed. The inside is all soft yet slightly springy, which is the perfect contrast to the crunchy topping.
Ingredients & Substitutions
Almond Flour – is the perfect gluten-free flour that's also paleo-friendly. It adds the perfect amount of moisture to these muffins as well.
Tapioca Starch – combined with the almond flour is what gives you the perfect fluffy muffin texture.
Spices – I like to use a combination of cinnamon and nutmeg. But if you don't have nutmeg around you can use just the cinnamon. You can also use pumpkin spice which has ginger and cloves in it as well. We prefer the simpler flavor of cinnamon and nutmeg but pumpkin pie spice is a nice variation.
Coconut Sugar – is the perfect sweetener here because it doesn't have as much moisture as honey or maple syrup. If you're looking for something using maple syrup, try my Paleo Pumpkin Bread instead!
Pumpkin Purée – pure pumpkin puree, not pumpkin pie filling! Make sure you get straight pumpkin purée which has just 1 ingredient – pumpkin.
Eggs – provide the perfect binding together with the above flours to make the fluffiest muffin.
Avocado Oil – or melted butter/ghee all work here in these muffins.
Vanilla Extract – rounds out all the flavors and enhances the spices together with the pumpkin.
How to make this recipe step by step!
Step 1: Stir together the almond flour and tapioca starch along with the spices, baking powder, and sea salt. Make sure no lumps of almond flour remain.
Step 2: Add all the wet ingredients to the bowl and mix just until combined.
Step 3: Portion out the batter evenly into 12 muffin cups. I use two spoons, but an ice cream scoop works as well. You can use paper liners, or grease the pan well. The batter will come about 2/3 of the way up the side.
Step 4: Next mix together all the ingredients for the streusel topping.
Step 5: Evenly sprinkle the streusel topping over the top of the muffin batter.
Step 6: Bake until the muffins are puffed and a toothpick inserted into the center comes out clean or with moist crumbs. Let cool slightly then remove them from the pan to cool on a wire rack.
Step 7: Finally for the glaze melt the coconut butter over low heat. Then take the melted coconut butter off the heat and whisk in the maple syrup and lemon juice. Add water 1 teaspoon at a time until the glaze comes together. Don't worry if it appears to break or seize up. Just whisk the smallest amount of water at a time until it's nice and glossy like the above photo.
FAQ's
Can I use gluten-free flour in place of almond flour?
Unfortunately not. Almond flour is much moister than gluten-free flour and it's not a 1:1 substitution.
Do I need to have the streusel topping and glaze?
No, you can definitely make these muffins without the extra toppings. They're really good like this with butter and honey. But I definitely recommend going all out with both the streusel and glaze!
Why isn't my glaze smooth?
You need to whisk in a bit more water. Unfortunately, there's no way to give you an exact measurement because each coconut butter is different. I guarantee your glaze will come together perfectly if you just add a touch more water. I've made so many coconut butter glazes now and I know it works even if it breaks at some point in the whisking!
Storing leftovers
To store – cool completely then store for 2-3 days at room temperature or refrigerated in a sealed container. The streusel topping will soften.
Reheating – preheat the oven to 250ºF and gently heat the muffins just until the streusel topping has become crispy again. This does make the glaze look dull but they still taste great.
To freeze – cool completely before storing for up to 6 weeks in an airtight container in the freezer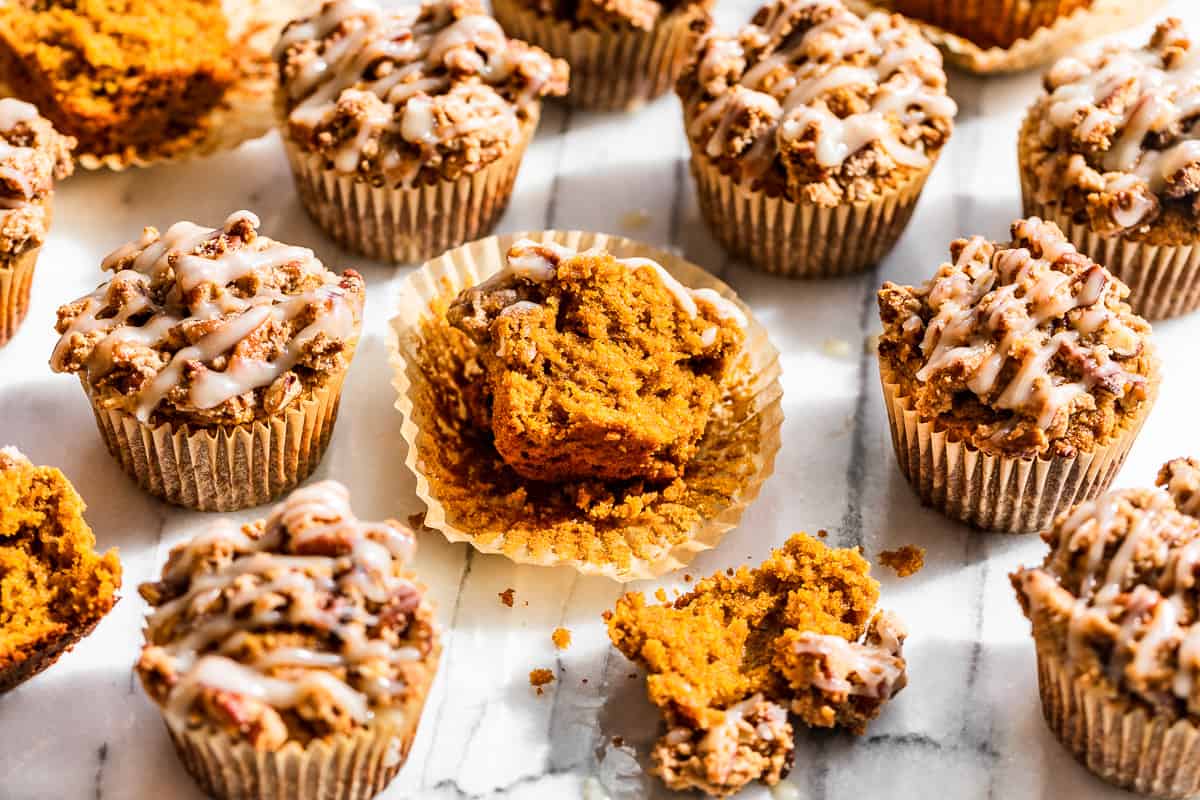 Tips & Tricks
Use a squeeze bottle to make nice clean lines with the glaze. Or you can transfer the glaze to a Ziplock and cut a very small hole in the corner to drizzle the glaze over the tops of the muffins. You can also use a spoon but it's a bit more messy.
Try omitting the streusel and glaze and add 1/2 cup mini chocolate chips to the pumpkin muffin batter.
Mix it up by trying different nuts like walnuts or cashews in place of the pecans.
Try my maple glaze from my Almond Flour Apple Cake, the maple flavor is so good here!
I really hope you enjoy these Almond Flour Pumpkin Muffins! If you do get a chance to make this recipe, I'd love to hear from you in the comments, and I always appreciate feedback/ratings!
Almond Flour Pumpkin Muffins
---
INGREDIENTS
Pumpkin Muffins:
2

cups

fine almond flour

3/4

cup

coconut sugar

1/2

cup

tapioca starch

2

tsp

Vietnamese cinnamon

1/4

tsp

nutmeg

1/2

tsp

sea salt

2

tsp

baking powder

4

tbsp

melted butter

-

avocado oil, ghee, or coconut oil

1/2

cup

pumpkin purée

-

not pumpkin pie filling

2

eggs

1

tbsp

vanilla extract
Pecan Streusel:
1/2

cup

almond flour

1

cup

pecans

-

chopped

1

tsp

Vietnamese cinnamon

pinch

sea salt

2

tbsp

maple syrup

1

tbsp

avocado oil
Glaze:
3

tbsp

coconut butter

-

also called coconut mana

1

tbsp

maple syrup

1

tbsp

freshly squeezed lemon juice
INSTRUCTIONS
Preheat the oven to 350ºF and line a muffin tin with muffin cups liners. Or grease a muffin tin with either butter or coconut oil.

In a medium sized mixing bowl, whisk together the almond flour, coconut sugar, tapioca starch, cinnamon, nutmeg, sea salt, and baking powder.

Add the avocado oil/melted butter/ghee, pumpkin purée, eggs, and vanilla extract. Stir until the wet ingredients are completely combined with the dry ingredients.

Portion the batter equally into the greased muffin tin, you will have 12 muffins total.

Mix together all the streusel ingredients and portion the streusel evenly over the top of the 12 muffins, about 1 1/2 tablespoons of streusel per muffin.

Bake the muffins in the preheated oven for 18-20 minutes, or until puffed and a toothpick inserted comes out clean or with moist crumbs.

Let the muffins cool for 10 minutes in the tin before removing them and cooling them further on a cooling rack.

Make the glaze by melting the coconut butter over low heat, whisk in the maple syrup and lemon juice. If the glaze is too thick, mix in water 1 teaspoon at a time until you have the texture of a normal powdered sugar type of frosting.

Each batch of coconut butter I've bought is slightly different so sometimes you'll need a little extra water, and sometimes you won't. If the glaze 'breaks or seizes' don't worry just whisk in water bit by bit until it becomes smooth and glossy.

To get the nice zig zag lines across the muffins, put the finished glaze into a squeeze bottle and squeeze the glaze over the top of the muffins. Or you can use a Ziplock with a small hole cut off the corner.

Serve!
Bonus Step
If you made this recipe, please leave a rating/comment. Ratings really help us continue to bring you high-quality free recipes. Rate This Recipe!
NOTES
If you want to freeze the muffins, let them cool completely and package them in an airtight container. Freeze and use within 6 weeks.
To reheat your muffins straight out of the freezer, place them in an oven proof dish, and heat them at 250ºF for 10-15 minutes or until the streusel is crunchy again and the center is thawed.
nutrition facts
Calories:
338
kcal
|
Carbohydrates:
25
g
|
Protein:
7
g
|
Fat:
25
g
|
Saturated Fat:
5
g
|
Polyunsaturated Fat:
2
g
|
Monounsaturated Fat:
5
g
|
Trans Fat:
0.2
g
|
Cholesterol:
37
mg
|
Sodium:
230
mg
|
Potassium:
84
mg
|
Fiber:
4
g
|
Sugar:
11
g
|
Vitamin A:
1751
IU
|
Vitamin C:
1
mg
|
Calcium:
114
mg
|
Iron:
2
mg
This recipe was originally published in 2016 but has been updated with new photos, tips and information, and nutritional information in 2021.