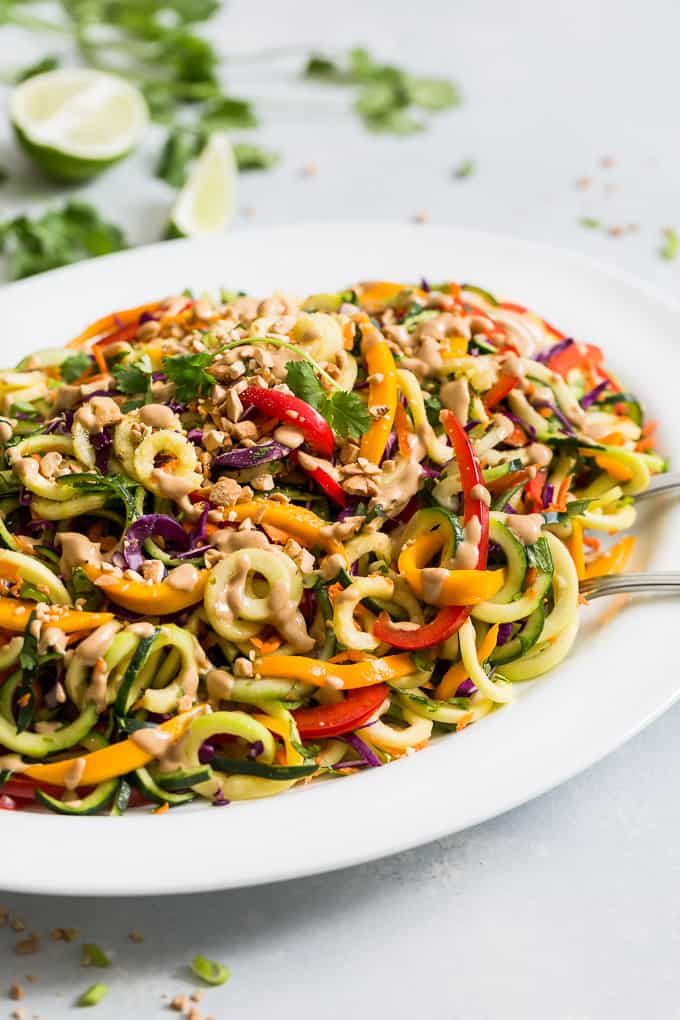 Can you ever get enough of Pad Thai? I'm thinking not, as it hasn't happened to me yet! Today's version of Pad Thai is far from the classic, but stick with me because Pad Thai is delicious in all it's forms.
I'll admit to being of the school of thinking 'why mess with a good thing', but over the years I've begun to branch out with my recipes. And today's salad version of Pad Thai is just such a recipe. With the warmer weather of summer coming, I wanted to create all the same comforting flavors, but in the refreshing form of a salad.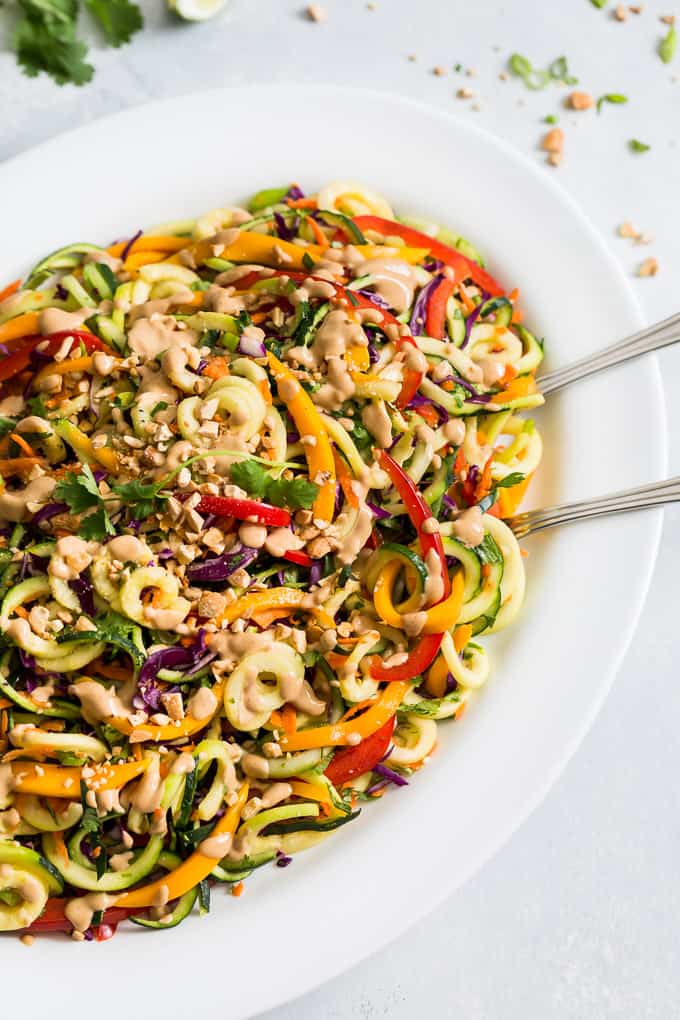 So I pulled together a rainbow of veggies along with zucchini noodles, and topped them with a flavorful Pad Thai dressing. And despite it being a departure from the classic, it's been a huge hit. So if you love Pad Thai, but want something bright and refreshing for the summer months, I've got you covered!
I kept the recipe 100% vegan which makes it great to take to any potluck because it fits so many different diet restrictions, (paleo, clean eating, gluten free, dairy free, and vegetarian to name a few). Sometimes though I do add a bit of fish sauce to the dressing, and top it with grilled chicken/shrimp for protein. With a bit added protein, it makes a substantial meal, with no need to turn the stove on – which is a big bonus in my book!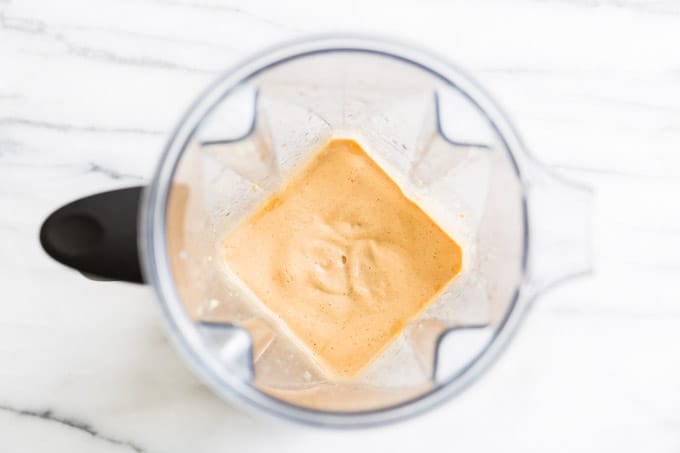 Traditional Pad Thai sauce never has peanut butter/cashew butter in it. But I feel this super creamy sauce with the touch of cashew butter really makes this salad!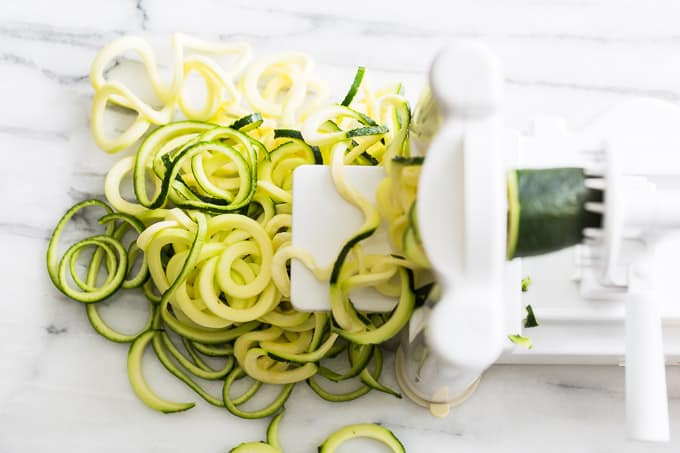 After you've blended up the dressing, it's on to the spiralized zucchini and cucumber noodles. I used the 6mm blade on the Paderno 3-blade spiralizer because it's creates a thicker noodle that I love in this salad.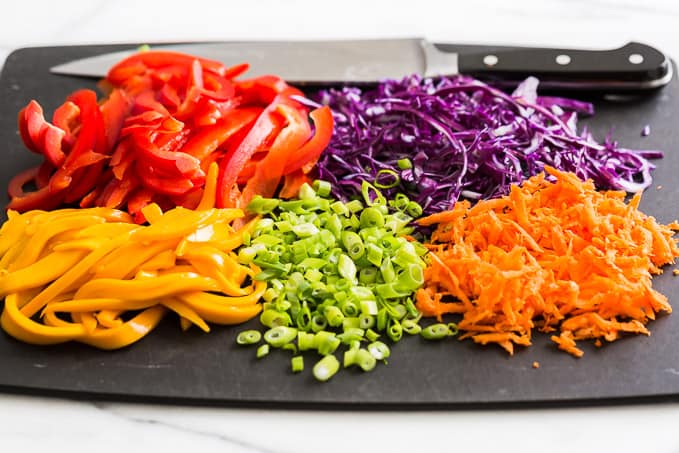 Finally, you chop up all the veggies along with fresh mango. I love using the Champagne/Ataulfo variety of mango, (recognizable by it's yellow/orange skin) because it's extra sweet with a silky smooth texture.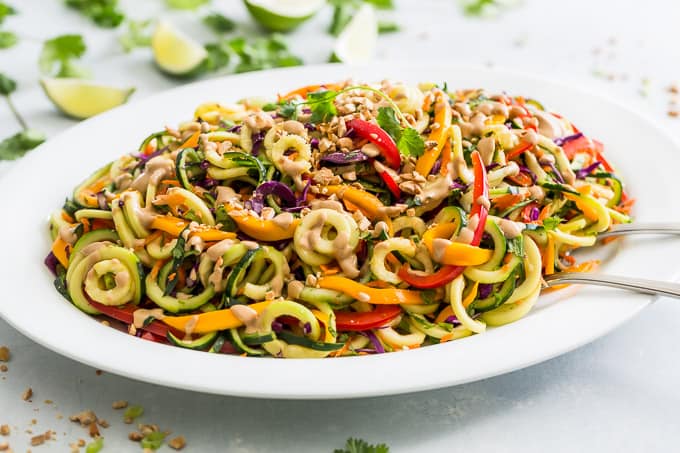 Finally a sprinkling of chopped cashews, and a little fresh cilantro is the perfect finish. If you want to pack some of this for lunch the next day, keep the cashews and dressing separate. The salad without the mango and avocado will keep up to 4 days. But the mango and avocado does have a tendency to brown after 24 hours, so be sure and add it in fresh.
Print
Rainbow Pad Thai Zucchini Noodle Salad
---
Pad Thai Dressing:
1/4 cup

freshly squeezed lime juice

1 Tablespoon

minced ginger

1

clove garlic, minced

1/2 Teaspoon

toasted sesame oil

1/4 cup

coconut aminos

1 Teaspoon

tamarind paste

1 Teaspoon

maple syrup

1/3 cup

avocado oil

1/4 cup

cashew butter, (or almond/sunflower seed/peanut butter)
Salad Ingredients:
1 1/2

pounds zucchini, spiralized into noodles, 7 cups

1

–

8

ounce cucumber spiralized, 3 cups

1 cup

grated carrot

2 cups

shredded purple cabbage

1/2 cup

thinly sliced green onion

1 1/2 cups

cubed mango, 10 ounces, from 1-2

2 cups

thinly sliced red bell pepper, 8 ounces, from 1

1

ripe avocado, cubed
Garnishes:
1/2 cup

toasted chopped cashews

1/4 cup

chopped cilantro
---
Instructions
Place all the ingredients for the dressing into a blender, and blend until smooth. Refrigerate the dressing until you're ready to serve, or up to 4 days.
Spiralize the zucchini and cucumber into noodles using the spiralizer of your choice. I used the Paderno 3-blade spiralizer with the 6 mm blade for a slightly thicker noodle.
Then place the spiralized noodles along with all the chopped veggies and mango into a serving bowl, or pile them onto a larger serving platter.
Garnish the salad by sprinkling the cashews and cilantro over the top. Then serve the salad with the dressing on the side.
If you'd like to keep the salad for more than 24 hours, keep the dressing and cashews separate, and add the mango and avocado fresh when you're ready to eat it. I often pack this salad into meal prep containers, with small containers of dressing alongside. Then I add the mango and avocado fresh so they don't brown.
Notes
The dressing makes about 1 1/2 cups. You may have leftovers which are great on regular leafy green salads as well.