Cool crunchy veggies, sweet juicy mango, and grilled saté chicken are all enveloped with a creamy 'peanut dressing' bringing you the official salad of summer! Just kidding about that, while this is fantastic, I'm not so crazy as to say we're not going to be making another salad soon, (there's a Mediterranean salad and Greek quinoa salad coming your way over the next several weeks afterall).
This creamy dressing alone is reason enough to make this salad every week until the end of mango season! It's made along the lines of a classic peanut dressing but with cashew butter instead. Whether you can have peanuts or not, you've got to try cashew butter because it's so buttery delicious. I love putting it in everything from cookies to salad dressing. Of course you can go the classic route and use peanut butter, but be sure to try cashew butter sometime. Another bonus with cashew butter is that it's about 1/2 the price of the all popular almond butter, (which is really great for your baking projects).
This salad is simple to assemble, starting with all the veggies chopped up and placed in a large salad bowl.
For the saté chicken, it does need at least 1 hour to marinate or you can marinate it the night before you'll be cooking it. While it does add another layer of flavor to the salad, I've used plain grilled chicken or rotisserie chicken when I haven't marinaded ahead.
The dressing comes together quickly in the blender, and if you want to double the batch for later salads, it keeps really well for a week in the fridge.
Just seeing that creamy dressing hitting the crisp veggies is making me hungry, and I just ate breakfast!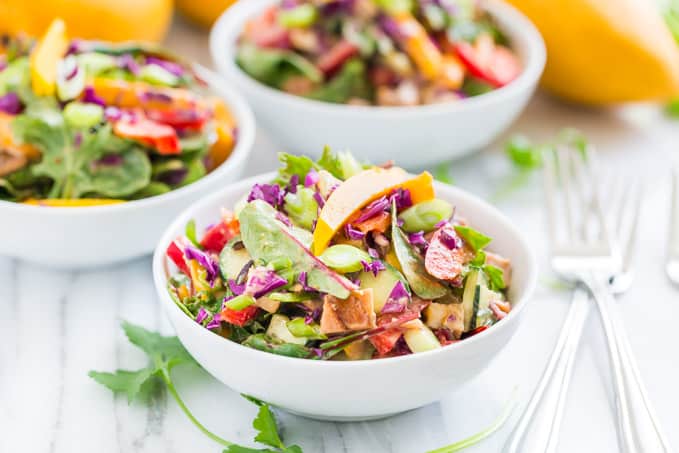 You can easily keep the dressing and veggies/chicken separately in the fridge and enjoy a fresh salad everyday. I would recommend cutting up the mango as needed because it has a tendency to brown after a day or so in the fridge. You can also assemble this into salad jars for work lunches all week, just follow the directions on my Mason Salad Jars 101 to help you turn any salad into a salad jar.
We go back and forth between assembling salad jars for the week, and just prepping ingredients for a 'salad bar' in the fridge where you can pick and choose what you want in your salad for the day. I've bought several of those 2-quart Pyrex containers with plastic lids (at TJ Maxx) and they work great for lunch salads. For dressings, I usually like to make 2 completely different dressings like this Asian inspired creamy Cashew Dressing and my Homemade Italian Dressing, so that you never get bored with your salads during the week.
Print
Rainbow Thai Chopped Salad
---
Saté Chicken:
1

pkg boneless skinless chicken thighs, 1 1/2 pounds

1 Tablespoon

sambal oelek chili paste

1 Tablespoon

fish sauce

1 Tablespoon

maple syrup

2

small cloves garlic, minced
Salad:
8 cups

mixed greens, 8 ounces

1 cup

finely chopped purple cabbage

1

large cucumber, 12 ounces

1

red bell pepper, 6 ounces

2

small mangos, 1 pound

1/2 cup

chopped cilantro

1

bunch green onions, thinly sliced
Creamy Cashew Dressing:
1/4 cup

cashew butter or peanut butter

2 Tablespoons

freshly squeezed lime juice

1/2 cup

coconut milk, from the can

1 Teaspoon

sambal oelek chili paste

1 Tablespoon

gluten free soy sauce, tamari, or coconut aminos

1 Tablespoon

maple syrup

1/2 Teaspoon

sea salt, or to your taste
---
Instructions
Place the chicken thighs with the rest of the Saté Chicken marinade ingredients into a stainless steel or glass bowl, cover and marinate 1 hour or overnight.
To prepare the salad, place the mixed greens into a large serving bowl, and top with the chopped cabbage. Slice the ends off the cucumber, cut it into quarters lengthwise, and thinly slice the quarters crosswise into triangular pieces.
Core the bell pepper and remove the seeds. Thinly slice the bell pepper, and then cut the slices crosswise into small bite sized pieces.
Peel and cube the mango. Then place all the prepared veggies, mango chunks, cilantro, and green onions over the top of the salad greens.
Preheat a grill over high heat. When the temperature reaches 400ºF, turn the heat down to medium high heat and place the marinated chicken on the grill. Monitor the heat keep the temperature between 350ºF and 425ºF and cook the chicken until it comes off the grill easily, about 6-8 minutes. Turn the chicken over and finish cooking until it's no longer pink, about 6-8 more minutes.
Remove the chicken from the grill, and let it cool for a bit while you make the dressing.
Place all the ingredients for the dressing into a blender and blend until smooth.
When the chicken is cool enough to handle, cut it up into bite sized pieces and place it on the salad.
Toss the salad with the dressing, using as much as you'd like, you may or may not have leftovers – or you can serve the dressing on the side.
Serve the salad immediately, or store everything separately for up to 1 day before tossing together to serve.
Prep Time:

40 mins

Cook Time:

12 mins