All Italian food is pretty much amazing in my book, seriously I really love it all! But we all know that ravioli completely from scratch is most definitely a labor of love. Not that the labor doesn't have it's rewards with silky fresh pasta enveloping your favorite filling, it's just one of those things you tend to do on the holidays when you have a few days off!
So… today we're breaking the rules again, taking the classic butternut ravioli dish, and turning it into a veggie pasta that's easy enough to make on a weeknight. Butternut noodles get tossed with browned butter and sage, then there's little bits of prosciutto thrown in that get crispy-fied into a prosciutto bacon of sorts! After a stint in the oven where everything comes together into caramelized goodness, a sprinkling of freshly grated parmesan and black pepper is all that needed to complete this most comforting of dinners.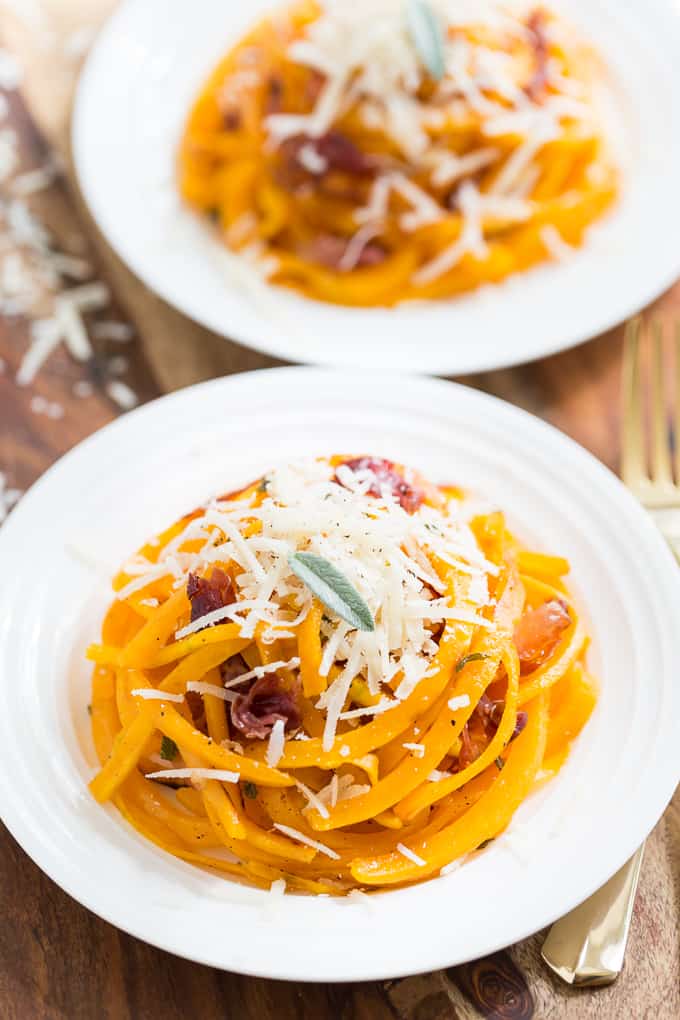 I know I've declared my love of all thing rosemary many times, but I fear I've forgotten about some of the other amazing herbs out there. It's easy to reach for rosemary again and again, but lately sage and I have been having a moment, (i.e. it's sneaking into everything). My sister even noticed and reminded me of a couple of dishes I used to make all the time that somehow I'd completely forgotten about. So sometime over this fall season, be on the lookout for Maple Roasted Carrots with Browned Butter and Sage, as well as my all time favorite roast chicken with sage, garlic, and lemon.
P.S. Rosemary would be awesome in all the recipes I've mentioned today if you're a fellow rosemary fan!
To make browned butter, it helps if you have a light colored pan so that you can see the the color as it begins to darken. Many non-stick saucepans are black which makes it really difficult to tell the difference between browned and burnt. I use either the eco non-stick which is a light blue color or a stainless steel sauce pan.
It's important to stir constantly (by swirling the butter around the pan) after the butter is melted. The milk solids sink to the bottom and they will won't brown evenly unless you keep it moving in the pan. I've found medium-high heat to be the best for browning butter, it gets the job done quickly without worrying about burning it (hello high heat)! After the butter is browned, I pull it off the heat and throw in the chopped sage so that it's flavor really permeates the butter before I toss it with the noodles.
Here we are with the noodles all ready to go into the oven. I tossed them with the browned butter and sage, then I placed the prosciutto evenly over the surface, and seasoned with a sprinkling of salt and freshly ground pepper. You can add more salt after it roasts to taste if you'd like, it's just better to start with a small amount and work up.
Some of the butternut noodles get all caramelized and some of them remain softly roasted which makes for a good combination in my opinion.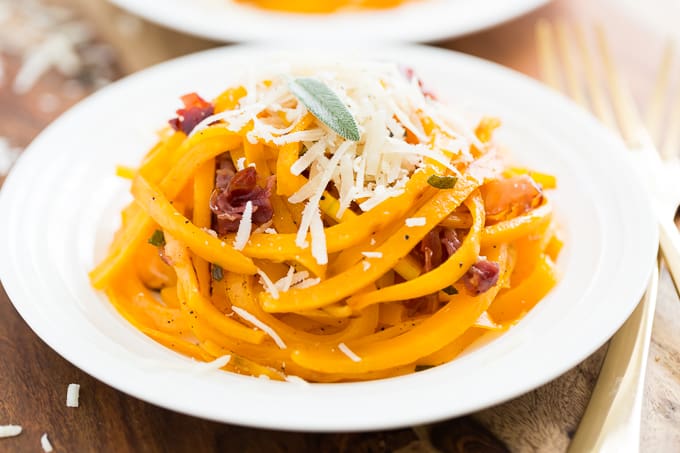 If you haven't tried butternut noodles yet, I hope you do because they're so much different than regular ole' roasted butternut. Something about the shape of the noodles and the roasting makes them taste so good, they're less squashy in flavor and ever so addicting!
Here are a few tips I've learned in spiralizing butternut squash that I hope you'll find helpful.
It's really important to peel the squash right down to the orange flesh. There's a light yellow layer just under the skin that's pretty tough, and makes it difficult to spiralize if you don't peel it far enough down.
It helps tremendously to cut the body of the butternut into 4″ sections. Since butternut is so hard the spiralizer can't really handle very big pieces.
And… finally don't crank on the handle too much or it will break right off. If you're meeting resistance and the handle feels like it's flexing, use your hands to support the handle, and/or help rotate the squash through if it's gotten stuck.
Anytime you make butternut noodles, you're left with the bulb shaped end which doesn't go through the spiralizer. I peel it and chop it up with an onion and some sliced carrots or parsnips. Then just roast it in the oven with a bit of olive oil. For more details you can visit my Roasted Veggies post, and from there you can make a Super Easy Thai Curry or a Roasted Veggie Breakfast Wrap. Having a pan of roasted veggies in the fridge bails me out in the dinner department almost weekly!
Print
Roasted Butternut Noodles with Crispy Prosciutto, Browned Butter, and Sage
---
1

large butternut squash, weighing 4 1/2 pounds and it will weigh 2 1/2 pounds after you remove the bottom bulb shaped end

4 Tablespoons

salted butter

6

sage leaves, chopped measuring 1 Tablespoon

2 ounces

or

4

slices of prosciutto
Sea salt and freshly ground pepper to taste
For Serving:
Freshly ground parmesan cheese
Sea salt and freshly ground black pepper
---
Instructions
Preheat the oven to 450ºF and line a baking sheet with parchment paper.
Cut the ends off the butternut squash and peel it. Remove the bulb shaped end and reserve it for another use like roasted veggies.
Cut the body of the butternut squash into 4″ pieces and spiralize it with the ribbon blade (6mm) which is the size up from the normal blade you use for zucchini (3mm) if you have the 3-blade Paderno model. Place the butternut noodles on the lined baking sheet.
Melt the butter over medium-high heat. After it's melted, swirl the pan constantly to keep the butter moving while it browns. Remove it from the heat when it turns a light brown color and add the chopped sage.
Pour the butter mixture over the butternut noodles and toss to thoroughly combine.
Tear the prosciutto into small bite sized pieces and scatter them evenly over the surface of the butternut noodles.
Sprinkle a small amount of sea salt and freshly ground black pepper over the noodles.
Roast them in the oven until tender, about 10-12 minutes. Check to see if you like the doneness of the butternut noodles, if they're still too firm for your liking, roast them a few more minutes.
When the noodles are done, serve them immediately with freshly grated parmesan, sea salt to taste, and freshly ground black pepper.
Prep Time:

20 mins

Cook Time:

10 mins