I love making hummus out of ingredients that are beyond the ordinary. I know it's technically not hummus if there's no chickpeas in it. But for those of us that can't have beans, those types of technicalities don't matter all that much.
I figure if it tastes like hummus, and has a hummus texture, that's good enough for me! So today I have a fall/winter inspired version for you. I also have a Avocado Zucchini Hummus you can check out that's a favorite of the warmer seasons.
But I thought it was high time I came up with a cozier version. I had a note I wrote down 3 years ago in my recipe ideas notebook for a roasted garlic butternut hummus. I've been wanting to get to it, but somehow I haven't until now, (so many ideas… and so little time). And since I had a case of pomegranates already sitting in my kitchen, this recipe pretty much wrote itself.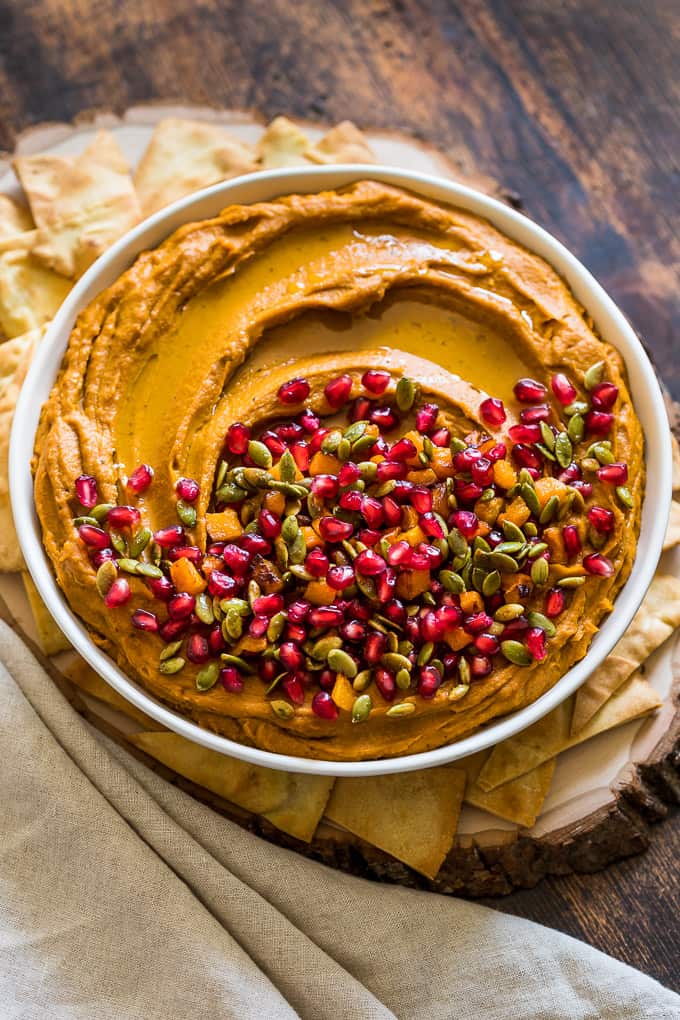 Part of what makes hummus so good in my opinion, is getting crazy with all the toppings. So for this one, I reserved some roasted cubes of butternut squash, candied some pumpkin seeds with cumin, and topped it all with tons of pomegranate arils.
The butternut and garlic get roasted together, but you'll need to take the garlic out sooner than the butternut since they cook faster. I had super large cloves of garlic, so your baking time will vary depending on each batch according to the size of ingredients.
Then after reserving some decorative butternut squash cubes, everything gets processed until smooth in a food processor.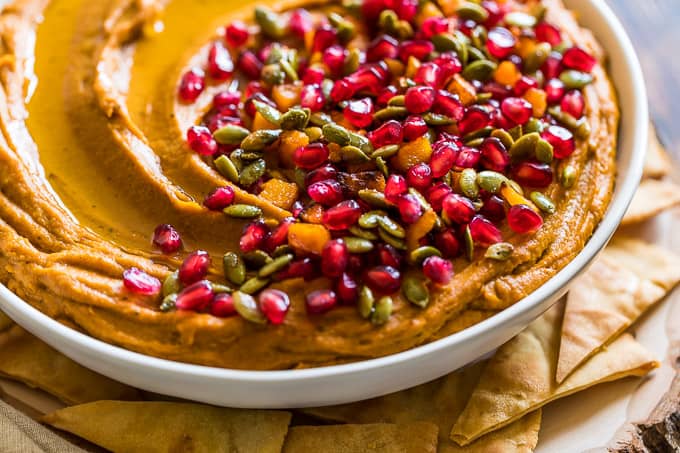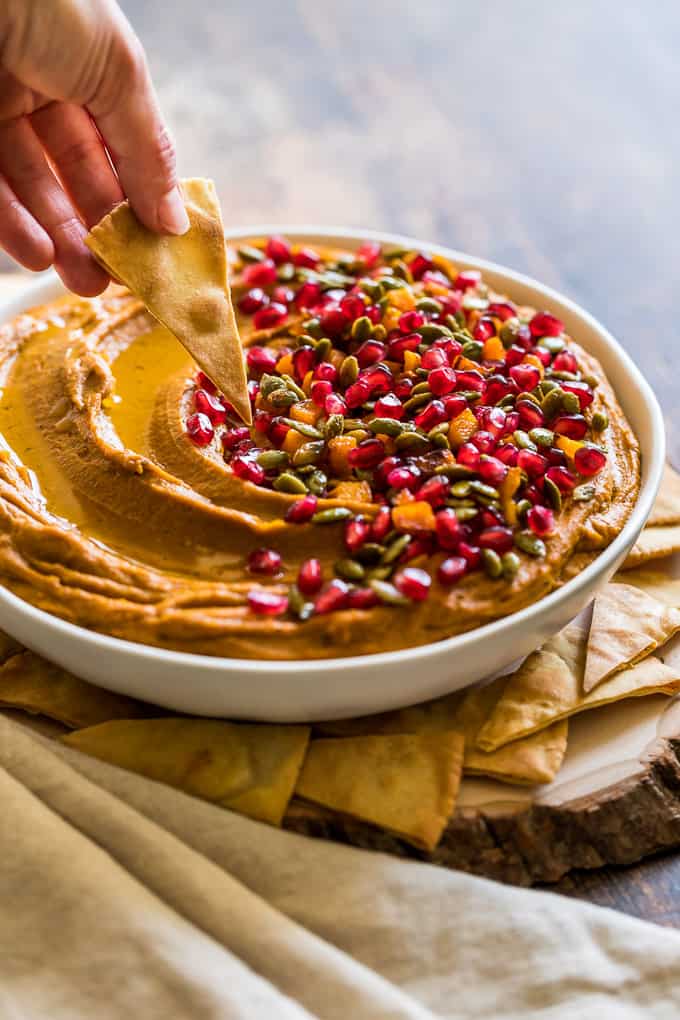 For crunchy dippers, I've been serving this with several things. Fresh veggies are always good as well as rice crackers, which are surprisingly addictive with this. And pictured above are some pita chips I made with grain free pita bread I bought from our health food store.
To make homemade pita chips:
Lightly brush both sides of each pita bread with olive oil, and cut the pita bread into triangles. Then bake them at 350ºF until lightly golden brown and crispy. When you remove them from the oven, lightly sprinkle them with sea salt. Then let them cool before serving with hummus.
Notes: This recipe makes a lot of hummus because I developed it to use an entire butternut squash. However you can easily make half of the recipe, and reserve the leftover butternut for another use. Since the hummus without the toppings on keeps really well for a week, we never have a problem eating it all.
Print
Roasted Garlic Butternut Hummus
---
Butternut Hummus Ingredients:
1

small butternut squash, 2 3/4 pound, cut into

1/2

" cubes

1

bulb of garlic, cloves peeled

1/4 cup

olive oil

2 Teaspoons

ground cumin

1/2 Teaspoon

sea salt

1/2 Teaspoon

freshly ground black pepper

2 Teaspoons

smoked paprika

1/4 cup

freshly squeezed lemon juice

2 Tablespoons

tahini
Sea salt to taste
Hummus Toppings:
1 cup

of roasted butternut cubes, reserved from above

2 cups

pomegranate arils
Drizzle of olive oil

1/2 cup

candied pumpkin seeds, see notes
---
Instructions
Preheat the oven to 450ºF and line 2 baking sheets with parchment paper. Spread the butternut cubes evenly over the 2 baking sheets. Place the garlic cloves on one of the pans, and drizzle 1 tablespoon of the olive oil over each of the pans. Sprinkle 1/2 teaspoon of the cumin over each of the pans, and sprinkle the sea salt and pepper evenly over both. Toss the butternut cubes to combine and roast them in the oven, stirring twice during the cooking process, until they're golden brown and soft to the middle, about 35 minutes.
Be sure and check on the garlic cloves around 7-15 minutes into the roasting time, and pull them out when they're golden and softened. The timing will vary every time depending on the size of your garlic cloves. Mine were rather large, and they took 15 minutes to cook.
When the garlic cloves and butternut squash are done roasting, let them cool to warm or room temperature. Then, reserve 1 cup of the butternut cubes for the topping. Add the remaining butternut with the garlic into a 12-cup food processor along with the remaining 2 tablespoons of olive oil, 1 teaspoon of cumin, smoked paprika, lemon juice, and tahini. Process until the hummus is smooth, stopping to scrape down the sides as needed. Taste and adjust the salt and pepper to your taste.
To serve, spread the hummus into a wide serving dish or two depending on the size, that's about 2-3″ deep. Top the hummus with the reserved butternut cubes, pomegranate arils, and candied pumpkin seeds. Drizzle with a small amount of olive oil.
Serve immediately with your choice of dippers like fresh cut veggies, and pita chips/or crackers.
If you plan on keeping the hummus for a few days, keep the toppings separate from the hummus, and the pumpkin seeds should go into an airtight container at room temperature. Everything else can be kept in the refrigerator for up to 1 week.
Notes
Candied pumpkin seeds add a nice touch, but you can use regular toasted pumpkin seeds.
To make the candied pumpkin seeds, toast them over medium heat in a cast iron skillet, shaking the pan often to evenly toast them. Then add 1/4 teaspoon ground cumin, a pinch of sea salt, and 1 tablespoon maple syrup. Stir quickly to combine, then remove the pan from the heat and spread the pumpkin seeds over parchment paper to cool. Do not leave the pumpkin seeds in the pan as they cool, they will stick.
Prep Time:

30 mins

Cook Time:

30 mins