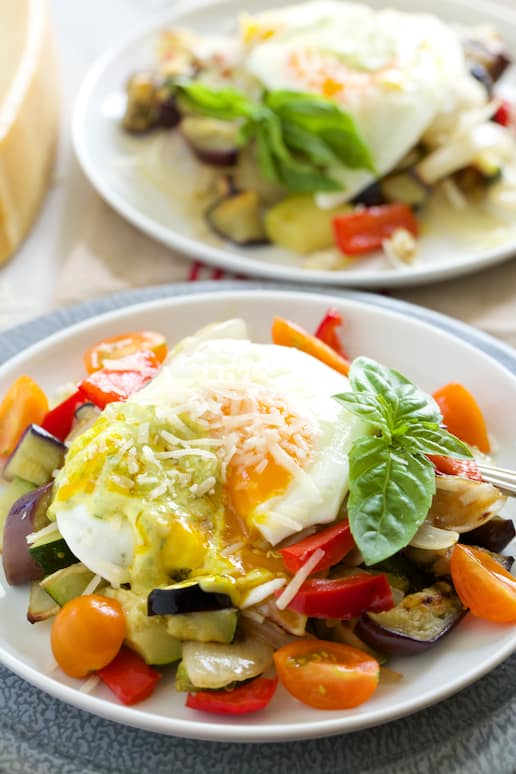 I can't tell you how many times I've been asked how on earth I manage to cook dinner from scratch every single night?!? And… I'm here to tell you, it's all about the simplicity. Most of my recipes are super simple, which is the main reason I'm able to get dinner on the table. But, it goes deeper than that – I have my own system of 'convenience foods' so to speak. By having certain foods already prepared and ready to go, I don't have to start from scratch every singe night!
Today's recipe is a perfect example of how food evolves in our kitchen. I brought home quite a few veggies from farmer's market, and instead of finding room for them in the refrigerator, I chopped them up and popped them in the oven to roast. With 1 pan of roasted veggies, I made these veggie bowls topped with over easy eggs and basil aioli. Three days later, I made my quickest ever Thai Curry with the other pan of roasted veggies. The Thai Curry was so quick and easy to make, I had to wait a bit for the rice to finish cooking – dinner really doesn't get any faster than that!
So that's my big 'secret' so to speak! It's along the lines of the 'cook once eat twice' saying but with a bit more flair – this way you're not eating the same thing the next night reheated, (although we do that too to save time as well)! For instance, I made a triple batch of my Crockpot Salsa Beef – the 1st night we had Salsa Beef with rice and all the toppings called for in the recipe. Then, I froze the remainder in 2-3 cup packages for easy freezer meals. With 1 of my frozen packages, I made a huge tamale pie and froze half of that for another occasion. So, that's 3 meals and counting from my triple batch of Salsa Beef!
The more you practice this in your own kitchen, the easier it gets! Pretty soon you'll have Homemade Marinara, chicken stock, Salsa Beef, and all sorts of goodies in your freezer that will make your life so much easier!
For the zucchini and eggplant in this recipe, I cut off both ends and cut them into quarters lengthwise. Then, you slice across the quarters to make bite sized triangles. If you're using bigger vegetables, cut them into bite sized pieces, keeping everything basically uniform.
For the onions, cut off both ends and peel them. Next, cut them in half from the top to the bottom. Place each onion half face down on the cutting board and slice into 1/4-1/2″ half moon slices. For the bell pepper, remove the core and cut in half lengthwise. Cut each pepper half lengthwise into 1/2″ strips – then cut across the strips in 1 " intervals.
I tossed all the veggies together right on the parchment lined baking sheets, and drizzled with olive oil. Don't worry about trying to mix in the olive oil, just sprinkle evenly with sea salt and pop them in the oven. Everything will get mixed together better when you stir the veggies halfway through the cooking point.
While the veggies are roasting, wash the cherry tomatoes (I used Sungolds) and cut them into quarters and halves – whatever makes for bite sized pieces. I've found the basil aioli keeps best if the basil is stirred in rather than ran through the blender blades. The basil wants to turn brown after about 24 hours if you add it to the blender. To keep it for up to 3 days, stir in hand chopped basil after the aioli is emulsified in the blender.
These roasted veggies are great as a filling for an omelet or tossed with freshly cooked pasta. I even made a salad out of them by tossing them with fresh greens and my 2-Ingredient Balsamic Vinaigrette! By varying what you put these veggies with you can easily make several different meals without having to eat the same thing day after day!
Print
Roasted Market Veggies with Basil Aioli
---
For 2 sheet pans of Roasted Veggies:
2

pounds sweet onions

1

red bell pepper, weighing 1/2 pound

1 1/2

pounds zucchini

1 1/2

pounds Japanese eggplant

6 Tablespoons

olive oil

2 Teaspoons

sea salt
To serve with 1 sheet pan of Roasted Veggies:
8

–

12

eggs for

2

–

3

eggs per serving

8 ounces

cherry tomatoes, halved or quartered to make bite sized pieces
Basil Aioli:
1

farm fresh egg

1 Teaspoon

white wine vinegar

1

clove garlic, minced

1/4

–

1/2

Teaspoon sea salt to taste

1/2 cup

avocado oil, (for best buttery flavor) or olive oil

1/2 cup

loosely packed chopped basil
---
Instructions
Preheat the oven to 425ºF and line two baking sheets with parchment paper.
Cut the ends off the onions, peel and cut them in half from the top to the bottom. Lay each half flat side down on the cutting board, and slice into 1/4-1/2″ slices to create half moons.
As you prepare each veggie, divide them between the two baking sheets.
Cut the bell pepper in half and remove the core and seeds. Cut each half into 1/2″ strips lengthwise, then cut the strips crosswise into 1″ pieces making rectangles – add them to the baking sheets.
Cut the ends off both the zucchini and eggplants. Cut them into quarters lengthwise, and then slice them crosswies into 1/2″ slices to create triangles. Divide these evenly between the baking sheets and toss the veggies to combine.
Drizzle with 3 Tablespoons of olive oil per baking sheet, and sprinkle with 1 Teaspoon sea salt each.
Place the baking pans in the oven, I do one at a time because I have a small oven but if you do both at once be sure to rotate for even cooking. Stir the veggies after 15 minutes of cooking time and then roast until tender, an additional 10-15 minutes, stirring one more time.
While the veggies are roasting, make the aioli.
Add the egg, white wine vinegar, minced garlic, and the sea salt to a blender. Blend on low, adding the avocado oil in a thin slow stream until the aioli has become thick. Transfer the aioli to another container and stir in the basil.
If I know I'm using all the aioli at once, I like to add the basil to the blender for a deeper basil flavor. Depending on how much aioli you like, you may use the whole recipe or you may not – we're pretty big on sauce so it's usually gone in 1 meal for 4. Something about adding the basil to the blender makes it turn brown after about 24 hours, so if you think you'll have leftovers be sure to stir it in at the end.
When the veggies are done roasting, set 1 pan aside to cool. This is the pan of veggies you'll be putting in the refrigerator to make an Easy Thai Curry later on.
Serve the roasted veggies with 2-3 over easy eggs per person (see cooking directions below), top with the cherry tomatoes and a dollop of basil aioli.
To make this a more substantial meal, you could serve this with The Best Rosemary Potatoes.
To cook eggs over easy, preheat a non-stick pan over medium heat for 3-5 minutes and add a small amount of avocado oil, 1-2 Teaspoons. Add the eggs to the pan and turn the heat to low. Place a lid over the pan, and cook until desired doneness is reached. I prefer the yolk runny with the white just set which can take 3-6 minutes depending on the size of you pan and number of eggs.
Notes
If you don't want leftover veggies for another meal, simply halve the veggie portion of the recipe.
This recipe contains raw egg in the aioli, if you're not comfortable with that substitute 1/2 cup of good quality mayonnaise and add the vinegar, garlic, and chopped basil to it.