Salted caramel is always a good idea in my book! I almost feel like a traitor to chocolate because of how much I love caramel. When you combine caramel with vanilla bean, the combination is perfect for all types of summer fruit. Since it's late summer, I've been loving the combination of peaches and blackberries in particular.
For this easiest of all no-bake desserts, I started out with vanilla bean ice cream and mixed in a caramel swirl. While that might seem odd, (why not just use caramel ice cream after all) I've found that most caramel ice creams just don't have enough caramel punch for me.
Also they're all made with cane sugar, and my Double Coconut Caramel Sauce is completely refined sugar free, which is an extra bonus. And like I mentioned, the combination of vanilla + caramel = better than just caramel!
You can use your favorite brand of ice cream to keep this as quick and easy as possible, or you can make a batch of my Homemade Coconut Ice Cream, which is dairy free and refined sugar free.
I made the crust with medjool dates which really underscores the caramel flavors, but to speed things up you can also use a few tablespoons of pure maple syrup.
The crust comes together quickly in the food processor, and it's a lot like a cinnamon scented cookie dough.
I always line my tart pan with plastic wrap to keep the crust from sticking to the sides. Once the tart is finished and you want to serve it: remove the outer ring, and tuck any excess plastic wrap under the tart pan bottom before placing it on a serving plate or cake stand.
To add the caramel swirl to your ice cream, soften the ice cream for 15 minutes on the counter or around 30 minutes in the refrigerator.
Once you've spread the caramel swirled ice cream into the tart, you can add a little decoration by drizzling caramel sauce over the top before dragging a toothpick crosswise to the drizzle to create a swirl pattern. This is a nice touch if you want to serve the fruit and tart separately, but completely unnecessary if you're going to arrange fruit over the top.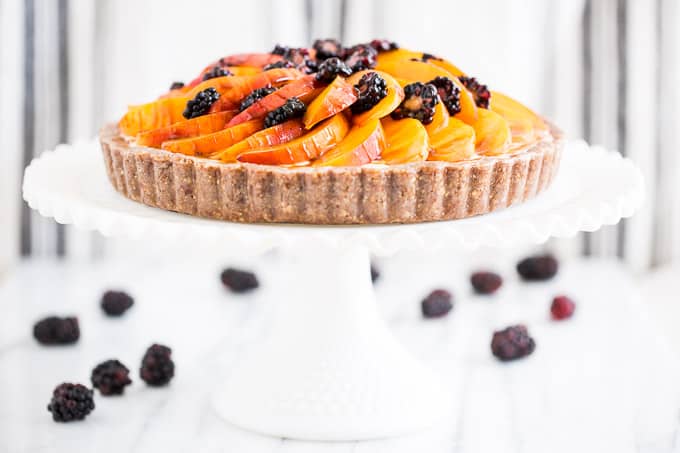 And finally… a little drizzle of caramel sauce over the top, and you have the easiest ever (most gorgeous) summer dessert.
My favorite thing about no-bake tarts, (besides how easy they are) is that you can make them days before the occasion. You can make any flavor combination of ice cream tart you'd like, and it'll easily keep in the freezer up to a week, (tightly wrapped) before your event!
Print
Salted Caramel Ice Cream Tart
---
Tart Crust:
1 cup

raw cashew pieces

2 cups

raw pecans

1 Teaspoon

Vietnamese cinnamon

8

large medjool dates, pitted and quartered
pinch of sea salt

1 Tablespoon

vanilla extract

1

–

2

Tablespoons water
Ice Cream Filling:
2 1/2 cups

your choice vanilla bean ice cream, see notes
Toppings:
4

medium peaches, pitted and thinly sliced

1 cup

blackberries, sliced 1/4″ thick
---
Instructions
Place the nuts, cinnamon, pitted dates, and sea salt into a 12-cup food processor and process until the nuts and dates combine, and the texture is mostly fine with a few bigger pieces. Add the vanilla extract, and 1 tablespoon of water. Pulse together until a soft cookie dough starts to form, only adding the remaining tablespoon of water if the crust is still dry and crumbly.
Line a 9″ tart pan with removable bottom with plastic wrap, and pat the crust as evenly as possible into the pan, using a spatula to help spread it out. Place the finished crust into the refrigerator until the ice cream filling is ready.
Soften the ice cream if it's fully frozen and not fresh out of the ice cream machine, for about 15 minutes on the counter, or 30 minutes in the refrigerator. Pour 1/2 cup of the Double Coconut Caramel Sauce over the ice cream, and then fold it in leaving some ribbons of caramel.
Spread the caramel swirled ice cream into the prepared tart crust evenly. Place the tart into the freezer for 8 hours or overnight to fully firm up. It's important to set it in a level place so the ice cream filling doesn't run over the edge, speaking from experience!
When you're ready to serve the tart, prepare the fruit and arrange it over the top before drizzling with some of the remaining caramel sauce.
Serve immediately with any extra caramel sauce on the side.
This tart keeps well, tightly wrapped, without the fruit topping in the freezer for at least 1 week.
Notes
For the ice cream I used my Homemade Coconut Ice Cream, made with the seeds scraped from 1 vanilla bean, and half the amount of maple syrup. I like to reduce the amount of sweetener in the ice cream because of the caramel sauce added later.
I call for 'raw' nuts to indicate they're not toasted, very few nuts are actually 100% raw.