Cozy up with this coffee shop worth Pumpkin Chai Latte! It's simple to make and tastes like a giant fall hug that's perfect straight through the cold months of winter. This recipe is naturally gluten-free with dairy-free and vegan options listed below in the recipe. For a final touch drizzle some of my Coconut Caramel Sauce over the top of this warm pumpkin-spiced drink.
This cozy mug really is like a giant pumpkin hug. It's everything you could wish for on cold snowy days where you can cuddle up by the fire and sip away.
I know pumpkin lattes are kind of a big thing, but in this house, we do not put pumpkin in coffee. We're very strict about this haha! But pumpkin + Indian chai tea spices is an incredible match I look forward to every fall.
We've been making this recipe for years and it's always a hit served around the fire on blustery days. It's also perfect for holiday breakfasts or any brunch all through the winter.
Ingredients & Substitutions
Milk – you can use any kind of milk you'd like here, but the richer the better, please don't use skim milk or boxed nut/coconut milk which can curdle. I use canned full-fat coconut milk and it always works out really well.
Pumpkin purée – you're looking for a canned pumpkin that has just 1 ingredient – pumpkin. You don't want pumpkin pie filling because it's sweetened and has spices already added. Just plain pumpkin here, and you could also use homemade pumpkin purée here as well. But canned works great for me and it's super easy!
Maple syrup – or your choice of sweetener here. Maple syrup works really well with the pumpkin and chai spices, but honey and coconut sugar work great too. You can also use any diabetic-compatible sweetener here as well added to taste.
Chai tea spices – you're looking for Indian chai tea that is loose, not chai tea bags. If you want to steep tea bags in the milk, that is an option. But I love the traditional Indian chai with the spices right in the latte.
Vanilla extract – rounds out the chai tea spices and brings this whole latte up a notch.
How to make this recipe step by step
Step 1: Start by mixing the chai tea spices together with the pumpkin purée and the maple syrup until smooth.
Step 2: Next whisk the milk in a little at a time until it's combined.
You'll notice if you use loose Indian chai spices the spices will float on the top before it's heated.
Step 3: Heat the mixture stirring occasionally for about 10 minutes over medium to medium-low heat to allow the spices to steep.
You can whisk well to create a bit of foam or use a hand-held latte frother to give this latte more of a coffee shop texture.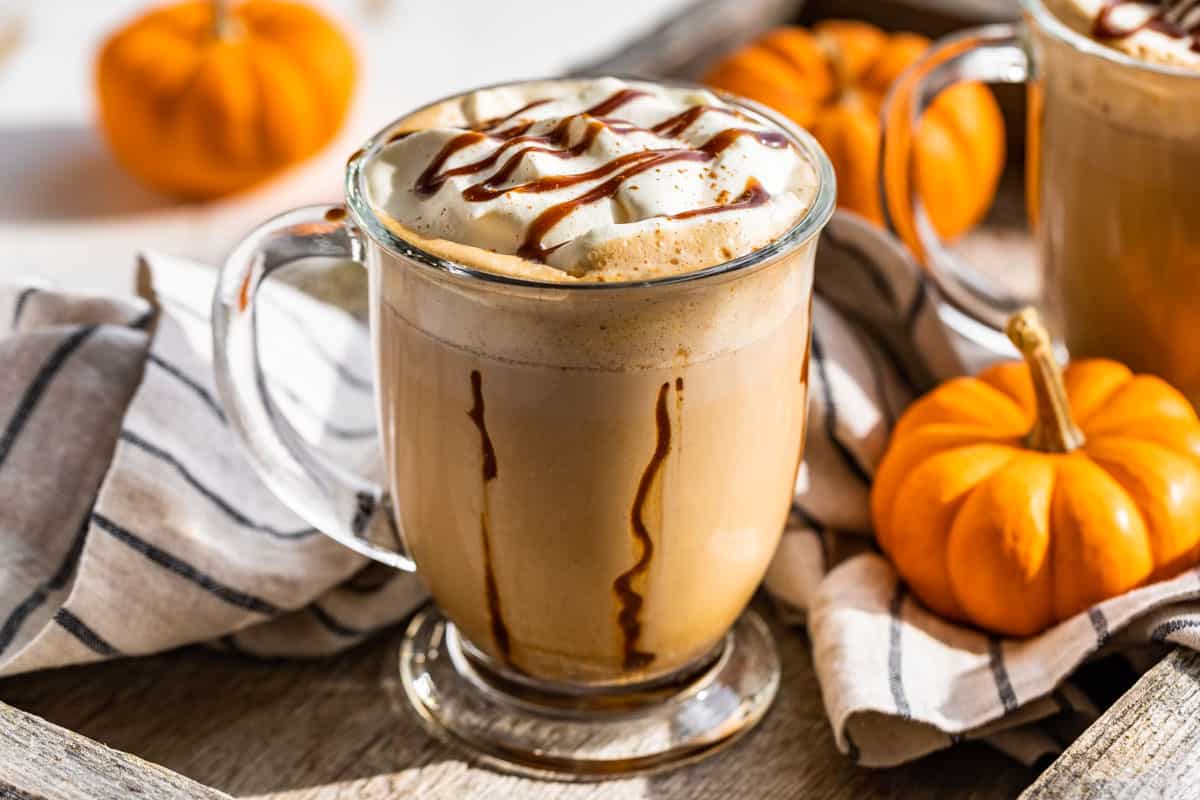 Step 4: Serve the pumpkin chai latte as is or go all out with whipped cream topping and drizzle of my Coconut Caramel Sauce.
FAQ's
Does pumpkin chai latte have caffeine?
Yes, there is some caffeine in the black tea that is part of the chai tea spice mix.
Can I use a different sweetener?
Yes, you do not need to use maple syrup here! You can use honey, sugar, coconut sugar, or any diabetic sweetener like Xylitol to taste in this recipe.
Storing leftovers
To store – any leftovers can be placed in an airtight container and refrigerated for up to 5 days.
Make ahead – make the pumpkin chai latte, then refrigerate and reheat when you're ready to serve it. From there add your toppings just before you serve it. You can also my the Coconut Caramel Sauce ahead of time and refrigerate it. The whipped cream is best made fresh, but the Coconut Whipped Cream does keep pretty well for a couple of days refrigerated.
Freeze – the dairy-free version of this recipe freezes best, but if you do try freezing this recipe made with regular milk, just be aware it sometimes separates. Usually, this can be fixed by reheating it as directed below. In rare cases, it will come out of the freezer curdled in appearance and it won't come back together. So I only recommend freezing this if it's the dairy-free vegan version.
Reheating – add any leftovers you want into a saucepan and reheat over medium until heated through. If you make this with dairy don't let it come to a boil. Ultra-pasteurized dairy usually won't separate when boiled, but it can sometimes still happen. If you use pasteurized dairy or raw, it might curdle if heated too hot. I've never had any curdling problems with canned coconut milk..
Tips & Tricks
Use a hand frother or an espresso machine if you have one to give this latte more of a foamy coffee shop texture. I definitely think it's worth it to have a frother on hand because you can froth the whole batch at once. When I use the steam function on my espresso machine, I'm limited to making 1 drink at a time.
Add the maple syrup just to your taste. Sweetness is a very subjective thing, so just add a little or as much as you'd like.
More yummy drink recipe inspiration
I really hope you enjoy this Pumpkin Chai Latte! If you do get a chance to make this recipe, I'd love to hear from you in the comments.
INGREDIENTS
Pumpkin Chai Latte Base
2

tsp

ground Indian Chai tea mix

-

see notes

2

cups

coconut milk -

from the can, or dairy free / regular milk of choice

3/4

cup

pumpkin puree

-

canned, not pumpkin pie filling

6

tbsp

maple syrup -

start with less and add to your taste

a pinch of sea salt – less than 1/8 Teaspoon

1

tsp

vanilla extract
Optional Toppings
INSTRUCTIONS
Whisk together all the ingredients for the pumpkin latte base in a medium sized pan.

Heat the mixture over medium heat for 6-10 minutes or until the mixture is hot but not boiling. You want to maintain a temperature under boiling so it doesn't curdle but hot enough the tea steeps.

To make the latte frothy, you can whisk it vigorously while it's heating up and there will be a layer of foam on top, or you can place it in a blender to add more foam. If you have an espresso machine or a hand held milk frother that's the best option for good thick foam.

After frothing, pour the finished latte mixture into 4 glasses, top with the optional whipped cream and drizzle with caramel sauce.

For added presentation, you can 'paint' lines of caramel sauce up the sides of each glass for a striped look.
Bonus Step
If you made this recipe, please leave a rating/comment. Ratings really help us continue to bring you high-quality free recipes. Rate This Recipe!
NOTES
You want to look for Indian chai, not chai tea bags. There shouldn't be any sugar or dairy in the chai tea mix, just spices and black tea.
You will have leftovers of both the whipped cream and the caramel sauce, but it's no problem finding a use for them! The caramel sauce makes a good sweetener for an apple crisp, and you can use the whipped cream for topping it.
I've made this latte several times without the toppings, and it's good that way as well if you're not in the mood to make the toppings! The nutrition facts were calculated without the optional toppings.
nutrition facts
Calories:
322
kcal
|
Carbohydrates:
27
g
|
Protein:
3
g
|
Fat:
24
g
|
Saturated Fat:
21
g
|
Polyunsaturated Fat:
0.3
g
|
Monounsaturated Fat:
1
g
|
Sodium:
20
mg
|
Potassium:
412
mg
|
Fiber:
1
g
|
Sugar:
20
g
|
Vitamin A:
7149
IU
|
Vitamin C:
3
mg
|
Calcium:
65
mg
|
Iron:
4
mg
This recipe was originally published in 2014. It has been updated with new photos, more tips and informations, and nutritional facts in 2022!