A super tasty and classic combination! This Sausage and Peppers sheet pan dinner comes together in under 30 minutes and is so adaptable. It's naturally gluten-free and dairy-free as well. Try it with different kinds of sausages, or add the optional tomatoes for a fun twist. It's great with simple side dishes like my Creamy Mashed Cauliflower, or with freshly cooked pasta.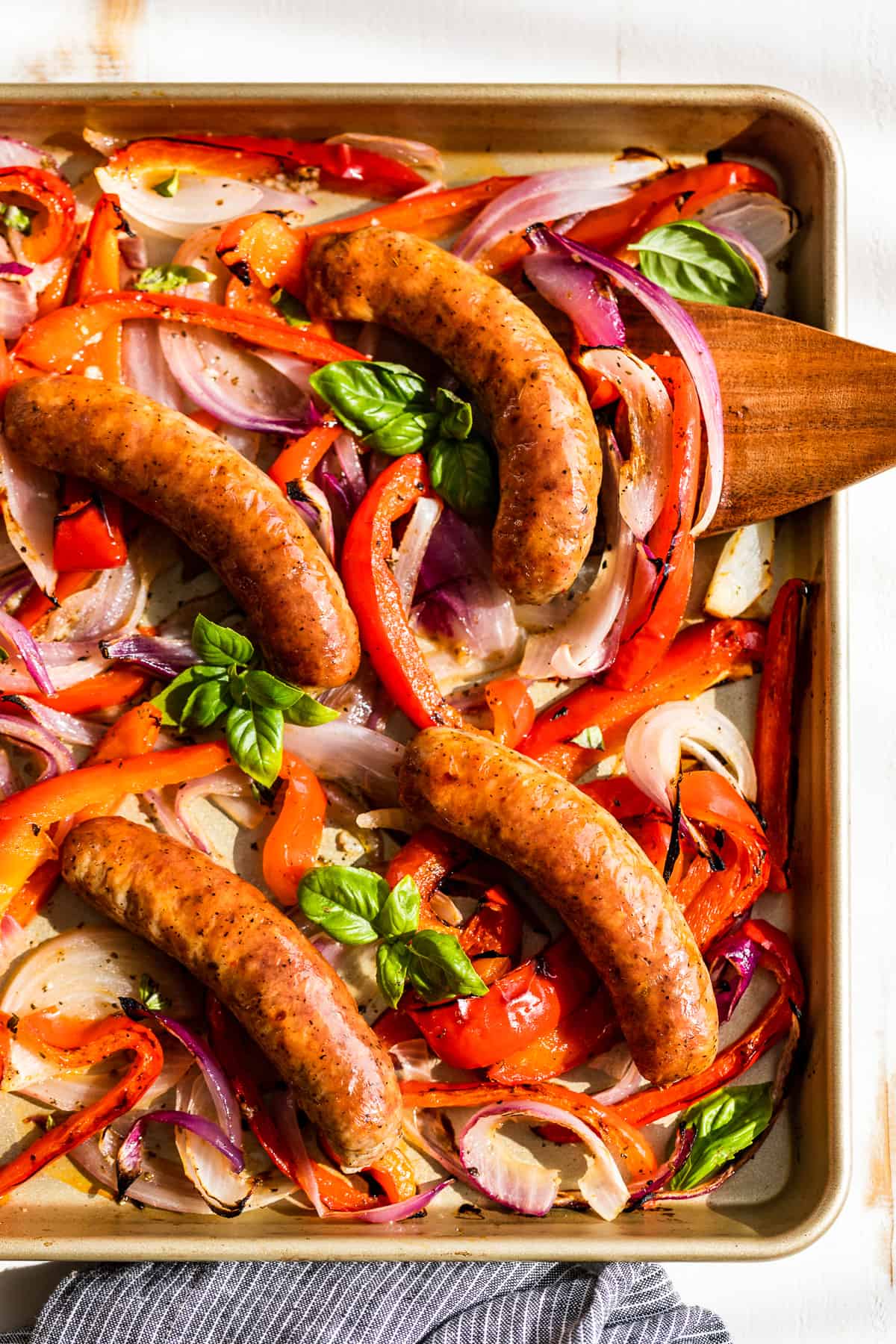 Sausage and peppers have been a long-time favorite combination in our house. I've been making different versions of this classic combo since we first got married over 12 years ago. And it's still one of the only dishes Tyler frequently requests.
I first made this dish sautéed on the stove and tossed it together with pasta. But over the years it's morphed into this super easy sheet pan dinner. But not to worry, I discuss a meal prep pasta option below as well!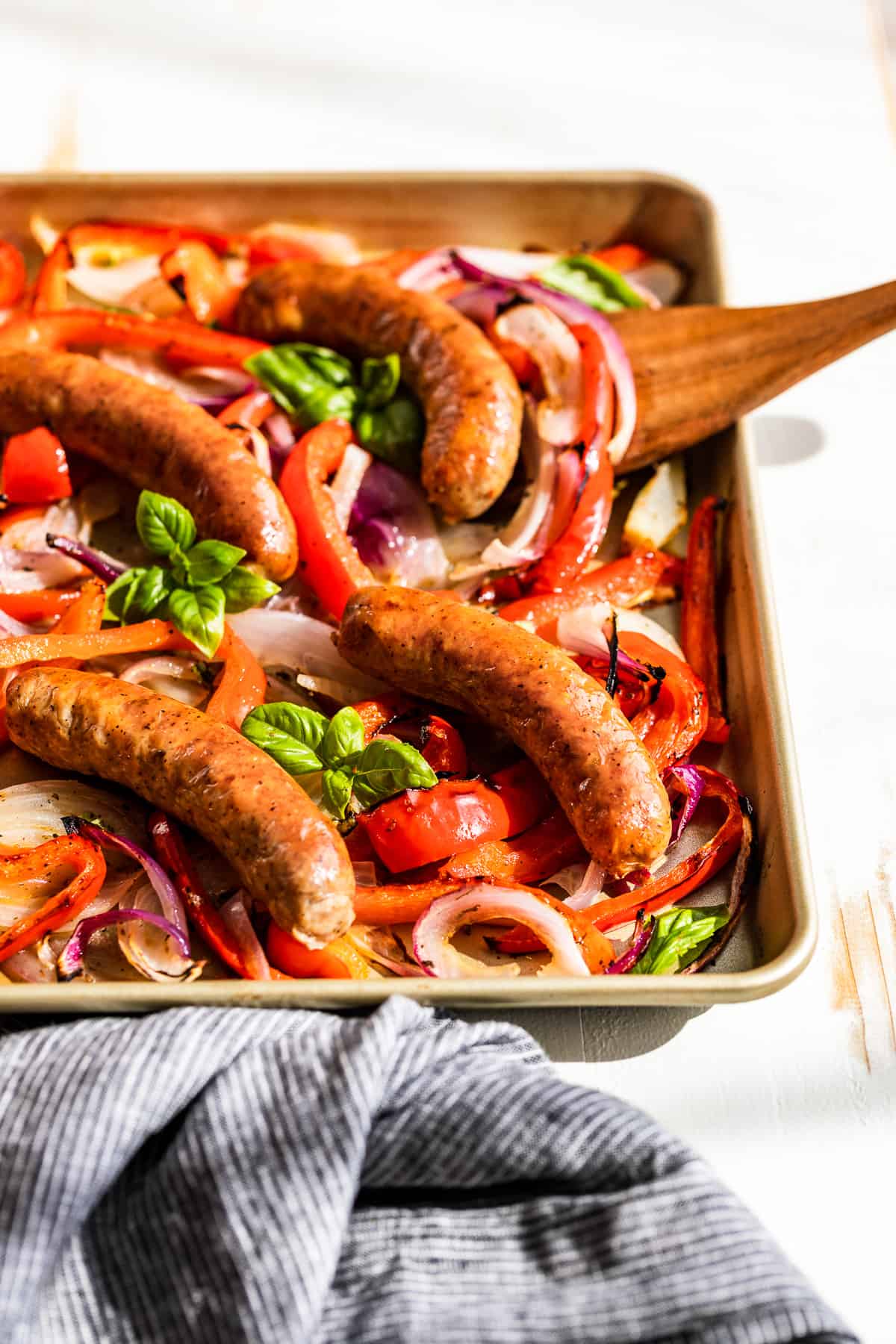 The reason this is the best version of the classic combo yet is because it's just so easy! Simply toss it all together on the baking sheet and roast it to perfection. From there you can serve it as is, or with any simple side dishes you'd like, (see a few listed below). Our two favorites are my Creamy Mashed Cauliflower and my Best Mashed Potatoes.
Ingredients & Substitutions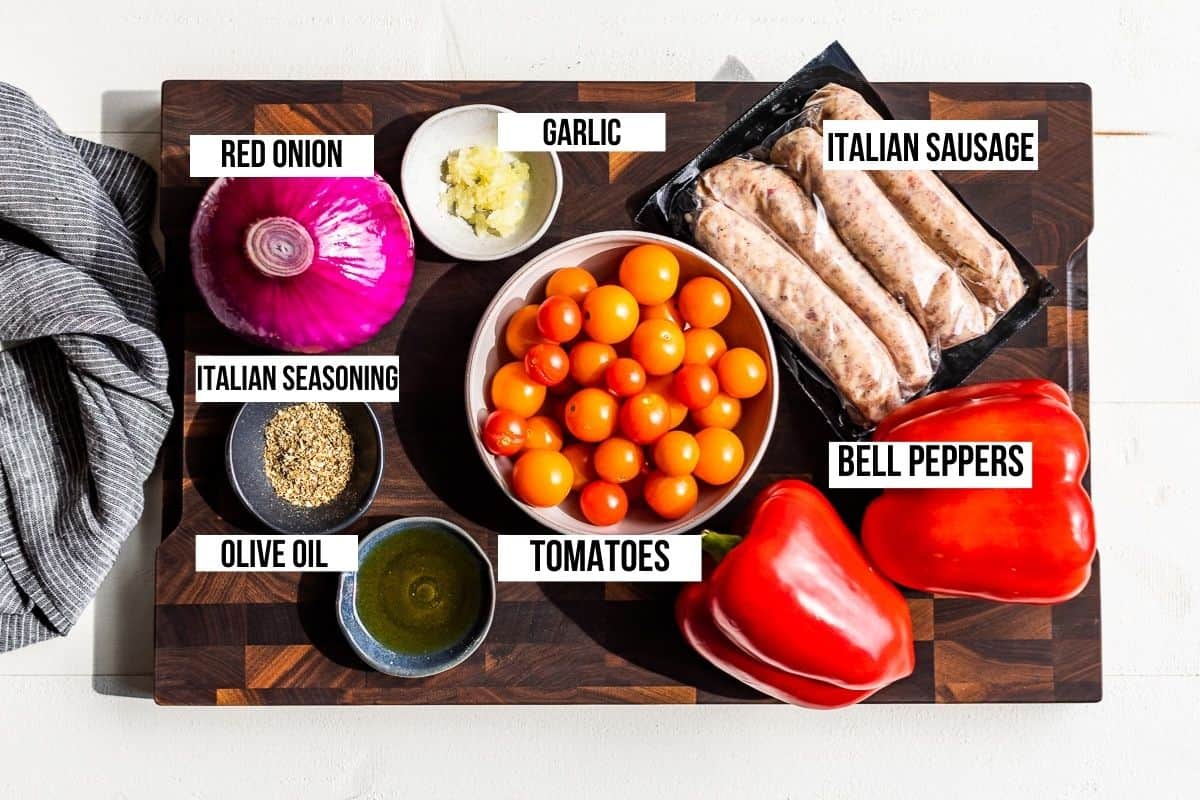 Sausage – I like to use either hot or mild uncooked Italian sausage links here for the classic 'sausage and peppers' combo. However, this is also really tasty with Bratwurst or any mild breakfast sausage as well. I discovered this when I ran out of Italian sausage and decided to wing it with Bratwurst. We both loved the combo, so don't be afraid to try other flavors as well.
Peppers – You can use any color or mix of colors you'd like. I used 2 red bell peppers here in the photos. But another fun thing to try is the small sweet peppers called 'gypsy' peppers where we live.
Onions – are another part of this classic combo and I like to use red onions for their color. But you can use any onion you'd like here as well.
Cherry Tomatoes – these are optional, but I like to add them when they're in season. A mix of red cherry tomatoes and the flavorful orange Sungolds make an unforgettable flavor. They also add a bit of 'sauce' to the mix which is tasty. Try using your favorite pasta sauce or marinara sauce when cherry tomatoes aren't in season.
Garlic Cloves – minced fresh garlic is the ultimate here. But if you're really in a rush/pinch a bit of garlic powder/garlic granules works here as well. I don't recommend pre-minced garlic or anything that comes in a jar. Garlic granules will taste way better than pre-minced! I use the ratio of 1/2 teaspoon garlic granules to 1 clove of fresh garlic.
Herbs – I used Italian seasoning to keep things easy and to go along with the sausage. But if you have fresh herbs around, both thyme and rosemary are really tasty too. The ratio of dried to fresh is 1:3. So for the 1 teaspoon of dried herbs called for, you'd use 1 tablespoon of fresh herbs.
How to make this recipe step by step!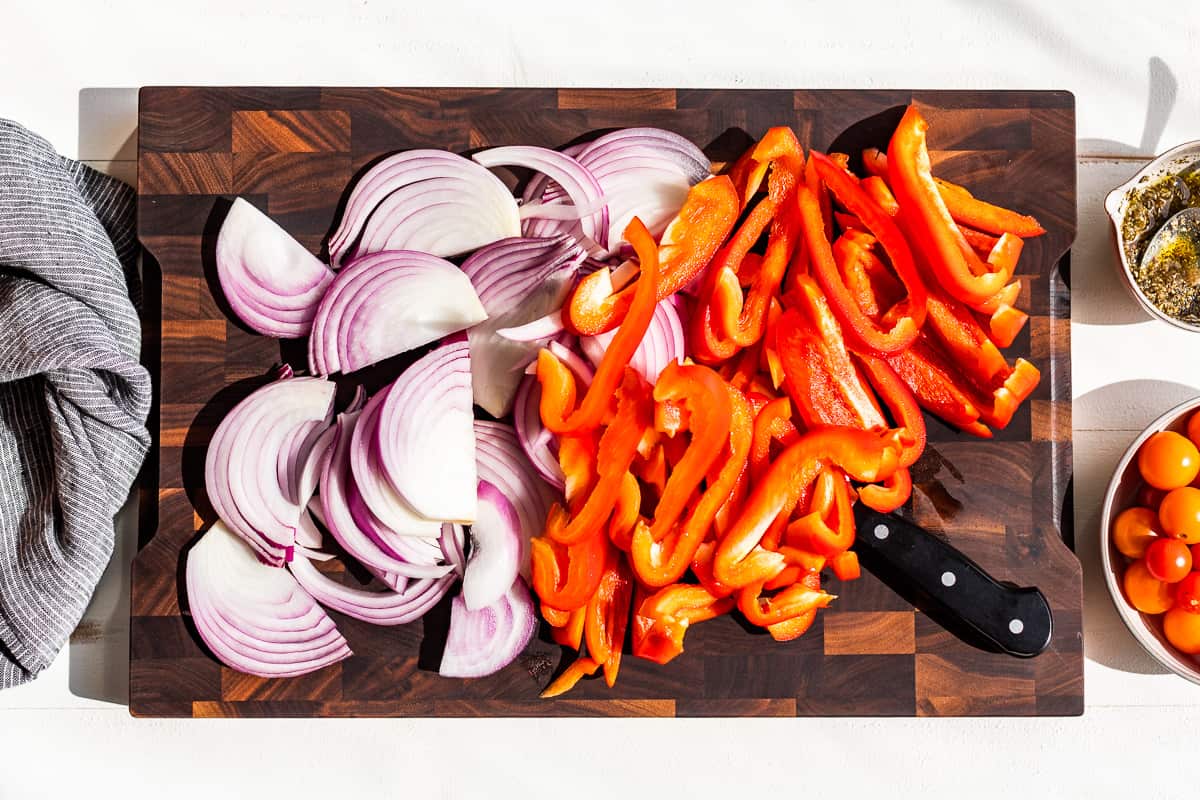 Step 1: Start by slicing up the onion and bell peppers, and mix together the olive oil, garlic, and Italian seasoning.
Time Saving Tip: If you by the small sweet gypsy peppers, you don't even need to cut them up. Simply place them right on the sheet pan.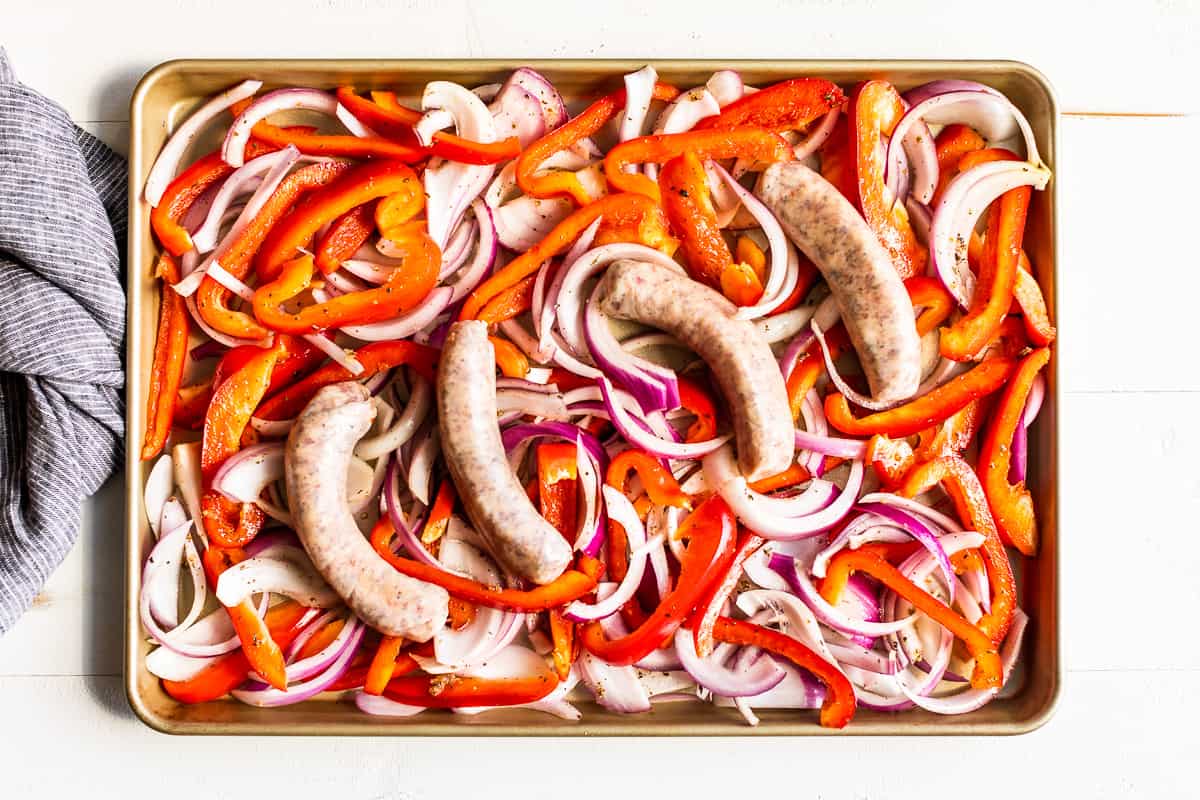 Step 2: Place the onions and peppers on the sheet pan and toss them together with the olive oil mixture. Lay the sausages over the top.
Step 3: Bake until golden browned and the sausages are just done. The broil option in the recipe gives you a bit more browning but you do need to keep an eye on it.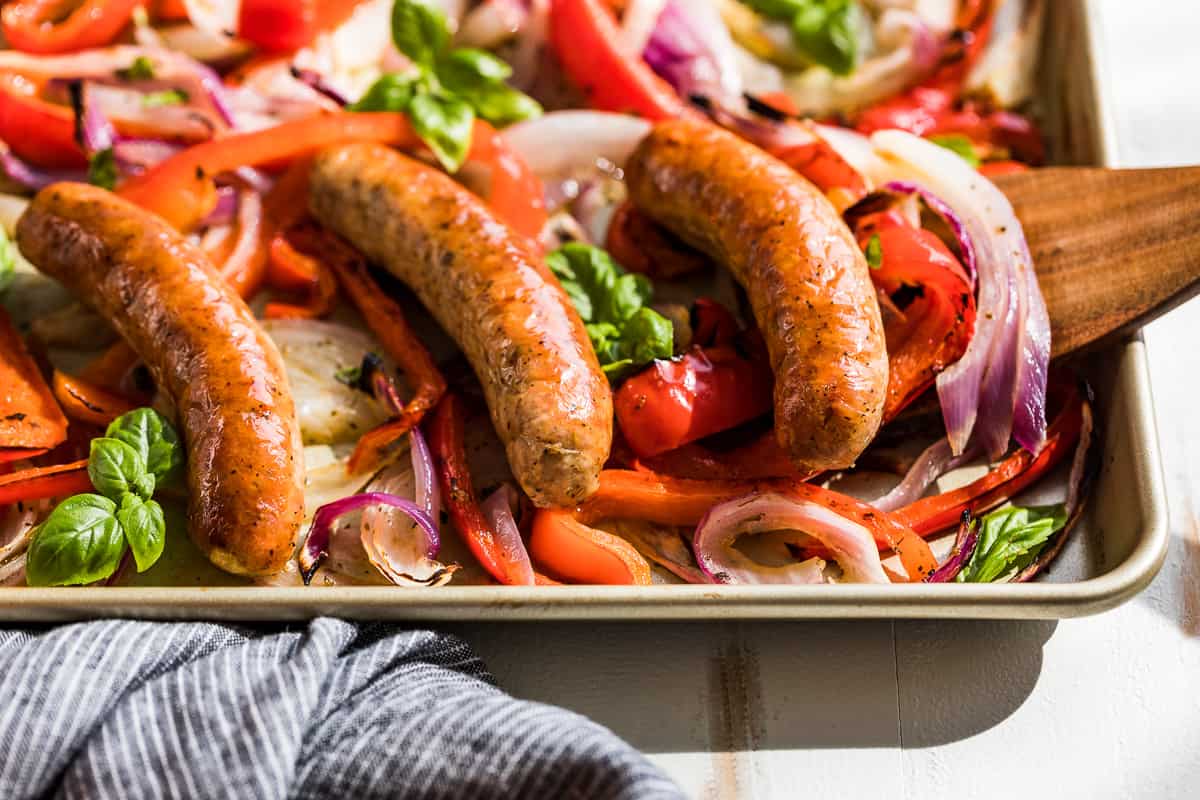 Step 4: Garnish with basil if desired and serve with your choice of sides.
Meal Prep Tip for Sausage Pepper Pasta: Make this sheet pan dinner, then when the sausage is cool enough, thinly slice it. Refrigerate it all together for up to 3 days. Then toss the warmed up pre-made sausage pepper mixture together with freshly cooked pasta and a little of the pasta cooking water. Serve with basil and freshly grated parmesan.
FAQ's
Can I make Sausage and Peppers in a skillet on the stove?
Yes, but I recommend using bulk ground sausage. Sauté the sausage, then add the onions and peppers along with the garlic and seasonings. Cook just until tender, then add the optional tomatoes and cook until they begin to burst, and serve!
Can I use pre-cooked sausage?
Yes, but add it in about halfway through the cooking time so it doesn't overcook.
Does this recipe have sauce?
Yes, it's listed as option 2 in the recipe. There's a bit of pan juices if you use the optional cherry tomatoes. But during the winter months, feel free to serve the finished dish with warmed-up marinara or tomato basil sauce.
Storing leftovers
To Store – place in a sealed container and refrigerate for up to 4 days.
Reheat – place a skillet over low heat and rewarm the leftovers stirring often, or microwave.
To Freeze – any leftovers can be frozen in a sealed container for up to 3 months. Remove from the freezer and thaw in the fridge overnight before reheating.
Tips & Tricks
Drizzle with a little warmed-up marinara or tomato basil sauce over the finished sheet pan during the winter when tomatoes aren't available. Or slice up the sausages and toss it all together with 12oz – 1 lb cooked pasta and your choice of tomato sauce.
Mix it up with different kinds of sausages! Italian sausage is classic, but this is great with so many other flavors as well. We especially like Bratwurst here.
Use a bit of baking soda as a scrub to clean up any browned bits on the baking sheet for super easy cleanup! Soaking your sheet pan for a few minutes first also helps.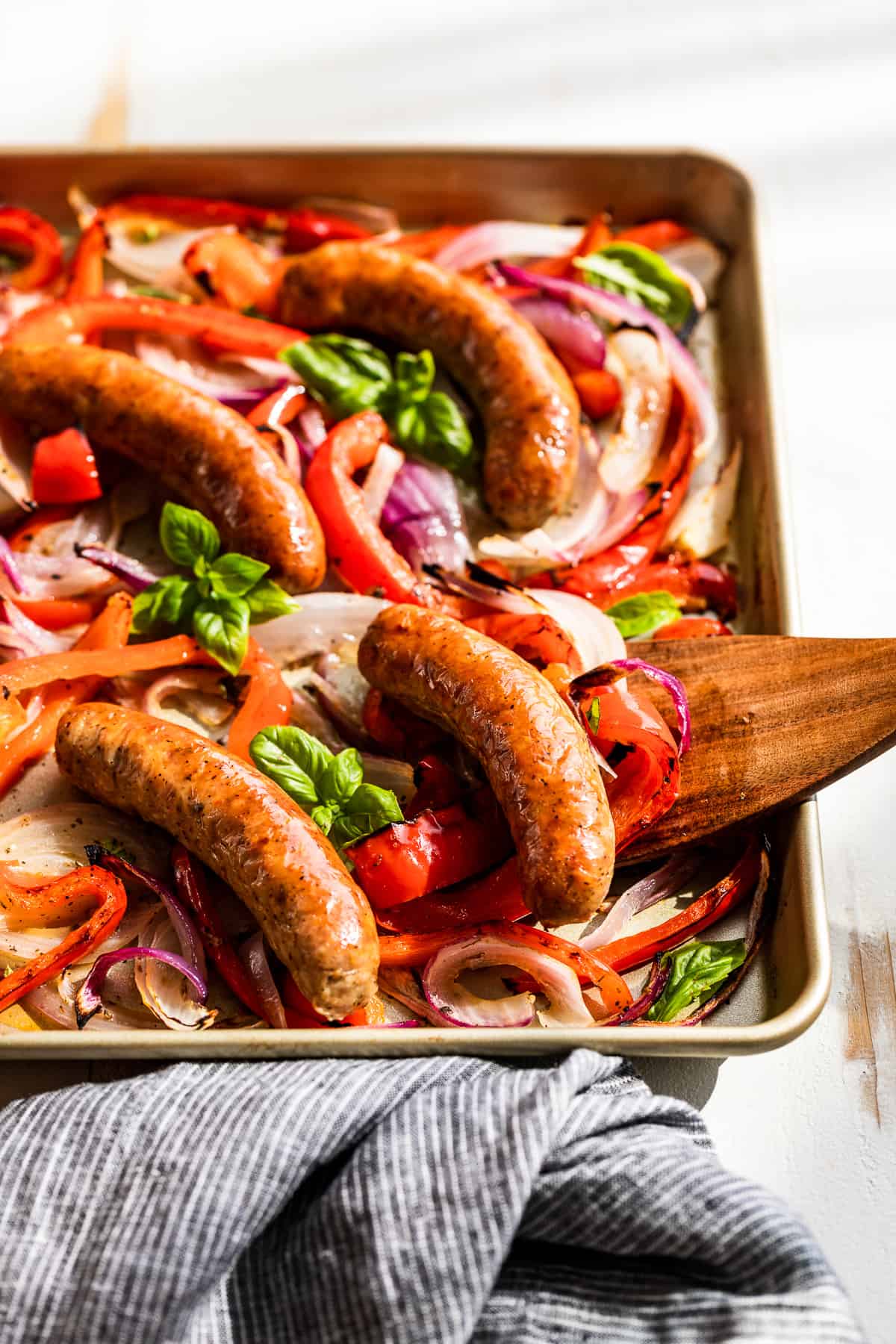 I really hope you enjoy these Sausage and Peppers! If you do get a chance to make this recipe, I'd love to hear from you in the comments. And if you're looking for more fresh meals, try my 70 Light Summer Dinner Ideas.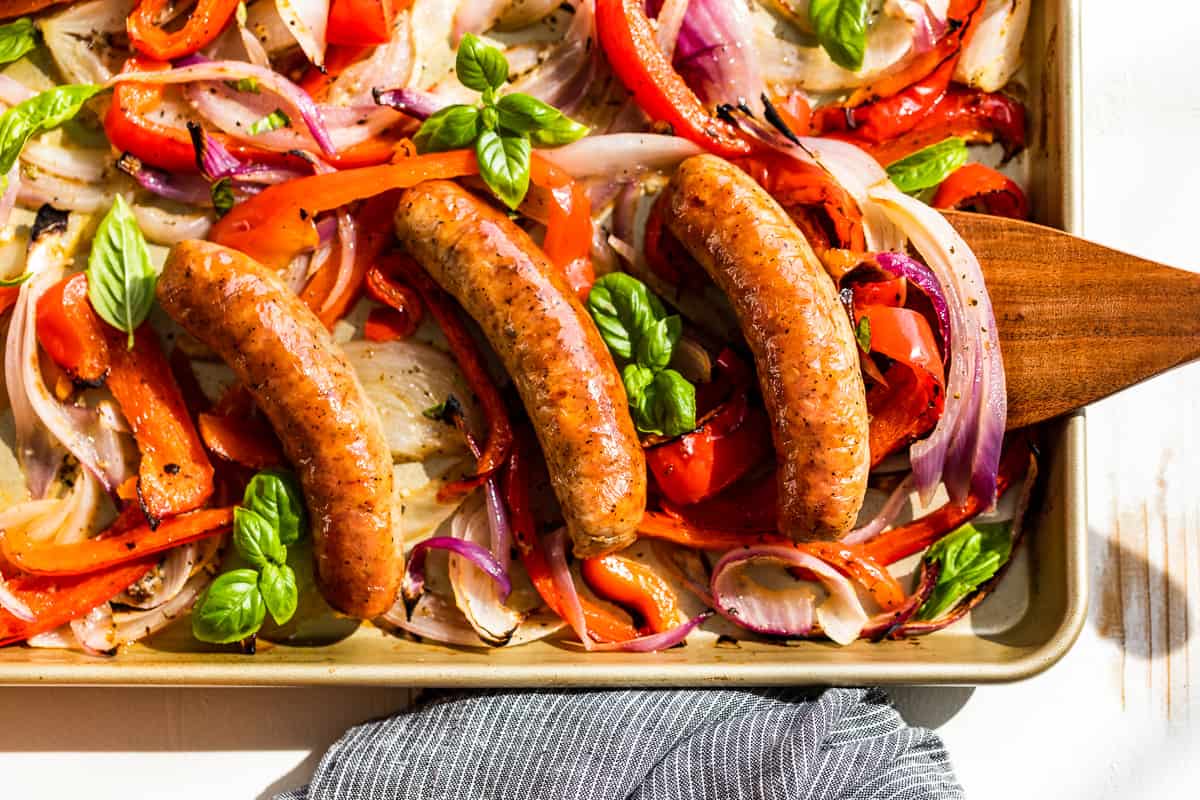 INGREDIENTS
1

pound

mild or hot uncooked Italian sausage links

2

red bell peppers

-

1 pound, cut into 1/2″ slices

1

red onion

-

12 ounces

2

tbsp

olive oil

1

clove

garlic

-

minced

1

tsp

Italian seasoning

-

see notes

1

tsp

sea salt

-

or to taste

1/2

tsp

ground black pepper

Option 1: 2 cups cherry tomatoes

-

10 ounces

Option 2: 1-2 cups favorite tomato basil or marinara pasta sauce warmed up to drizzle on top

Garnish: Chopped basil and freshly grated parmesan if desired
INSTRUCTIONS
Preheat the oven to 450ºF.

Cut the onion in half and remove the tough outer layer. Lay each half flat side down and cut across the rounded top to create 1/4" thick half moon slices.

Place the peppers and onions on a large cookie sheet. Mix together the olive oil, garlic, Italian seasoning, sea salt, and pepper. Drizzle the oil mixture over the peppers and onions, and toss to combine.

Spread the peppers and onions out evenly, then top with the 4 sausages. If you're using the cherry tomatoes, add them evenly across the baking sheet at this point.

Bake for 10 minutes, then turn the oven up to broil at 550ºF for 5-10 minutes until the peppers and onions are browning and the sausages are done. Keep a close eye on it while it's broiling!

You can also bake this for 25-30 minutes, or until the sausages are done at 450º, but there won't be quite as much browning.

Garnish with basil and parmesan if desired and serve with your choice of sides. If you're using tomato sauce, be sure to warm it up to a simmer and drizzle over the top of the finished dinner, or serve it on the side.
Bonus Step
If you made this recipe, please leave a rating/comment. Ratings really help us continue to bring you high-quality free recipes. Rate This Recipe!
NOTES
Check to make sure you Italian seasoning is free from salt, sugar, dairy, or any other additives. The same goes for the sausage, some brands put cheese in Italian sausage, so be sure to check the labels.
The nutrition facts were calculated without the optional tomatoes or tomato sauce.
nutrition facts
Calories:
484
kcal
|
Carbohydrates:
8
g
|
Protein:
17
g
|
Fat:
43
g
|
Saturated Fat:
14
g
|
Polyunsaturated Fat:
5
g
|
Monounsaturated Fat:
21
g
|
Cholesterol:
86
mg
|
Sodium:
1414
mg
|
Potassium:
465
mg
|
Fiber:
2
g
|
Sugar:
4
g
|
Vitamin A:
1873
IU
|
Vitamin C:
81
mg
|
Calcium:
42
mg
|
Iron:
2
mg